5 New Confluence Apps to Level Up Your Productivity – Fourth Quarter 2017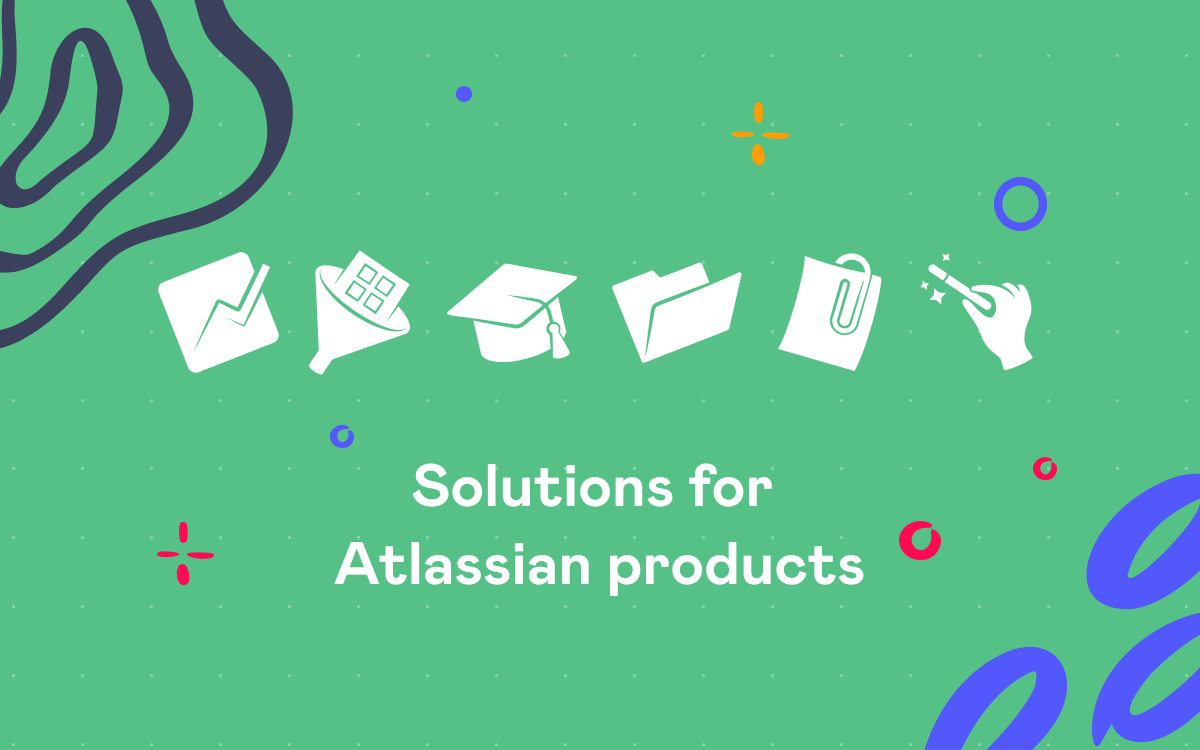 Today we want to present you with our Top 5 Confluence apps of the fourth quarter of the past year. We have checked all new Confluence solutions released between October 1 and December 31 and selected the five most useful ones for you to try.
You can check our previous blog posts featuring Confluence add-ons that appeared on the Atlassian Marketplace in the first, second, and third quarters of 2017.
Here is our list of apps for Confuence that can boost your team's productivity:
Now let's check the most interesting features and capabilities of these Confluence add-ons.

Let's face it, team decision making can be tricky and sometimes painful. However, the chances of the decision being a success increase when team members with complementary skills are involved. But at the same time putting a bunch of people together at a meeting may cause confusion that sometimes leads to chaos.

If you are looking for additional ways to enhance the effectiveness of your team, you can try the Infavor app. This solution offers you a simple way to save the time you usually spend on discussions with your colleagues.
After installation of this app, you will find a new tab called Decisions in every space of your Confluence site. Now you can easily create new proposals. You just need to write the title of your idea, add the colleagues you want to discuss it with, and set the deadline.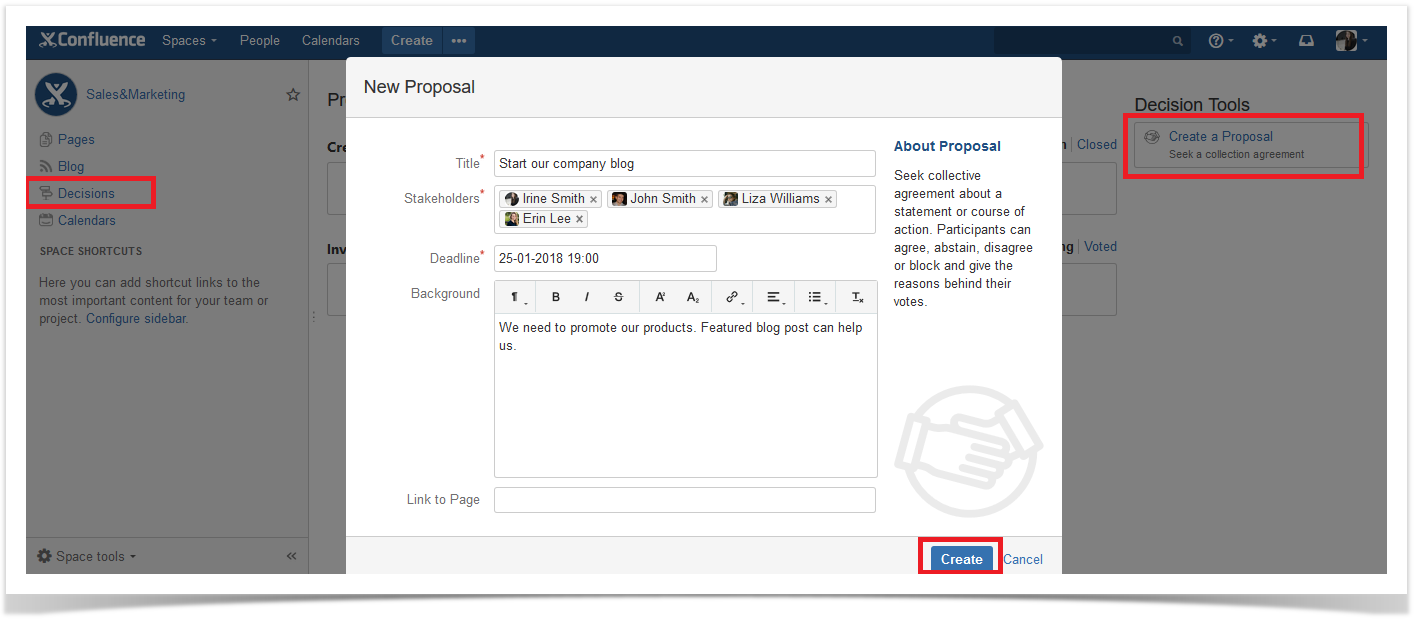 The participants will vote for your idea depending on their point of view.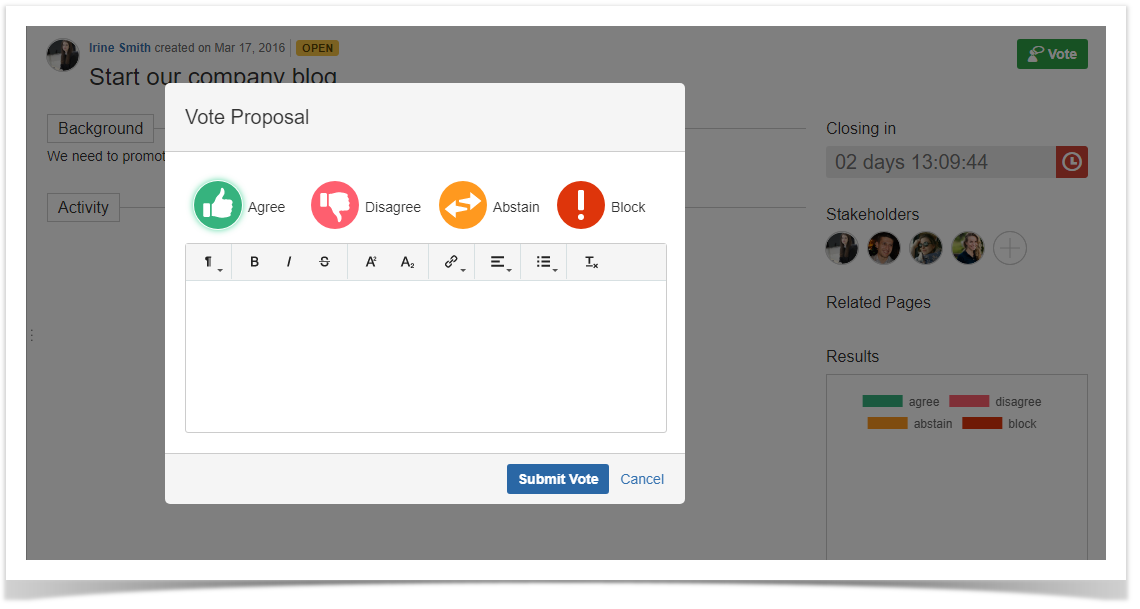 You can add comments to describe your decision. Other users will see this information on the page of your proposal. You can also add new participants to vote for your idea.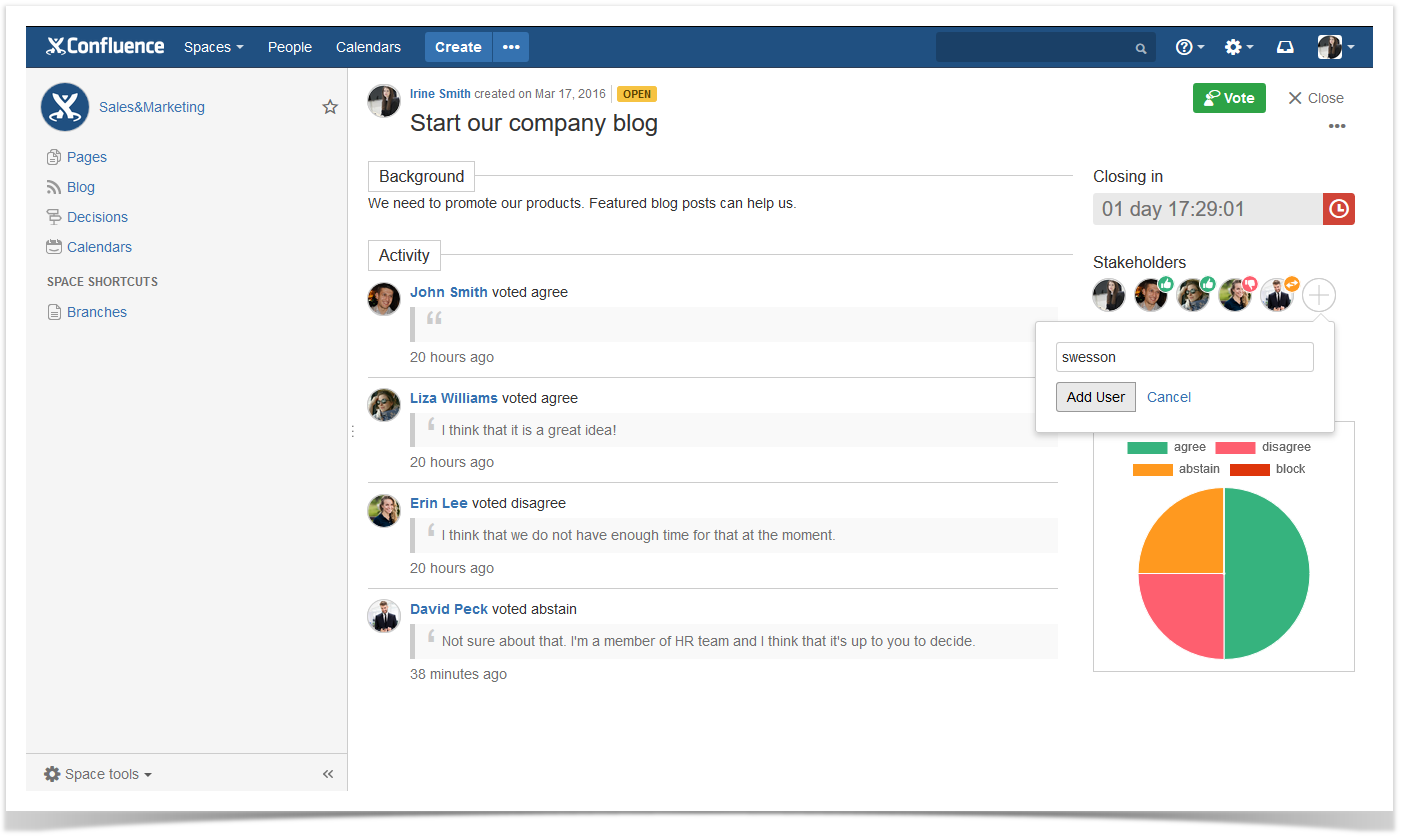 When you click the Decisions tab of your space, you can see the list of all proposals created by you and other users.

The Infavor app helps you quickly get feedback from your colleagues with no need to set up a meeting to discuss something. This way you can:

keep track of all the details of your current project;

find volunteers among your teammates;

use this solution as a team health monitor.
Pricing: Infavor Decisions for Confluence Server is free to use.
When your team doesn't have a clear goal, it is impossible to make right decisions and to know what to focus on. Today you can find a lot of goal-setting tools that help you set, track, and execute goals.
Atlassian shared their best practices in Atlassian Team Playbook that can help your team work better together. Atlassian provides you with step-by-step instructions you can use to get all team members on track towards achieving your goals.

Team Playbook – OKRs (Objectives & Key Results) is one of the blueprints Atlassian offers you to easily manage objectives within a team. This tool provides you with some tips how to understand what is important at the moment and helps you plan ahead to get closer to your goals.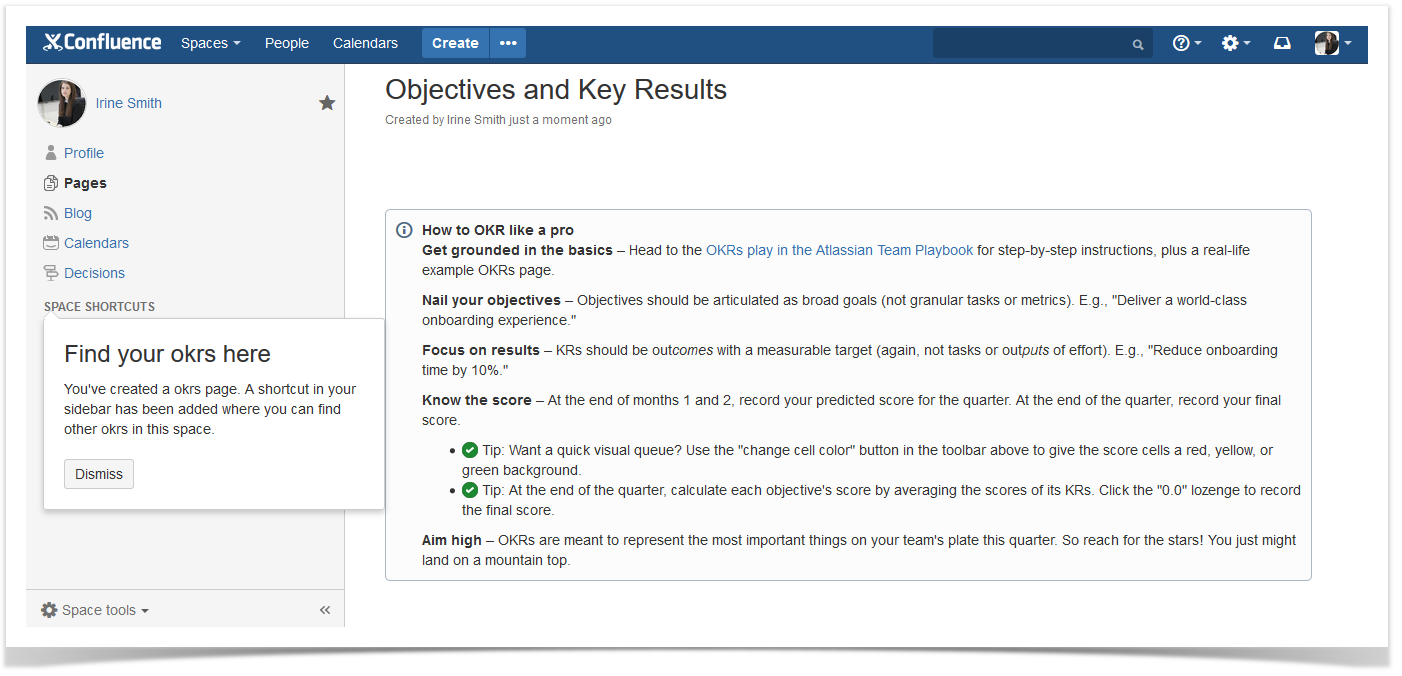 After installation of this app, click the Create button on the Confluence menu, and choose the OKRs blueprint. You will get a pre-formatted page with helpful instructions and a table to fill in.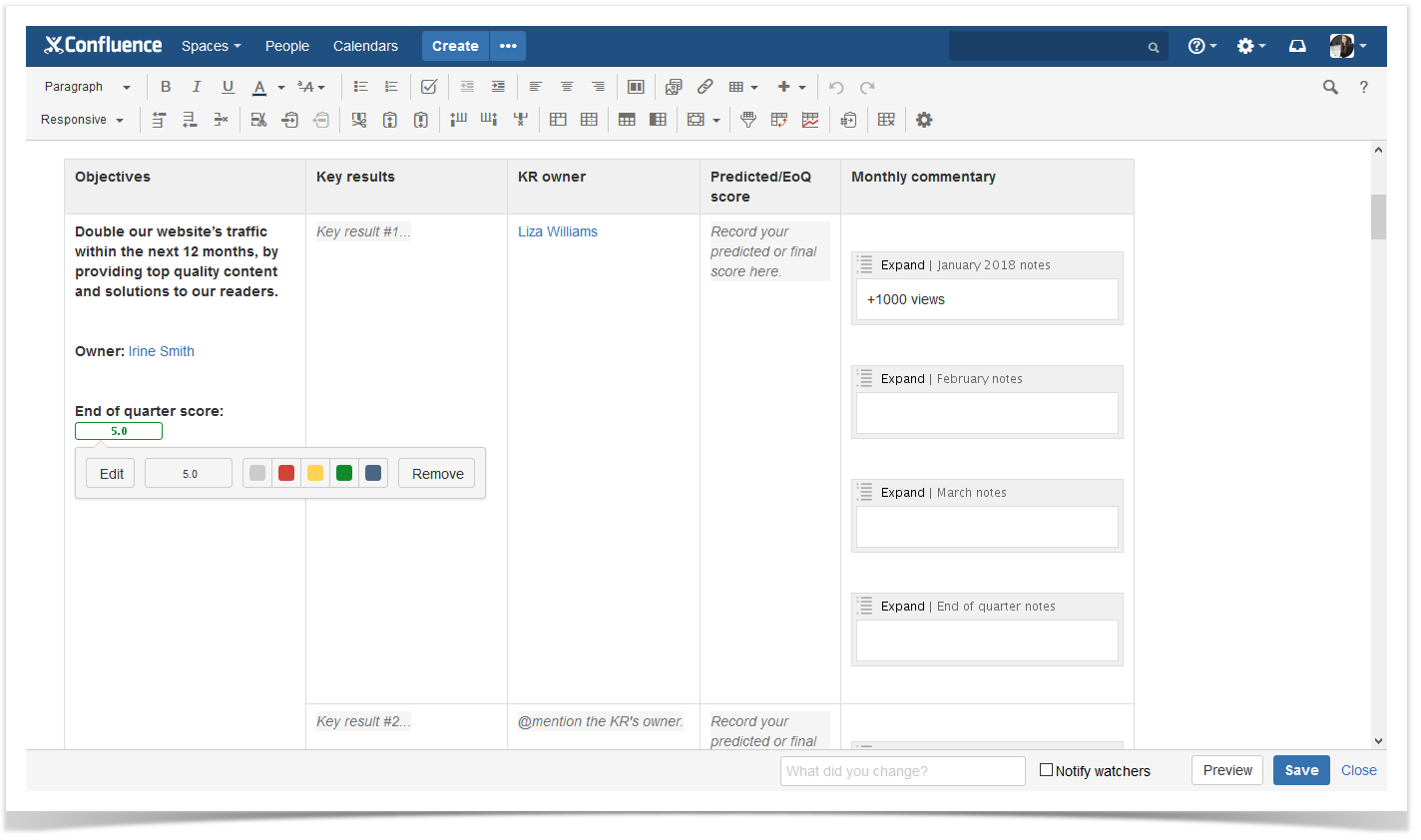 This way you can set strategies and execute your determined targets. Moreover, this useful tool helps you evaluate the performance of each team member.
To achieve better results, you can try the Objectives and Key Results play introduced by Atlassian.

Pricing: Team Playbook – OKRs for Confluence Server is free to use.

We've already found a good way to collect your team's feedback. Moreover, we know how to keep the team focused on what really matters. Now we will tell you more about the tool that helps you track the well-being of your team.

The Niko Calendar Confluence app is a tracker that asks for your mood of the day.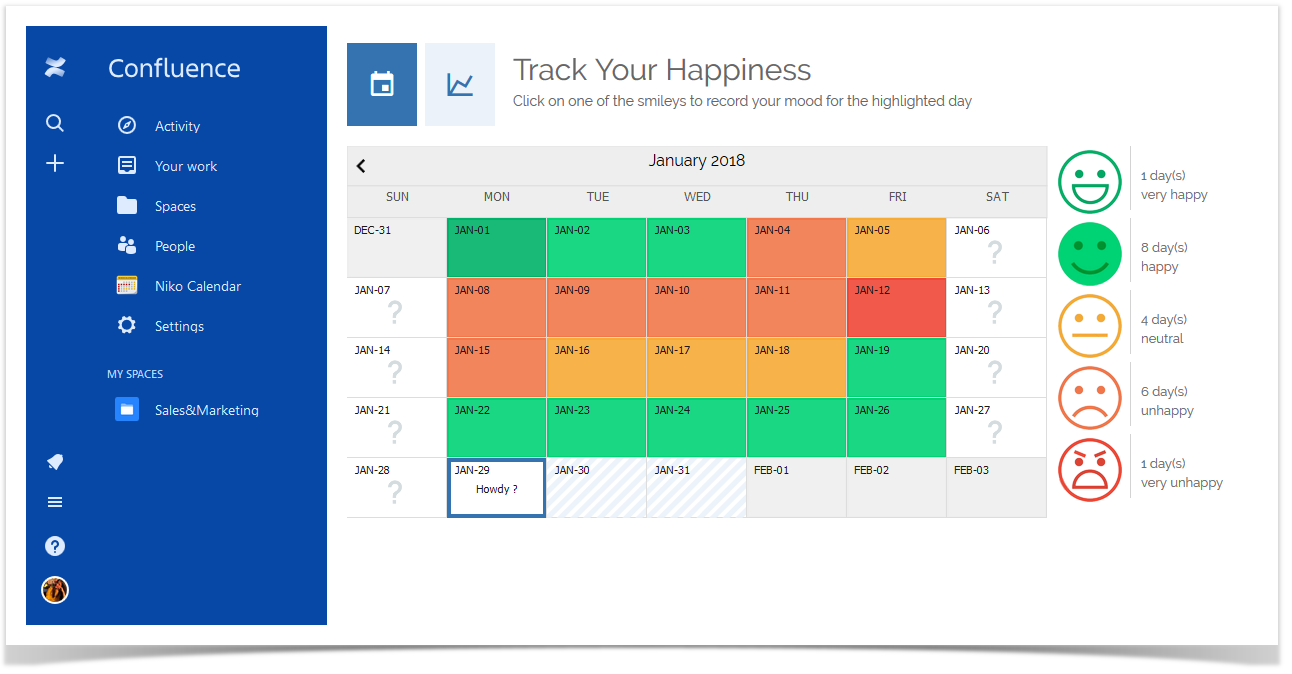 This simple tool shows you the mood of each team member in particular and the overall mood of the selected team. You can also check the team happiness metric that allows you to be proactive and avoid a point of no return.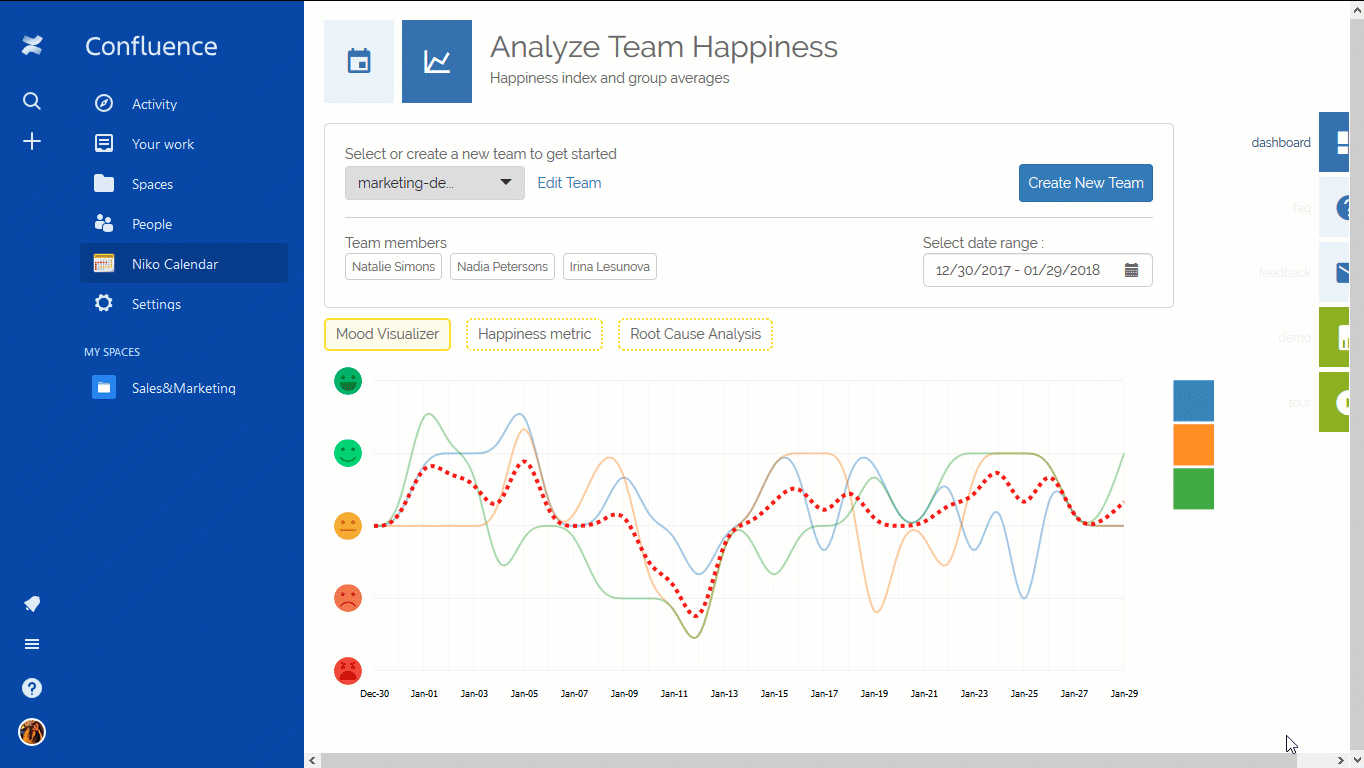 These stats help you identify problems early. You can choose any of your projects and track its progress using Niko Calendar Confluence.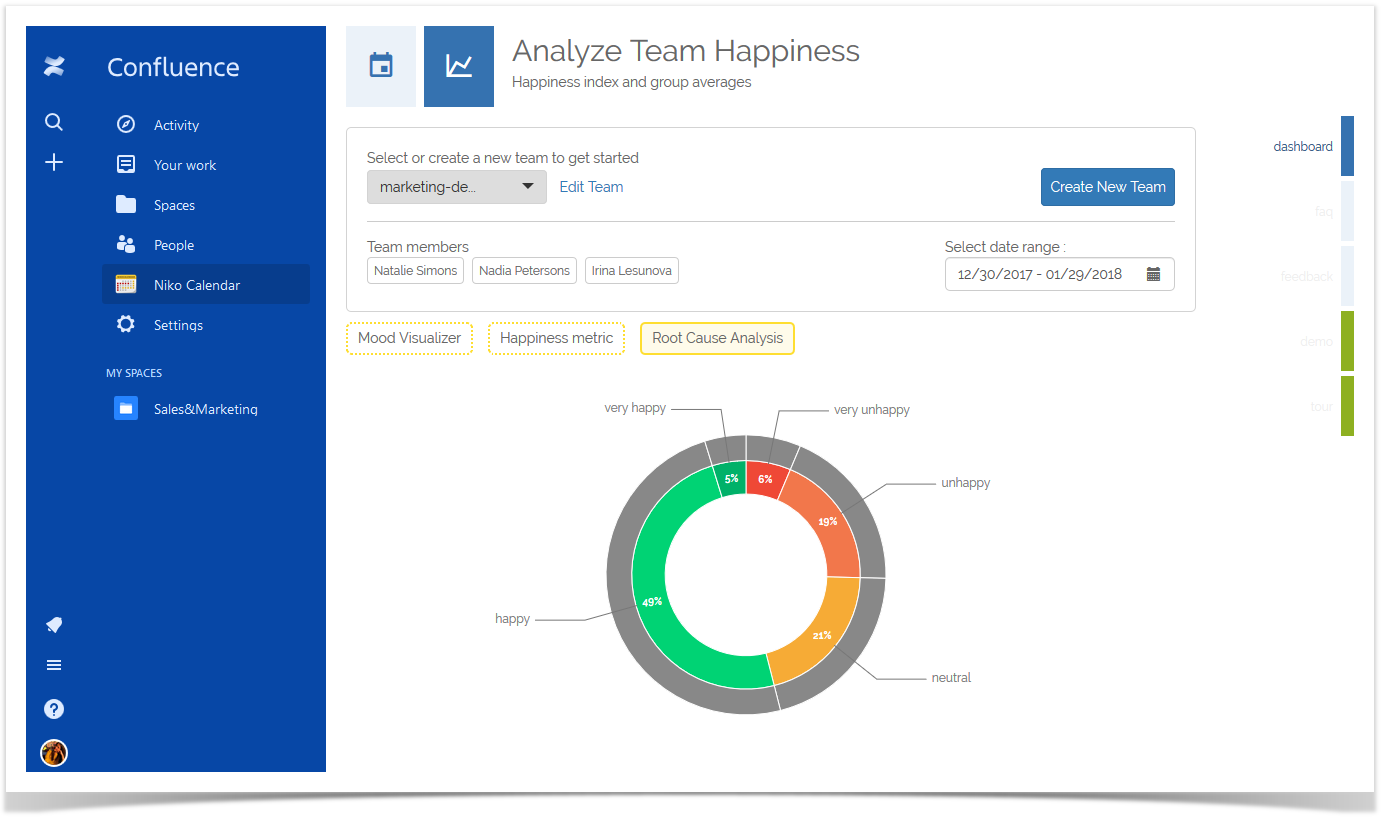 This app allows you to get feedback from changes. If your team accepts the change, the overall mood will lighten up. And in case of a bad change, the mood of your team will change accordingly.
Pricing: The price for this app for Confluence Cloud starts at $3/mo for 20 users and ends at $110/mo for 2,000 users.
Earlier we wrote about an efficient way to update the public content discreetly preventing users from viewing the drafts. The Page Branching app is one more solution to solve this problem. It allows you to create a separate branch of your Confluence page you can edit.
You just need to enable this app in the space tools.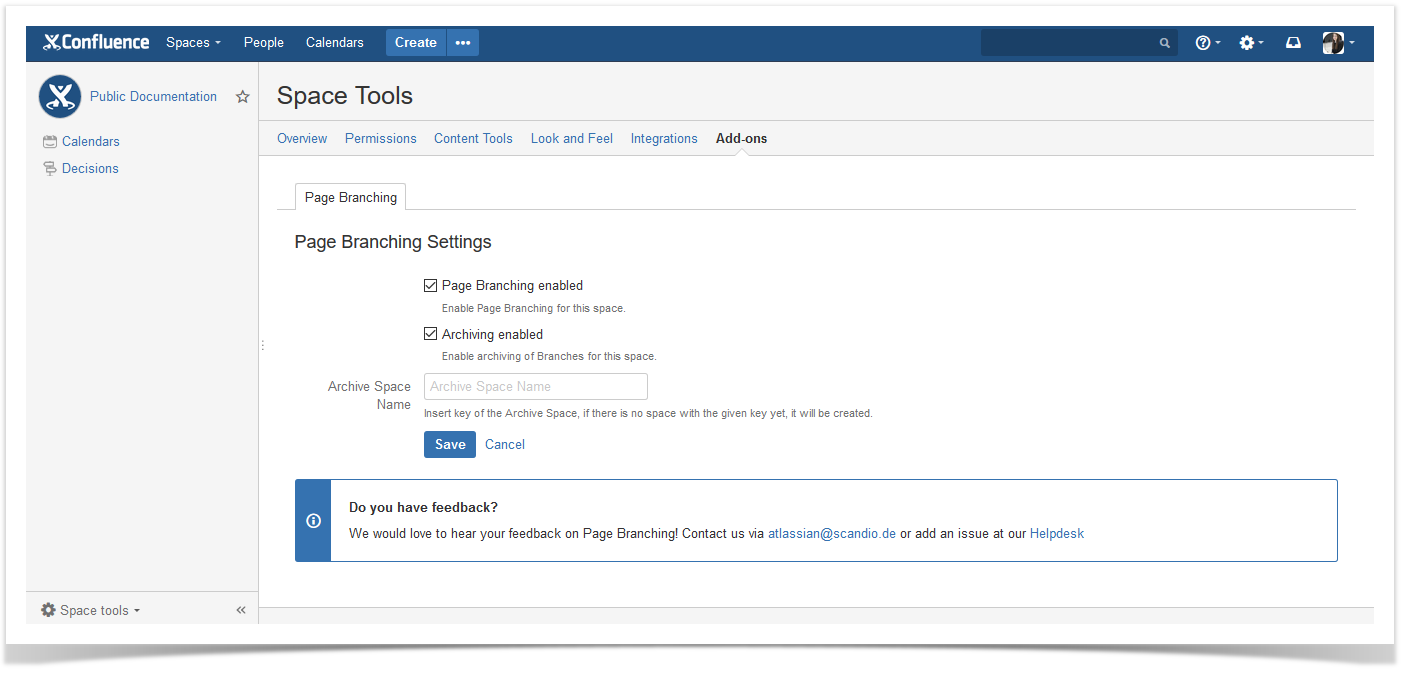 Now each page of the space contains the Page Branching button. So you create a new branch you can edit. Meanwhile, the original page remains untouched until you merge the branched page.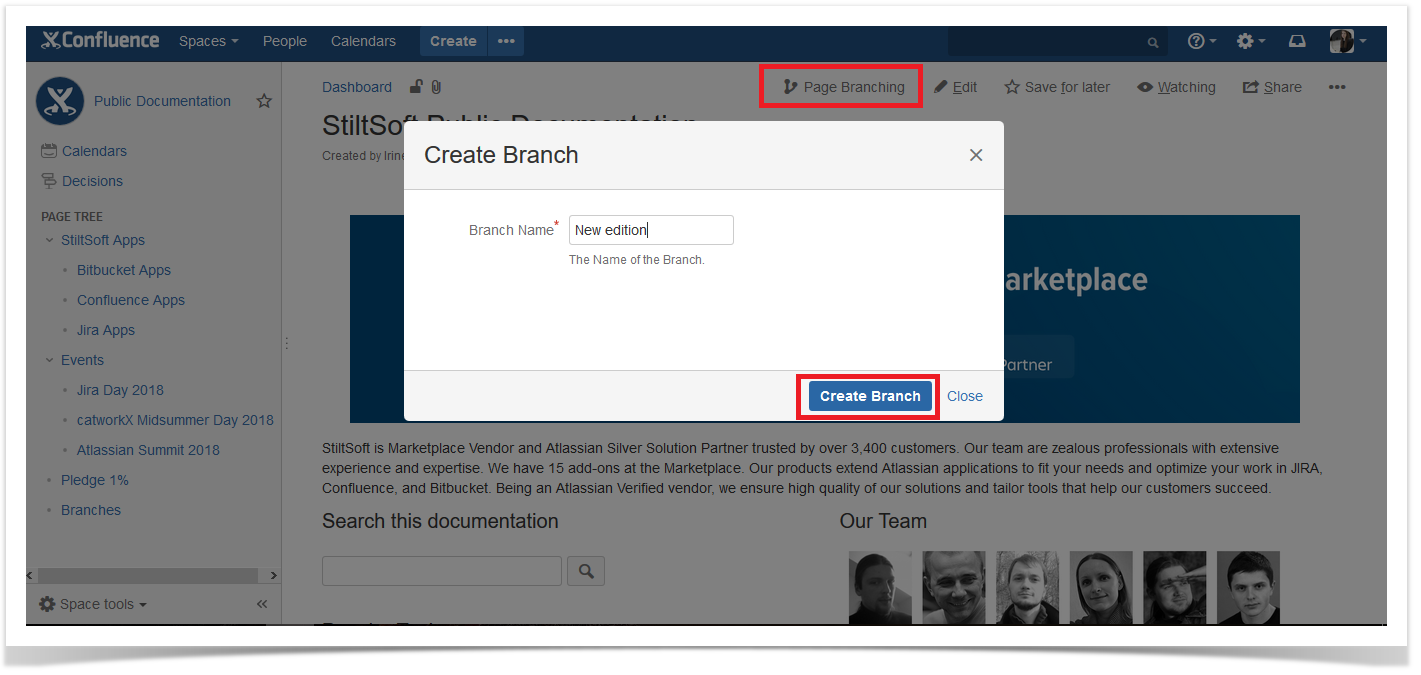 Each branch you create will copy the page restrictions from the parent page. However, you can easily edit the page restrictions for the branches. You can also create as many branches of one page as you need. When you want to update the content of your page, you just need to click the Merge button.
This useful tool allows you to merge your pages in both directions. So if you've changed the content in the original document, you can still merge them to your branch files. You will get a note if the changes are contradictory and can solve the conflict of two versions right in the editor mode. The good thing is that you can always retrieve the previous version of your document.
Your team can work on multiple versions of your content at the same time with the help of this app.
Pricing: Page Branching for Confluence Server is free to use.
This simple tool helps you quickly filter and calculate the content of your tables in Confluence. You just install this app and it starts working with no need to add any macros to the page with the table.
Just hover over the required table column, click the loupe icon, and start typing. This option supports grouped rows and columns.
You can also perform some simple calculations with the help of this app. You just need to choose either row or column and choose the action you want to perform.
These operations are available only in the edit mode. It is a good solution for small tables because you still need to perform the most of work manually.
If you need to filter complex Confluence tables, aggregate data in pivot table reports, and build dynamic Confluence charts on the fly, we recommend you to try Table Filter and Charts for Confluence.

Pricing: xTables for Confluence Server is free at the moment.
These were our five favorite apps in the fourth quarter of 2017. Implementing any of these add-ons will definitely help you get your tasks done the right way. You can try any of them for free and make your own choice.
If you have any questions, feel free to comment on this blog post below. Don't forget to subscribe for email notifications about new blog posts in this series!