5 New Confluence Apps to Work Smarter – First Quarter 2019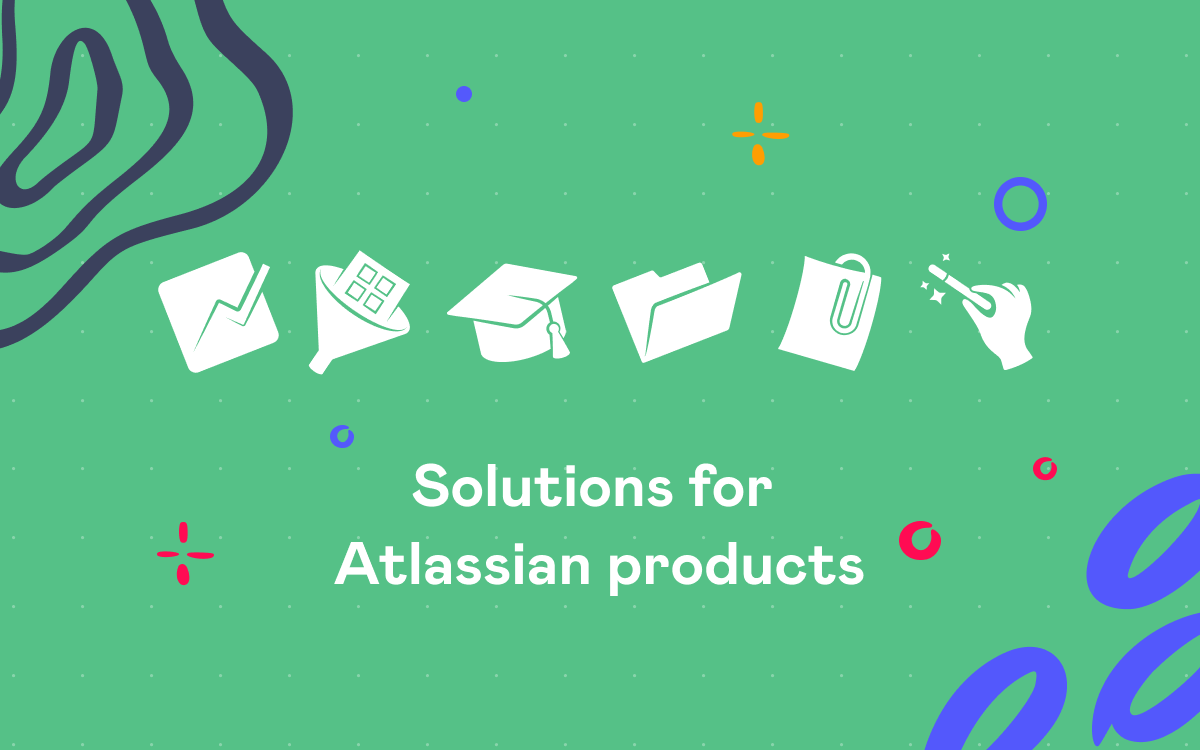 We're back with an all-new list of five Confluence apps released in the first quarter of this year. We've chosen the tools that can help you make your life easier, and help you get the most out of your Confluence instance. We hope that you will add these solutions to your list of add-ons you want to try.
You can also check our previous blog post featuring useful apps for Confluence released in the fourth quarter of 2018.
These newest apps can enhance your Confluence experience:
So without further ado, let's see each tool in details.

Once you modify any page, Confluence creates a new version of it. These way you can keep track of all the content changes. Moreover, you can compare different page versions and restore the one if you need. However, sometimes the page version history can go beyond than you expected.
Purge Page Versions is an app that helps you to purge the old page versions. You can do it either automatically or on-demand basis. Just click the Purge Versions tab to open the page history.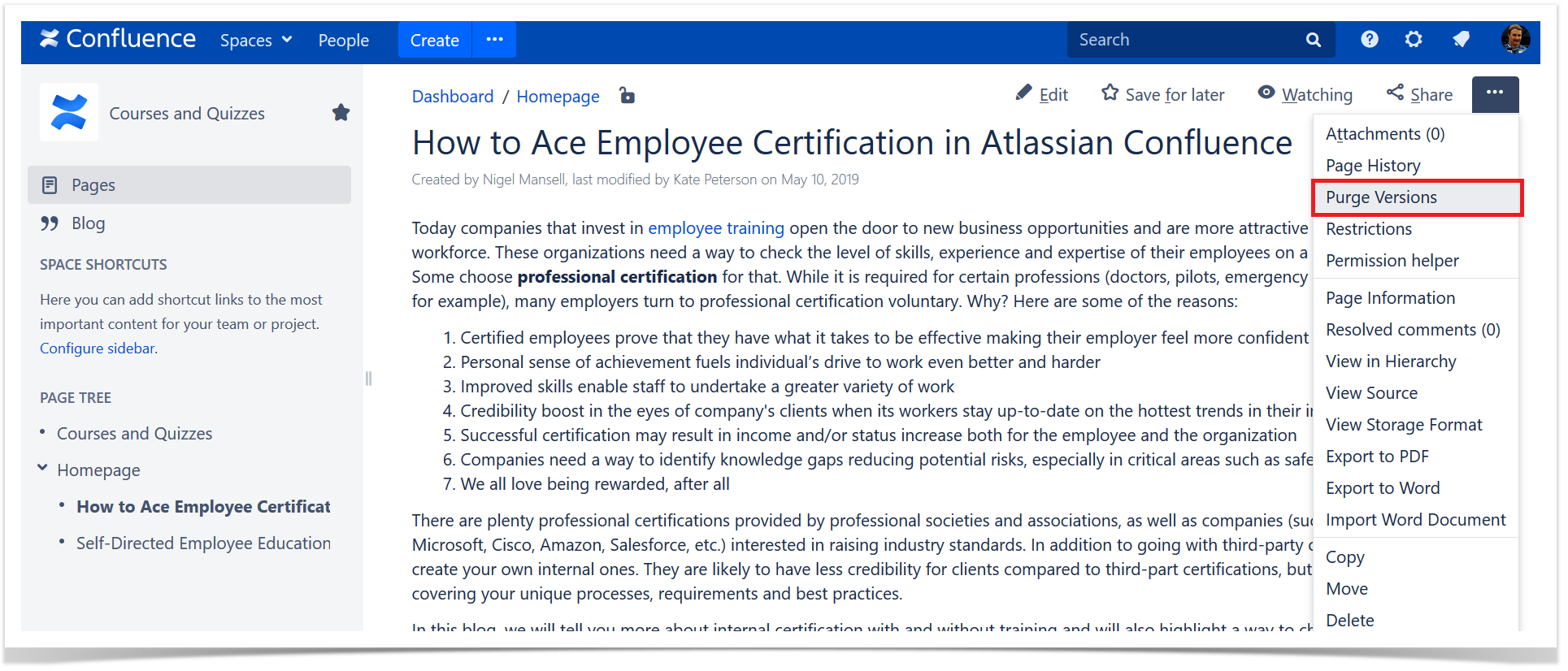 Now you can easily choose the versions you need to purge.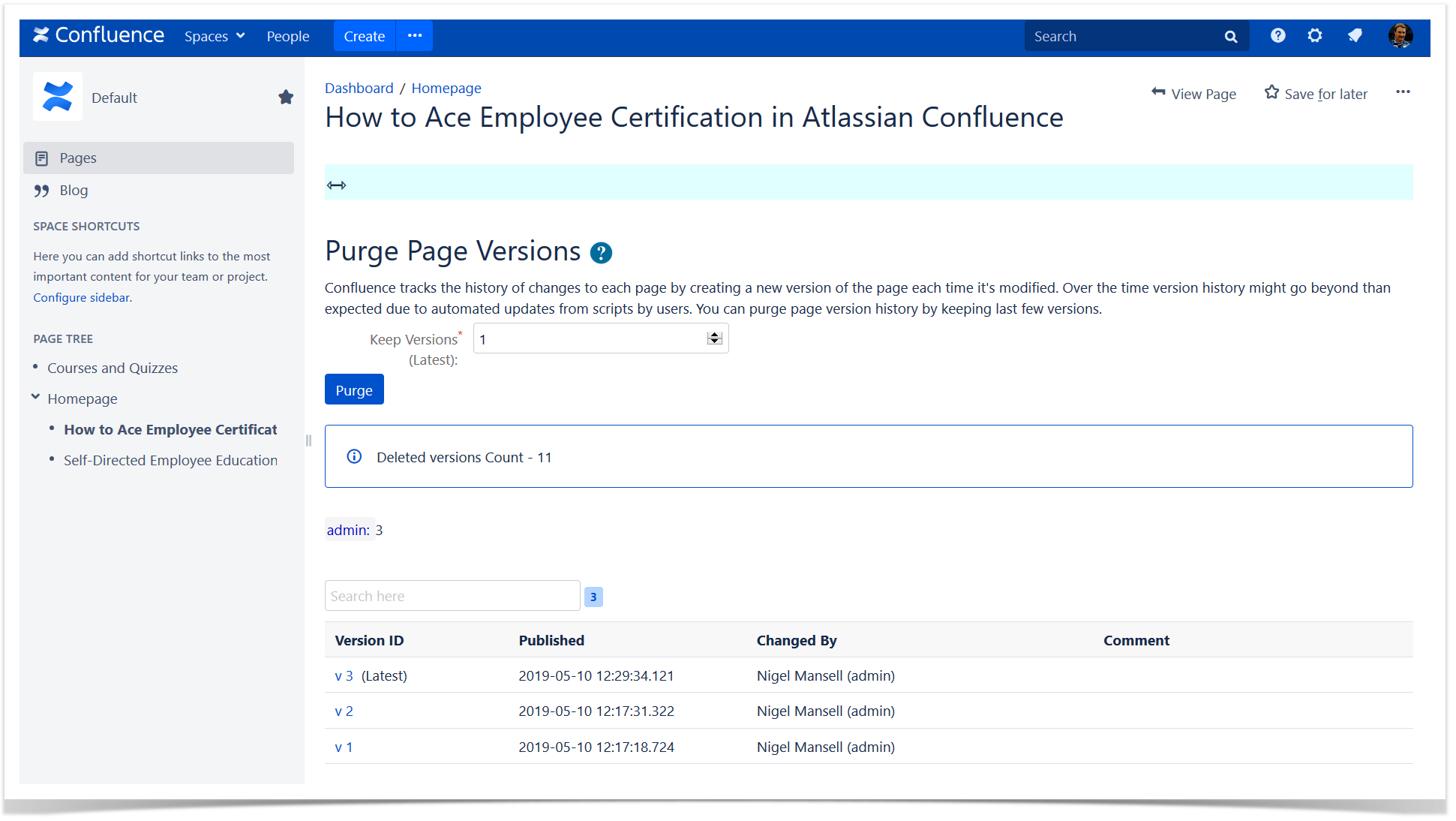 This app also allows you to add the Page Version Summary gadget to your Confluence pages. This way you can keep track of all versions of your pages per space and easily navigate between them.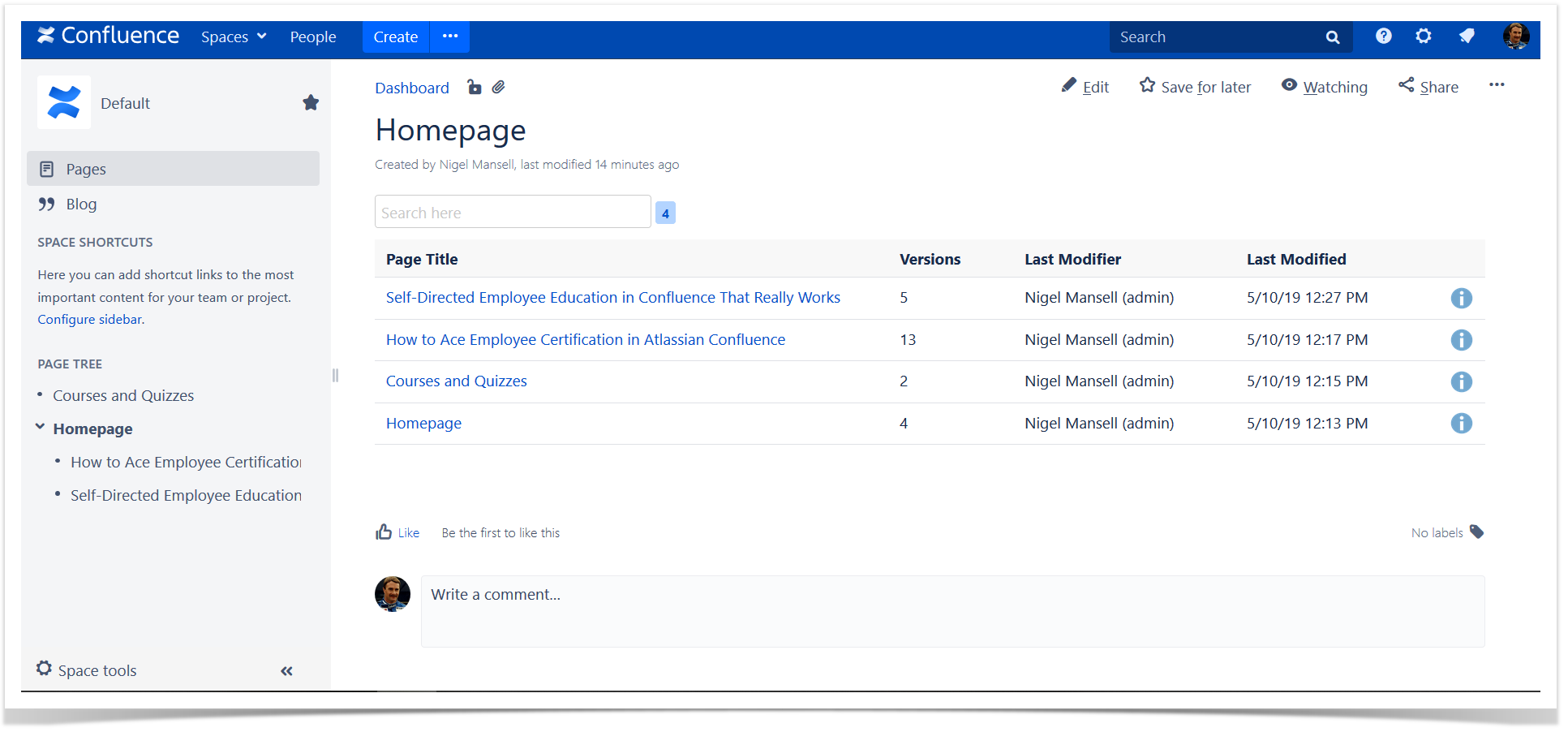 This simple app helps you keep Confluence database compact and quickly purge the page versions you do not need.
Pricing: The Purge Page Versions app for Confluence Server is free to use.
The Visual Macro for Confluence app allows you to share important information with your colleagues. You can decide where and when to show content blocks on Confluence pages. Just choose the required conditions in the menu of Visual Macro.
You can select the view type and device type. This means that if you check the Word and PDF boxes, the content block will be visible only when users export this Confluence page to Word or PDF.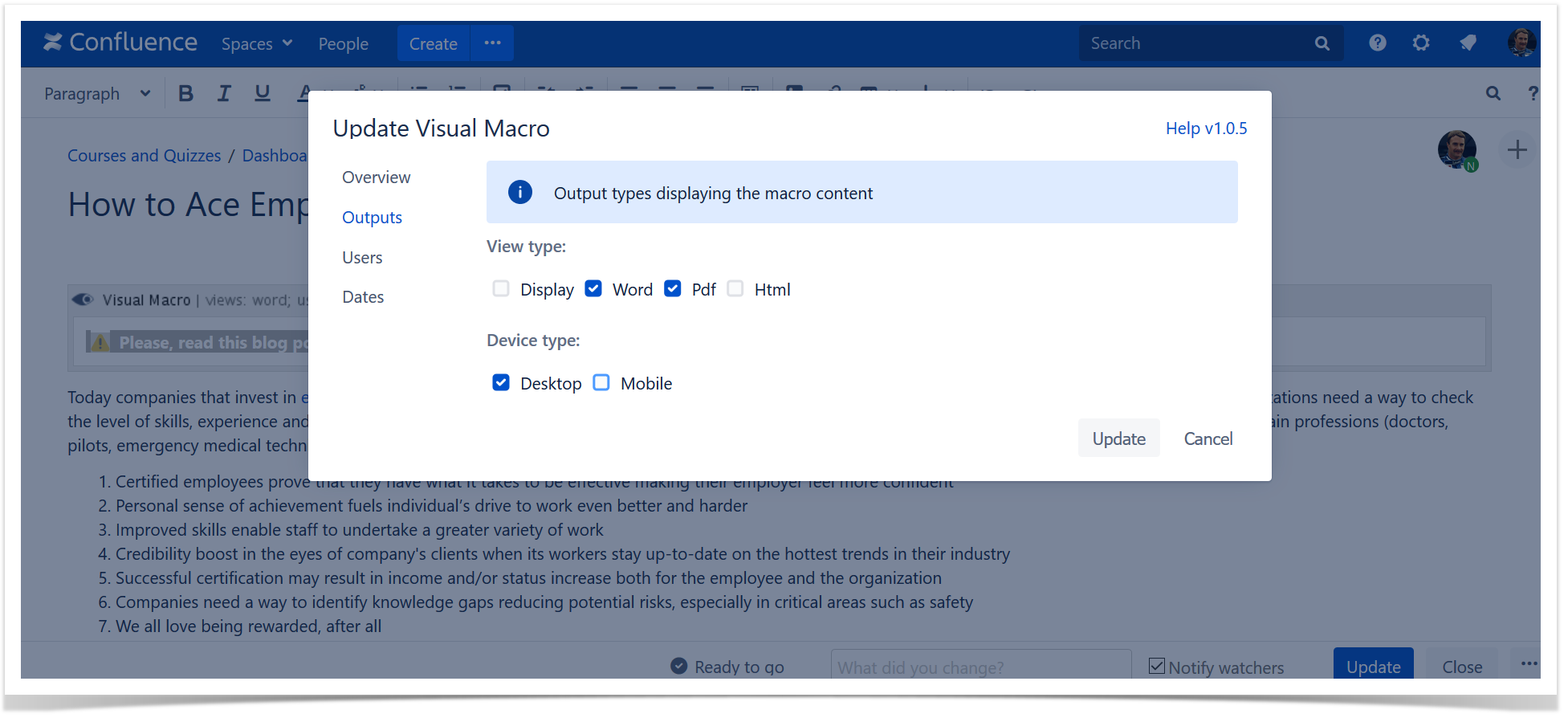 You can also select users and user groups that will see the required information.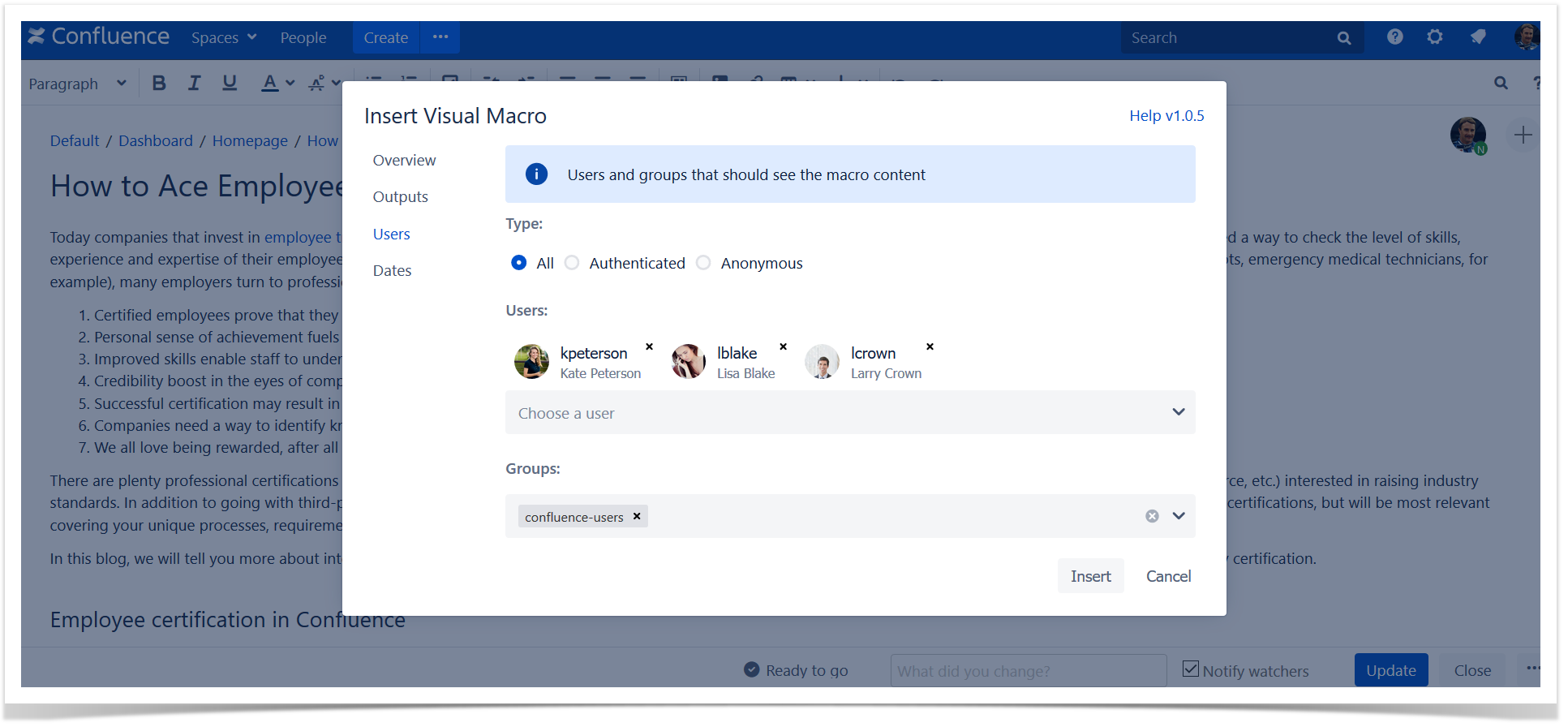 You can even set the date to display the content block.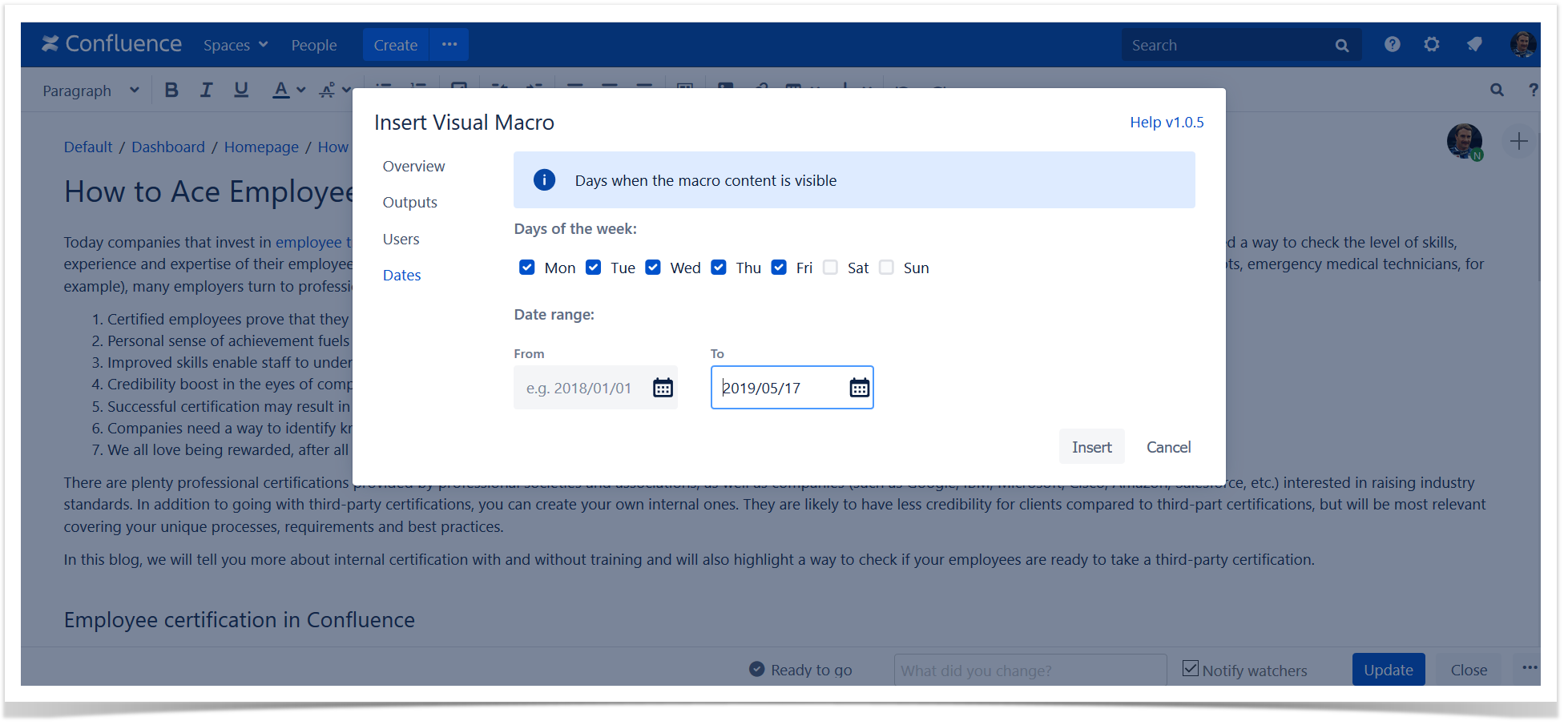 This app can be helpful when you want your users to see some important information on specific dates in specific circumstances.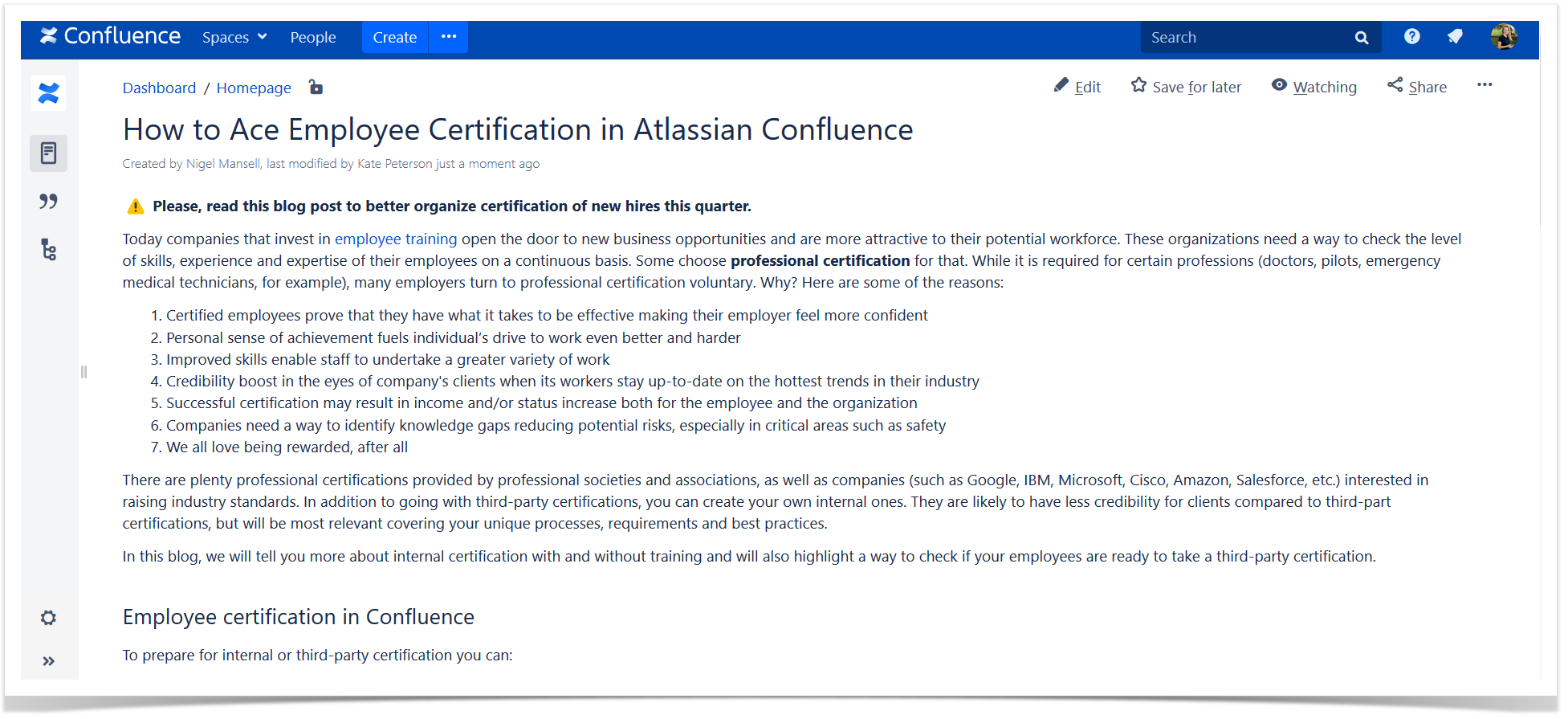 The developer doesn't recommend to use this app to secure any sensitive information.
Pricing: The pricing for Visual Macro for Confluence Server starts from $25 for 25 users and ends at $999 for the unlimited number of users.
In one of our previous blog posts, we've highlighted the Confluence Cloud for Slack (Official) app. It is a free integration that helps you keep an eye on your Confluence work right from Slack.
This time we want to show you a solid software that is sold separately from Confluence and helps you search Confluence content in Slack. Kipwise – Search Confluence on Slack allows users to find the required Confluence information directly on Slack using simple slash command.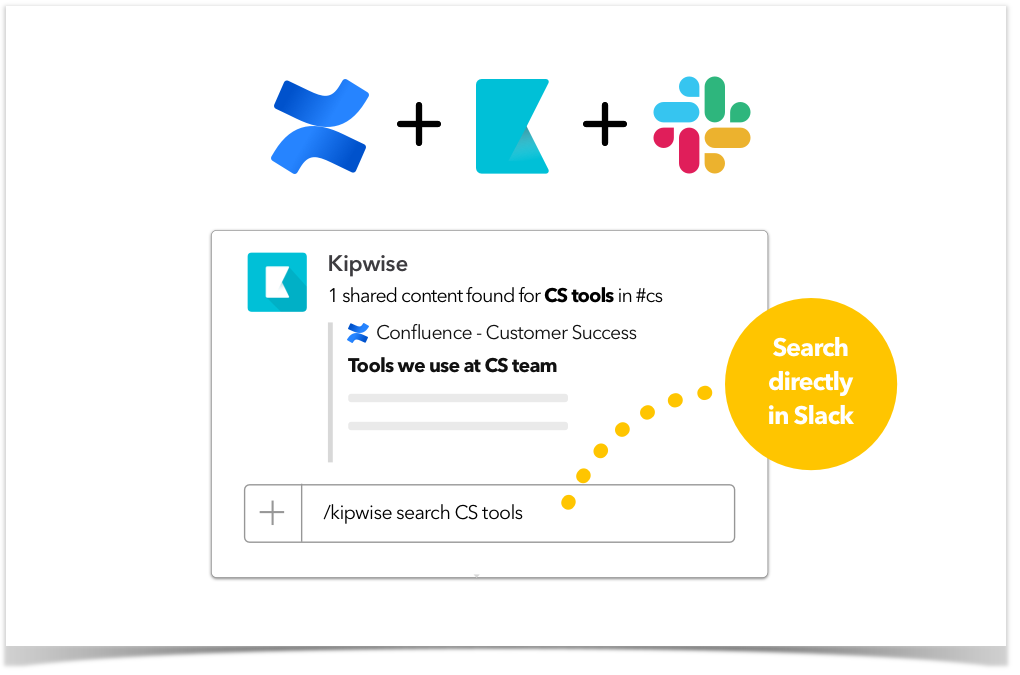 With the help of this tool your team saves time because they can access the information they are looking for without searching around different places with no need to use various tools.
Pricing: The Kipwise – Search Confluence Cloud on Slack app is free to use.
Linchpin Intranet Suite empowers Confluence making team collaboration even more effective. After installation of this app you receive a number of plugins you can enable and tailor them to the individual needs of your colleagues: new, events, blogs, and more. This means that Linchpin Intranet Suite will show you the information based on your profile settings (language, news feed, department, location, etc.). You can easily personalize the look and feel of Confluence with the help of this app. This add-on allows you to integrate your menu with the Confluence header. You can also choose your menu style.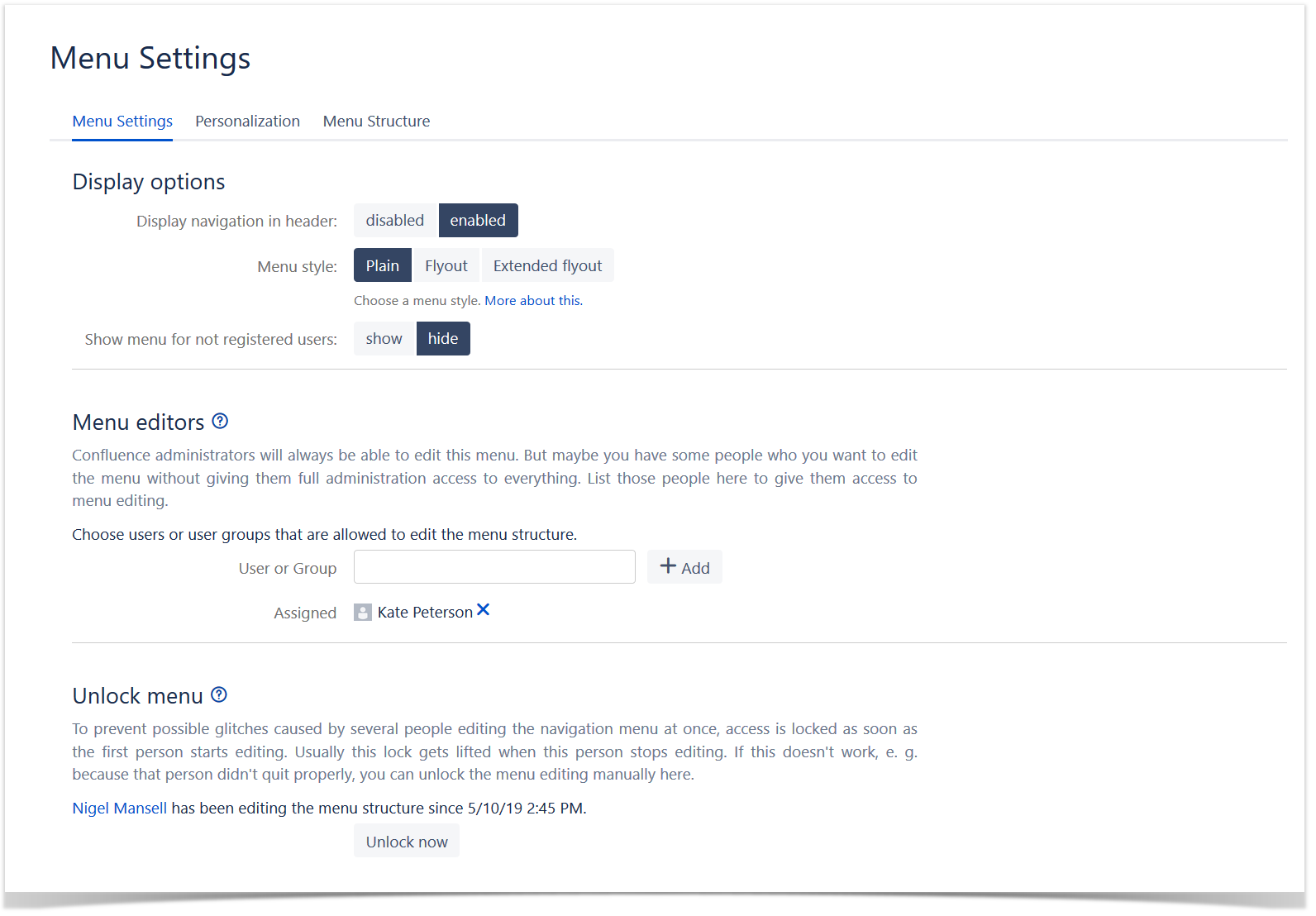 You can add important events and share them with your colleagues. With the help of this app you can create your own blog to exchange ideas, ask questions and just chat with your team mates.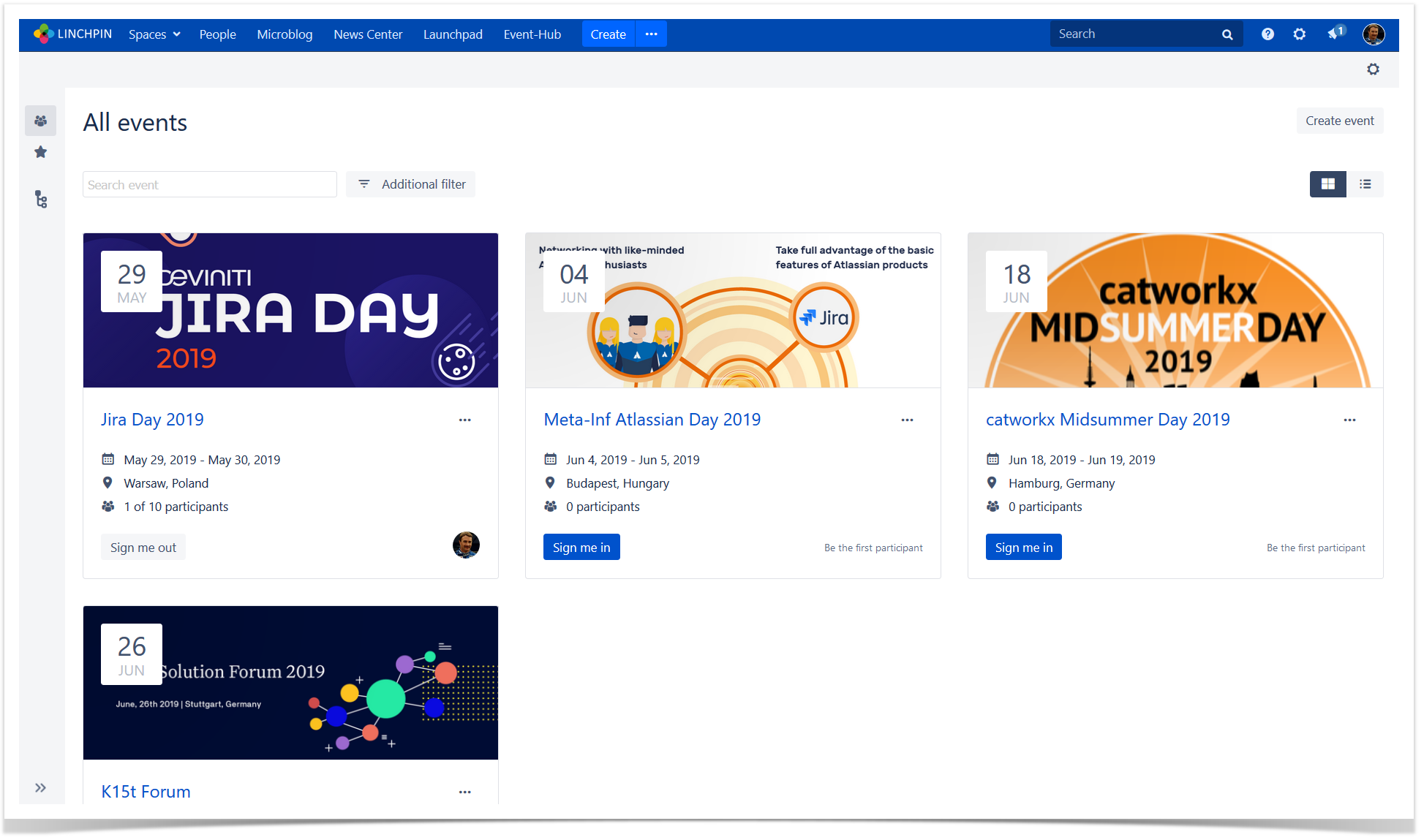 This useful app provides you with a collaboration hub right in Confluence. Now you can build an interactive knowledge base together with your team.
Pricing: The pricing for the Linchpin Intranet Suite app for Confluence Server starts from $2,500 for 25 users and ends at $52,000 for the unlimited number of users.
The daily life of a Confluence administrator can be complex. Especially when they need to quickly understand why a user or a group of users can or can't access a certain page or space. Permission Helper can be a nice solution of this challenge. It helps Confluence administrators to have an overview of user and group permissions.
You can access the settings either in the space tools menu or in the setting menu of the Confluence header.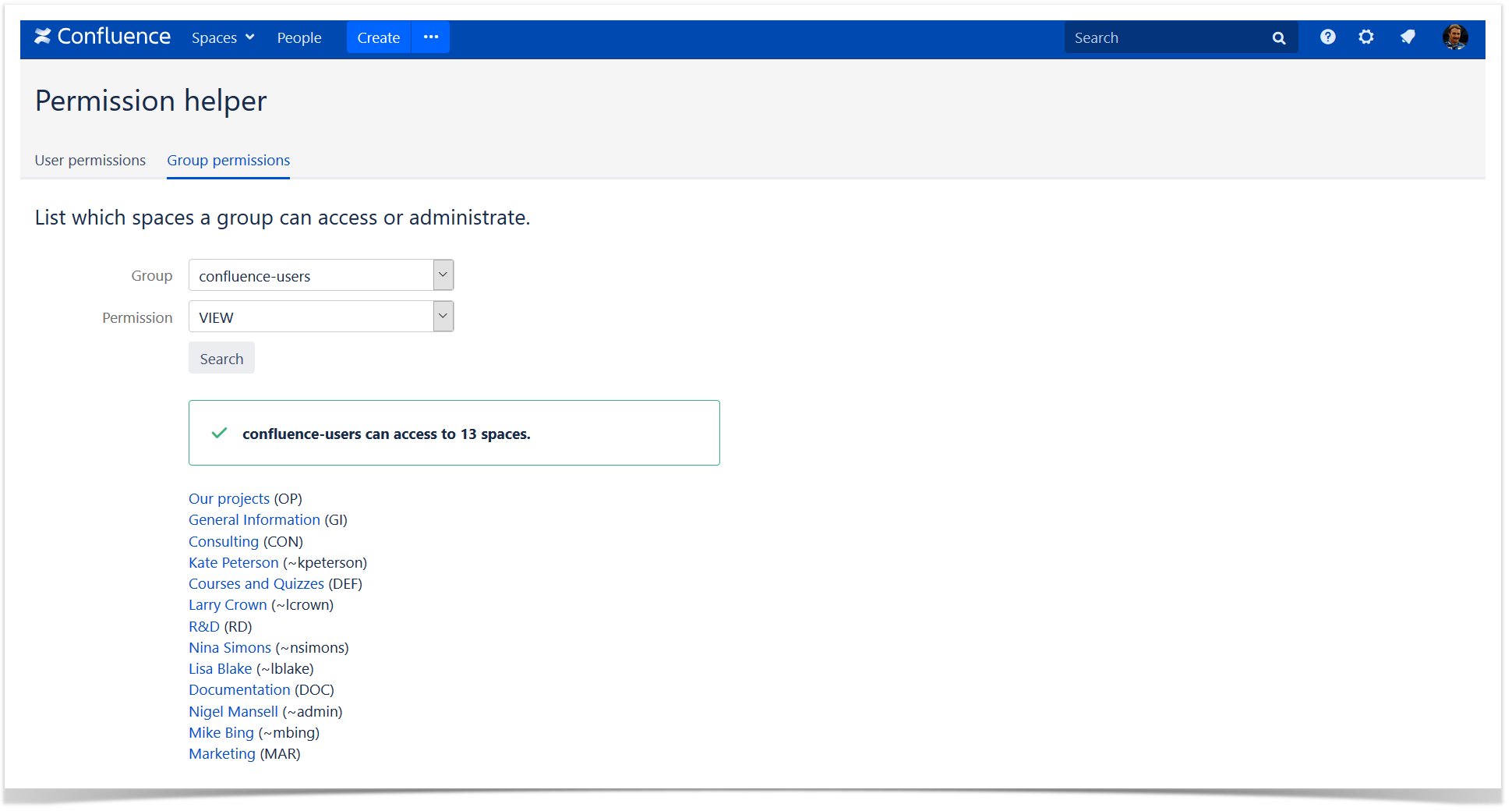 This app allows you to quickly understand the reason some user can't access a certain page.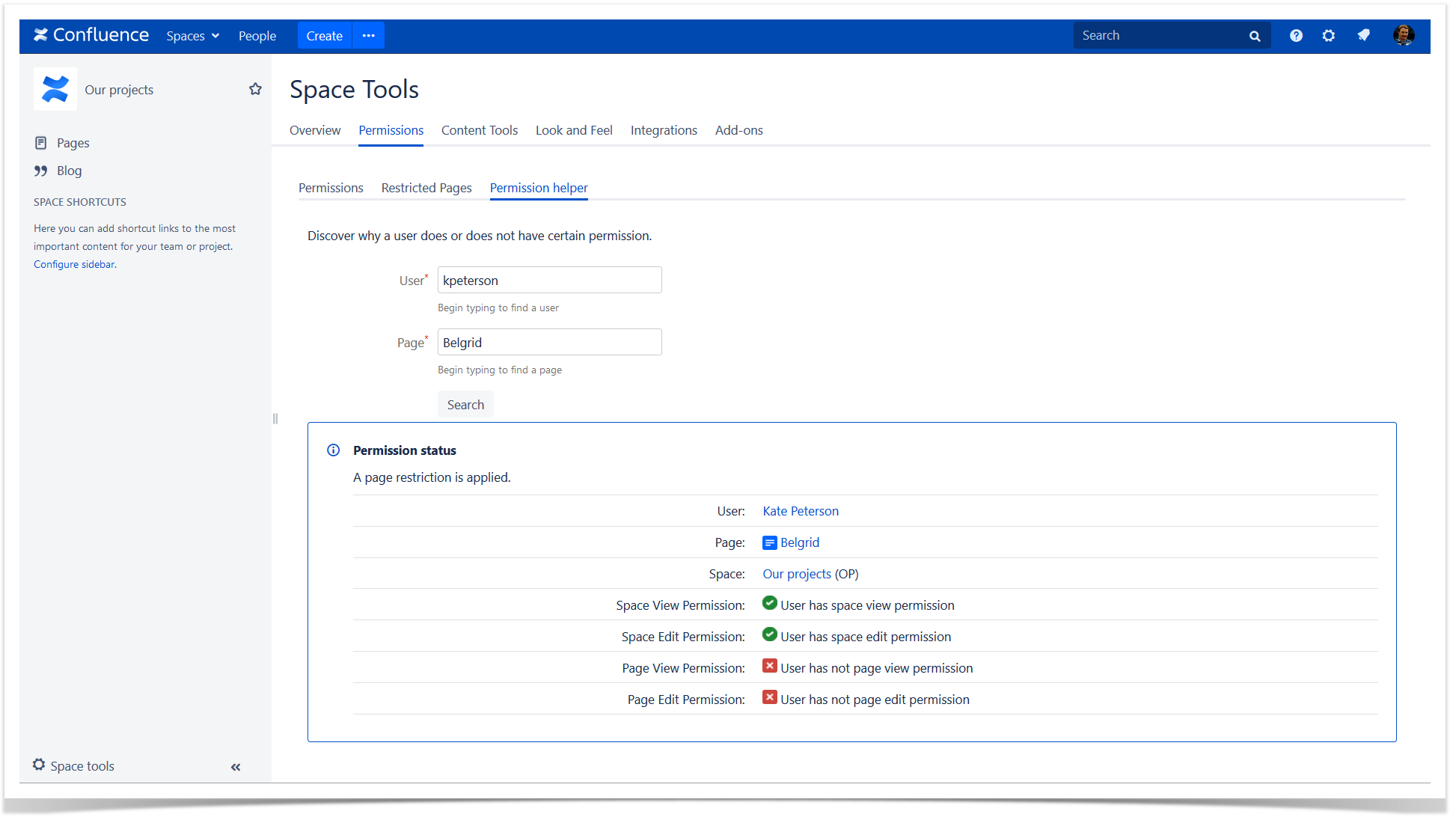 Use this solution to easily troubleshoot the problems your users encounter when they deal with page and space permissions.
Pricing: The pricing for the Permission Helper app for Confluence Server starts from $15 for 25 users and ends at $1,200 for the unlimited number of users.

This is our selection of the most interesting Confluence apps released between January 1st and March 31st this year. We hope that each of these apps can help you get more done in less time.
If you have any questions, feel free to comment on this blog post below. Tell us more about your favorite Confluence apps.