5 New Apps Not to Miss a Thing in Jira – Third Quarter 2017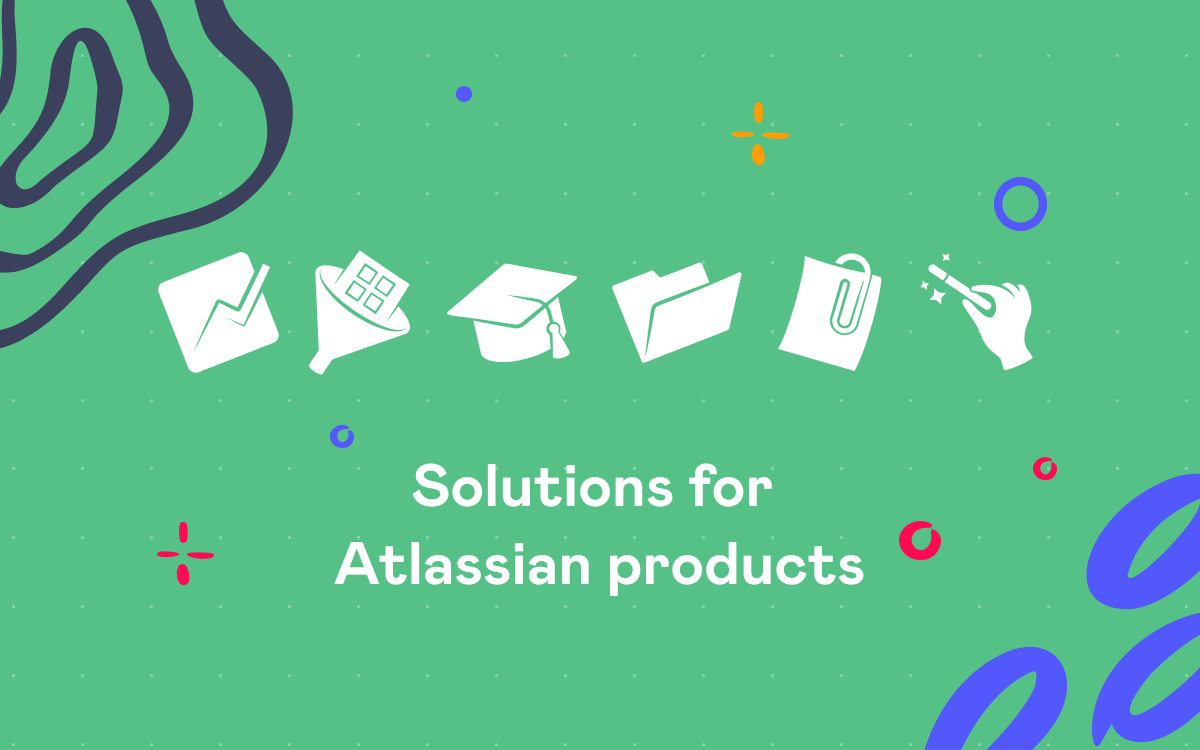 Hope that you've already read our blog post featuring the most interesting Confluence apps of the third quarter. Of course, we can't leave the latest apps for Jira behind and have already chosen our Top 5 that will make your work with Jira even better.
If for some reason you have missed our previous reviews in this series, check our posts with Top 5 apps released in the first and second quarters of 2017.
We are always following all new solutions and we have to confess that this time it was rather difficult to choose only five of them due to the record number of released apps. We are talking about 183 new tools for Jira that appeared on the Atlassian Marketplace between July and September. We assume that this activity of developers is related to the recent Atlassian Codegeist hackathon. So we did all the hard work and checked all these solutions to find the best ones that can increase your efficiency in Jira.
Here is our Top 5 apps for Jira you may like to try:
So let's discuss each app in more details and see some examples of how you can benefit from using these solutions.
Sometimes you need to create a lot of sub-tasks in Jira to make sure you haven't missed anything to successfully complete your current task. For example, you together with your colleagues are going on a business trip to some conference. You can create the task called 'Preparations for Conference' and within it add a series of small sub-tasks.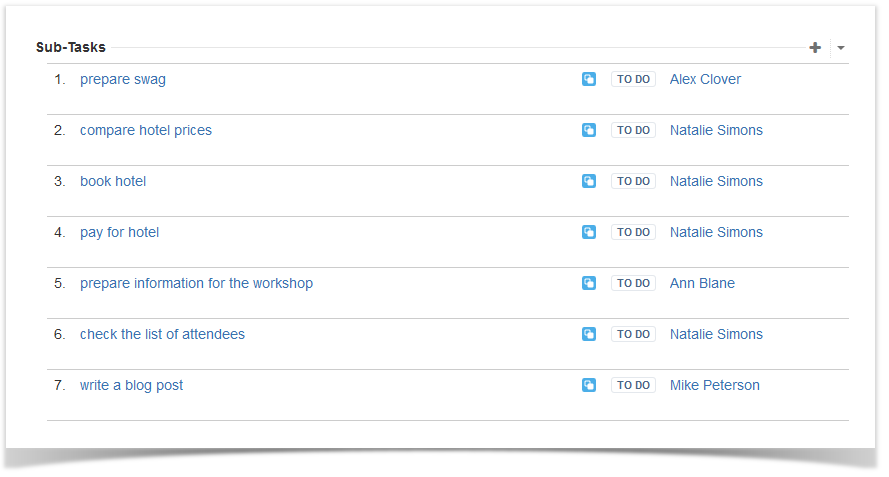 The Valiantys team offers a great way to facilitate your strategic planning with no need to create dozens of sub-tasks for decomposing a parent task. You can add several dynamic tables and track the task relevant information in them.
Let's recall our preparations for the conference. We needed to find the hotel, book it, and pay for it. So we added all options that suited our needs, attached the photos of the rooms, entered the price range for each hotel, and added the booking confirmation for the hotel we chose. All these actions in one simple table!
The other table shows the list of our expenses. This app allows you to populate your table with text, numbers, usernames, and also add checkboxes for indicating the completed steps. You can also attach files of any format. When you deal with numbers you can count the average, minimal, or maximal value or calculate the sum like we did for the total price for all the three rooms.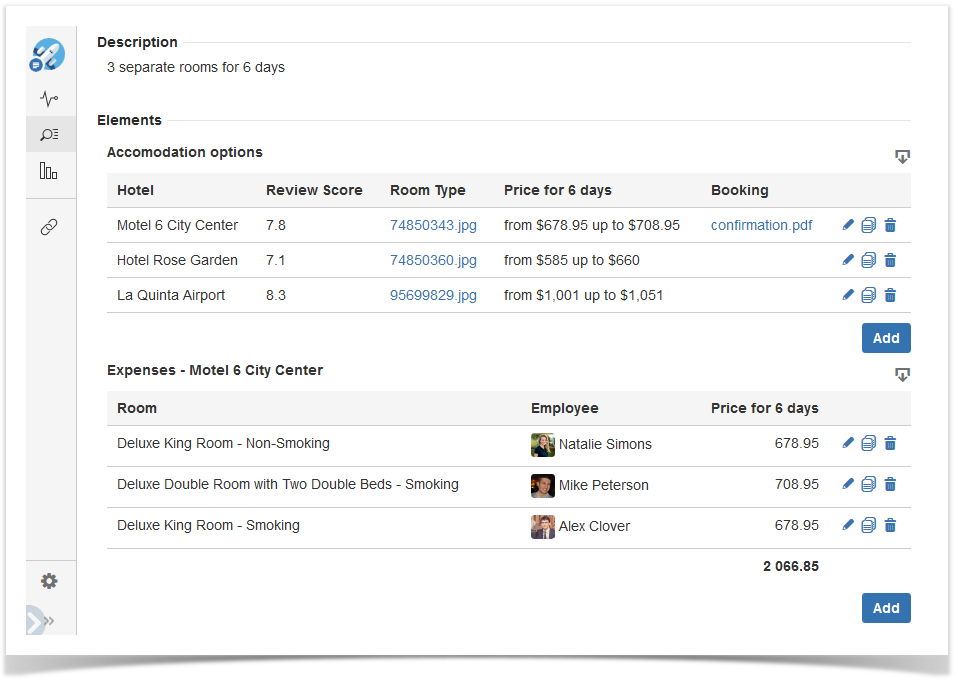 We also needed to prepare our workshop: like creating a list of attendees, inviting them, and checking if our colleagues knew their topics and time allocated for each presentation. The Elements app is a great solution to manage this issue. We have created two separate lists and entered all the information accordingly. Moreover, users can save the lists and finally export them to CSV files.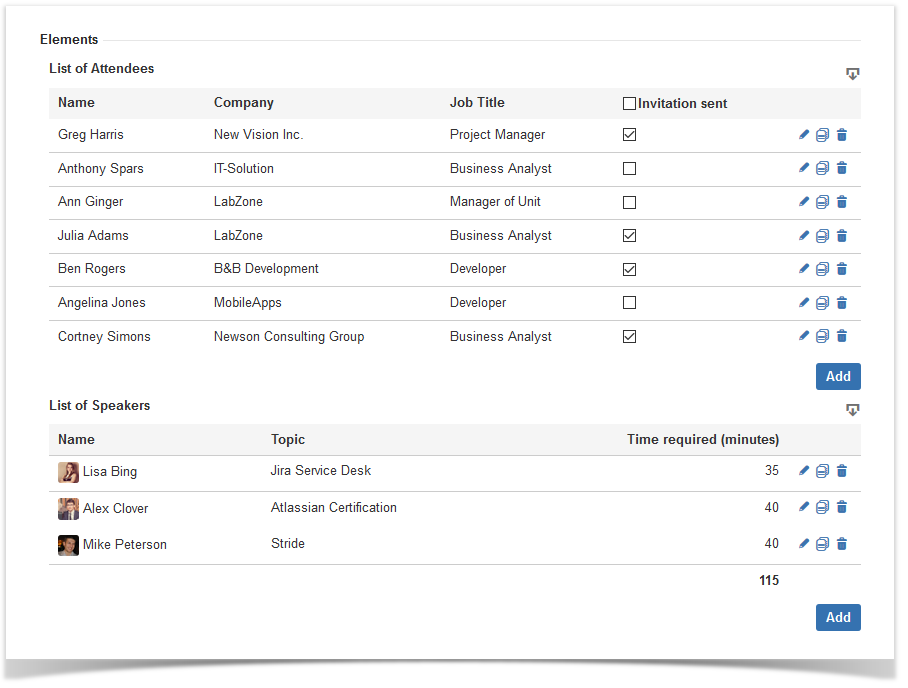 You can set display of tables depending on issue types and user roles. This app from Valiantys saves the time of your team:
Project administrators can configure the structure of a table per project themselves.
Users can easily enter data into the created tables and grids.
Pricing: The price for this app for Jira Cloud starts at $15/mo for 20 users and ends at $405/mo for 2,000 users. For Jira Server the price starts from $200 for 25 users and ends at $3,000 for 10,000+ users.
How many meetings a week do you have? Our team run a lo-o-o-ot of them every week and it is so crucial to have everything under control. Usually, you need to track the time and keep your colleagues aware of the agenda. When the meeting is over, you want to quickly assign tasks but you may forget about some of the things you were discussing. Of course, sometimes it can be difficult to prepare everything for your meeting and not to miss anything important. Especially when you need to schedule 10 meetings at once.
Alignment Meeting Board is an ideal solution for teams that often run different seminars, technical meetings, training workshops.
After installation of this app, you need to add the Meetings issue type into the project's set of issue types. You can build the meeting creation form of any complexity and structure you need. The form can be split into multiple tabs for tracking all the meeting relevant information in Jira.
You can create a new issue and enter all the details about your meeting: timekeeper, moderator, invitees, meeting type, labels, and so on. This app displays your scheduled meeting as a regular issue.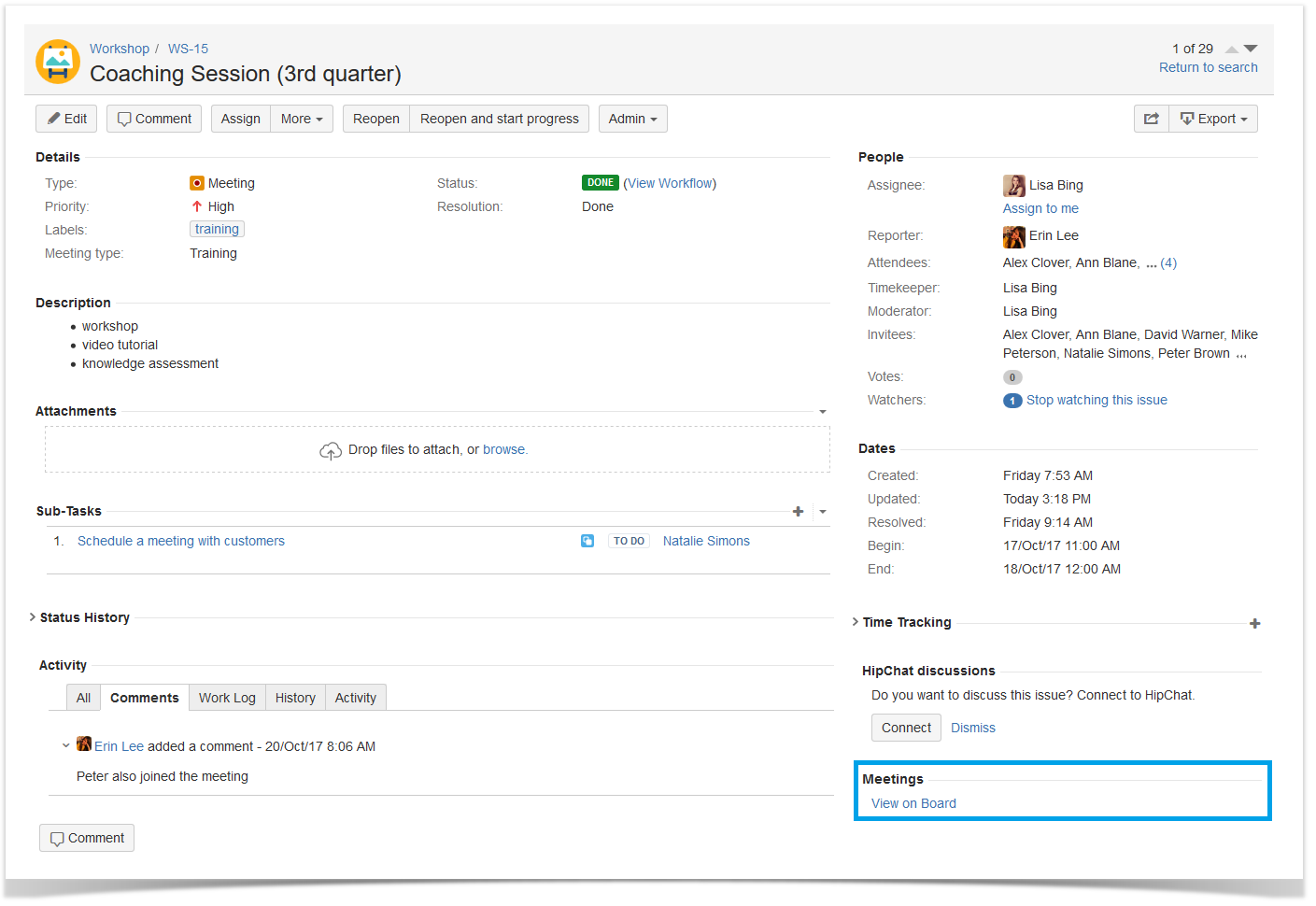 Or you can click the View on Board link and get the whole idea of this useful app. Below is the board of the past meeting. During this meeting the moderator dragged the discussed issues to the appropriate section giving names to each topic (for example, Visual effects). The timekeeper added the time spent on discussing every issue. The moderator added the planned issues and also created a new issue assigned to Natalie Simons.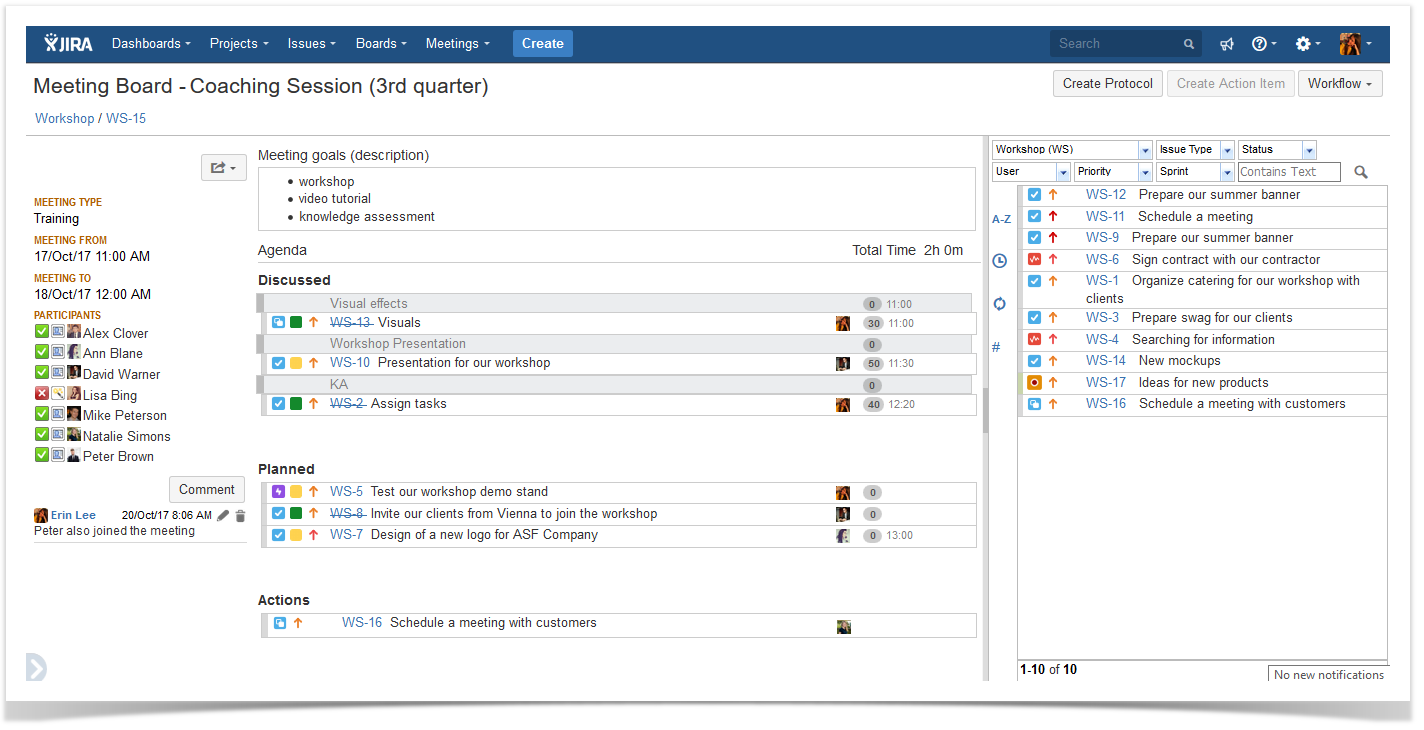 To keep track of all the meetings you can select Meetings on the Jira menu and apply the necessary filters.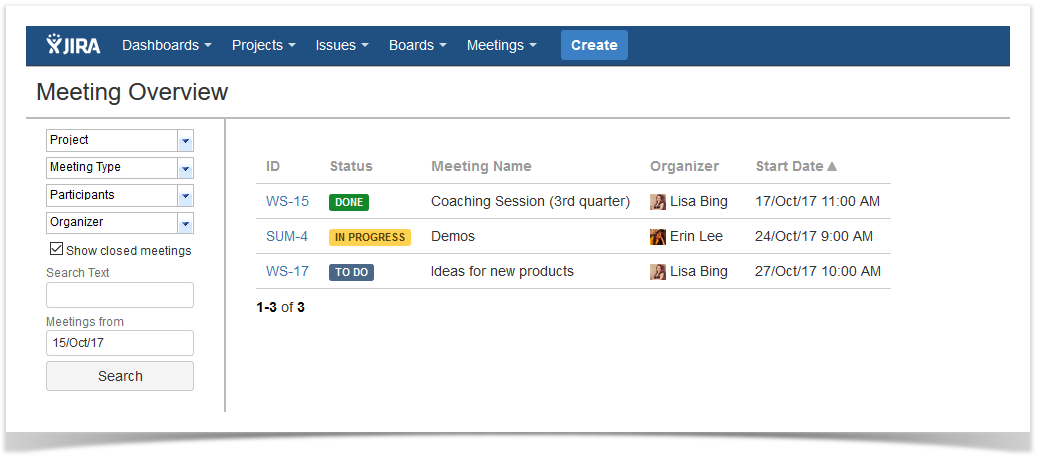 Alignment Meeting Board helps you keep the whole story of your meetings always at hand. With this app you can be sure that you won't miss any detail or decision during the meeting and after it.
Pricing: The price of this app starts at $600 for 25 users and ends at $12,000 for 10,000+ users.
This solution can be essential for big teams because it helps you track users availability when planning work and assigning issues. You can also view the list of issues where the assignees are absent and reassign them to avoid any interruptions in your working process.
User Availability Tracker allows you to define all the needed leave types and visually differentiate among them by coloring. All users can add events on the User Availability Tracker tab within their personal profiles.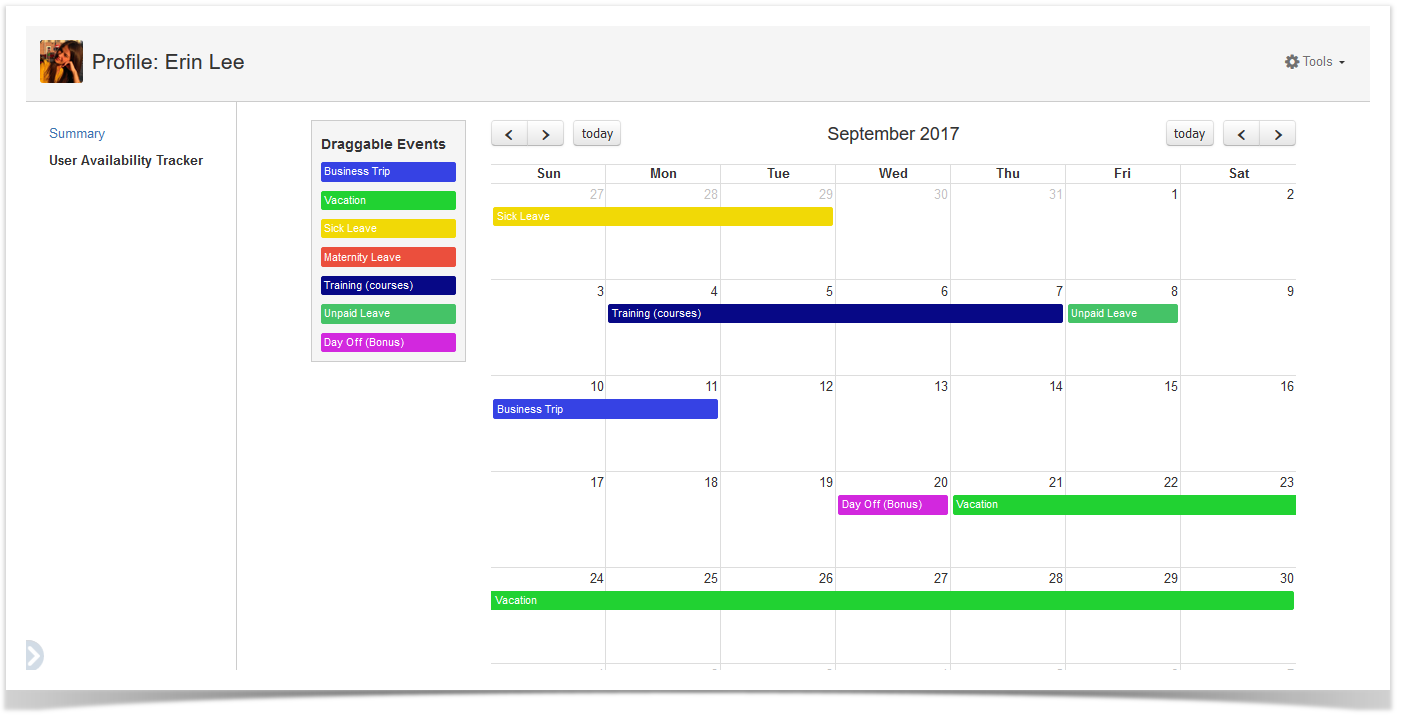 Your colleagues with administrator permissions can edit leaves of all users. Other users can only view calendars of their colleagues to check their availability.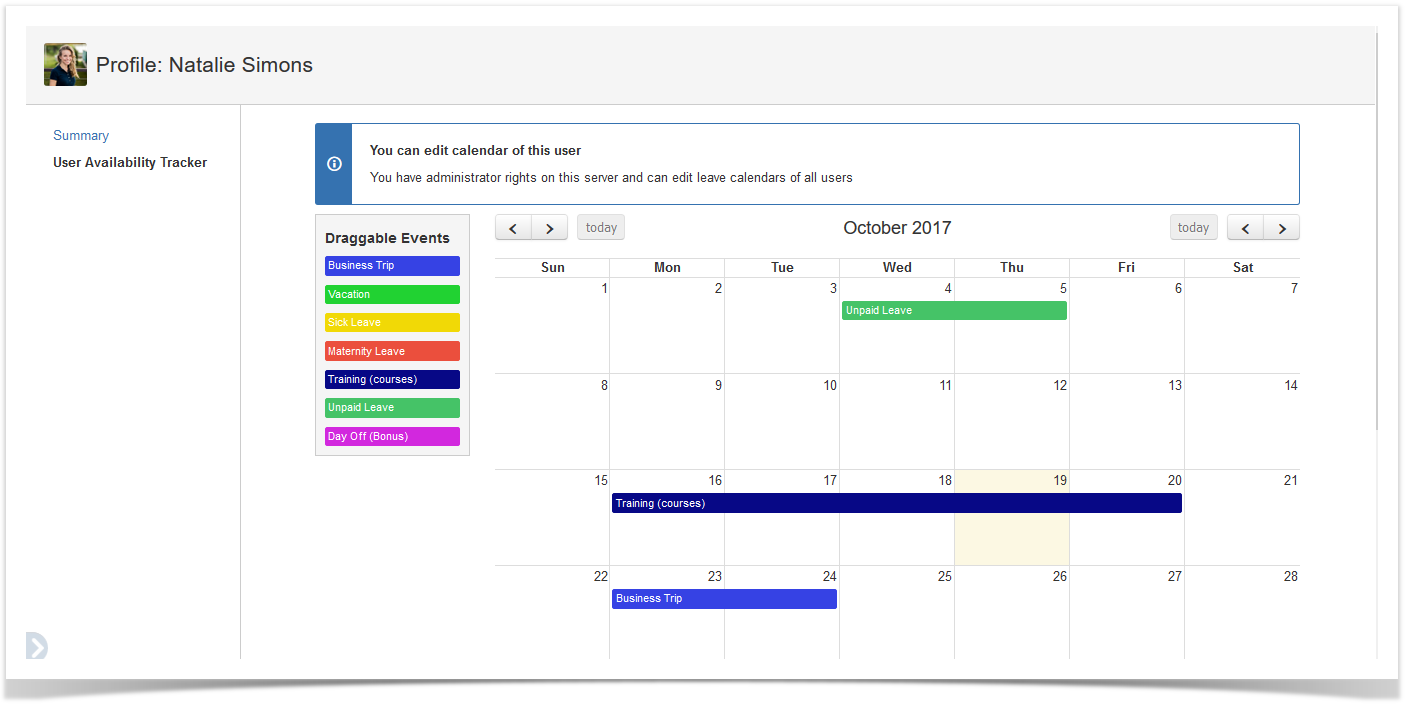 To plan work on your issues and reassign tickets to the available users you can use the JQL query 'absentUsers'.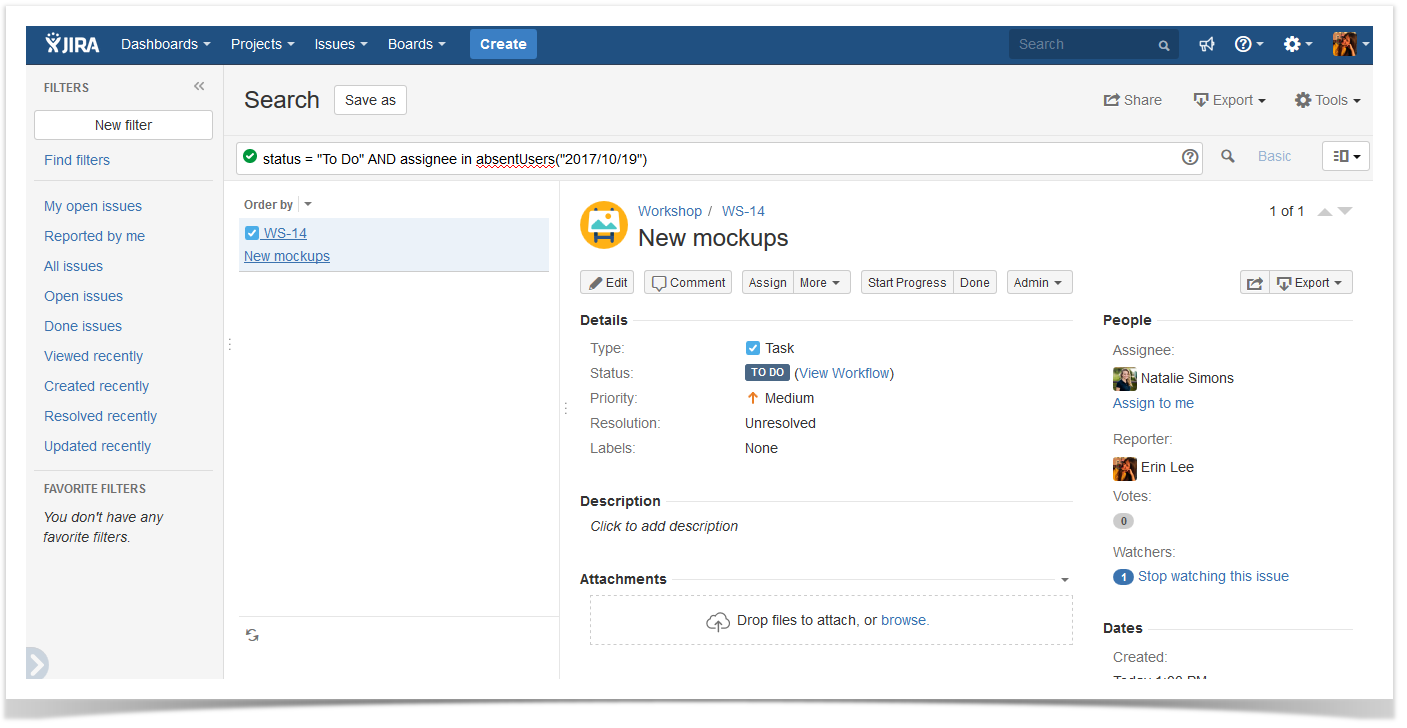 We think that this app can be of great help if you need to plan your activities ahead and get insight into availability of each member of your team on a particular day.
Pricing: User Availability Tracker for Jira Server is free to use.
This app helps you visualize the history of issue changes on a straight timeline and track all the essential details in the table below it. The Status History app shows the activity of assignees and indicates the status change log from the very beginning.
You can easily zoom in or zoom out the timeline, see what happened with the issue today, and refresh the data.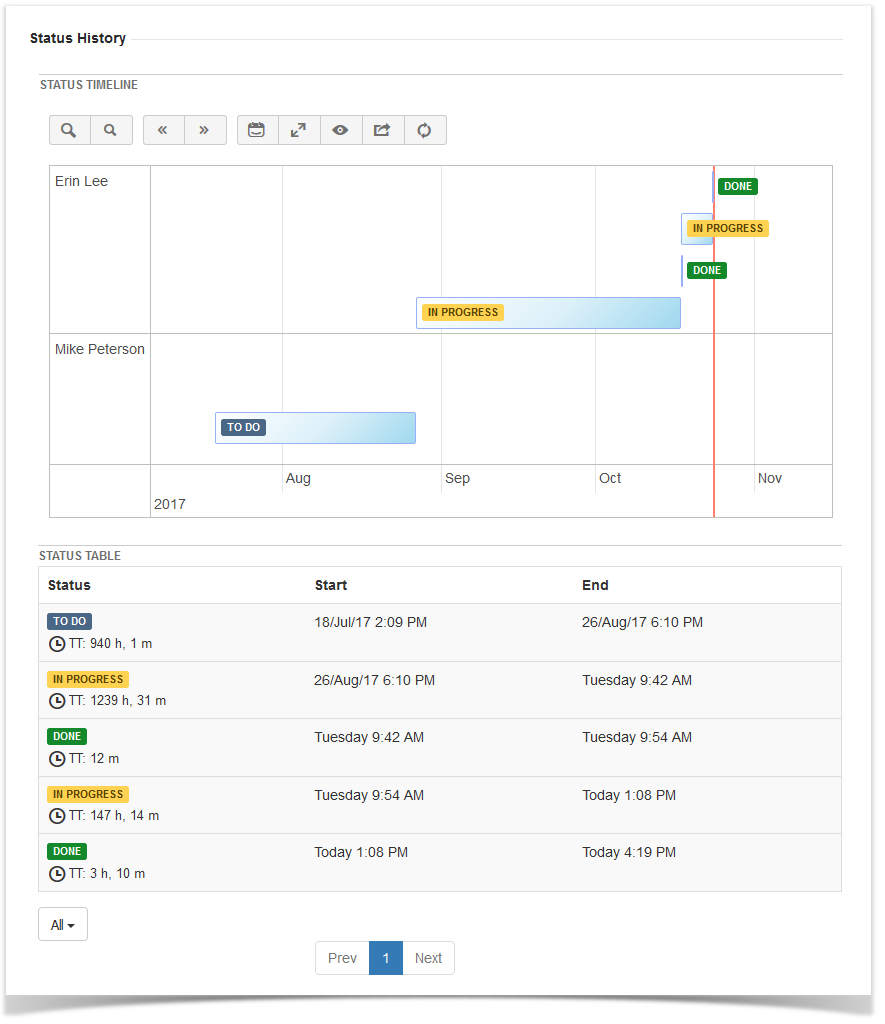 You may like this app if you want to keep an eye on status history of your issues. The Status History app may be very useful if your team deals with the multi-step workflow and tracks time of the issue being in a particular status.
Pricing: Status History for Jira Server is free to use.
The last but not the least is the app that takes navigation among multiple tabs with Jira sections to the next level.
When you browse through multiple issues in different Jira projects and open a series of tabs, it can be a problem to find the right section at once. Or when you are viewing multiple user profiles, it can be puzzling to understand where is the tab of the user you need at the moment.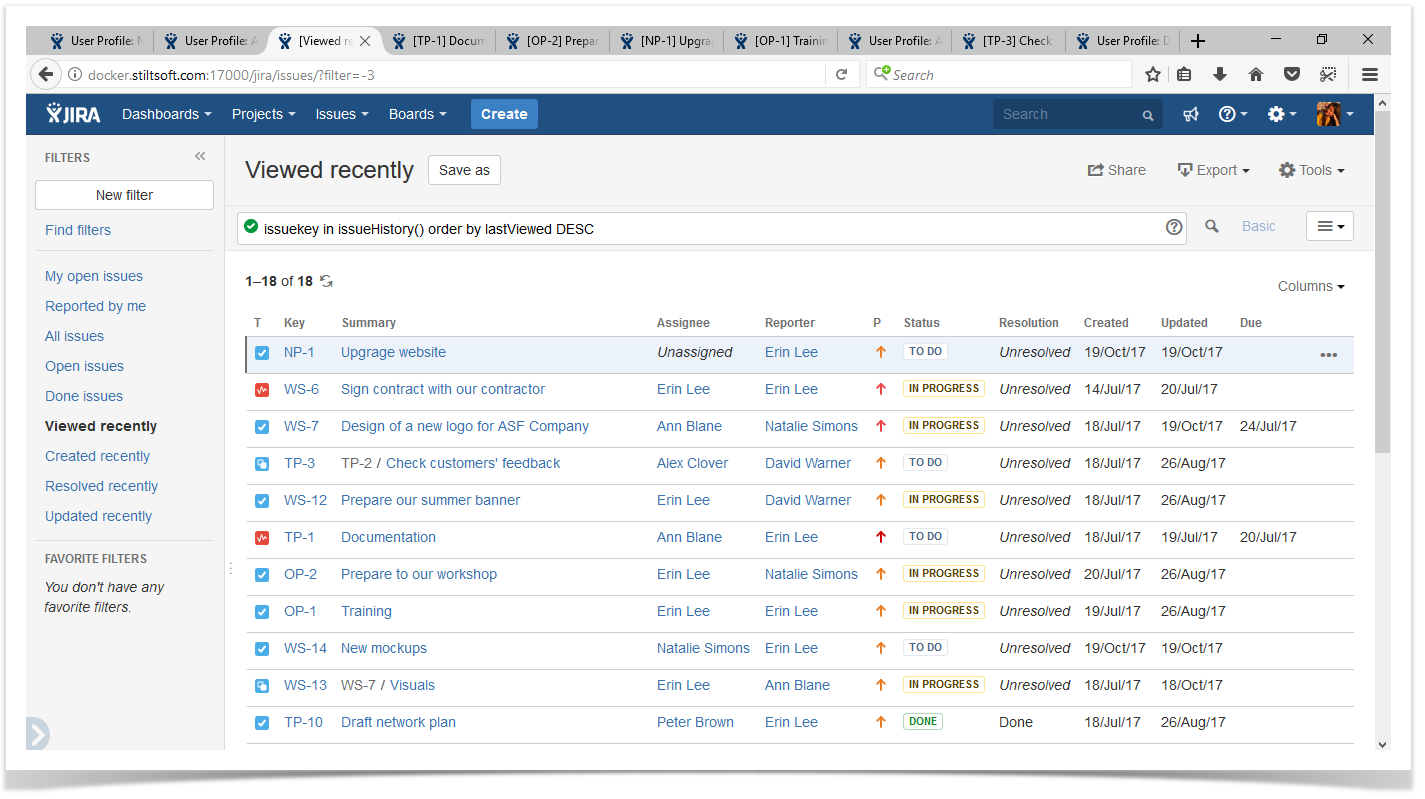 Do any of the above mentioned situations sound familiar? If yes, we have great news for you. You can install the Favicon app and forget about navigation problems for good. The app replaces the default Jira favicon with the project logos or user avatars depending on pages you are viewing. It helps you locate the browser tab with the appropriate details.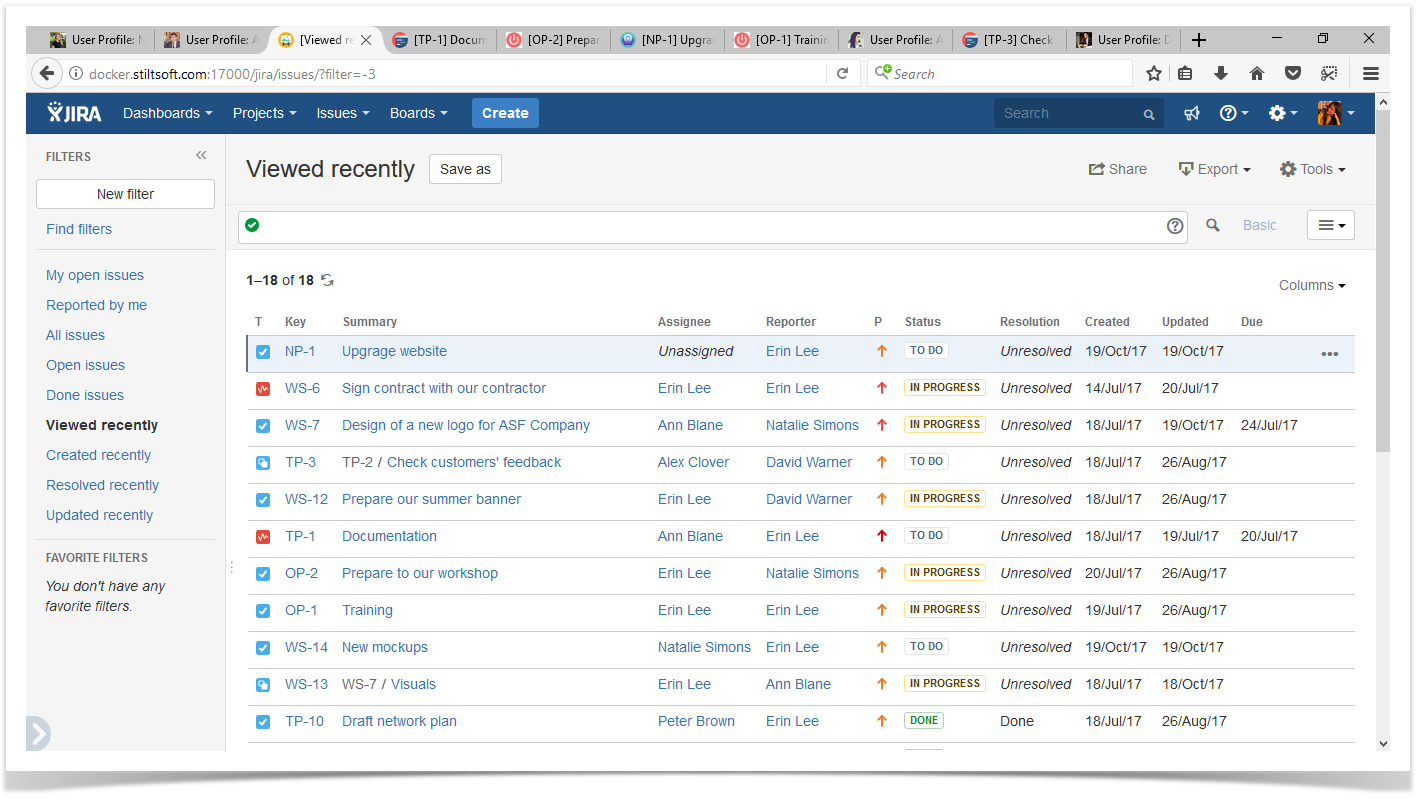 The developer of the Favicon app decided to keep this solution light though it does not support favicons in SVG format required by Chrome browser. So currently only the Mozilla and Opera browsers can work with this app.
Pricing: The price of this solution starts from $120 for 25 users and ends at $2,400 for 10,000+ users.
These were our favorite apps in the third quarter of this year. We think that these tools will definitely help you boost the productivity of your team. You can try any of them for free and make your own choice.
If you have any questions, feel free to comment on this blog post below. Don't forget to subscribe for email notifications about new blog posts in this series!