5 New Apps to Boost Confluence – Third Quarter 2017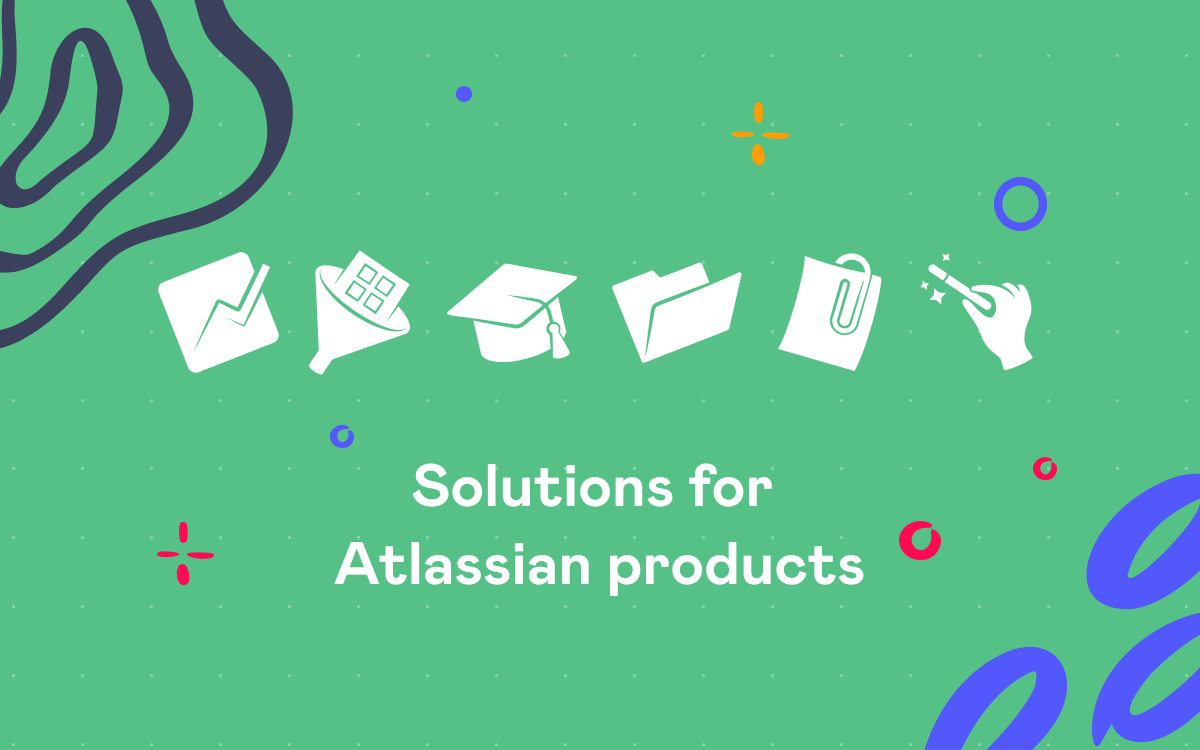 The Atlassian Summit has already passed in San Hose. All Atlassian applications have received radically new logos, and add-ons are now called 'apps'. And it's high time to say, 'Winter is coming!' These all mean that our new post about Top 5 apps for Confluence is here for you.
We have reviewed more than 75 add-ons appeared on the Atlassian Marketplace in the third quarter of 2017 and selected the ones with the highest value for running your business.
If you are here for the first time, you can check our posts featuring Confluence apps that were released in the first and second quarters of this year. For those ones who are anticipating our top 5 of solutions for enhancing work in Confluence, we want to present the new list of our favorites:
Well, let's see each app in details and find their advantages.
Self-organization and time management are the crucial factors that determine your success in running projects and accomplishing important tasks on time. To-do lists are a solution that can help you with these things.
Out-of-the-box Confluence provides you with task lists that can be collected across multiple pages with the Task Report macro. Those of you who have already tried or are using it at the moment know about its main problem. It's the absence of the centralized interface for adding and managing tasks, which has a negative impact on the overall planning across multiple teams.
With TodoMe for Confluence you get this missing feature. This app integrates into the Confluence menu bar and provides you with a quick access to all your tasks and tasks assigned to your teammates. All the tasks can fall into groups that you can share with the specific user groups within Confluence. Each group shows the currently opened tasks and the already completed tasks when you expand the Finished section.
You can add tasks inline, quickly assign them to your colleagues, pick a due date, and set priority. In addition, you can move tasks between groups, add labels, and create the structured task lists by demoting small tasks under the complex parent task. You can also view the upcoming tasks and filter them based on one of the existing criteria. The list of to-do tasks is displayed under each user profile so your colleagues will not miss important activities.
In addition, you can create quick-to-use templates for existing procedures or regular activities, such as product releases, service evaluations, or R&D processes. You just need to create a set of tasks with pre-defined assignees, priorities, and labels, and add it to the team activities once the time comes for it.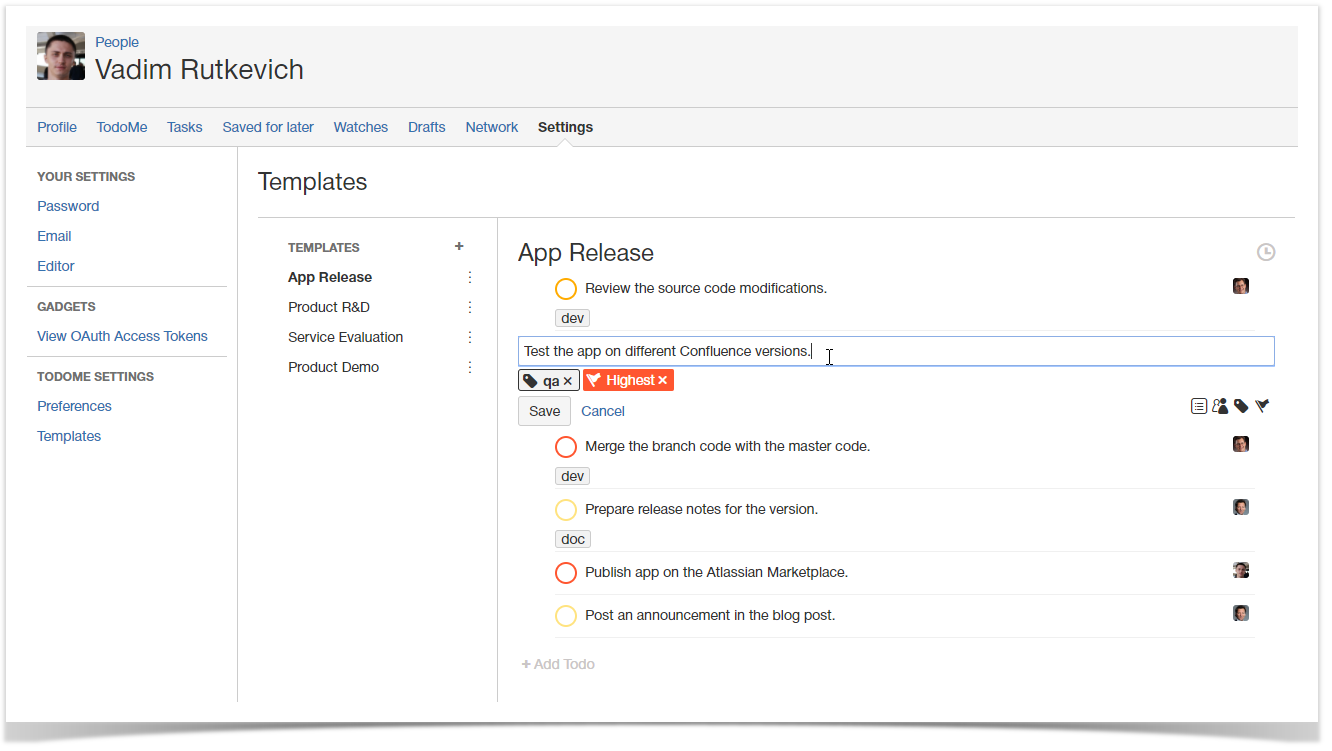 This app also provides a convenient way to discuss the task progress with inline comments So you can stick to the context of each task and discuss it with your teammates in one place.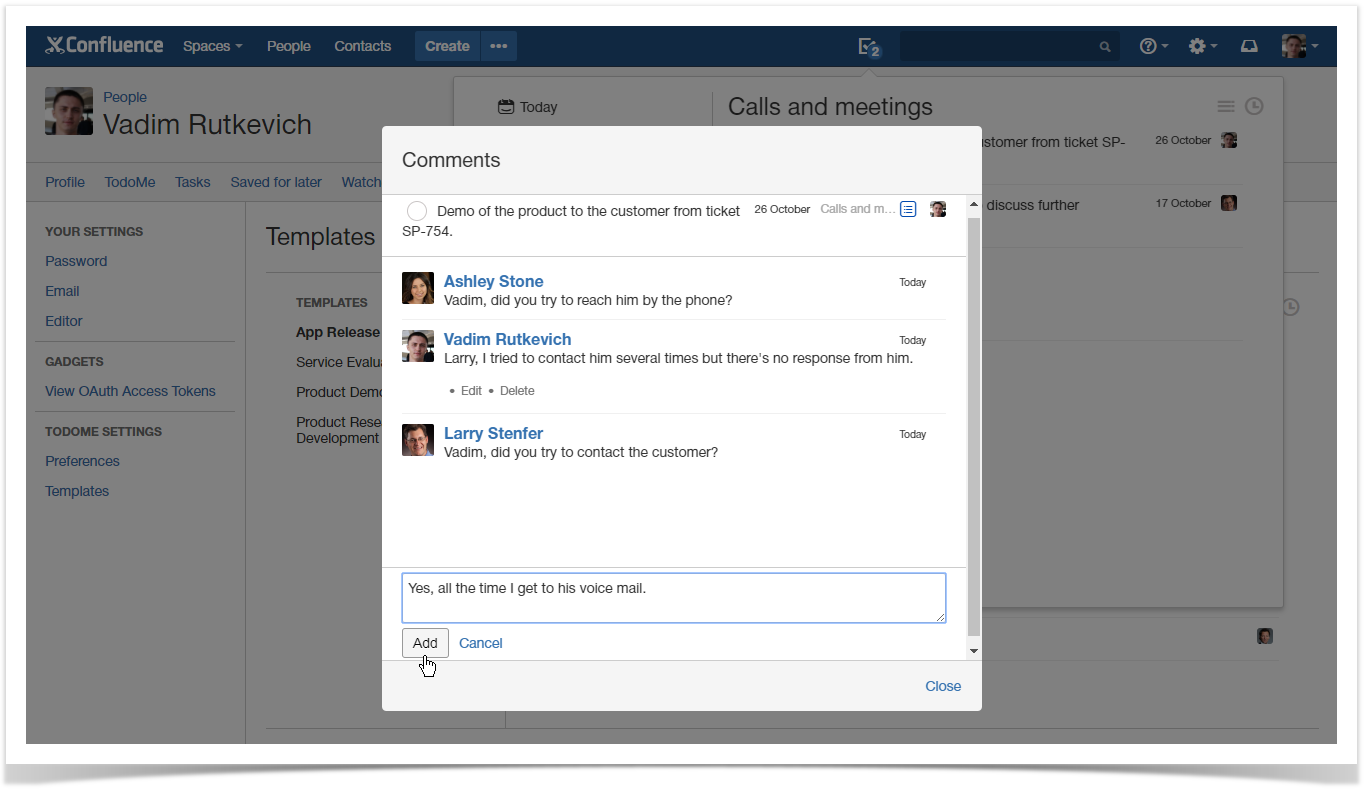 The app supports the native Confluence task lists so you can also include them into your to-do lists.
Pricing: The pricing for the app starts from $140 for 25 users and ends at $2,800 for the unlimited number of users.
Are you extensively using Confluence Cloud for documentation? If yes, so you know that page revisions are not an ideal way to keep track of document changes. The Scroll Document Versions app introduces the concept of document versions which you can mark specific page revisions once all changes and updates were incorporated into the document.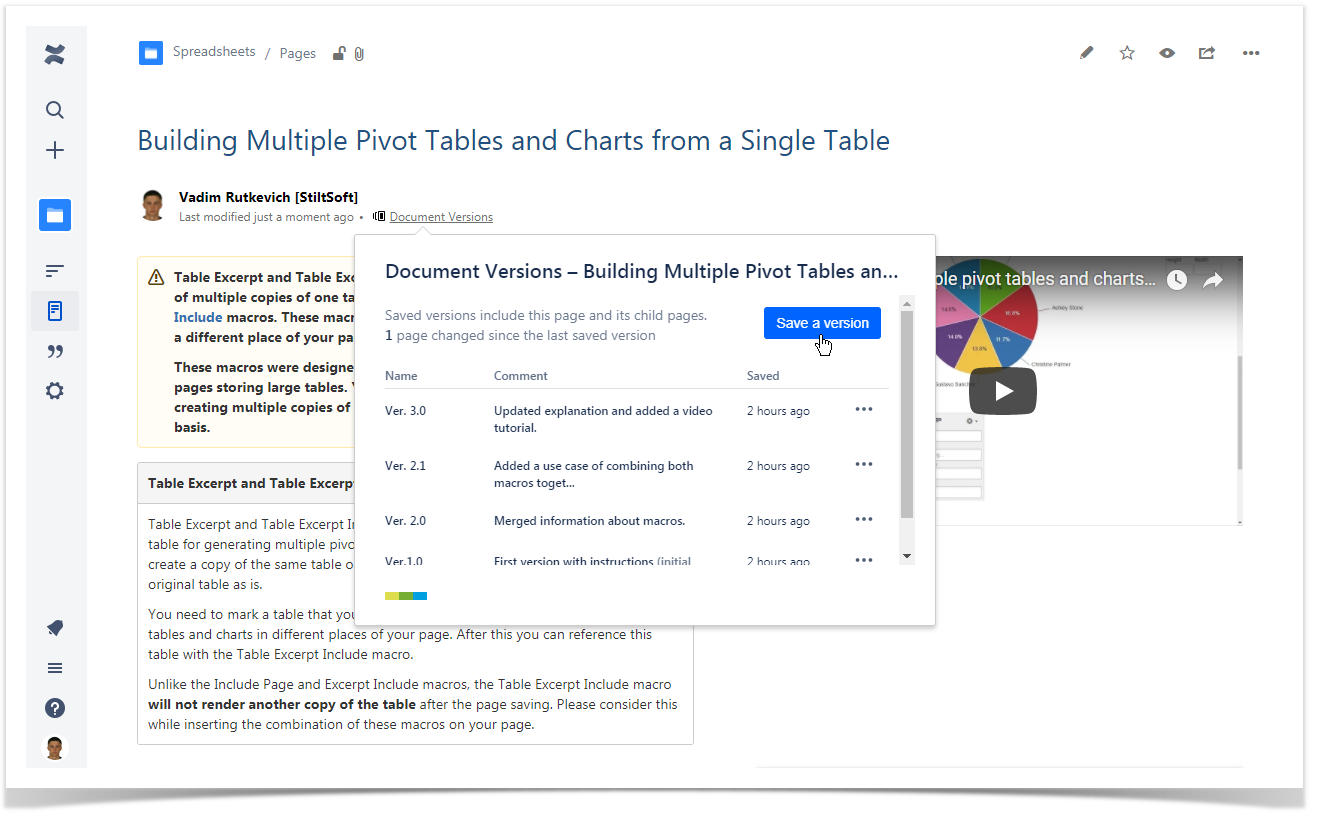 This way instead of browsing through hundreds of page revisions, you can have several document versions including a bulk of content modifications added over the time. It is quite convenient to you and your customers to view a specific document version and switch between different versions of it.
In addition, you can compare different document revisions one against the other to see all the differences added throughout the time.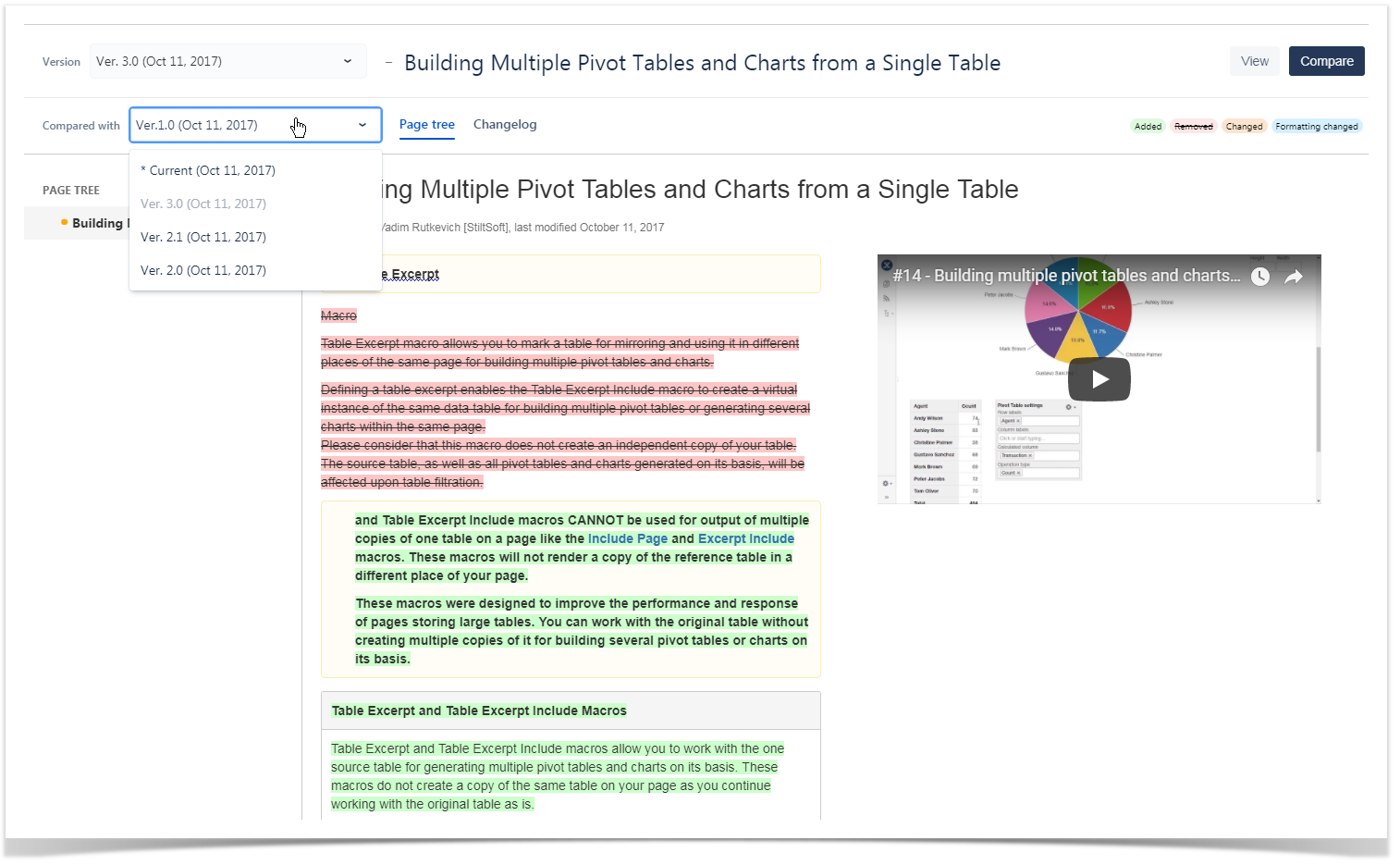 This is app is very useful when you work on contracts, legal agreements, functionality specifications, and other documents that do not tolerate accidental changes without mutual agreement from both sides.
Pricing: The app price starts at $18/mo for 20 users and ends at $675/mo for 2,000 users.
Has it ever happened that scheduled meetings collide with other activities of yours or of your teammates'? If you give a positive answer, try the app that can help you keep all your planned activities and current tasks on a single calendar in Confluence.
This solution allows you to connect the shared accounts from Office 365 or Microsoft Exchange Server 2013 for the centralized event planning on a single calendar. You can quickly arrange new meetings by checking availability of your colleagues at a specific time of the day.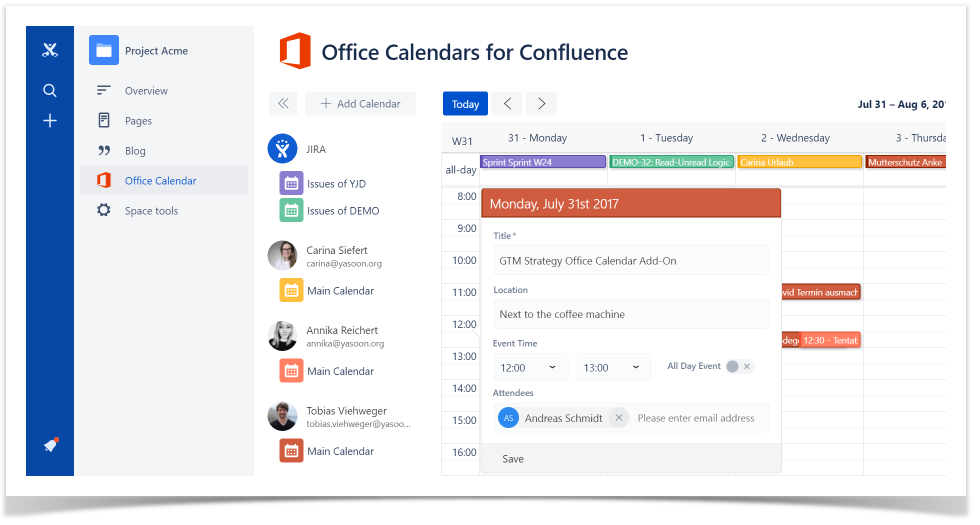 In addition, this app lets you connect Jira and Trello applications for instant display of boards with tasks, sprint frames, tasks matching the specified JQL queries, and dates of product releases.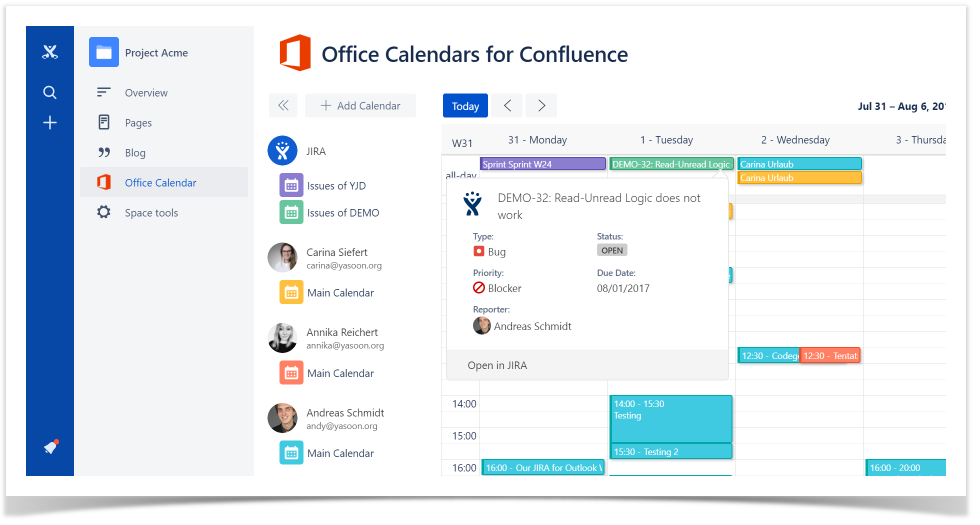 With all these applications connected you can instantly see what time slots during a day are available for running team meetings or having calls with customers. You needn't browse through multiple calendars of yours just to find out when you can gather the whole team for a quick discussion.
Pricing: The monthly subscription for 20 users starts at $10/mo and ends at $562.50/mo for 2,000 users.
Have you ever dreamed about embedding Confluence space content into the related pages of your website or helpdesk system? Embedder for Confluence allows you to insert the code of the contextual widget into the bodies of your website pages. Your customers and visitors can quickly look up for specific topics by entering their search queries into the corresponding field.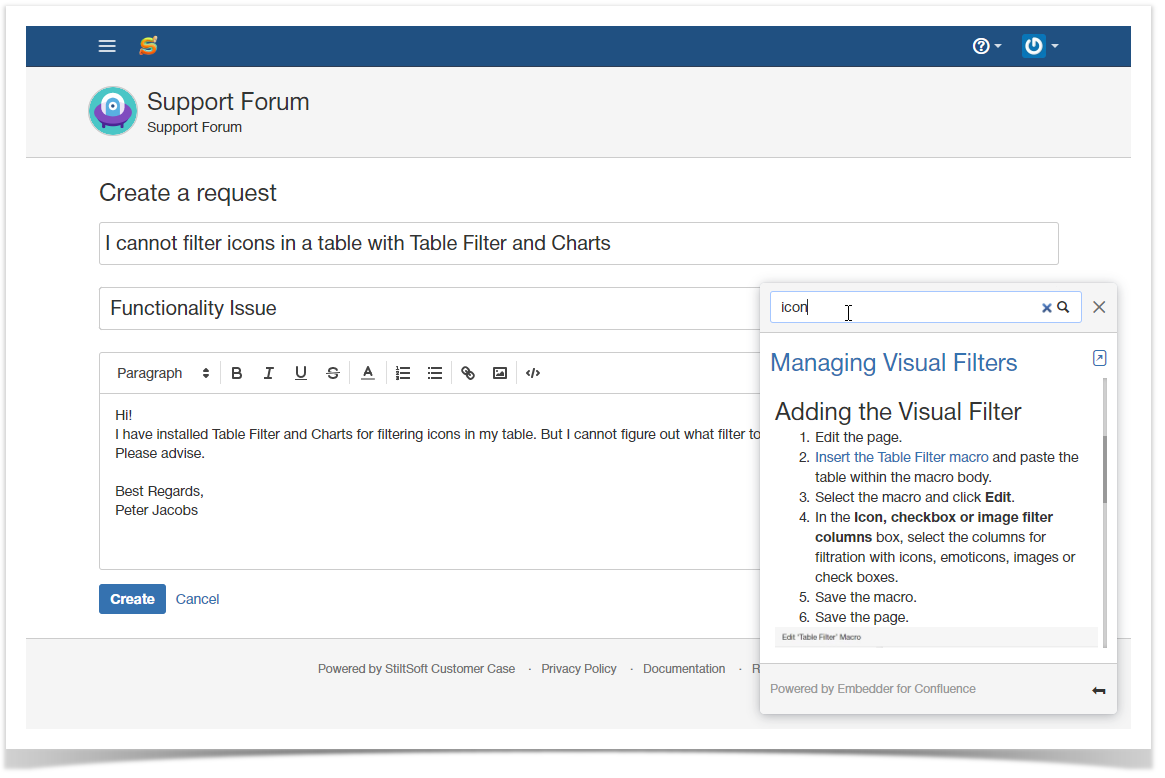 Configuration of the widget is pretty simple. You just need to enter the widget name, set the launcher label, and specify the input placeholder. In addition, you can define the visibility of the widget on the specific web resources of yours by setting the allowed corporate domains only. Every space administrator can get the widget code for embedding into the website.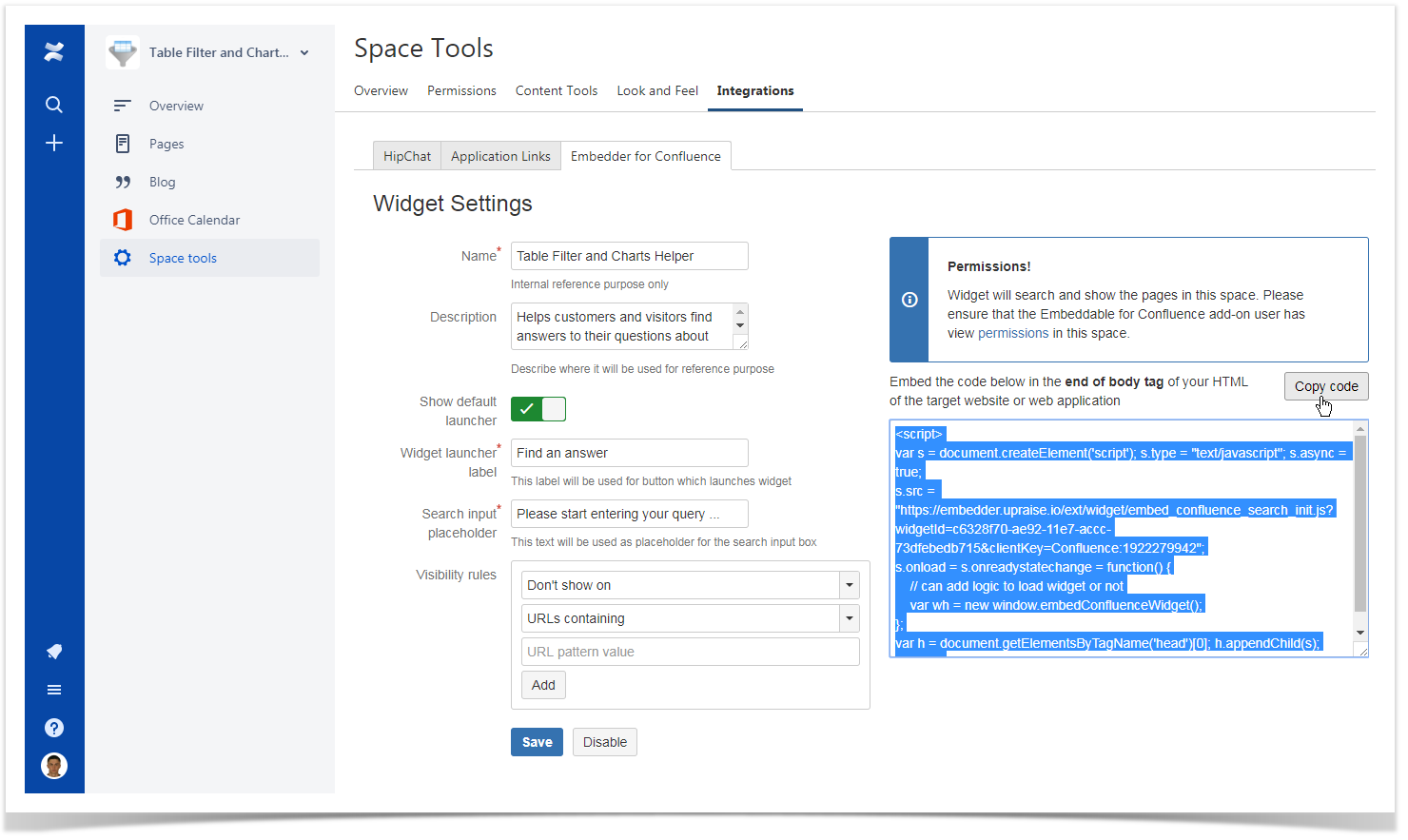 Once the widget code is copied, you need to insert it within the markup of your website page template or application, and that's it.
Pricing: The monthly subscription for 20 users starts at $4/mo and ends at $252/mo for 2,000 users.
It is not a secret that people percept most information during a day with their eyes. But the structure and visual look of information determine the success of its understanding by readers.
The best practicies recommend you to provide users with multiple formats of information explaining the same topics. And here diagrams can be a good alternative to traditional text description, tables, and bulleted lists, especially when you outline some technical concepts or models.
The Adaptavist team has designed a solution that allows you to quickly and easily create diagrams of any type, look, and format you really want. This app provides you with thousands of diagram templates by means of which you can quickly visualize processes and their flow, show the organization structure, capture ideas, design wireframes of future solutions, and do a lot of other things.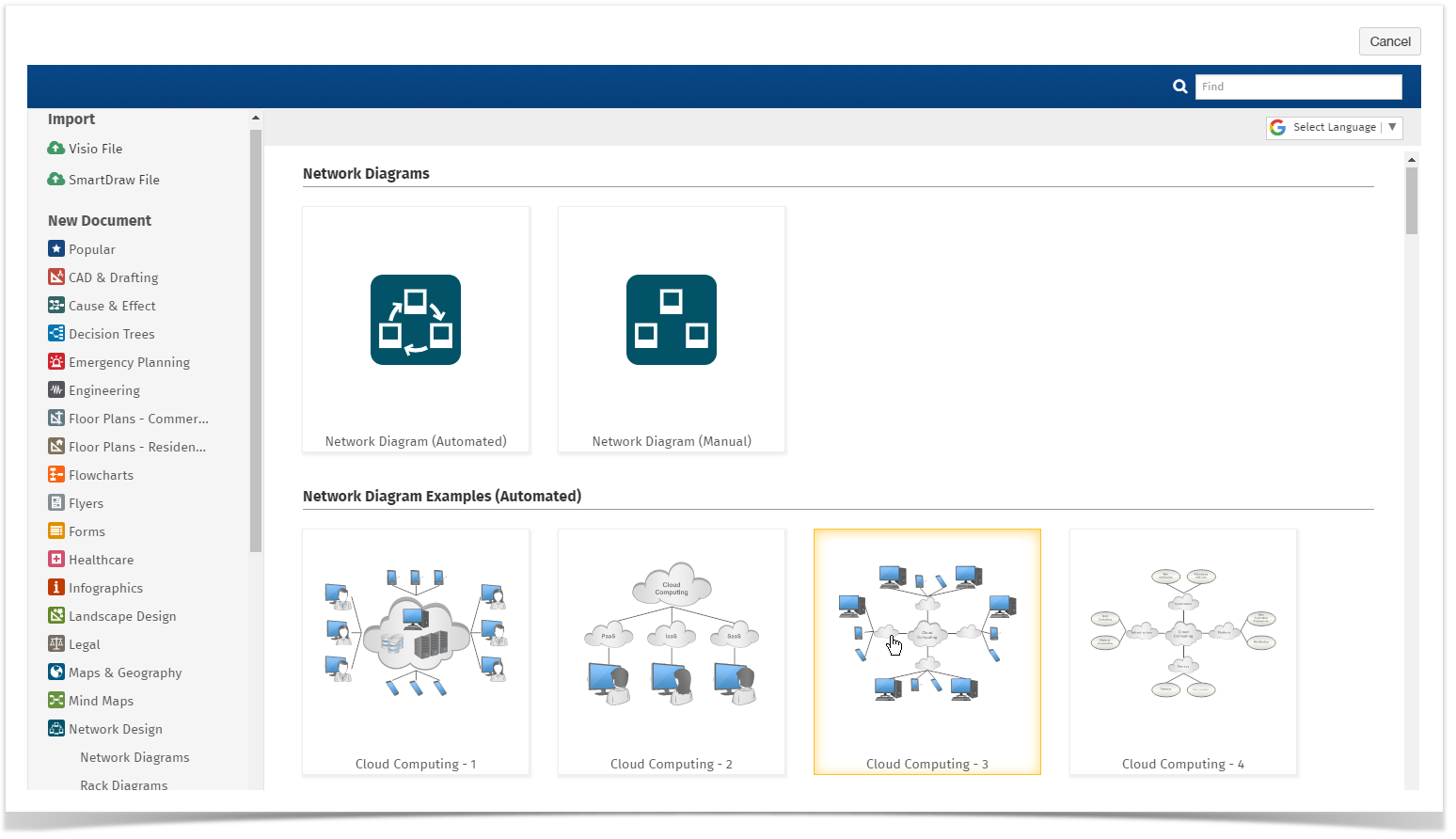 Besides creation of diagrams from scratch, you can import the already existing Visio and Smart Draw diagrams. The app will convert them into the proprietary format on the fly and present to you for editing.
Design of diagrams, sitemaps, or floor plans is pretty simple and intuitive. You can easily re-position elements, define their styles and effects, add hyperlinks to specific elements, and adjust spacing between them.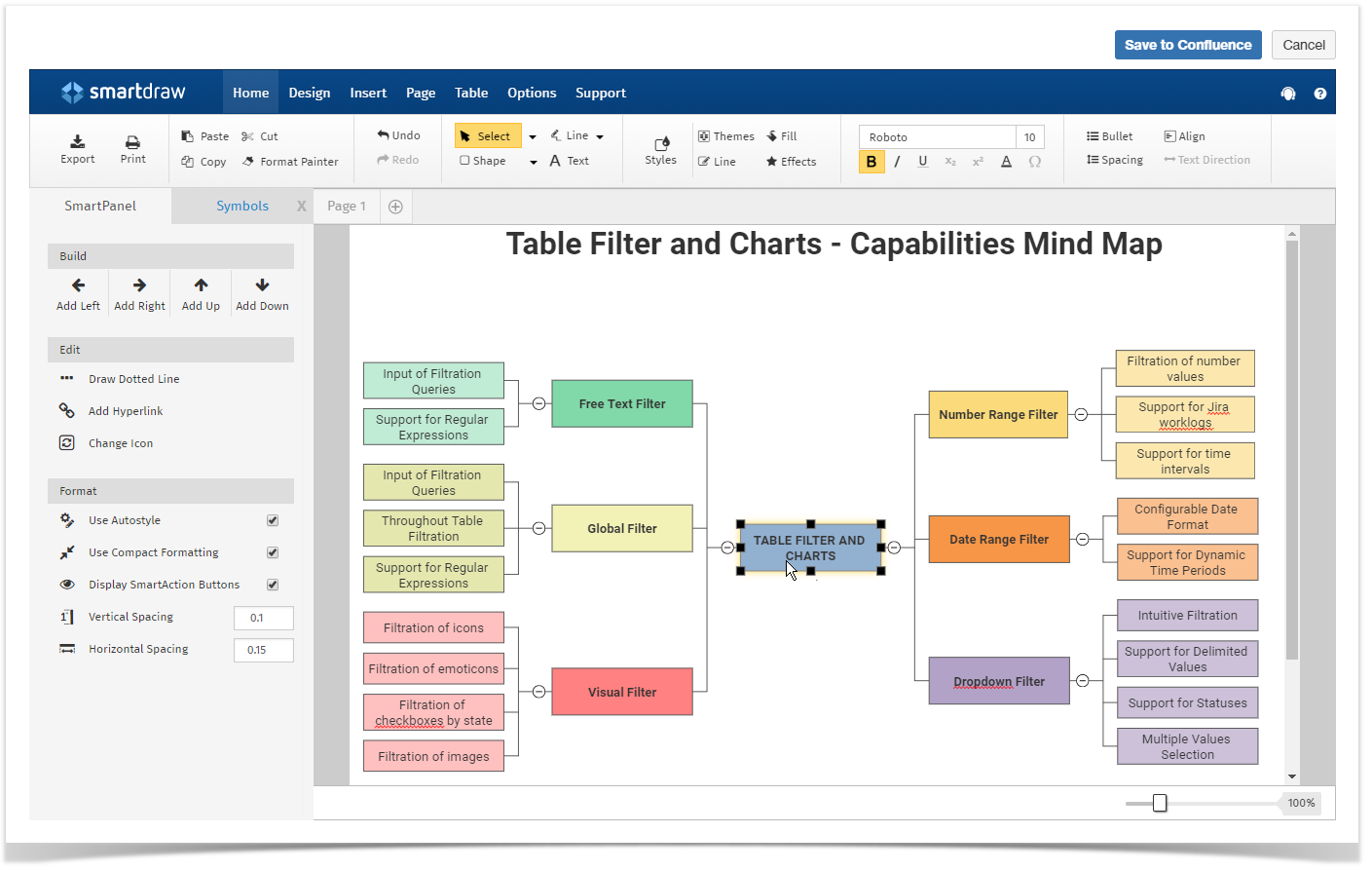 Once you save your diagram, the app embeds its SVG image into your Confluence page. This way you can quickly share knowledge between teams and with your customers by explaining complex topics with simple diagrams.
Pricing: The pricing for this app starts from $360 for 25 users and ends at $16,000 for the unlimited license. As of now, the Adaptavist team provides a 50%-discount code that any user can apply during the checkout on the Atlassian Marketplace.
We hope that you will find all these apps useful for your team or company and reveal their potential for improving your business and management processes.
If you have any questions, feel free to comment on this blog post below. Don't forget to subscribe for email notifications about new blog posts in this series!