7 Must-have Apps for Managing Jira Projects Like a Pro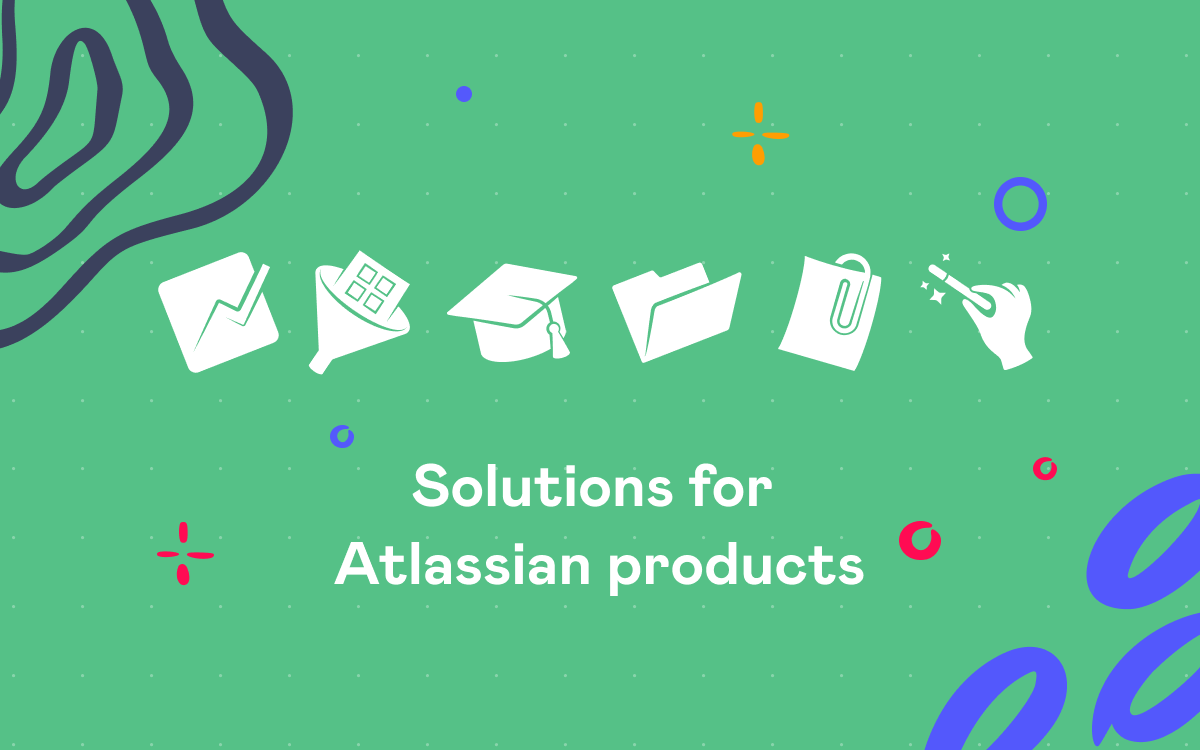 Project management is complicated. That's why many PMs rely on software like Jira to plan and coordinate projects more efficiently. However, built for software teams, Jira isn't a one-size-fits-all solution for most organizations. With each company having its unique set requirements, Jira's default capabilities may not be sufficient.
Fortunately, the Atlassian Marketplace offers thousands of project management apps to help you manage projects in Jira like a pro. You can power up your Jira with these seven must-have apps for successful project management:
Let's discover more about these Jira solutions.
A story map is a visual representation of your customer's journey with the product or service you are developing. It includes the actions taken by customers and their desired outcomes summarized through a user story.
Thanks to Easy Agile User Story Maps for Jira, your team is able to visualize their project backlog in a story map format. That way, everyone is aligned on a shared project vision.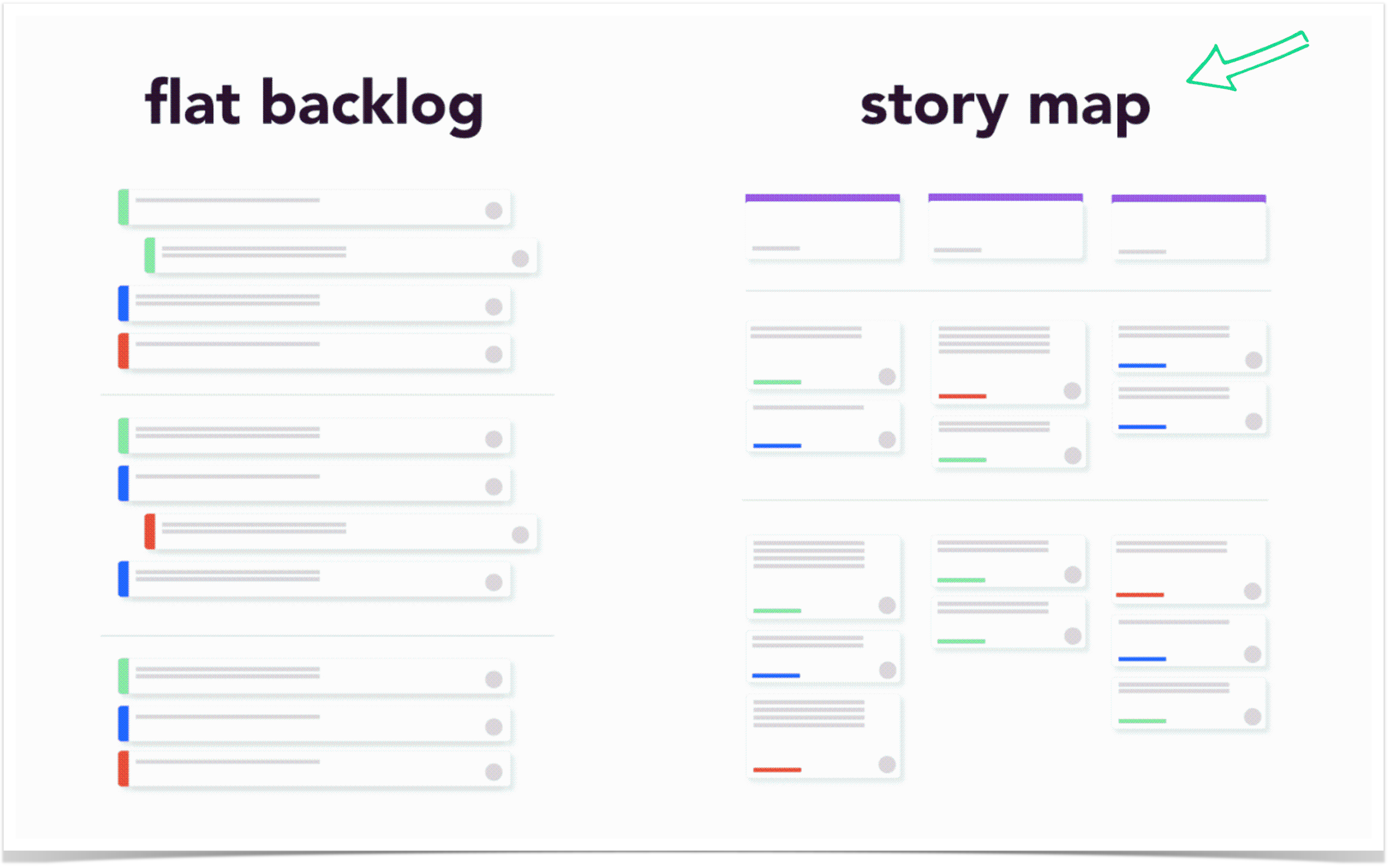 Story maps transform the way your traditional backlog is presented. (Source)
Compared to flat backlogs, story maps add context to your issues. With a groomed backlog, your team can execute projects by putting themselves in the customer's shoes. Thus, your project development efforts will be focused on providing value to your customers.
The app will auto-populate epics when it's opened from your agile board. You can then arrange epics in chronological order, or in any order that suits your customer journey.
Hosting options: Cloud, Server, and Data Center.
Pricing: USD 10 per month for up to 10 users.
Jira and Gantt charts bring out the best of agile and waterfall approaches for any project.
WBS Gantt-Chart for Jira transitions your existing Jira issues into a Gantt-based timeline, allowing you to break down issues into manageable tasks, track project progress, and allocate resources more intuitively. That way, you can gauge your team's capacity and assign issues accordingly, so work is distributed evenly across your team members.
Need to view your linked issues in a Gantt-based timeline? This add-on lets you visualize and manage dependencies, so you can identify bottlenecks that impede your project's execution.
Gantt charts are vital in visualizing high-level roadmaps of a project's plan. Some of the key features that are highly rated by PMPs include milestone tracking and a critical path view. The app essentially turns Jira into a powerful MS Project alternative.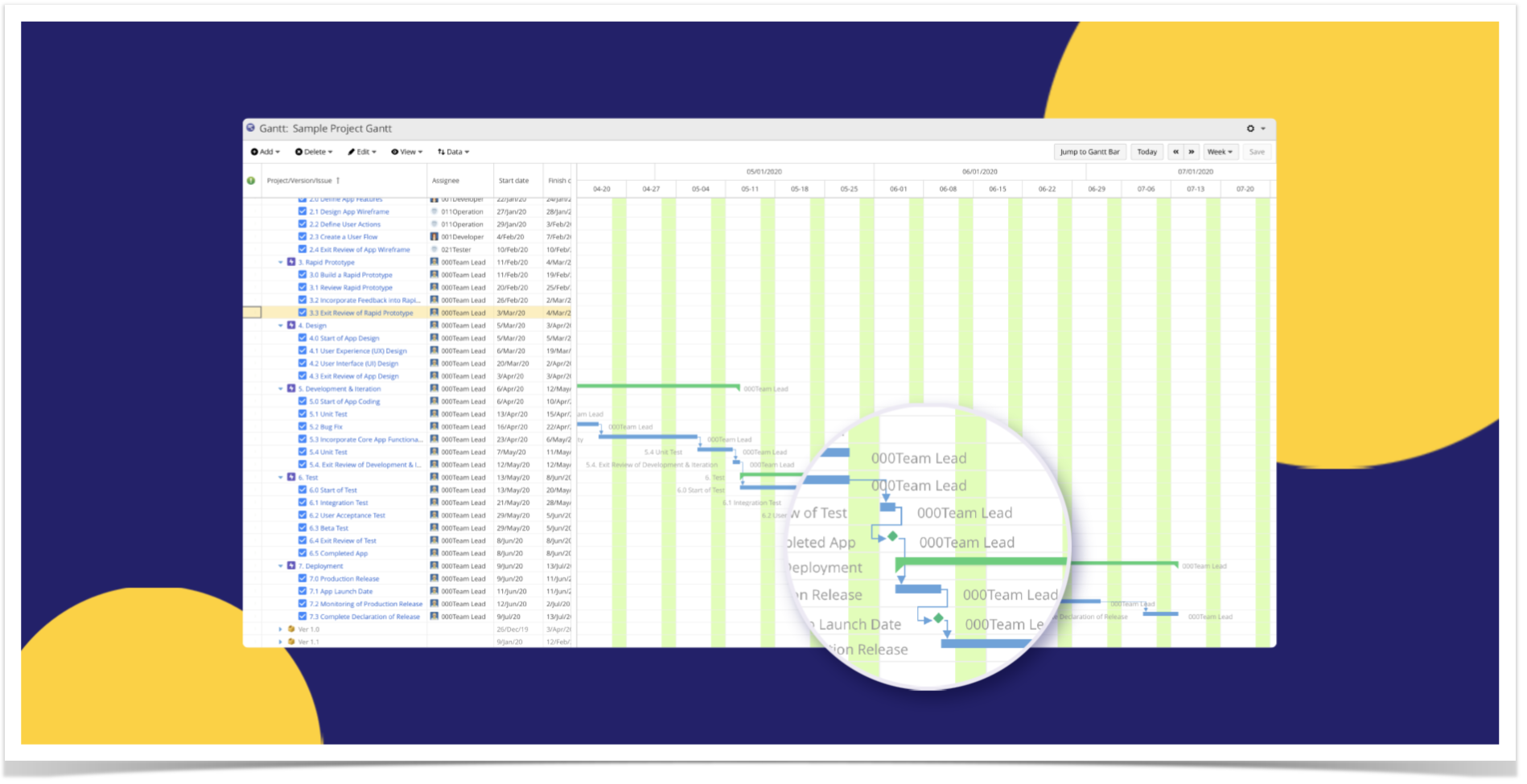 Break down projects into sequential issues and monitor their progress through Gantt charts. (Source)
Hosting options: Cloud, Server, and Data Center.
Pricing: USD 2.50 per month for up to 10 users.
To ensure all your project stakeholders are aligned on the project scope, it's crucial to make attachments such as requirements, risks, and resources accessible.
While you can attach files directly from the issue screen, there's still a lack of attachment management capabilities. For example, it's a hassle to track the latest updates with multiple documents shared in a single Jira ticket.
The Smart Attachments for Jira apps addresses this issue by giving your team a better way to search and manage project attachments so that they can easily retrieve and refer to essential project documents.
Team members can add labels to documents, thus improving content discoverability in Jira Cloud. You can then group these labels into categories to sort files in a particular way. These categories are accessible from the Attachments section of your issue screen. That way, you can upload files directly to designated categories.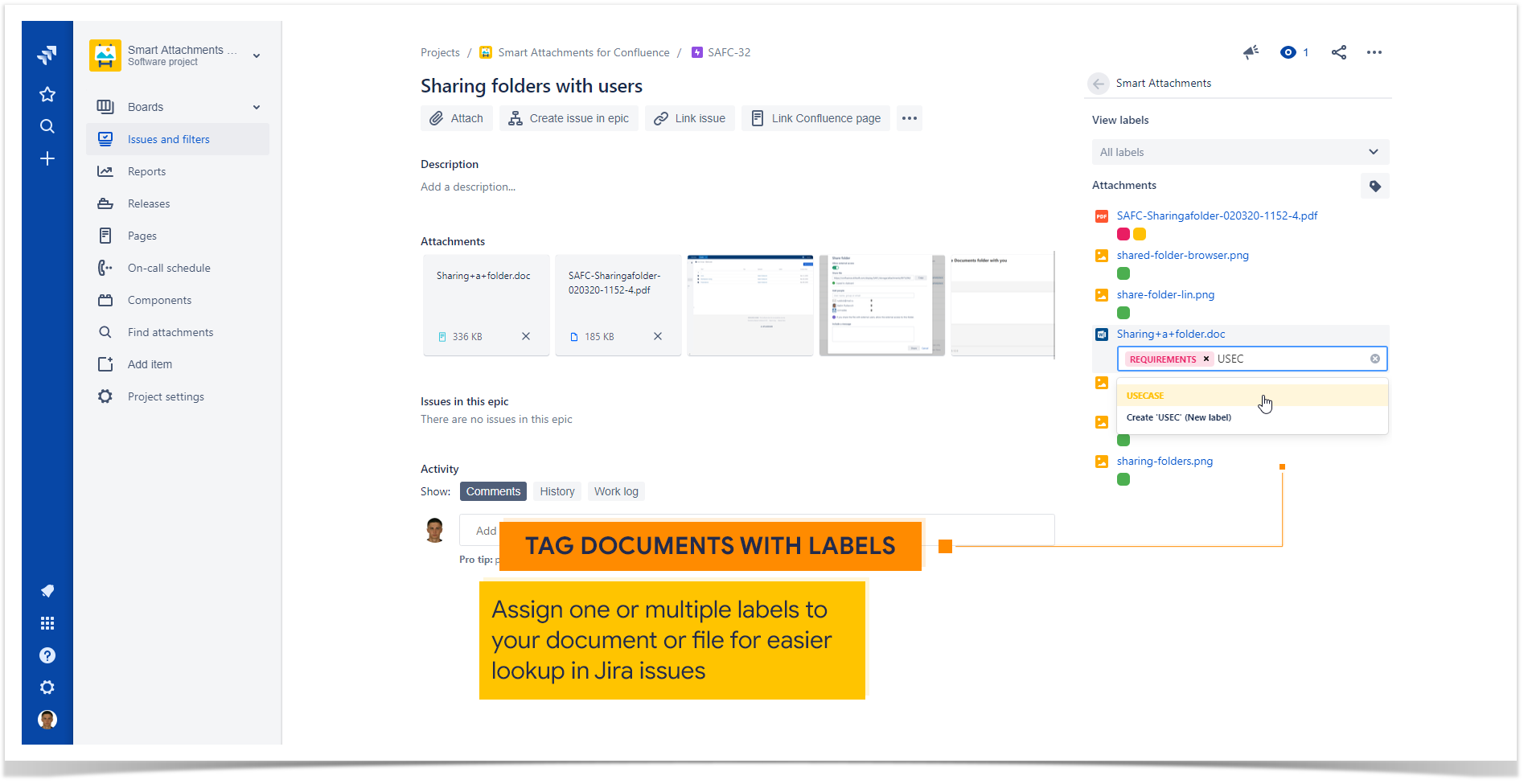 Tagging documents with labels helps users filter and access the right files.
A valuable feature of this app for Jira Server and Data Center is version control. This is especially useful for revised versions of contracts and change request management documents. You can upload revisions and map them to the original file. It then groups together all versions for you to keep track of it all.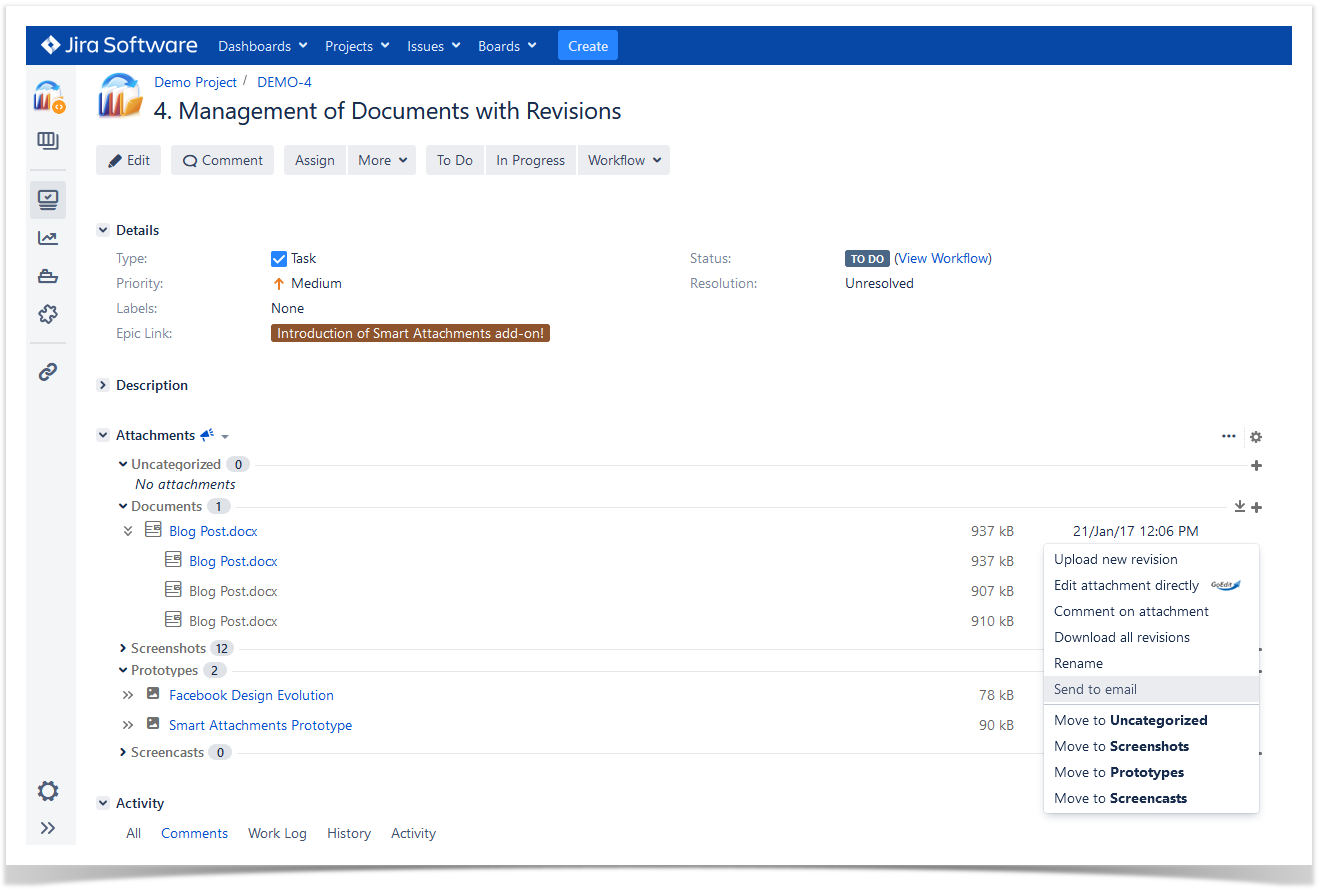 Multiple versions of the same file are organized into groups.
Hosting options: Cloud, Server, and Data Center.
Pricing: USD 1 per month for up to 10 users.
Custom fields allow you to modify your Jira fields to suit your project needs. Since every project is different, you may need to track information that is unique to your organization.
Jira gives you the flexibility to create custom fields, but there are limitations. While it provides standard fields such as issue titles and statuses, it doesn't retrieve custom fields (e.g. customer requirements, budgets, and performance metrics) created from other databases.
Oftentimes, you have to get your Jira Administrator to manually create custom fields that are tailored to your project's needs. Unfortunately, this is a time-consuming process – especially if you have numerous fields to be replicated, delaying the smooth start of your project.
Here's where Bitvoodoo's Custom Field Option Synchroniser comes in. It lets you retrieve custom fields created in other databases such as MSSQL, Oracle, MySQL, and PostgreSQL.
By synchronizing custom fields in existing databases, it saves you the hassle of recreating them on Jira.
Synced custom fields ensure consistency across systems used in your organization. This helps avoid potential discrepancies caused by free-form text errors.
The Custom Field Option Synchroniser also supports other multi-value custom fields on Jira such as checkboxes, radio buttons, and lists.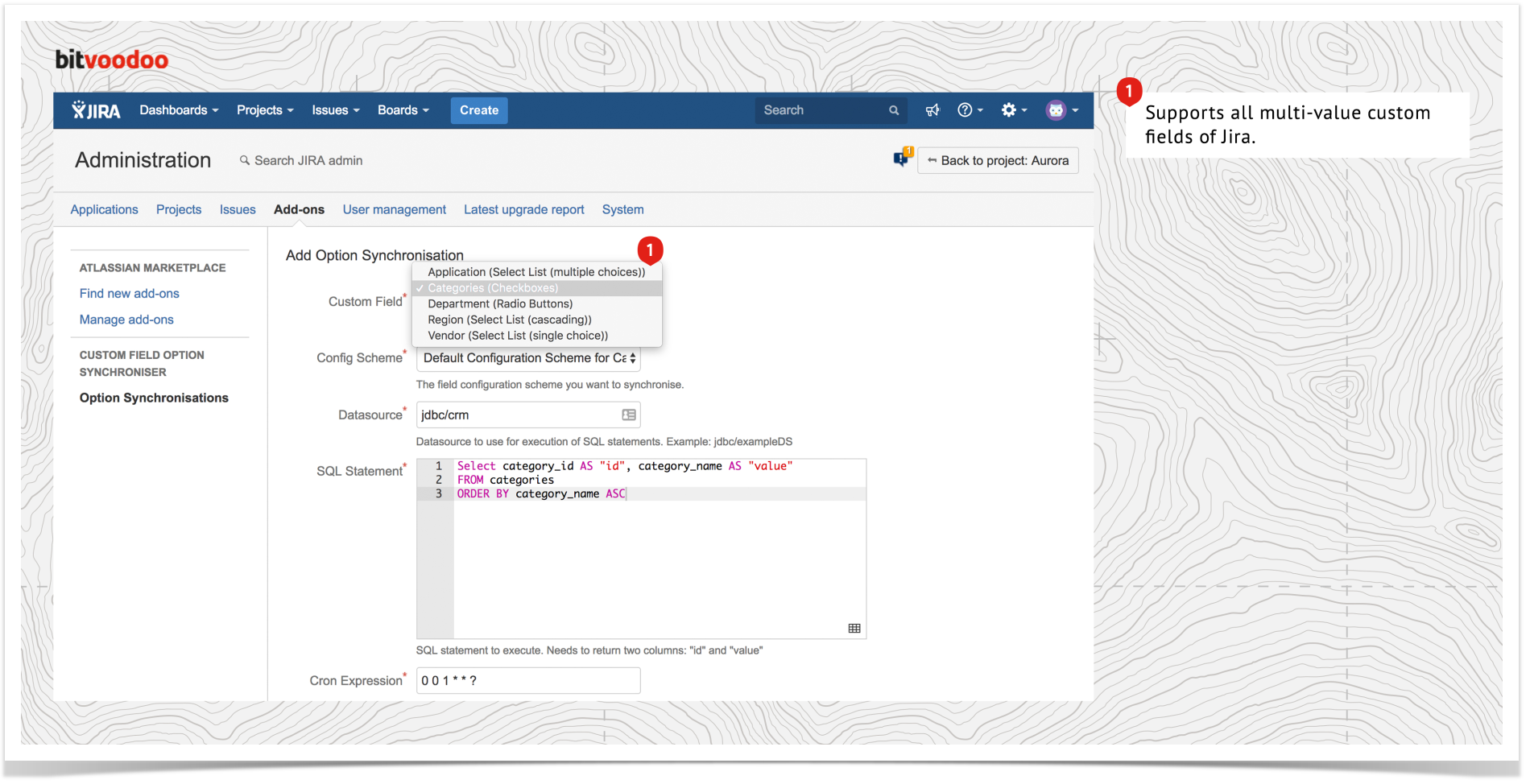 Maintain the consistency of your multi-value custom fields with Bitvoodoo's Custom Field Option Synchroniser. (Source)
Hosting options: Server and Data Center.
Pricing: USD 180 per year for up to 50 users.
As a project manager, it can be challenging to keep up with all the projects under your supervision. Pivot Report is a handy tool to gain a quick overview of all your Jira projects. It shows you the big picture of your issues in a pivot table format.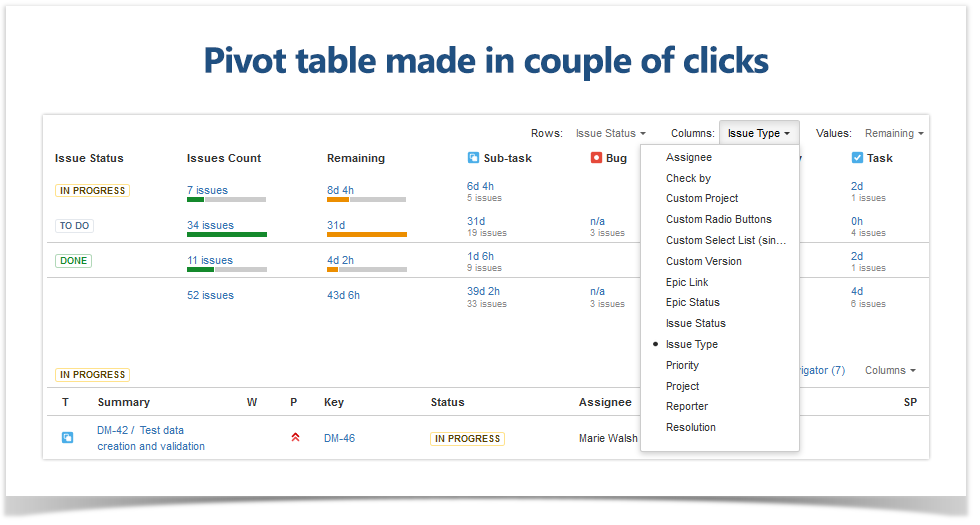 Stay on course with your projects by having an overview of its progress through a pivot table. (Source)
Having your issues presented in this format makes it easier to analyze core data pertaining to your projects. So you can gain better visibility over a project's progress, from the estimated time taken to the remaining time to completion.
The reports are customizable using JQL to view progress displays according to assignees, sprints, issue types, and more.
Pivot Report even has a warning tab to flag flawed issues (e.g. overdue items or issues with no assignees). This way, you'll be able to identify blockages in advance and take the necessary steps in overcoming them.
Hosting options: Cloud, Server, and Data Center.
Pricing: USD 5 per month for up to 10 users.
Workflows tie your project components together. In fact, establishing a workflow is one of the first things you should do before executing your project.
On a basic level, Jira workflow maps your issue statuses and transitions, which is reflected on your scrum or kanban project boards. For example, after an issue is completed it transitions from In Progress to Done. This, however, is done manually. Given the number of different projects under your belt, you may find updating issue statuses a repetitive task.
The solution is workflow automation. The Jira Workflow Toolbox does exactly that and more.
The Jira Workflow Toolbox's automation feature reduces the time taken in creating workflows by executing transitions directly from your issue card. With flexible conditions, triggers, and validators, you'll be able to automate customized processes based on your project management requirements.
On top of that, you can automate custom post functions to tailor to your project completion needs. For instance, notifying the issue reporter by adding a simple comment once the issue is marked as done.
It also caters to more complex workflows that can be configured using parser expressions, which you can then save and replicate for future project processes.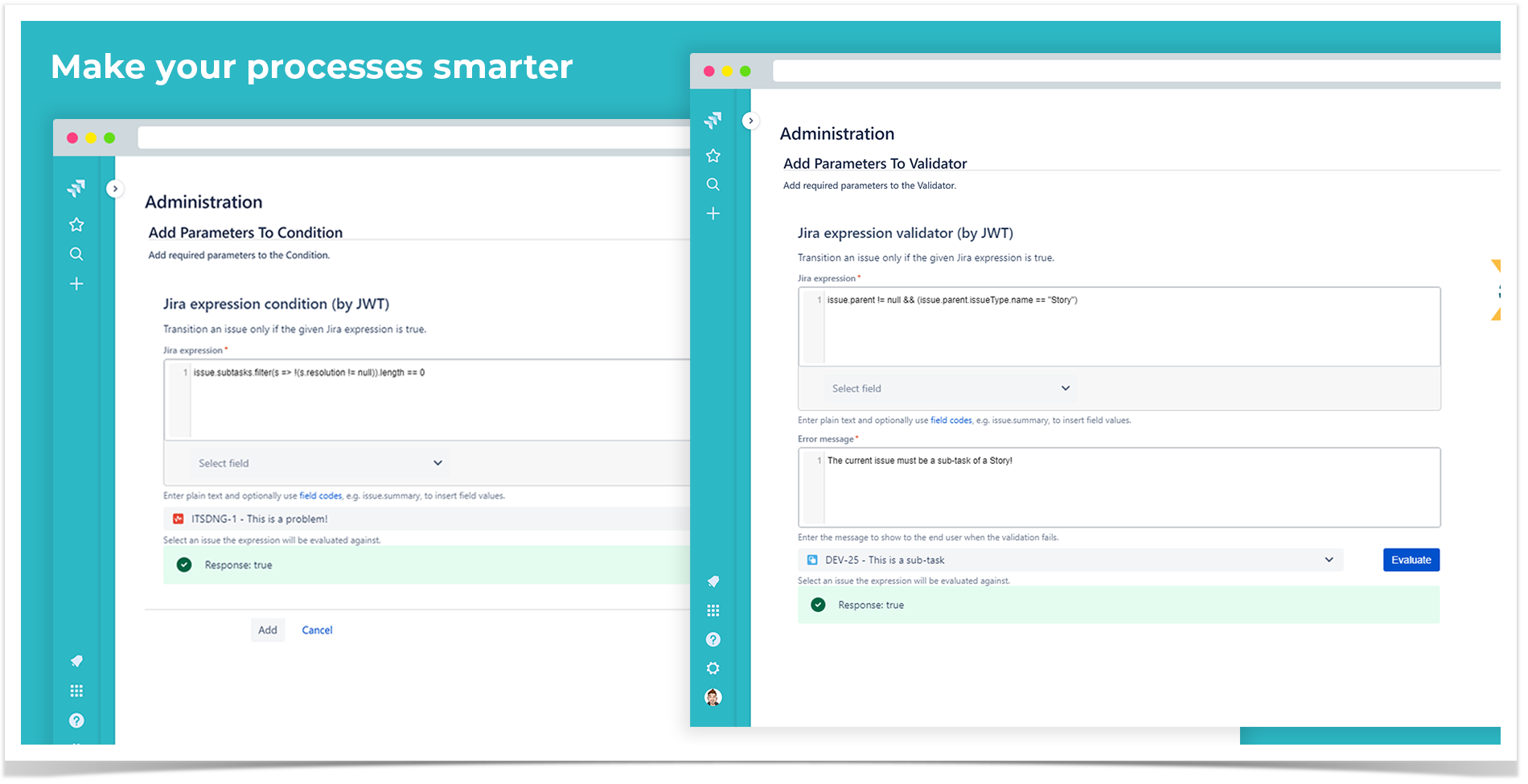 Jira Workflow Toolbox enables you to configure your workflows with specific transitions, conditions, and triggers from your Jira issues. (Source)
Hosting options: Cloud, Server, and Data Center.
Pricing: USD 5 per month for up to 10 users.
With multiple team members collaborating across different project stages, internal communication is key to ensure a smooth workflow. But for larger organizations with distributed teams, this can be a challenge.
Your team may not know who to get in touch with immediately, which may delay task coordination.
Communardo's User Profiles for Jira app provides teams with a faster way to get in touch with one another.
The app displays dynamic contact information when you hover over your team member's names in a workflow.
The click-to-call feature makes it even more convenient for team members to collaborate synchronously and solve time-sensitive blockages.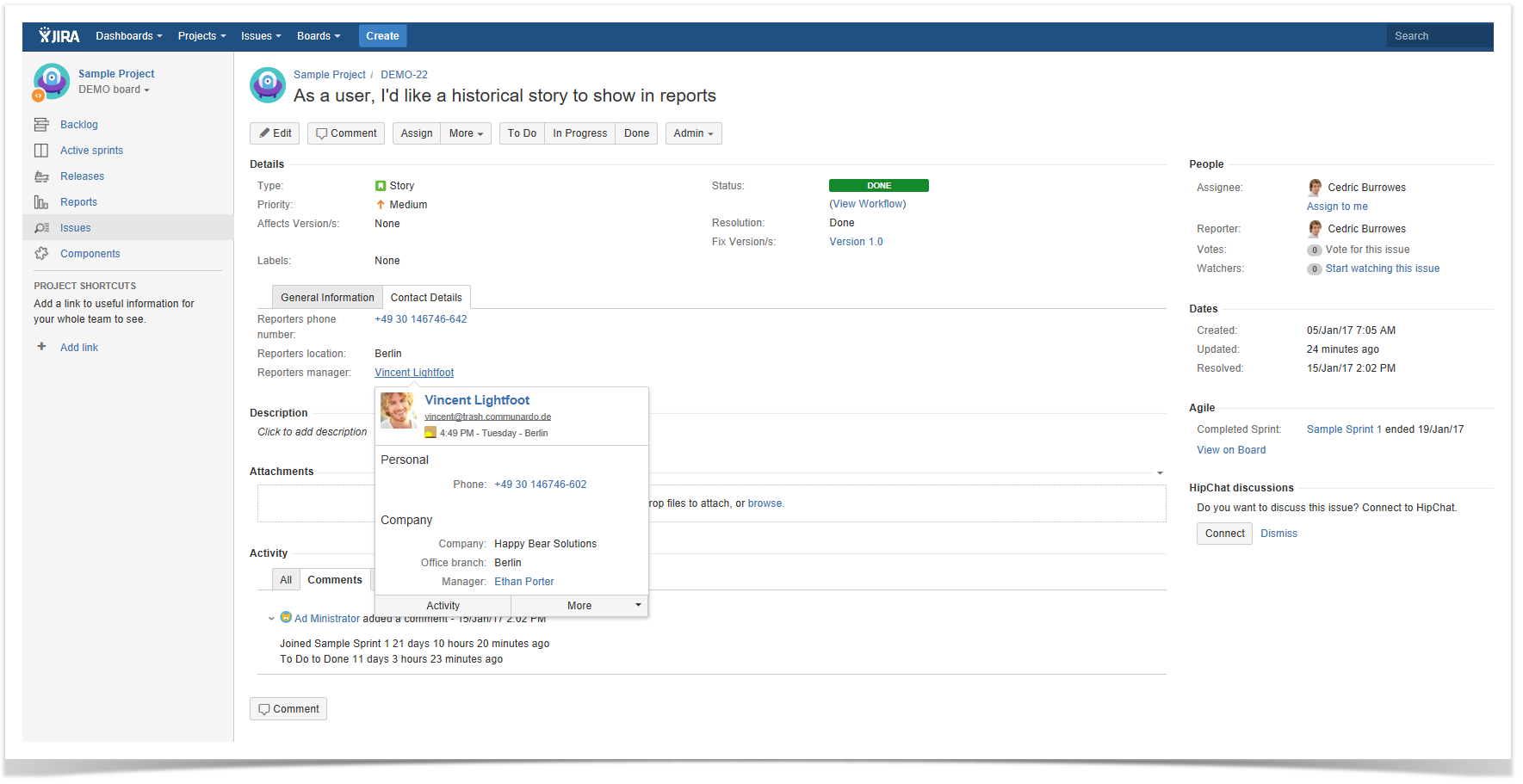 Get in touch with anyone within your organization instantly with User Profiles for Jira. (Source)
Along with customizable fields such as languages and personal skills, team members are able to quickly find experts and identify reporting chains.
If your organization currently uses an existing employee directory, this tool can be synced to Active Directory and LDAP.
Hosting options: Server and Data Center.
Price: USD 10 for 10 users.
Take Jira Project Management to the Next Level
Jira on its own does wonders for project management. But it's even better with the addition of apps to further streamline your project management processes.
Discover our comprehensive list of applications to boost your project management capabilities here!