Calendar of Atlassian Events 2018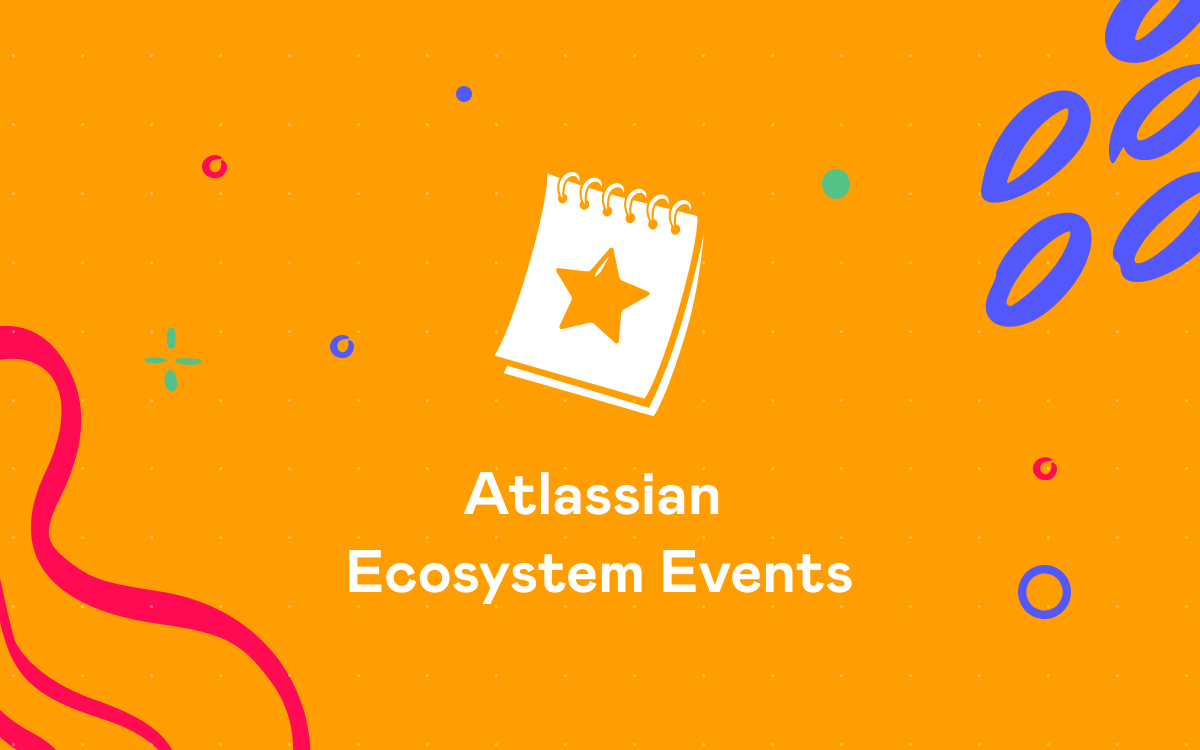 Whether you want to enrich your work experience, find inspiration for creative new ideas, or stay on top of the latest best practices, you will definitely find something for you at each of the events Atlassian and Atlassian Partners have prepared for you in 2018.
To help you get organized, we've made a list of the major conferences that will take place this year. We will update this list with more information and further fixtures as they are confirmed.
While we chose to list mostly larger events, you can also find smaller meetups available near you. You just need to check Atlassian User Groups that offer interesting group meetings in your city.
Now let's take a deeper dive into the upcoming events.
Atlassian Team Tour 2018
The beginning of this year is going to be great because Atlassian is coming to your city. Atlassian announced the first-ever world tour of Atlassian team.
Atlassian has huge ambitions to unleash the potential of every team that uses their products. This year Atlassian avid fans all over the world have a chance to get the latest product updates and learn at first-hand how Atlassian tools boost team productivity.
The content of the tour consists of two main topics: Team Tools & Practices and Future of Teamwork. This will help to diversify the program and tell more to the participants.
Team Tools & Practices in Europe:
Team Tools & Practices in USA:
Future of Teamwork:
You can share your experience with the leading Atlassian experts, find solutions to the existing challenges together with the attendees, and get insights on scaling Atlassian products and agile practices.
We hope that participation in any of these meetups will help you grow personally and professionally. [/showhide]
2018 Top Events Preview
At StiltSoft, we like to be in the center of the action when it comes to Atlassian events. We decided to do the legwork for you and made a list of what we think are the most interesting events organized by Atlassian Partners in 2018.
celix Solutions is a certified Atlassian Platinum Solution Partner located in Austria. They provide consulting and useful solutions for their customers.
Due to the great success of Jira and Confluence Solutions Day in 2017, celix Solutions expanded their capacities this year and invited even more Austrian companies that will share their Atlassian experience with the attendees.
Moreover, the guests of this event will meet the leading Atlassian vendors: Riada, InTENSO, ALM Works, and eazyBI. [/showhide]
As an Atlassian Platinum Solution Partner, InTENSO provides a wide range of services for more than five million people from 64 countries all over the world.
Jira Day is focused on Atlassian products and apps and will gather around 250-300 participants. StiltSoft together with Meta-Inf, DEISER, RefinedWiki, Riada, SoftwarePlant, celix Solutions, Tempo, K15t Software, Communardo, catworkx GmbH, eazyBI, and ALM Works will become the part of Jira Day 2018.
Don't miss your chance to discover the innovative capabilities of Atlassian products and take the opportunity to share your experience and network with other Atlassian users. [/showhide]

Valiantys is another Atlassian Platinum Solution Partner that combines its expertise in software development with consulting and training services around Atlassian solutions.
Valiantys Enterprise Day gives participants a chance to chat with the British Atlassian community, Valiantys' customers and consultants, and the Atlassian team.
Participants can share best practices for delivering new growth opportunities in a challenging software environment. As usual, the latest development trends are on the agenda. Throughout two days, there will be new product demos with real-life use cases, as well as demos of useful apps. [/showhide]
The eazyBI app is available at the Marketplace, it helps you to create custom Jira reports, charts, and dashboard gadgets.
eazyBI Community Days 2018 is the second eazyBI user conference. Last year participants from 14 different countries took part in eazyBI Community Days.
You can attend this event in case you are just starting out or already familiar with eazyBI. The speakers will share their experience and showcase their best ideas and unique approach in using this app. [/showhide]
Budapest, June 6-7
Meta-INF is an Atlassian Platinum Solution Partner located in Budapest. They started their journey with Atlassian tools back in 2002.
Meta-Inf Atlassian Day is the biggest Atlassian event organized in Hungary. Last year we became a part of this great conference.
This year, organizers want to showcase how Atlassian can help teams grow with the help of case studies and success stories.
Our team together with Adaptivist, Comalatech, Deviniti, SoftwarePlant, and TEMPO will educate attendees through effective practice based on workshops and present the value of our apps to the participants. [/showhide]
catWorkX GmbH is Atlassian Platinum Solution Partner that helps their customers optimize team performance.
This company is organizing catWorkX Midsummer Day for the fifth time in a row.
Last year we participated in this event in Hamburg and really enjoyed the atmosphere. The attendees visited sessions with vendors where everyone was able to choose the workshops they were interested in most. We also ran a workshop on data analysis in Atlassian Confluence showing in practice the most interesting features of the Table Filter and Charts app. [/showhide]
DEISER is an Atlassian Platinum Solution Partner located in Spain, they've been developing JIRA apps since 2007.
DEISER Enterprise Day is intended to provide the inspiration, knowledge, and connections everyone needs to succeed in the implementation and use of any Atlassian tool within organizations.
During this event, the leading Atlassian experts and well-known companies will share their experience and give useful tips on how to bring your company to the new level with the help of Atlassian products.
Atlassian Summit is all about speaking, listening, and getting inspiration from the experts in different industries. What can be better than getting precious knowledge first-hand? We think that nothing.
This year Atlassian organizes only European Summit in Barcelona that will take place on 4-6 September. So don`t wait and grab the opportunity to be in the heart of the Atlassian community!

You will learn how to get the most out of your business by using Atlassian products and choosing the right strategy.
For us at StiltSoft, Atlassian Summit is a great place to find partners, clients, and get feedbacks about our apps. Atlassian Summit also makes it possible to come together and talk about shared challenges, so we are looking forward to getting inspired at this exciting event.
Have a productive year!
Now when you know about the upcoming Atlassian events, take a moment and choose the ones you like most. We think that attending as many Atlassian events in 2018 as possible can be a great New Year's resolution.
See something missing from this list? Post a comment and tell us about your favorite event and why you think others should know about it.
Don't forget to subscribe for email notifications about new blog posts in this series!