Calendar of Atlassian Events 2019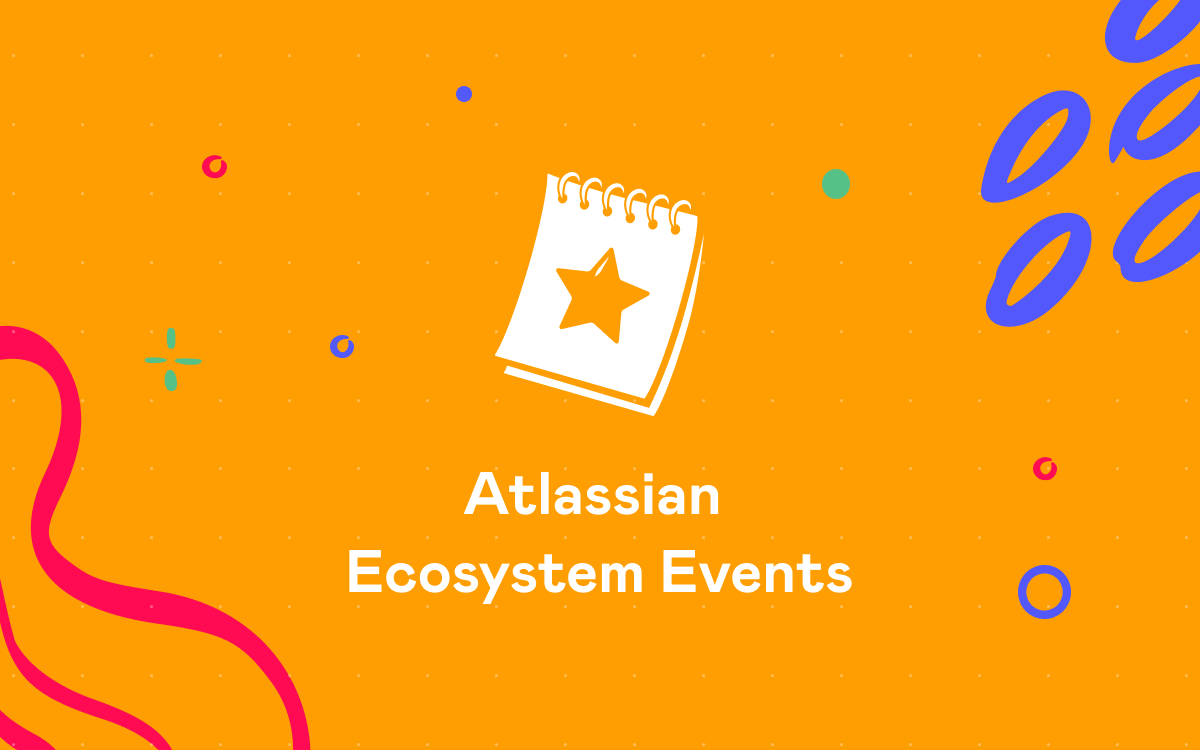 There's so much happening in Atlassian Ecosystem all year round! That is why we create our overview of Atlassian events all over the globe every year. Our team wants to help you plan your year ahead and make sure you don't miss out anything.
Events organized by Atlassian and Atlassian Partners help you learn the latest market insights, develop your professional skills, meet a lot of interesting and like-minded people and just have some fun together.
Here is the list of what we think are the best Atlassian events and the most interesting IT conferences to participate in this year.
We will update with more information once available.
Upcoming Atlassian Events
While we chose to list mostly larger events, you can also learn more about smaller meetups available near you with the help of these useful resources:
Atlassian Tour 2019
This year Atlassian is coming to your city again. The second Atlassian world tour is in full swing. You have a great chance to meet the experts and learn more about how to scale your business with the help of Atlassian products.
You can join the Atlassian team for an exclusive half-day event. Here is an approximate schedule:
US Atlassian Summit 2019
9-11 April, Las Vegas
Atlassian Summit 2019 is heading to Las Vegas. This is the biggest Atlassian event of the year aimed at helping companies of all sizes to encourage smarter work. Join Atlassian Summit to be the first one to learn more about the latest innovations and updates.
This conference offers educational, networking and hands-on opportunities for its attendees. Moreover, all the participants can meet Atlassian Partners and Atlassian Vendors in person, this way they can learn more about handy apps for Atlassian products that can boost productivity of Atlassian products.
Note that Developer Day takes place on April 8
This year Atlassian organizes only US Summit.
Atlassian Ecosystem Activities
Atlassian Partners are always eager to share their experience and best practices to help their customers work smarter. Here is our list of the most interesting events organized by Atlassian Partners.
When
Where
What
Hosted by

24 January

Chicago, IL
Agile Service Management
Herzum Group
7 February
London, UK

Only the agile can thrive: Exploring digital transformation in retail

Adaptavist
19 February
Kfar Saba, Israel
AgileSparks
22 February

Redwood City, CA

Expium
27

February

Silicon Valley, CA
How to Best Hear Your Users in Product
Atlassian
7 March
Chicago, IL
Bocce and DevOps Discussion
Column Technologies
12 March
Singapore
Discover DevOps with Atlassian
iZeno+Atlassian
19 March
Glasgow, UK
New Verve presents Atlassian in Scotland
New Verve
20 March
London, UK
 Jira Admin Bootcamp
Daysha DevOps
28 March
Tallinn, Estonia
Atlassian in Baltics 2019
12 April
Las Vegas, NV
eazyBI Community Day
16-17 May
Riga, Latvia
eazyBI Community Days
29-30 May
Warsaw, Poland
Jira Day 2019
Deviniti
5-6 June
Budapest, Hungary
META-INF Atlassian Day 2019
META-INF
18-19 June
Hamburg, Germany
catworkx Midsummer Day 2019
TBD
Minsk, Belarus
StiltSoft Atlassian Day 2019
StiltSoft
TBD
Madrid, Spain
DEISER Day 2019
DEISER
More events
We decided that our readers might be also interested in some large IT conferences. That is why we prepared our list of events for all software professionals.
Which conference will you mark on your calendar for 2019?
See something missing from this list? Post a comment and let us know about your favorite event of this year. Please, let us know if you want your event listed on our calendar.
Don't forget to subscribe for email notifications about new blog posts in this series!