How to Easily Adjust Templates in Atlassian Confluence
August 15, 2019
#

How To
#

Confluence
#

Case Study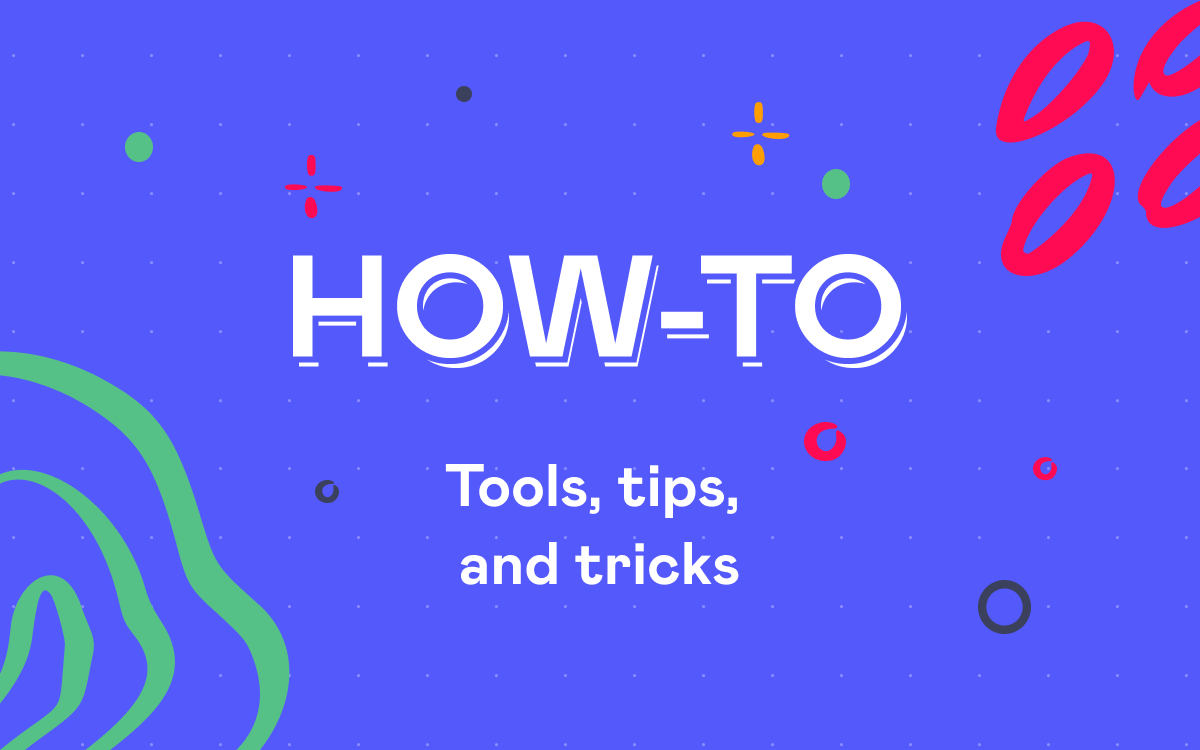 In its 15 years of existence, Confluence has become one of the leading solutions for building knowledge bases and creating documentation together with your team. However, a lot of companies are still getting used to the new software after migration and a lot of organizations that use Atlassian products still hire new employees without Confluence experience.
Naturally, novice Confluence users have lots of questions about the new software:
How to create required documents and format their content?
How to protect sensitive data and share public information?
How to organize meetings and discuss projects?
You can use various Confluence features to achieve your goals and automate everyday routine tasks. But sometimes it is not obvious for novice Confluence users what tools to choose for this or that case. So, they reach out to more experienced colleagues or may post questions on the Atlassian Community. For example, we've recently found a lot of questions about Confluence templates there.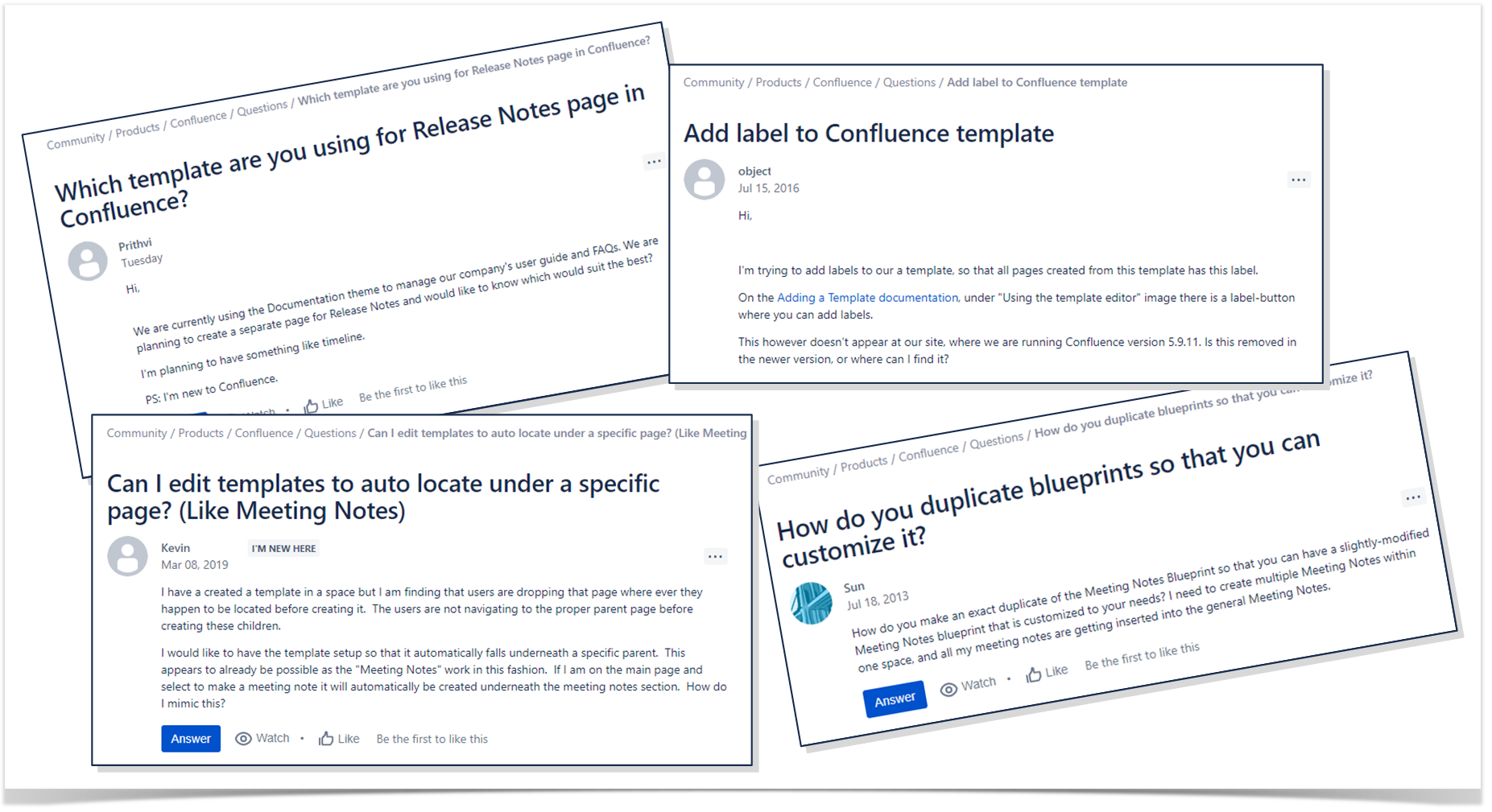 A template is one of the most useful Confluence features that can significantly ease your working life. After reading this blog post, you will be able to use templates freely.
Use case: creating and managing release notes
Imagine that you work in a software company that uses Confluence on a regular basis. Your department has a real disaster with its release notes pages. Everybody creates them chaotically at different levels of the space page tree. Besides, your colleagues use their own page structures and decide what information to add themselves. Every page looks differently. The users also give various page titles and forget to add labels. So, it is rather difficult to find the required data.
Let's use Confluence templates and deal with this mess together.
What is a template?
A template is a Confluence page with predefined content. There are two kinds of templates:
Global templates that are available in every space of your corporate Confluence site. These templates are defined by your Confluence administrator.
Space templates that are used in a specific space. Space templates are defined by space administrators.
Why do you need templates?
You can create new pages based on templates and save your time on content formatting. Just click the "Create from template" button and choose the required item. Let it be the standard "Meeting notes" template.
Now you can follow the instructional text and fill out the required fields of your document. Note that all instructional text disappears as you type in your own information. You also can't see instructional text while viewing a page.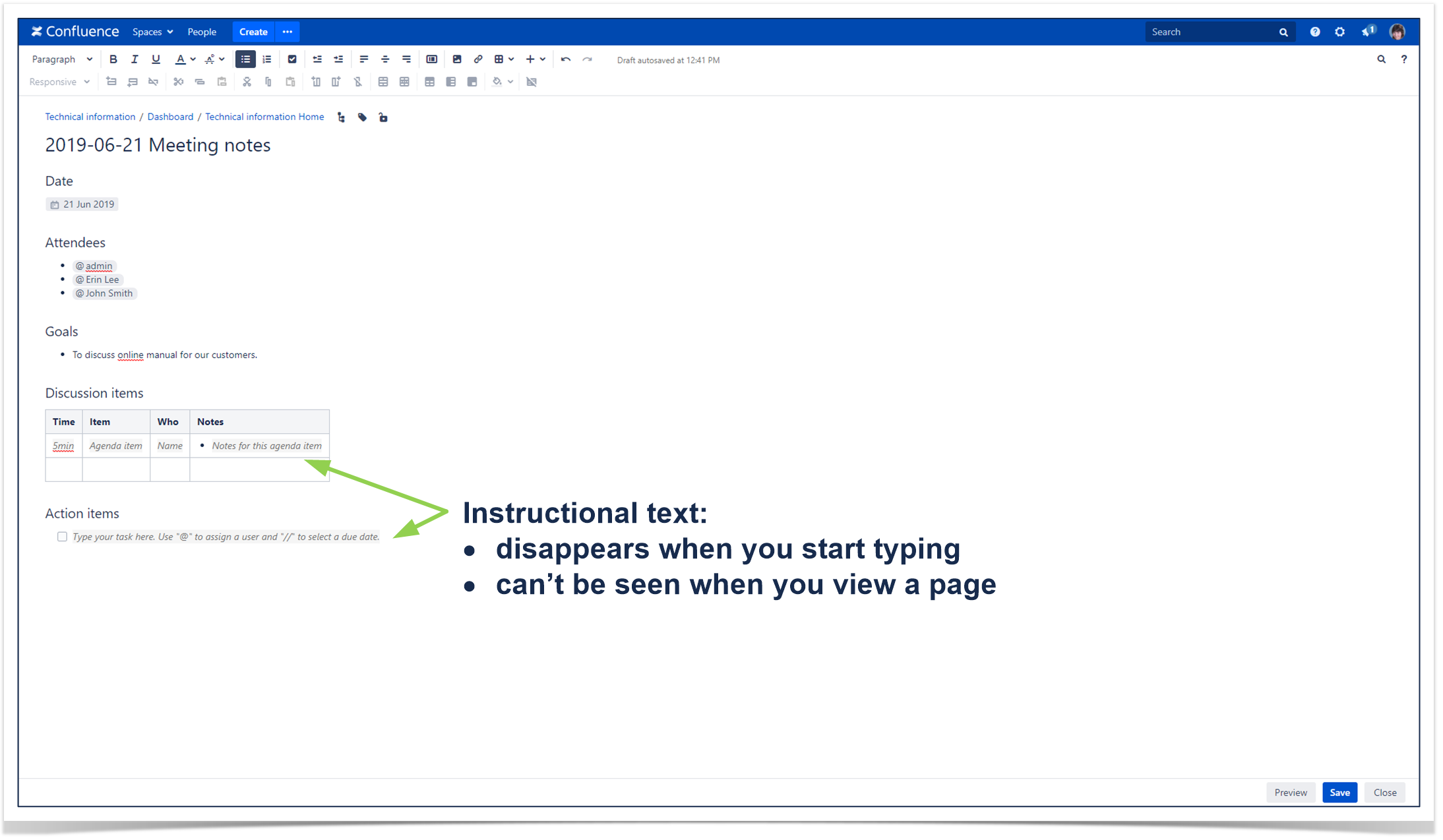 When you create a page from a standard built-in Confluence template for the first time in a space, a new shortcut and an index page will be created. Space shortcuts allow you to access your pages quickly and easily. The index page displays a list of pages based on this template and certain summarized information about them.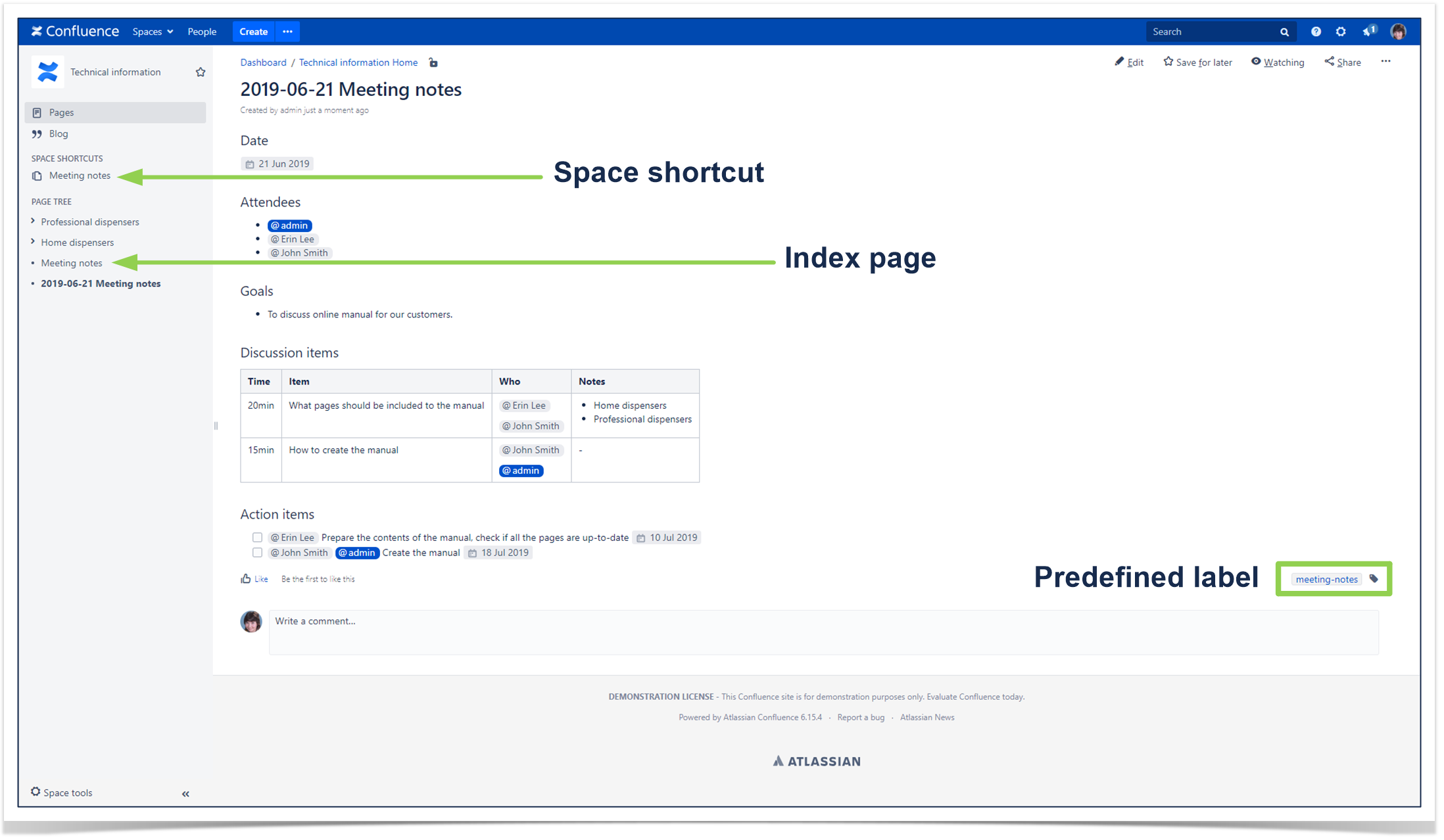 Here is an example of the "Meeting notes" index page:

Where can you find templates?
If you have the Space admin permission, go to the Space tools menu and find the Content tools → Templates. Here you can see all the space templates: built-in and customized (created by the space administrators).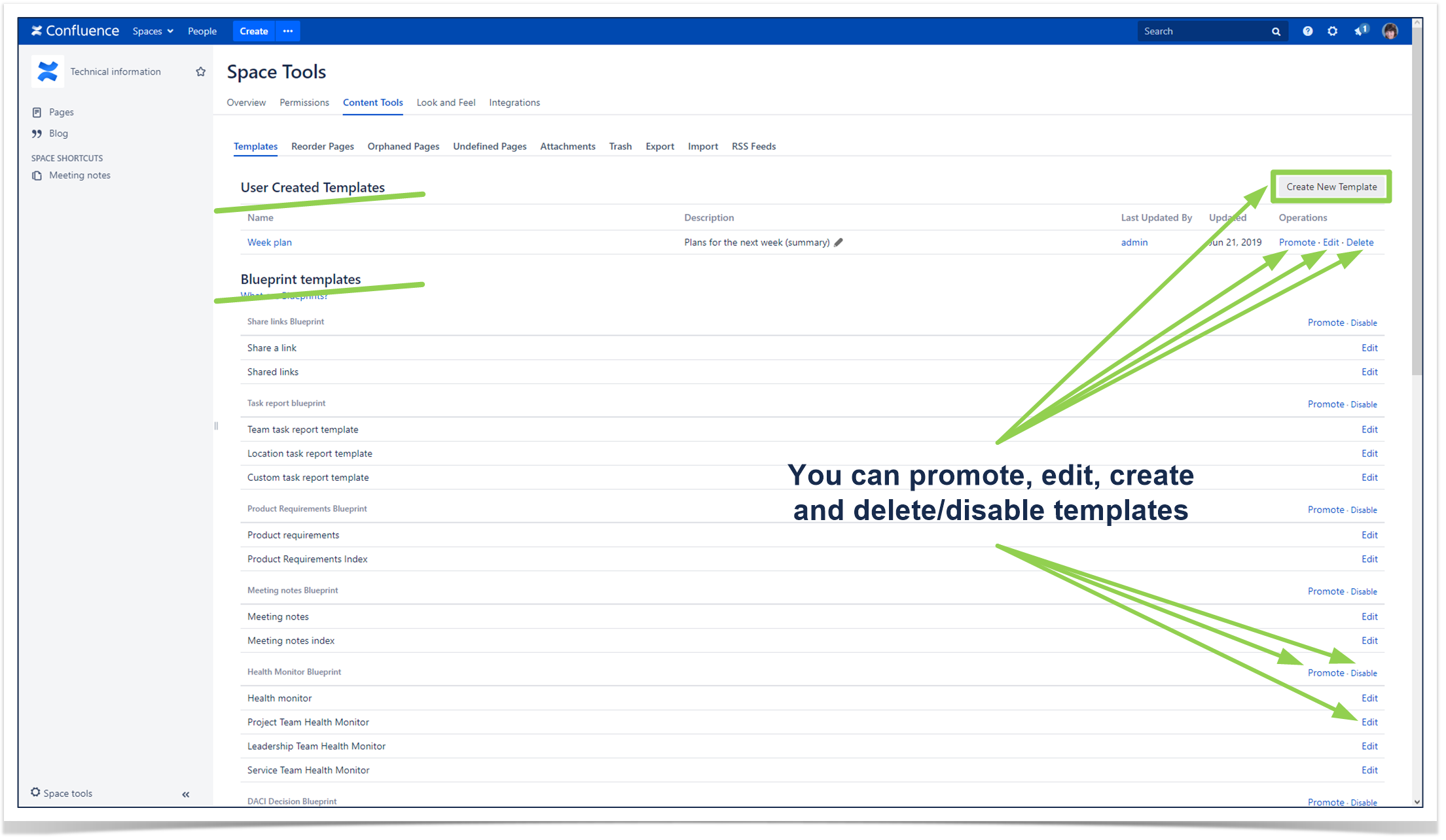 What can you do with templates?
You can easily adjust Confluence templates for your needs:
Promote a template if you want your colleagues to pay attention to it and begin to use it constantly. All other templates will be hidden under the Show more link

. 

If someone uses the Show more link more than three times in a single space, the dialog will show you all the templates by default from then on.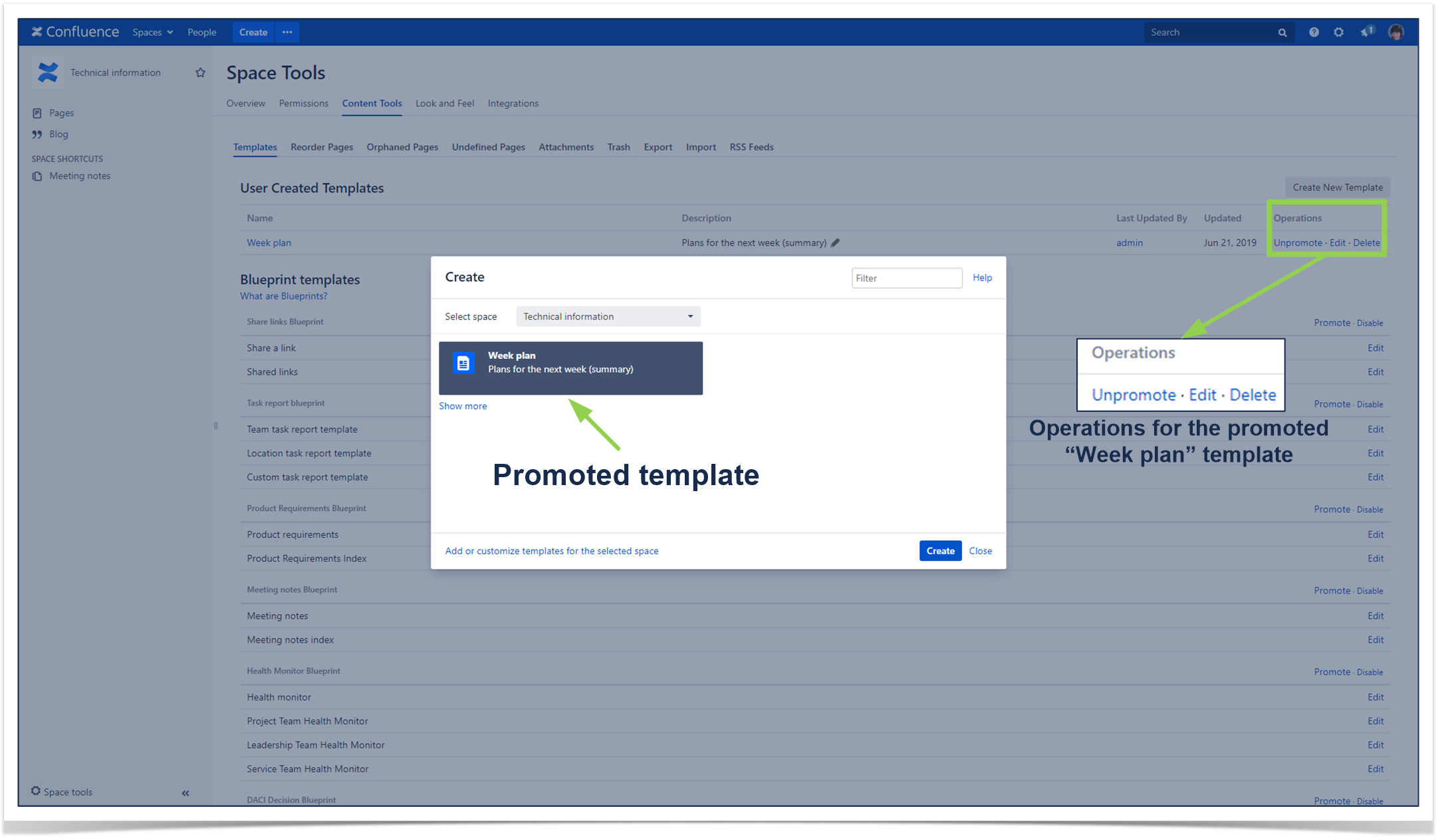 Edit an existing template to customize it: add and delete macros, variables, tables, labels, images, and instructional text. Work with your template like with any other Confluence page. The only difference is 

that you can't upload images or attachments directly to your template, b

ut you can find them on other pages. Having a special page as a resource library for these types of things is recommended.

Create new templates if you have any specific corporate documents that you want to use in Confluence.

Delete/disable a template if you don't want it to be available in this space.
Note that you can use page templates only when you add a page. It is not possible to apply a template to an existing page.
Let's resolve your case
Now that we are done with the theory, let's return to your task.
Step 1. Design your own template
As there are no any built-in "Release notes" Confluence templates, you need to create your own new template. Feel free to use instructional text and don't forget to add labels if you want to assign them automatically.
To add instructional text go to the Template menu of your toolbar and choose the corresponding item.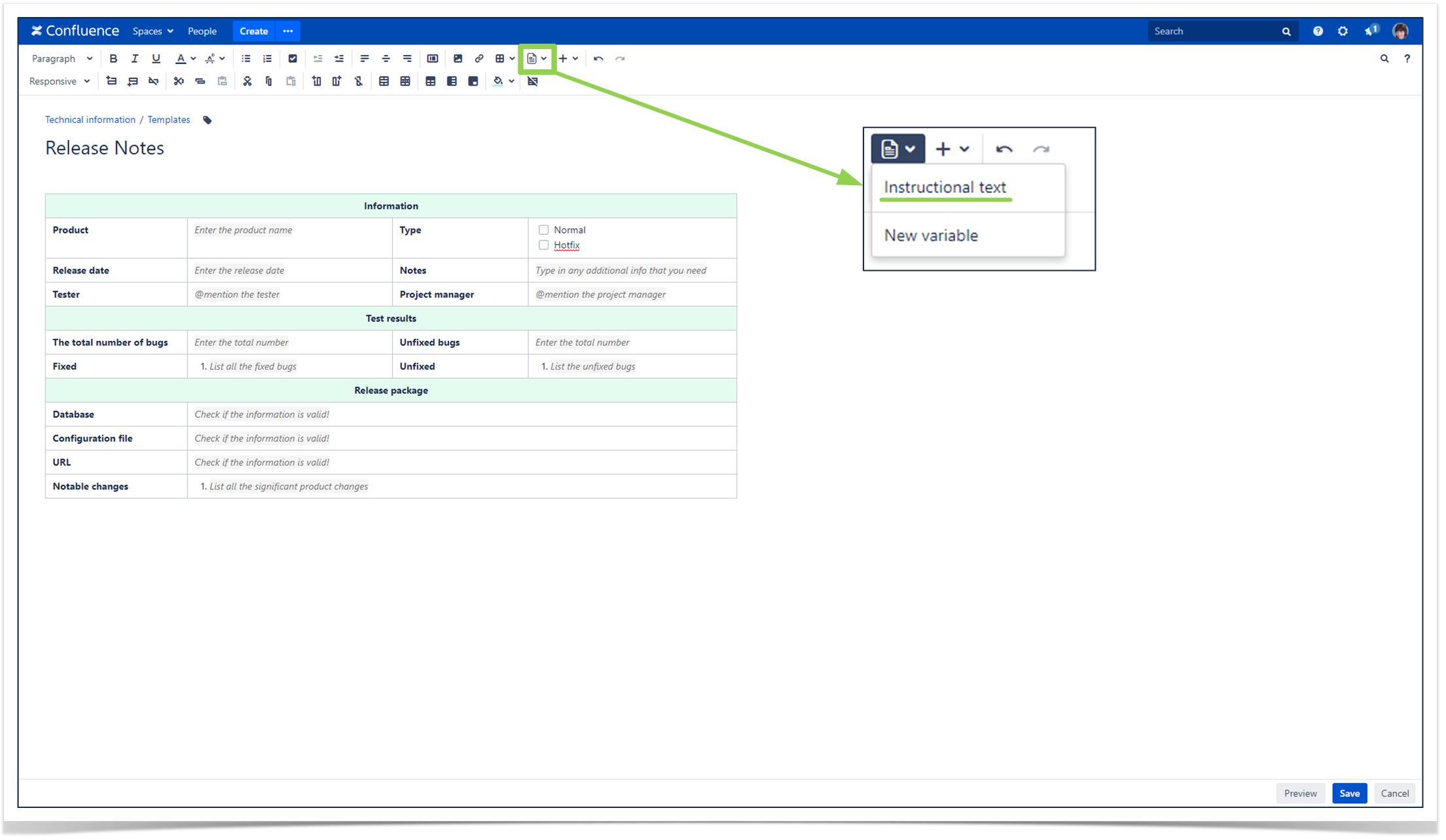 Step 2. Share your template with the team
Now you need to show your colleagues that the "Release notes" template exists. You can just promote it.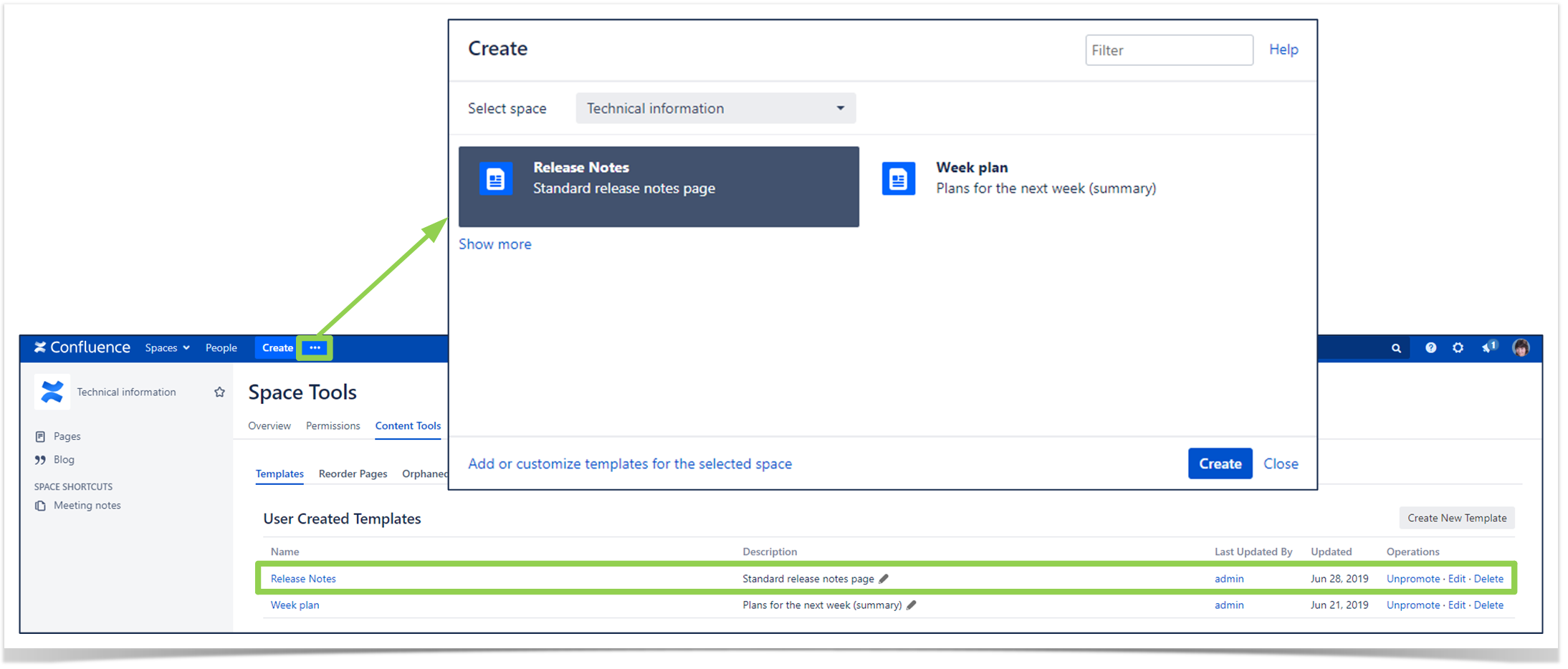 Step 3. Get your page tree organized
Now you need to organize all your future release notes pages within the space. Create a new parent page for them and add the "Create from template" macro to it. Edit the macro body as it's shown in the slide below: choose your new template and customize page titles. Now your colleagues can easily create release notes pages directly from this parent page.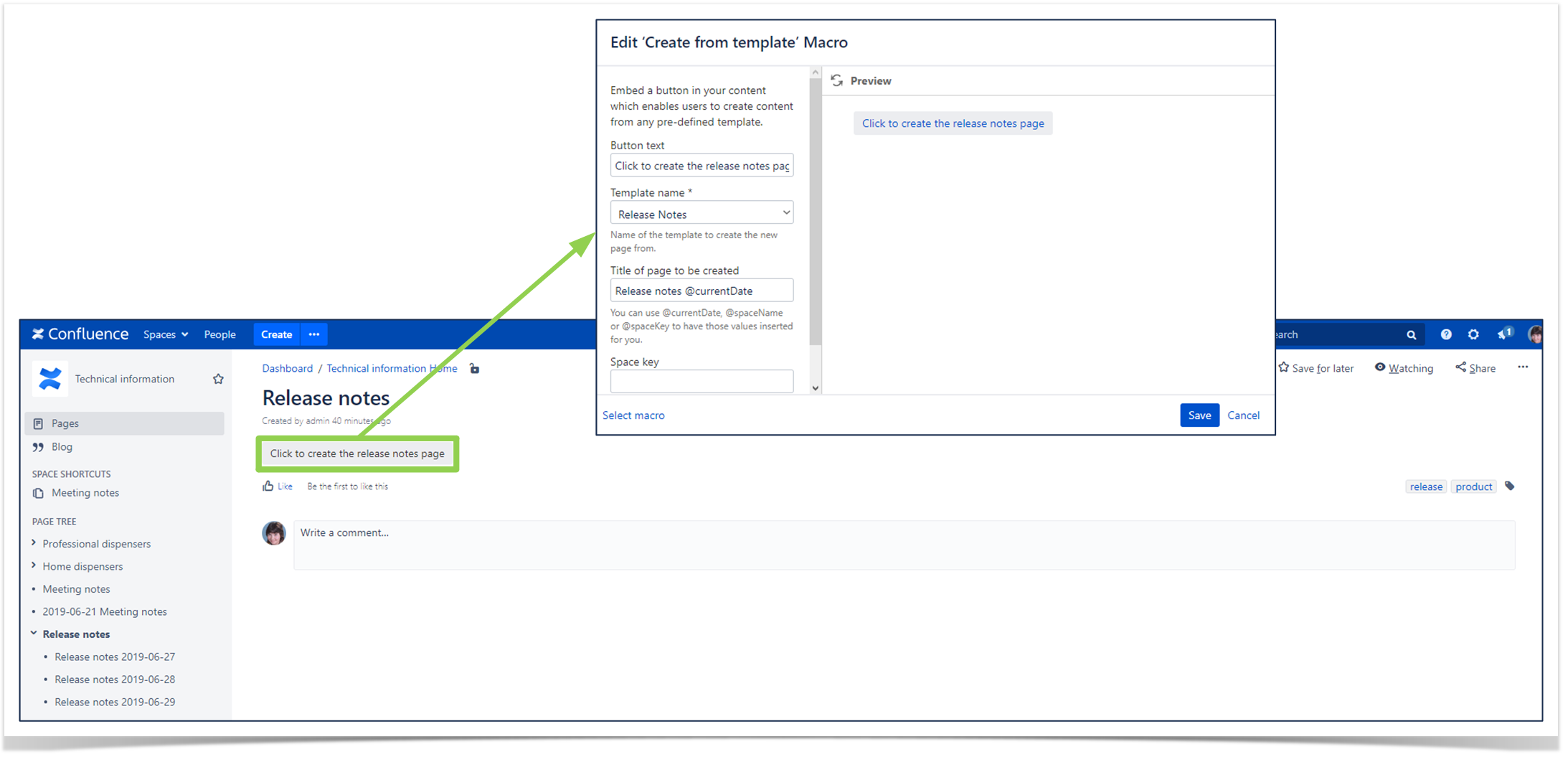 Check the results
From now on the release notes pages will have the same structure, titles, labels, and parent page. Your space will be organized neatly, and it will be much easier to find relevant content.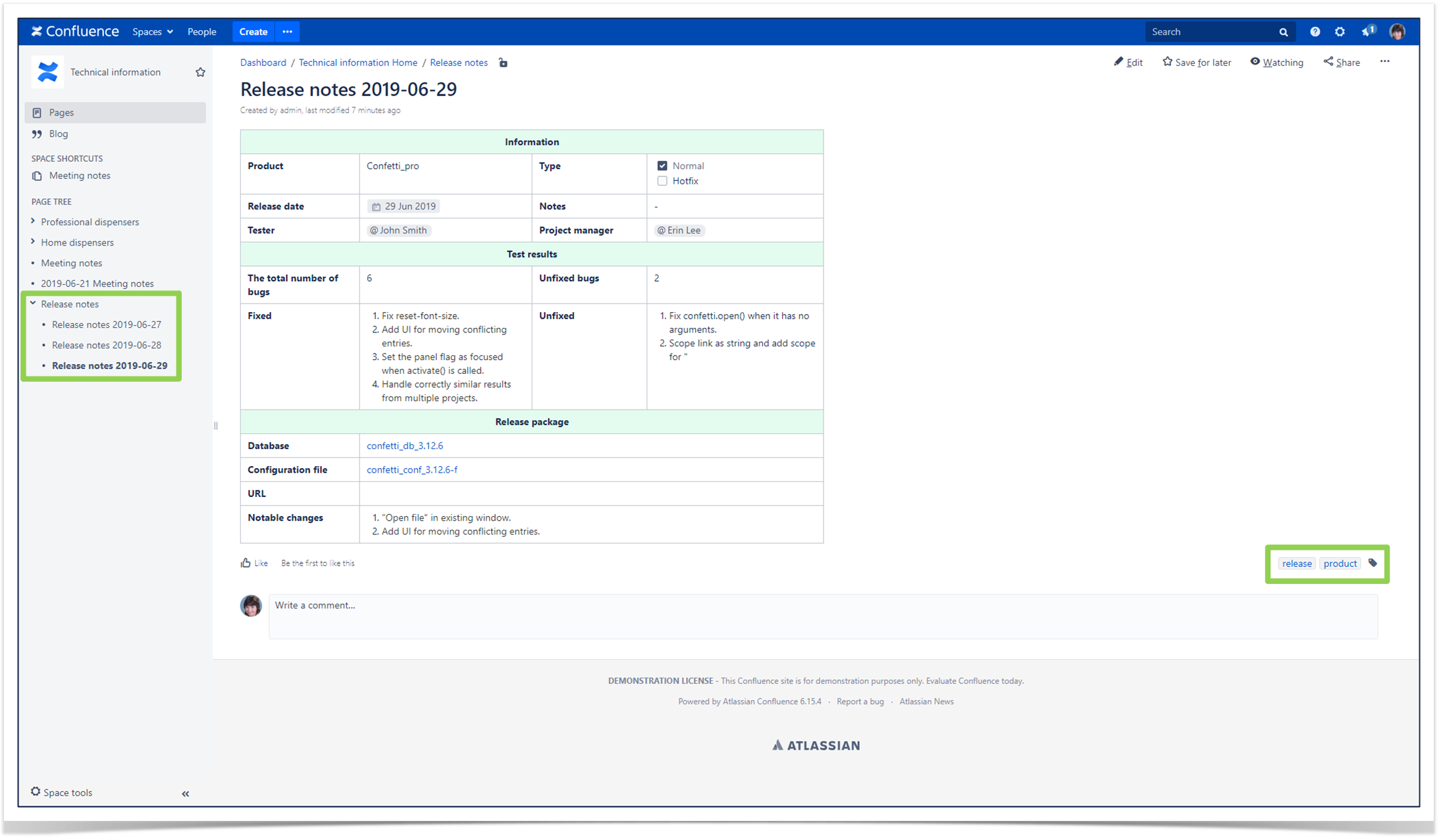 How to quickly learn all Confluence features?
If you want to know more about real-life challenges in Confluence, take our free Quick Start with Confluence training course.
Our motto is "one use case, one module". You'll learn everything you need for the case in the corresponding lesson and boost your productivity immediately.