JIRA & Customer Case vs Get Satisfaction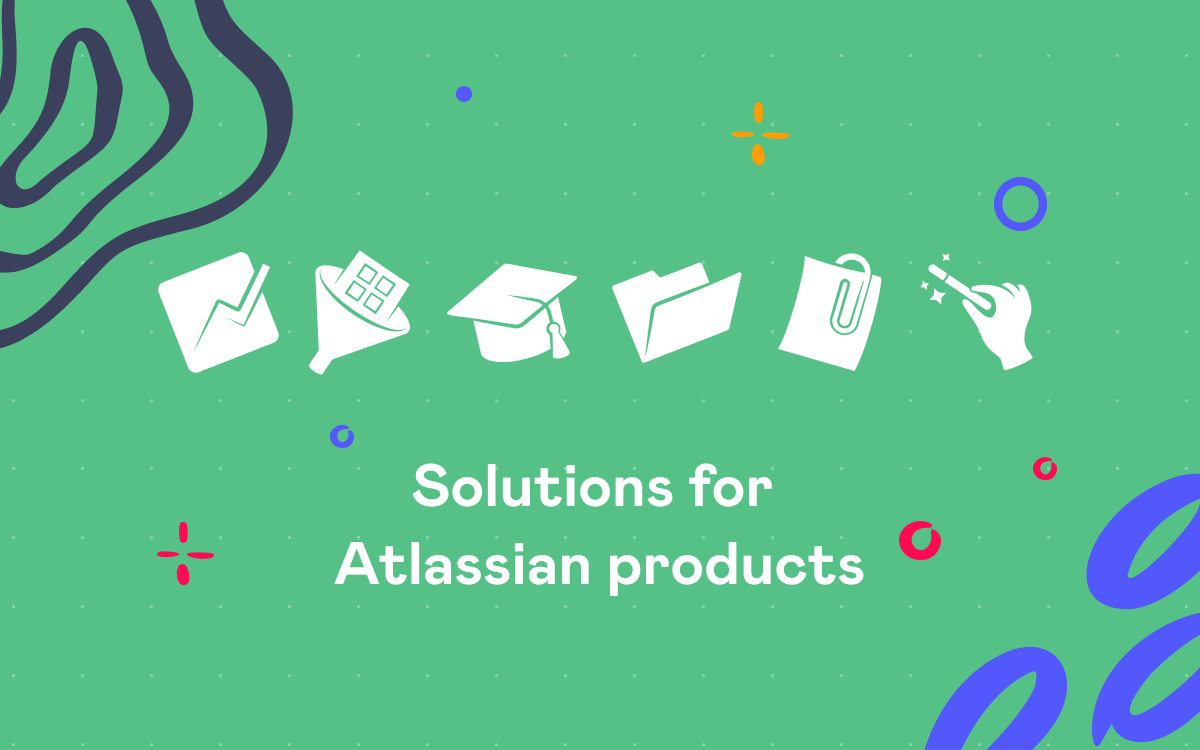 The new marketing tendencies dictate the necessity of establishing close relationships with your customers and users of your products and services. If you haven't done this yet, it's high time to look for some solution. Today's market offers a variety of customer satisfaction platforms so you can always choose the solution depending on the size of your company, audience and initial investments.
In our recent blog posts we have already compared the integration of JIRA Cloud and Customer Case against IdeaScale, UseResponse, UserEcho, HunchBuzz and UserVoice. In the current blog post we continue comparing them against the last rival – Get Satisfaction. Both solutions will be compared by different functionality and usability parameters.
Get Satisfaction is the community building tool that allows you to create the entire workspace for interactions, discussions and conversations with your customers and users. It helps you to turn a new stream of customers' insights and ideas into action and start getting more profit from your products or services.
Customer Case is the the add-on created by StiltSoft team for JIRA Cloud ecosystem. It allows you to reveal the unlimited capabilities of JIRA Cloud as a robust customer community platform and use all the available features for collecting user feedback, processing the submitted requests and setting them to production in one system.
In this blog post we will compare these two solutions by the following parameters:
Login Capabilities
System Structure
Management of Ideas
Idea Moderation and Management of Idea Statuses
Voting System
Notifications and Subscriptions
Reporting and Analytics
Customization and Enhancements
Widgets & Social Media
Pricing
Login Capabilities
Get Satisfaction provides users with a capability to log in to the community portal with their social accounts on Facebook or Google+. If having no social account, users can create a new Get Satisfaction account from scratch by entering their name, email and password.
Customer Case provides the same login options. Besides using the social accounts on Facebook or Google+, your visitors can create personal accounts right in Customer Case. The number of customers registered in Customer Case does not anyhow affect the JIRA license, so you will not have to pay for your customers. Your employees can log in to Customer Case with their JIRA Cloud accounts, so they will not need to create a separate account. The status of company employees is highlighted with the EMPLOYEE marker.
For each forum you can define the set of available login options.
System Structure
Get Satisfaction creates the community portal that falls into categories. Each category can represent a separate project created for your products or services. Categories can be also grouped for better navigation.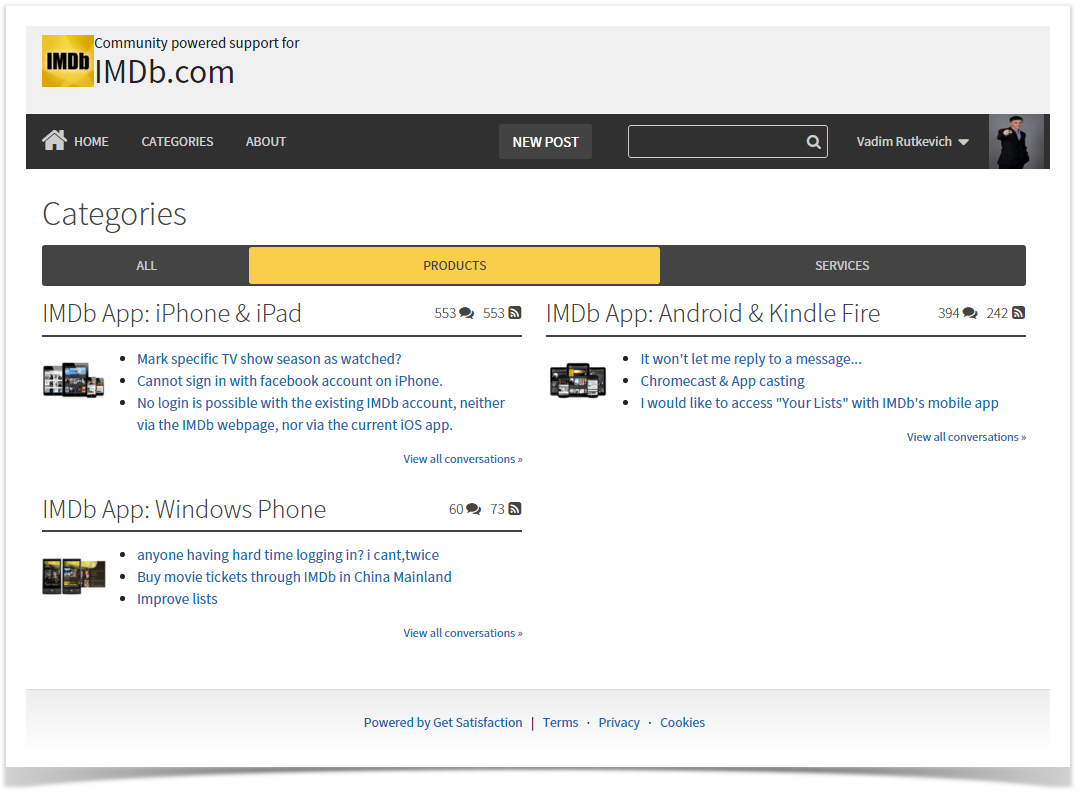 Once the visitors access the community portal, they will see the full list of conversations opened by your customers and visitors. Conversation can be further divided into questions, ideas, problems, praise and announcements.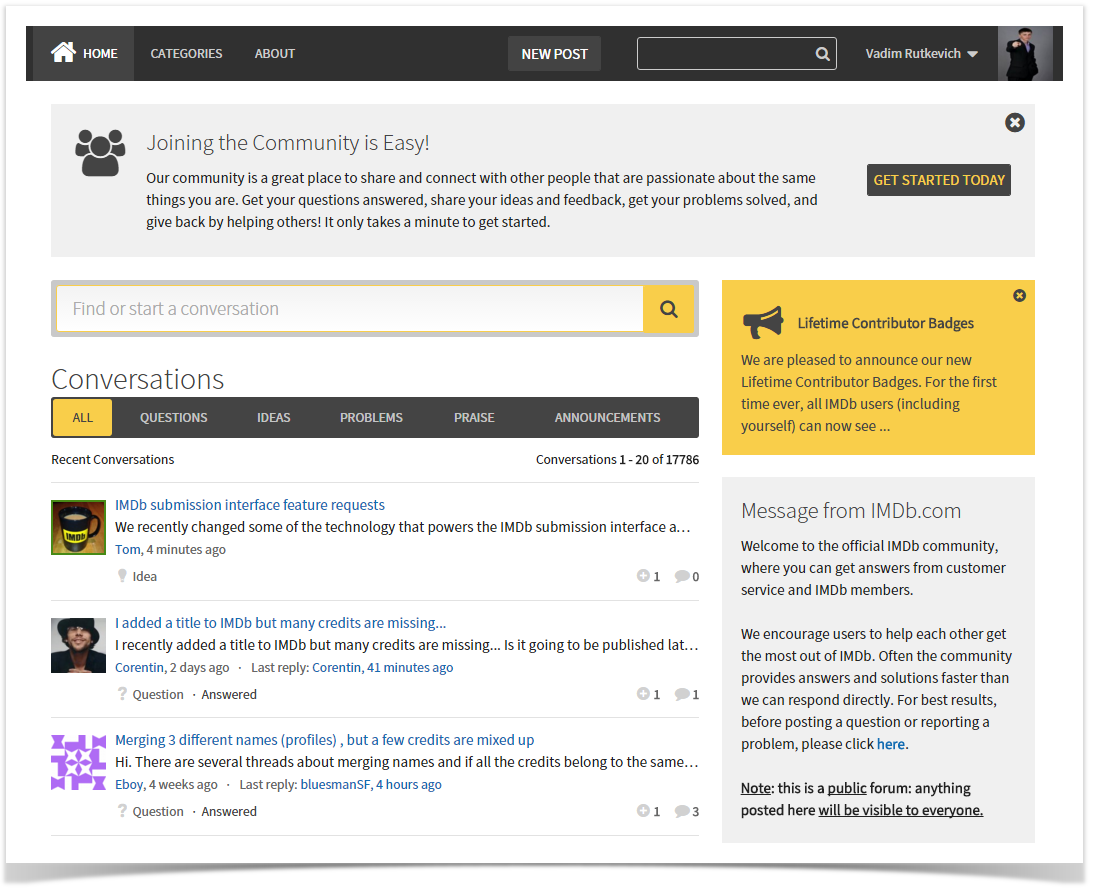 The administrator of the community can add categories and assign ideas to the appropriate category for better and easier navigation among them.
Installation of Customer Case add-on on your JIRA Cloud leads to creation of the feedback portal with the alias like company.customercase.com. The 'company' name is fetched from the JIRA Cloud company account looking like company.atlassian.net. Customer Case allows you replace the default domain alias with your branded URL, so you can quickly and easily re-map online community portal to your custom domain. Instructions on how it can be done you can find here.
Upon creation of the customer feedback portal, you can start adding new feedback forums on the basis of JIRA projects. No extra fees or subscription limitations are imposed to your feedback portal and you can create as many as needed forums for your products and services.
Feedback forums are further exposed to your customers, and all the ideas and feature requests left by visitors and users are stored in JIRA projects.
Creation of a feedback forum is a simple and quick operation, it just requires selection of the JIRA project for aggregation of ideas, entry of the forum name and description.
Each feedback forum receives a unique URL which you need to share with your customers or publish on your website for quick access to the community portal. You can easily regulate your forums, update their names and description or delete them if no longer needed.

Additionally, you can create private feedback forums with the access restrictions set for specific email domains or email addresses.
Management of Ideas
Get Satisfaction allows you to submit different types of feedback, or conversation (this is how it is called here), as follows:
Questions
Ideas
Problems
Praise
While submitting the feedback, the user first writes the initial request and the system tries to find the already submitted feedback items and prompts the user to select among the matched values. If nothing related is found the user proceeds to feedback submission.
By default, the user can enter the short title, select the appropriate conversation type, enter detailed description, set the sentiment level and associate it with one of the available categories.
Once the conversation is posted, the user becomes automatically its follower and his vote is left for it instantly. The user can perform basic operations on the conversation, such as editing or deleting. Additionally he/she can keep conversation on the topic by leaving comments.
Users and members of the community can browse the whole list of conversations or select the category they are interested in.
On any feedback forum created in Customer Case you can find the list of submitted ideas. Ideas can be further filtered by status or category, and sorting can be performed by the recent activity, number of votes or creation date.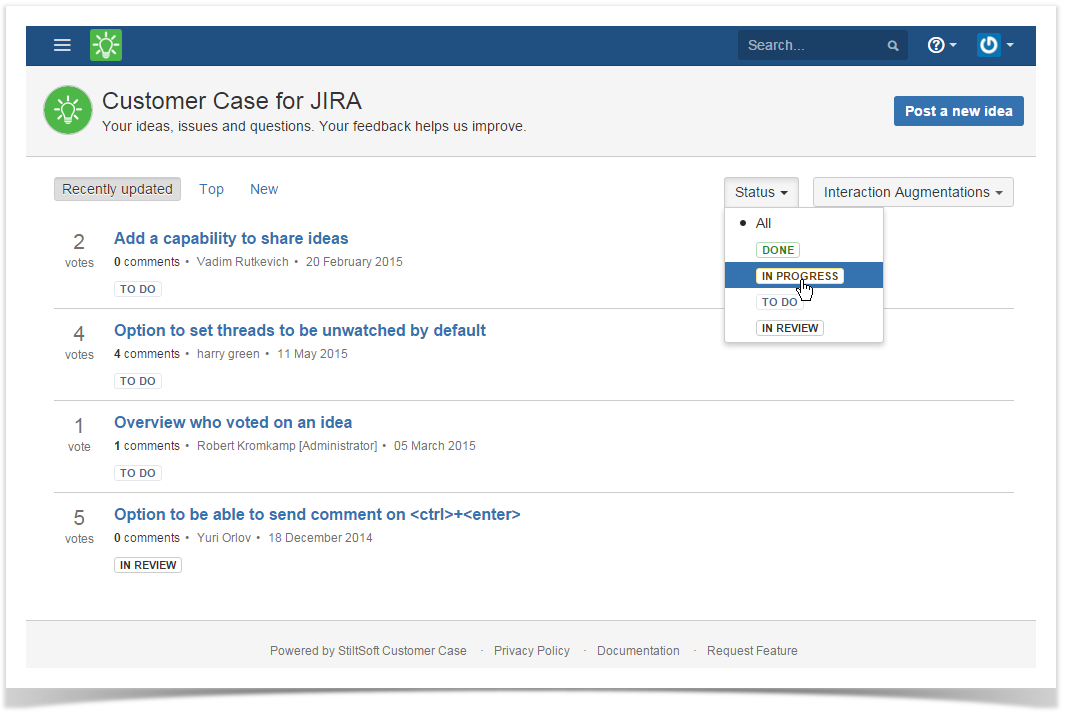 Submission of a new idea is a quick and easy procedure, which requires entry of idea summary and description. The visual text editor will help you to apply the necessary formatting and highlight the required text snippets, embed links or images into your ideas. If needed, you can attach some files that will help you to express your idea.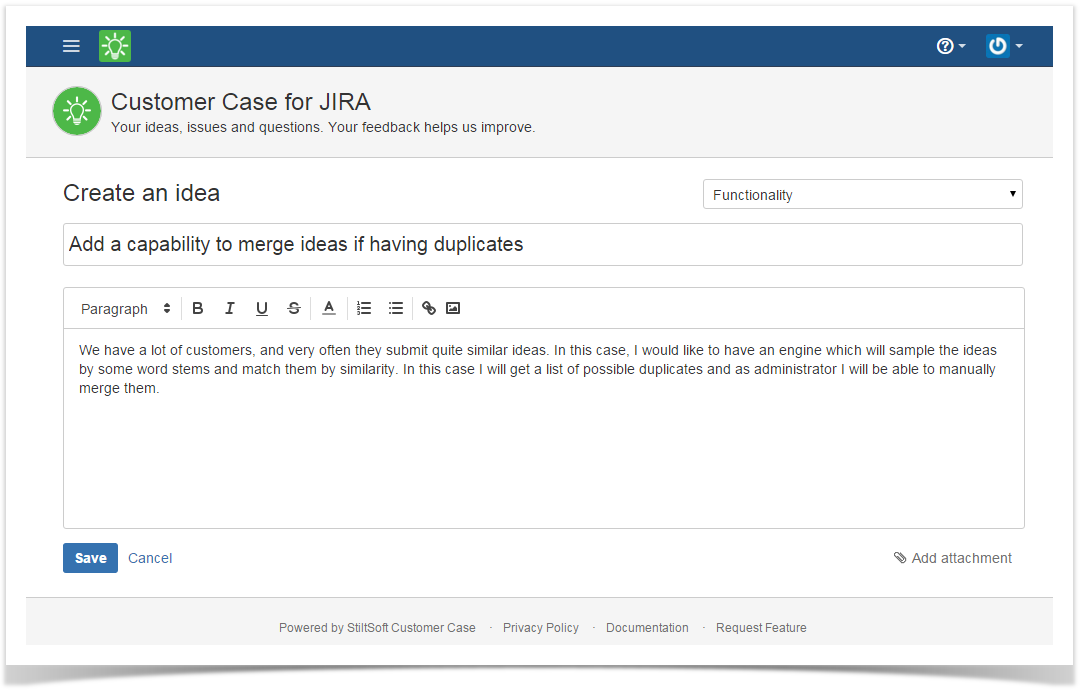 Other customers and visitors of your feedback portal can post comments for their ideas or ideas of other people, or become watchers of specific ideas for receiving updates on any progress there. Your employees working as agents in Customer Case can quickly transition between JIRA Cloud and Customer Case by using the available capabilities.
Besides working with Customer Case as a feedback collection platform, you can also use it as a full-fledged HelpDesk system for processing customers' issues and tickets.
Idea Moderation and Management of Idea Statuses
Get Satisfaction provides administrators and content moderators with the dedicated section to review and manage the submitted conversations. The set of available actions is quite rich and allows you to perform multiple operations, as follows:
edit, remove or close conversations
archive or unarchive them
email conversations to some people
merge conversations with the already submitted topics
add notes or tags
post the official response
make the conversation private
The moderator gets a section to manage all the submitted conversations, view them, filter or sort out the irrelevant ones. The moderator has a capability to adjust the view of the list with conversations by adding or removing unnecessary columns and further save this view.
The conversation moderator can also suspend a capability to submit conversations for particular users if they post too much stuff or spam.
Customer Case provides a separate section for viewing all ideas submitted on a specific feedback forum and see the details of each request.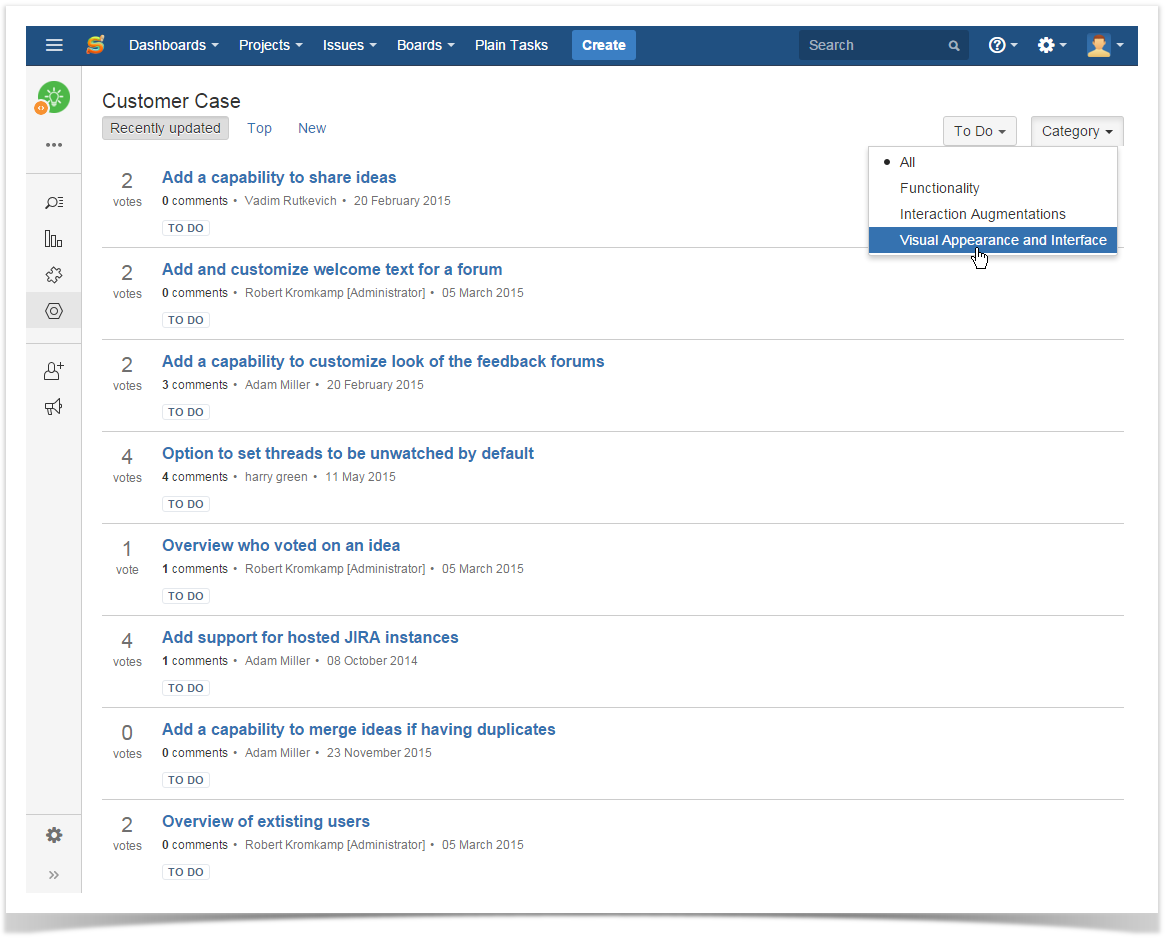 The available sorting and filtering options will help you to put order to your list of ideas and see the recent or popular ideas, or find ideas having a specific status or associated with a particular category.
Moderation of ideas can be performed in bulk or individually. The moderator needs just to open the required ideas and select one of the available action:
add internal comments visible to other agents or external comments visible on the feedback forum to your visitors
edit or update the idea summary or description
delete or move the idea to another feedback forum
add links to some external web sources
add internal JIRA labels
clone the idea
attach files or screenshots to the idea
start progress on the idea or reject it
The list of bulk operations includes the following:
edit values of ideas
move ideas to another feedback forum
transition ideas to another status
delete ideas from the feedback forum
synchronize ideas with some external system
export ideas to Excel, XML or Word
share the list of ideas with some user
Managing Idea Statuses
As far we know, Get Satisfaction does not provide a capability to manage conversation statuses so you can only use the default statuses.
Customer Case uses the built-in workflow capabilities of JIRA Cloud. You can manage idea statuses by modifying the project workflow, this allows you to create any workflow and tailor it to your actual needs. With the available flexibility and customizability in workflow management, you can quickly adjust transitions and configure your ideal workflow in a blink of an eye.
Voting System
Get Satisfaction allows users to leave votes for conversations they like. Only the logged in users can leave votes, as well as take them back if needed. Users can follow topics or they become followers automatically when they reply or comment the topic.
Customer Case allows your customers, as well as your service agents, to leave votes for interesting and useful ideas. Each user can leave one vote per idea, but the number of ideas you can vote for is not limited. The vote can be taken back by clicking the Remove vote button.
Notifications and Subscriptions
Get Satisfaction sends automatic notifications with conversation updates to all followers of the topic. Besides following single topics, the user can start following the whole category and receiving notifications about the activity in the specific category.
In the profile, each user can configure notifications he or she would like to receive from Get Satisfaction. Besides notifications about topics which the user posted or discussed, Get Satisfaction can send details about comments news and so on.
Customer Case sends notifications to watchers of ideas. Users start watching ideas after submission of their own ideas or when they click the Watch button for the particular idea. In this case, users will receive notifications about any activity on the current idea, such as submission of new comments, or change of the idea status. Besides native Customer Case notifications, moderators can configure the notification scheme for the feedback and receive the updates or digest of idea on a regular or scheduled basis.
Reporting and Analytics
Get Satisfaction is supplied with the dashboard showing the actual information about the community activity in breakdown by engagement, topics, users and leaderboards. Besides this the administrator can use the reporting wizard and select the appropriate metrics report. For each report it is possible to set variables, set the reporting period, and, finally, select the appropriate chart type for data visualization.
Customer Case takes maximum of JIRA's reporting engine, which allows you output the series of data tables with required information or multiple pie or column charts with the relevant information abot ideas, their statuses and so on. An option to use JIRA's JQL queries allows you to write custom and flexible queries to get the list of ideas over the specific period of time, within some category, with the particular status or number of votes. For example, you can get the list of ideas from Customer Case project with more than 2 votes.
You can easily save the entered JQL queries as filters and further use them for quick idea filtration or output of gadgets with reports on the dashboard. You can always configure appearance and parameters of your charts and customize to your needs or aesthetic preferences.
Customizations and Enhancements
Get Satisfaction allows you to customize some elements of the community. So you can customize and adjust to your design patterns the following:
Community header & footer
Community browser favicon
Community colors & labels
Community main column & sidebar
For now you cannot customize look of Customer Case with addition of custom HTML snippets and styles. By default, the system uses the JIRA project logo as branding. You can always vote for the idea of portal customization in the company's Customer Case.
Widgets and Social Media
Getsatisaction supports two types of widgets – Engage and Legacy. These widgets allow your customers and visitors to quickly submit their feedback, share their problems, find answers to questions and view the recent activity and discussed topics in your community. You need just to configure the widget and copy-paste the provided code onto your website or any other web resource.
The platform also provides the rich social sharing capabilities that will help your customers to share ideas with their friends and colleagues.
Customer Case does not have widgets for quick idea submission from external resources, but StiltSoft team plans to add these features in the next releases of Customer Case. You can show your interest in them by voting for these features – widget support and social sharing.
Pricing
Get Satisfaction does not reveal the pricing for their two plans. The solution is available in two bundles Professional and Enterprise, details of them can be found here. Due to the company policy, you cannot try a demo of the product, so you purchase the pig in a poke without knowing whether this solution will fit your business. The only thing that can reveal the features is the demonstration of the product, anyway you will have to wait for some time before their support team contact you.
Customer Case is a handy and simple add-on that allows you to get the full-fledged customer community platform on the basis of JIRA Cloud. All you need is to have valid subscription for both JIRA Cloud and Customer Case and then you can start using the portal with feedback forums. The current pricing shows the monthly spendings for the junction of JIRA Cloud and Customer Case. The current subscription shows the number of allowed JIRA users who can be moderators or support agents in Customer Case, the number of visitors and users of the feedback portal is not limited, as well as the number of feedback forums.
| Users | Customer Case (Monthly Subscription)* | JIRA Cloud (Monthly Subscription)* | Total Monthly Solution Price |
| --- | --- | --- | --- |
| 10 users | $10 | $10 | $20 |
| 15 users | $20 | $50 | $70 |
| 25 users | $40 | $100 | $140 |
| 50 users | $100 | $200 | $300 |
| 100 users | $150 | $300 | $450 |
| 500 users | $200 | $500 | $700 |
| 2000 users | $400 | $1,000 | $1,400 |
If using the yearly subscription, the final price will be less due to the yearly discount.
Conclusion
Get Satisfaction is a customer-friendly and customizable feedback platform with the tools and options available for efficient management of incoming feedback. Its pricing model and impossibility to start a normal trial period are the cons that can scare away a part of potential customers. If it is not a problem for you, you can discuss your plan with their support team.
Customer Case in bundle with JIRA Cloud is a multi-featured customer relationship management platform created for maximally simple and quick aggregation of user feedback with the minimal spendings. The user friendly interface and simplicity of use are the key advantages of this solution. The continuous updates and improvements added in Customer Case will help you to run much more efficient feedback collection campaign.