JIRA & Customer Case vs UserVoice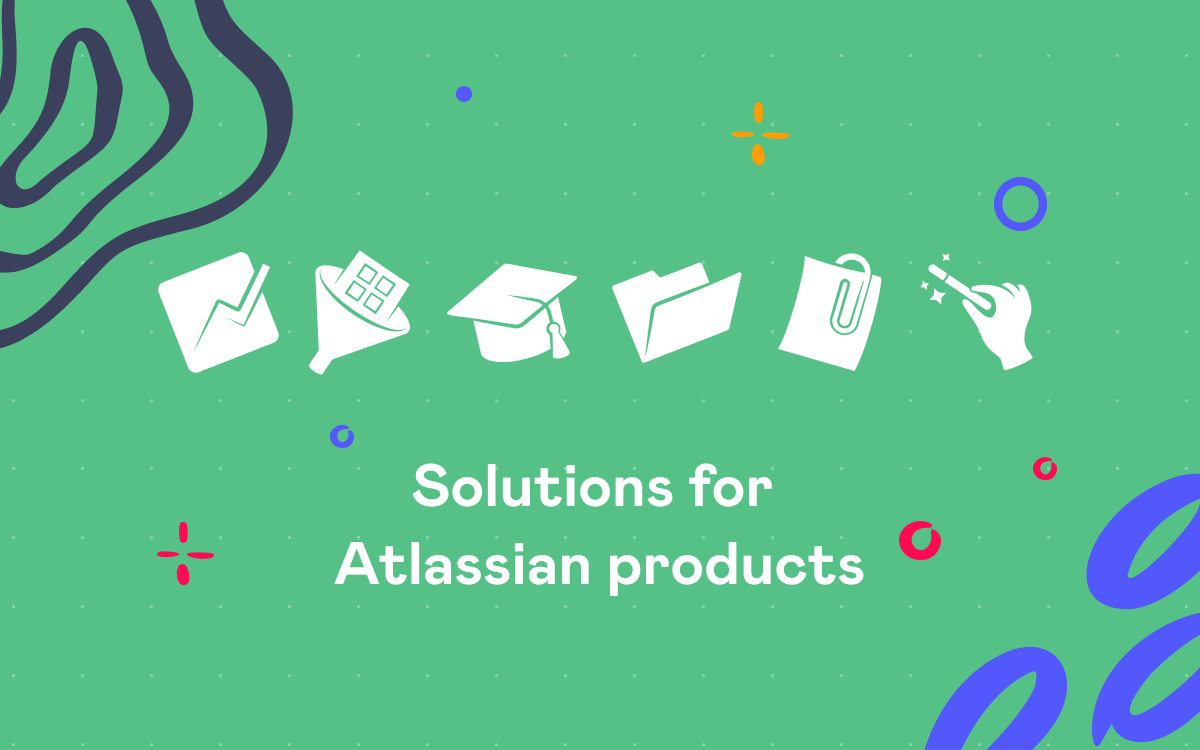 Are you a large vendor who has thousands of customers? So you should be aware of your actual customers' needs. Aren't you? So is there any solution that can you help with this? Yes, there is. Customer Case with JIRA Cloud can become an excellent customer satisfaction platform for gathering and managing customer feedback and improving customer experience with your products and services. The modern marketing policies determine the necessity of close interaction with customers and increasing their loyalty to your brand. This can be achieved only with the community build tool and your continuous work on enhancing your support and communication channels.
In our previous blog posts we have already compared the combination of JIRA Cloud and Customer Case against IdeaScale, UseResponse, UserEcho and HunchBuzz. In the current blog post, we want to match them against another customer community platform – UserVoice. These two community build tools will be compared against each other by multiple functionality and usability parameters.
UseVoice is a customer satisfaction platform working in the Cloud. It provides you with the set of tools to gather customer feedback, perform basic moderation of submitted ideas and indicate the current status of them. You can start a trial account.
Customer Case is the the add-on created by StiltSoft team for JIRA Cloud ecosystem. It allows you to smoothly transition from the issue tracking platform to the full-fledged customer community platform with convenient tools for collecting user feedback and moving them it to production without special manipulations.
In the current blog post we will compare both rivals by the following parameters:
Login Capabilities
System Structure
Management of Ideas
Idea Moderation and Management of Idea Statuses
Voting System
Notifications and Subscriptions
Reporting and Analytics
Customization and Enhancements
Widgets & Social Media
Pricing
Login Capabilities
UserVoice provides visitors of your customer feedback portal with a capability to sign in with their social profiles on Facebook or Google+, or quickly sign in with entering only their email addresses. If logging with email address, your customers and visitors will be prompted to complete registration on the online community portal. Anyway registration is quite simple and quick, so it will not take much time, just entry of the full name and password.
Customer Case provides the similar set of login capabilities. In addition to sign-in with Facebook or Google+ accounts, your visitors can create personal accounts. The number of registered customers does not anyhow affect the JIRA licensing, so you will not get any additional expenses on customer accounts. Your employees using JIRA Cloud can log in to Customer Case with their JIRA accounts, so their user experience with Customer Case will be quite smooth and pleasurable. Their status of company employees will be indicated with the special marker.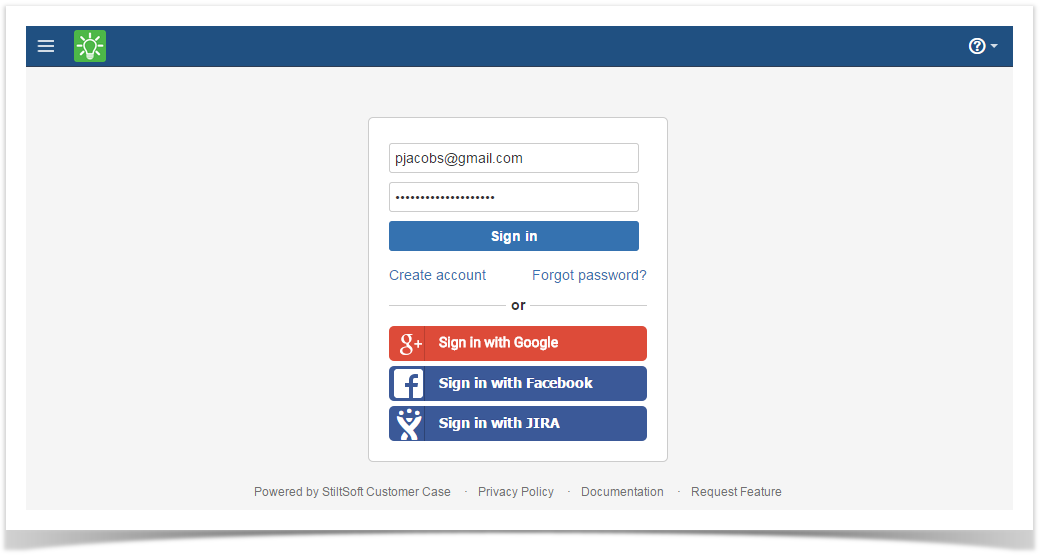 You can also enable the appropriate login options for each feedback forum.
System Structure
UserVoice creates a community feedback portal hosted in the Cloud infrastructure of the vendor. Your customer community platform receives a default sub-domain, but you can change the domain alias to the appropriate one and force the secure connection for users and visitors.
Your feedback portal can be comprised of multiple forums that can be created for your products. Management of forums is quite simple and includes the basic operations on them, such as adding new forums, editing or deleting the existing forums. Optionally you can make forums and invite users to join the created feedback forums. Granting access permissions can be performed via SSO, email domains or IP addresses.
Once your visitors open your online community portal, they will see the list of submitted ideas.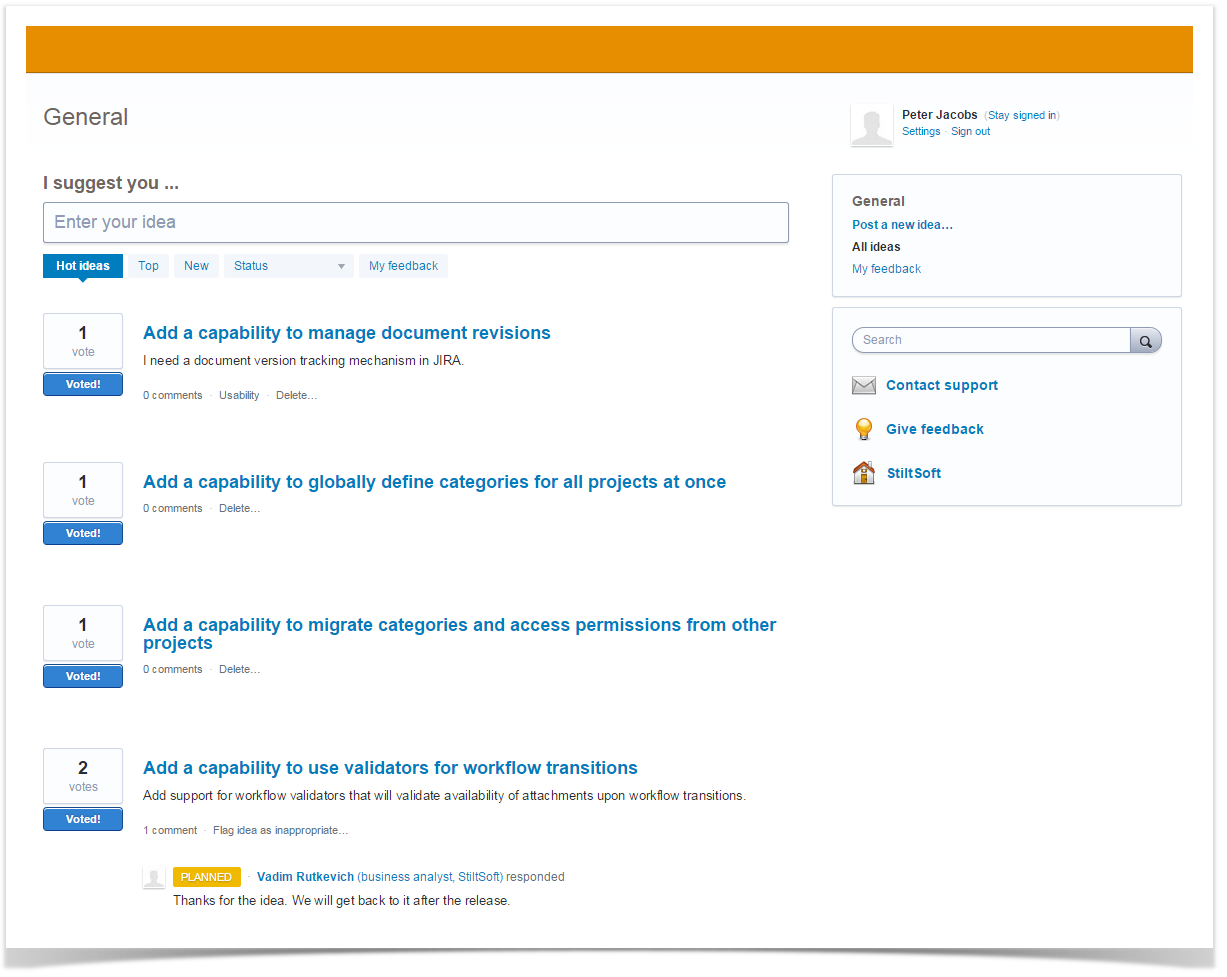 The administrator of the community can add categories and assign ideas to the appropriate category for better navigation.
After installation of Customer Case add-on on your JIRA Cloud, you get the client feedback portal with the alias like company.customercase.com. By default, the 'company' name is taken from the JIRA Cloud company account, which looks like company.atlassian.net. Customer Case provides you with a capability to change the domain alias, so you can re-map online community portal to your custom domain. Details on how it can be done you can find here.
After creation of the customer feedback portal is complete, you can start adding new feedback forums on the basis of JIRA projects. No additional fees or subscription limitations are imposed to your feedback portal.
The created feedback forums will be exposed to your customers, and all the submitted ideas by visitors and users will be stored in your JIRA projects.

Creation of new feedback forums will not take much time of yours, so all you need is to select the appropriate JIRA projects, specify their names and description.
You will not experience problem with this, so upon completion you will get a list of feedback forums, Each feedback forum will have a unique URL path with the mapping to the corresponding feedback forum. All you need is to share these URL's with your customers on your websites and web resources. You can always correct the forum name and its description, or delete the unnecessary feedback forums.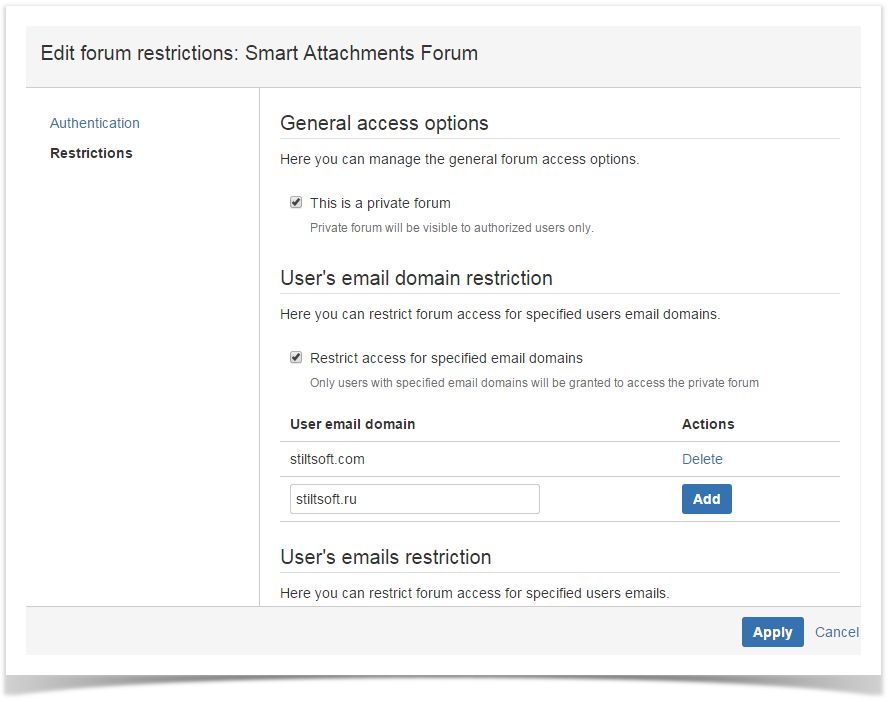 Additionally, you can create private feedback forums with the access restrictions by specific email domains and email addresses.
Management of Ideas
UserVoice allows your visitors to add new ideas on the home page of your community portal. The system tries to match the entered idea title to the already added ideas, and your customers will get a list of possible matches. If nothing is found, your visitors can submit a new idea. Optionally, they can leave description. Idea submission is also available through the left sidebar, which also requires entry of the similar information.
Users and visitors cannot perform a lot of actions on ideas. All they can do is to delete their own ideas, view and filter ideas on the forums or leave comments for other ideas.
Management of ideas is performed in the individual way, without bulk operations. The following operations are available to the administrator:
posting official response to ideas
editing the posted ideas or deleting unnecessary ideas
marking ideas as spam
adding idea supporters, notes and comments
changing status of ideas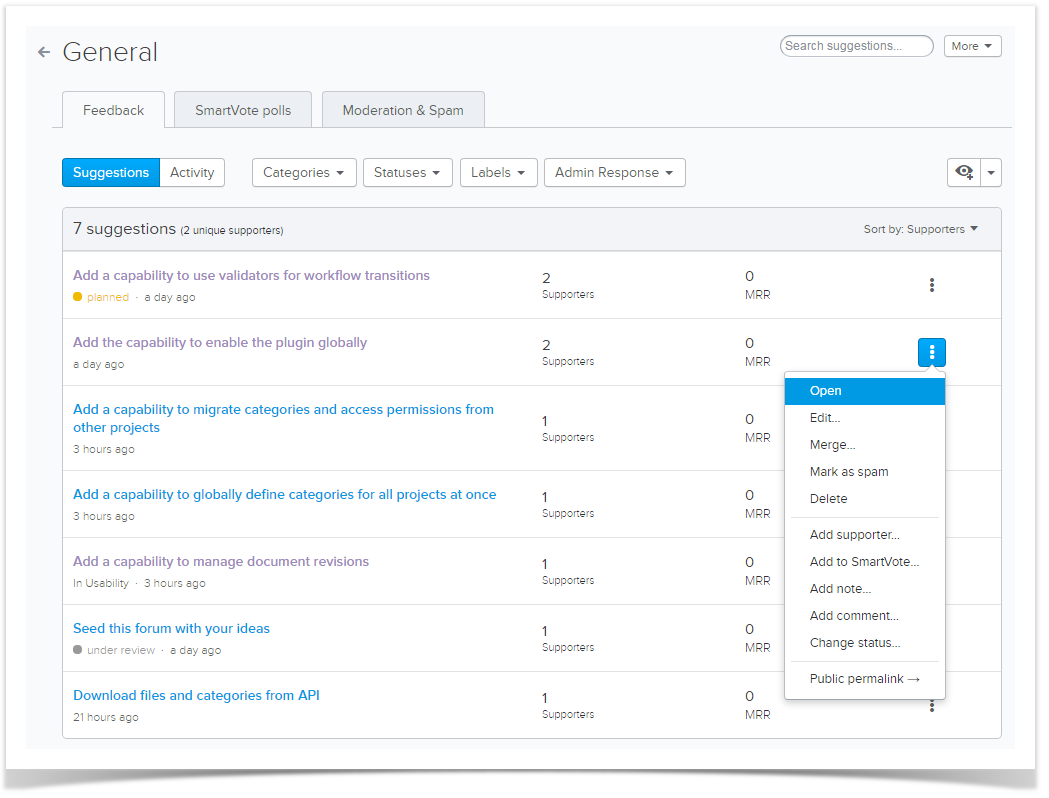 The administrator can also filter ideas by categories, statuses and labels. When opening the idea, the administrator can add labels, view supporters, view the associated SmartVote polls and get insight into possible revenue from the idea.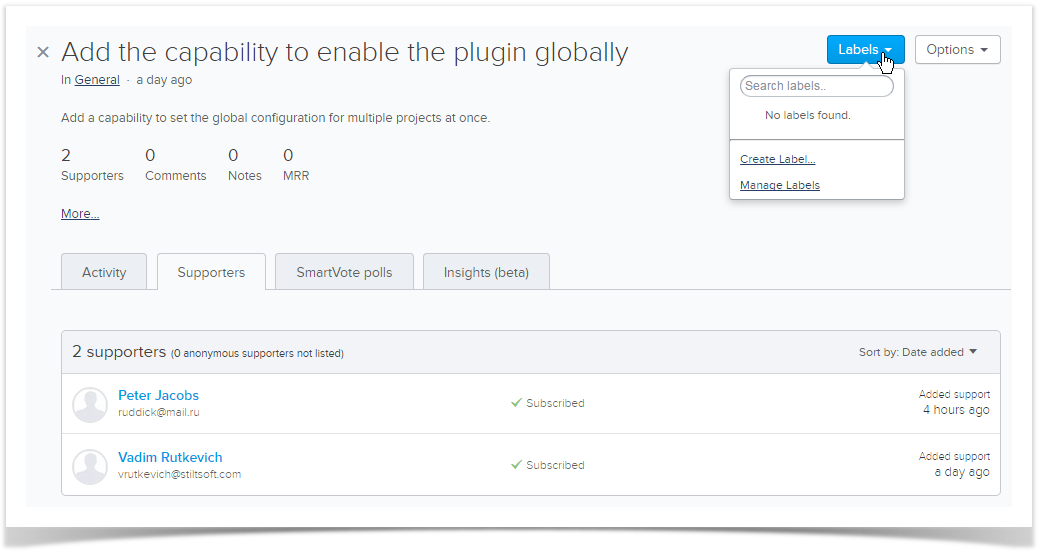 Each feedback forum in Customer Case shows the listing of the submitted ideas. Visitors can filter them by status or category, or sort the submitted ideas by the recent activity, number of votes or creation date.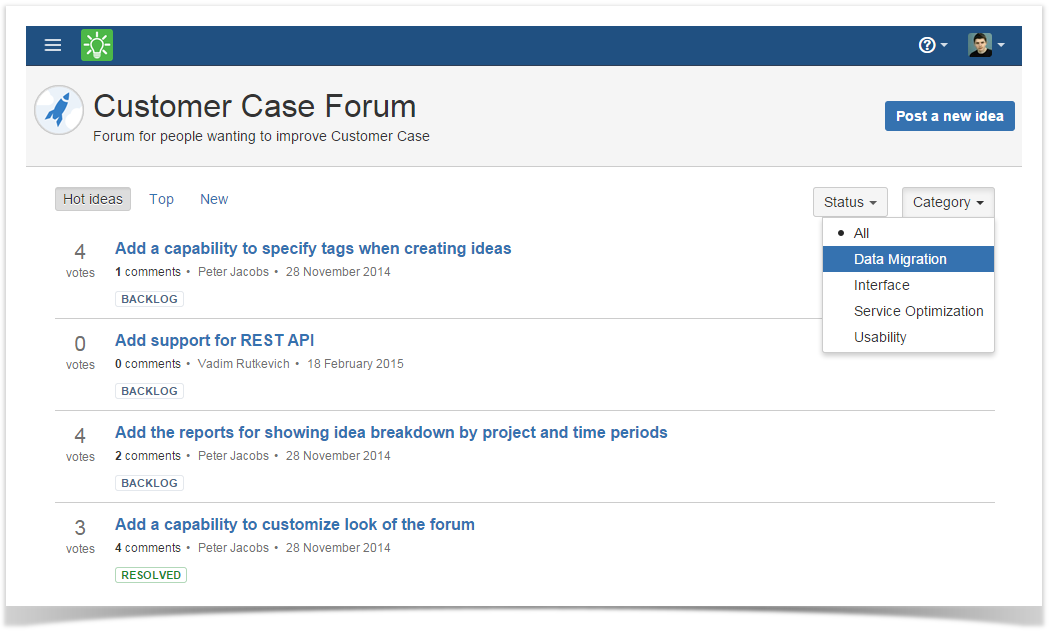 Creation of a new idea is a quick and easy procedure, which requires entry of idea summary and its description. The visual text editor can help you to apply the required formatting, embed links or images into your ideas.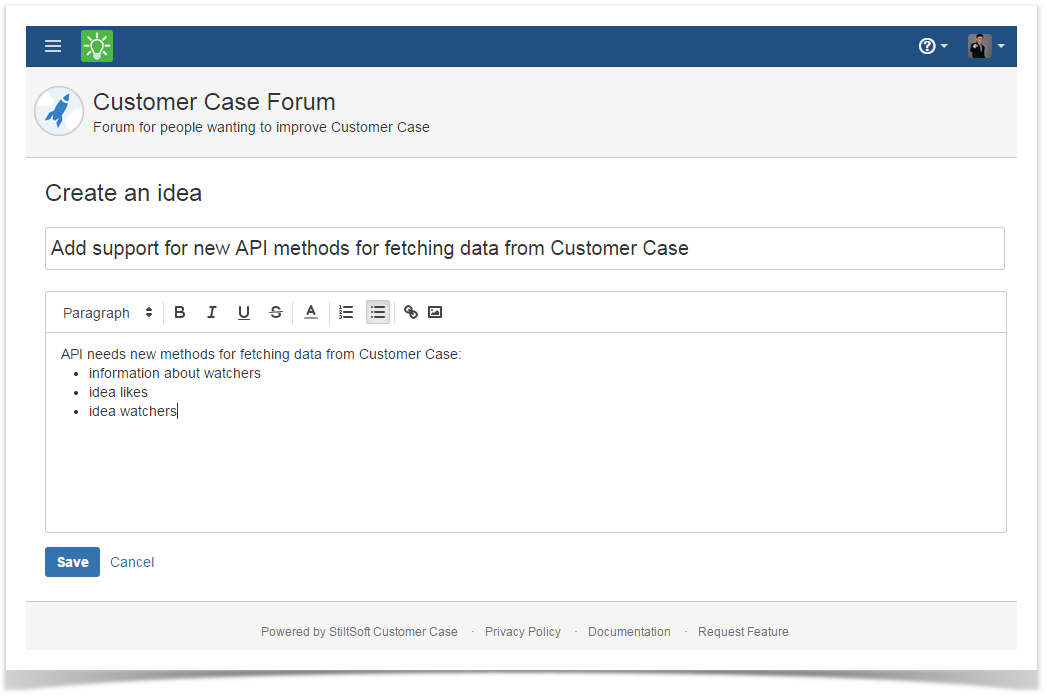 All customers and visitors of your feedback forums can post their comments, vote for interesting ideas or watch the required ideas. Your employees have also a capability to instantly transition to JIRA and view the selected idea there right from Customer Case.
Besides usage of Customer Case as feedback collection platform, you can use it as an open-access HelpDesk system for collecting customers' issues.
Idea Moderation and Management of Idea Statuses
UserVoice is supplied with the moderation engine, which is disabled, by default. The administrator of the online community portal can enable moderation for the submitted ideas and comments, as well as allow users to flag the content as inappropriate. There are also options to enable Akismet spam filter and enable the profanity filter.
All the submitted comments and ideas are not posted until the administrator approves them in the special section of the customer feedback portal. After approval ideas and comments become visible on feedback forums, all the spam items are stored in the dedicated section until the administrator deletes them permanently.
Customer Case also has a moderation section where the support agent can instantly find all the ideas submitted on each specific feedback forum and view details of each item.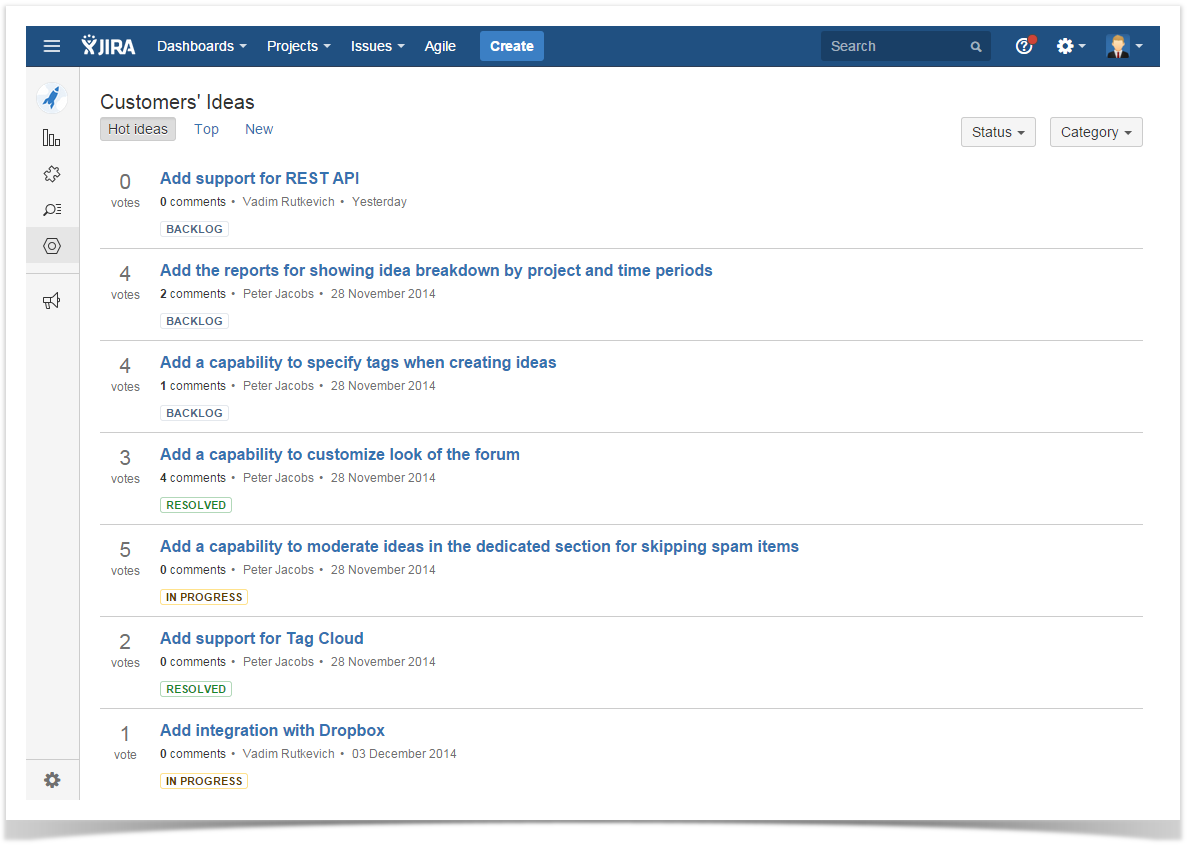 Here you can filter ideas by category or status or sort them depending on the recent activity, creation date or number of votes left.
Moderation of ideas can be performed with a group of ideas or with individual ideas. On the list with ideas, you need to open the appropriate feedback item and then select the necessary action, as follows:
add internal comments visible to other agents or external comments visible on the feedback forum to your visitors
edit or update the idea summary or description
delete or move the idea to another feedback forum
add links to some external web sources
add internal JIRA labels
clone the idea
attach files or screenshots to the idea
start progress on the idea or reject it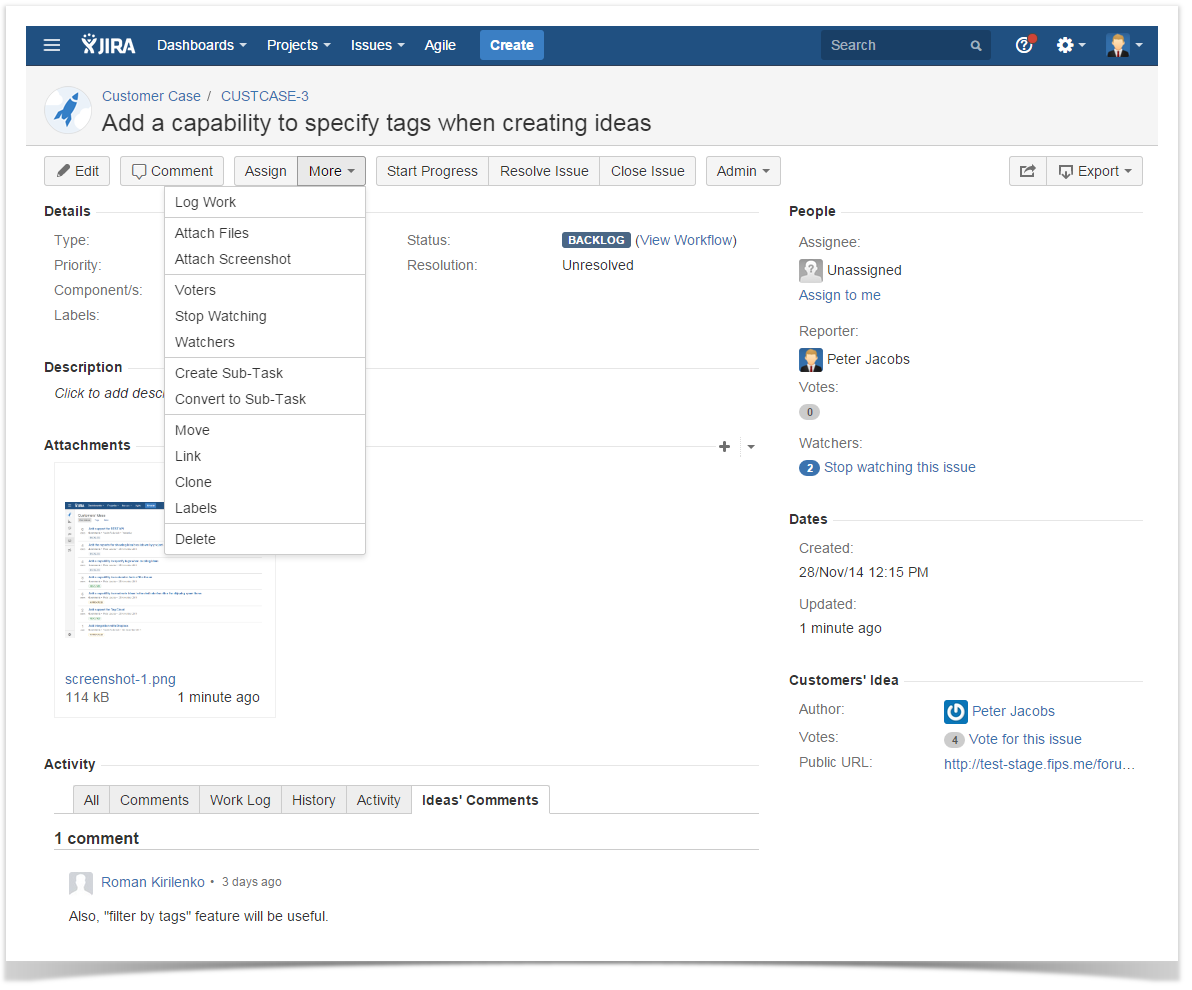 The administrator can also use the following bulk operations:
edit values of ideas
move ideas to another feedback forum
transition ideas to another status
delete ideas from the feedback forum
synchronize ideas with some external system
export ideas to Excel, XML or Word
share the list of ideas with some user
Managing Idea Statuses
UserVoice allows the administrator of the portal to manage idea statuses. It includes adding new statuses, editing or deleting the existing statuses, or re-ordering them. Creation of a new status requires entry of the status title and selection of the color. Optionally, can disable voting for the idea when the current status is applied. No workflow for idea statuses is available.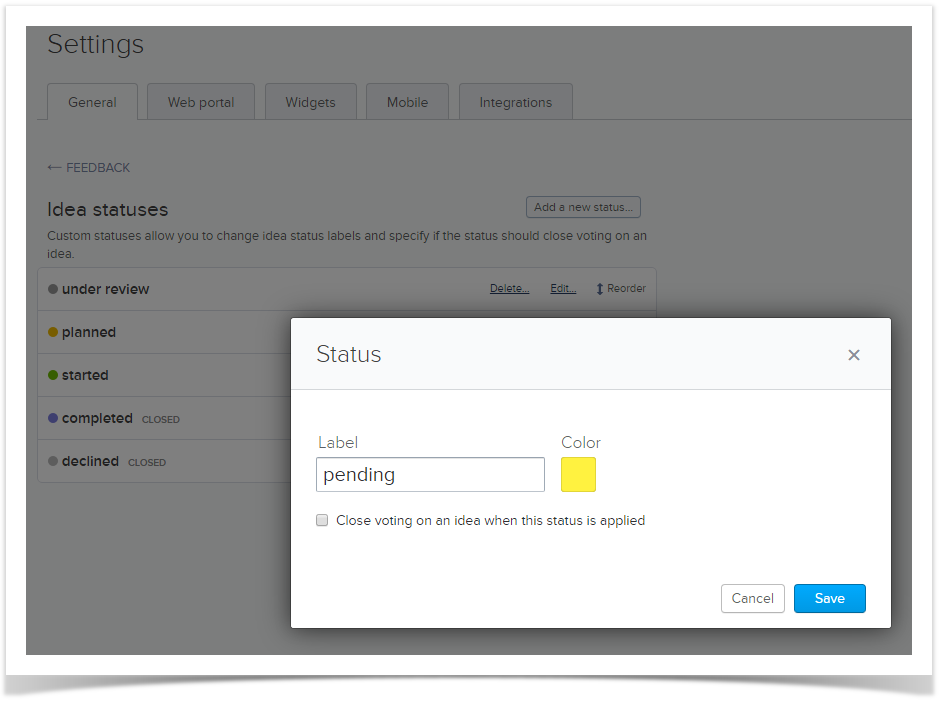 Customer Case deals with the internal capabilities of JIRA Cloud. Management of idea statuses is performed through modifications in the project workflow, so you can always create a flexible workflow and add custom transitions for the associated idea statuses during work of your team on this or that idea.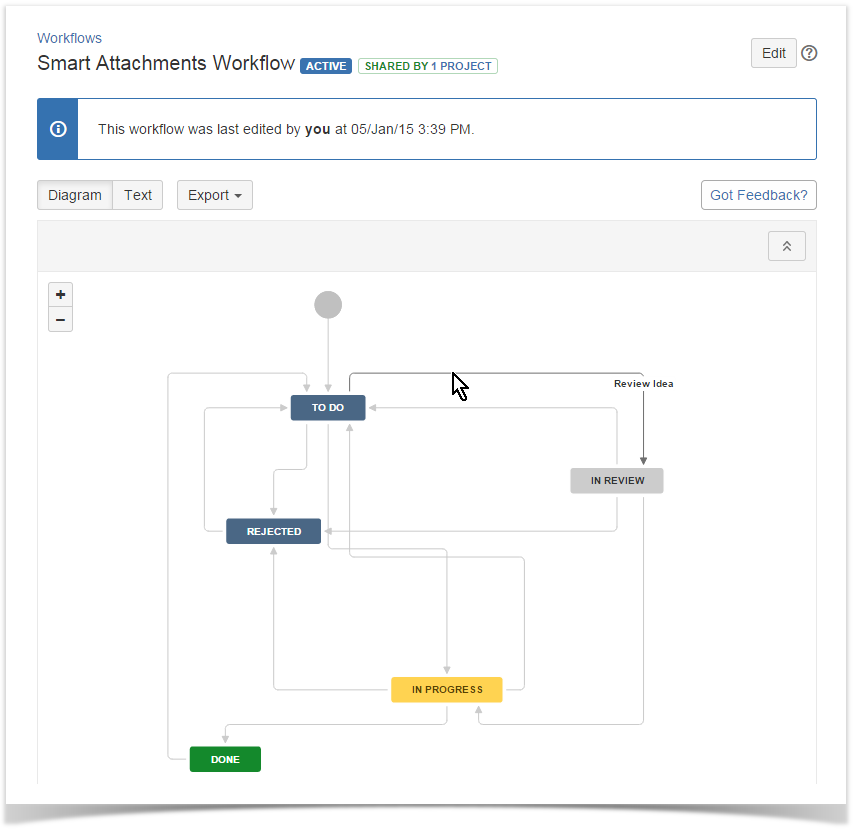 Voting System
UserVoice allows your visitors and customers vote for the ideas they like, they can also take back their votes from the ideas they have already voted for.

Customer Case is also bundled with the voting engine that your customers and visitors can use to vote for ideas. The user can leave his or her vote for any idea on the feedback forum, as the number of votes is not limited so your visitors are free to vote for all the ideas they want.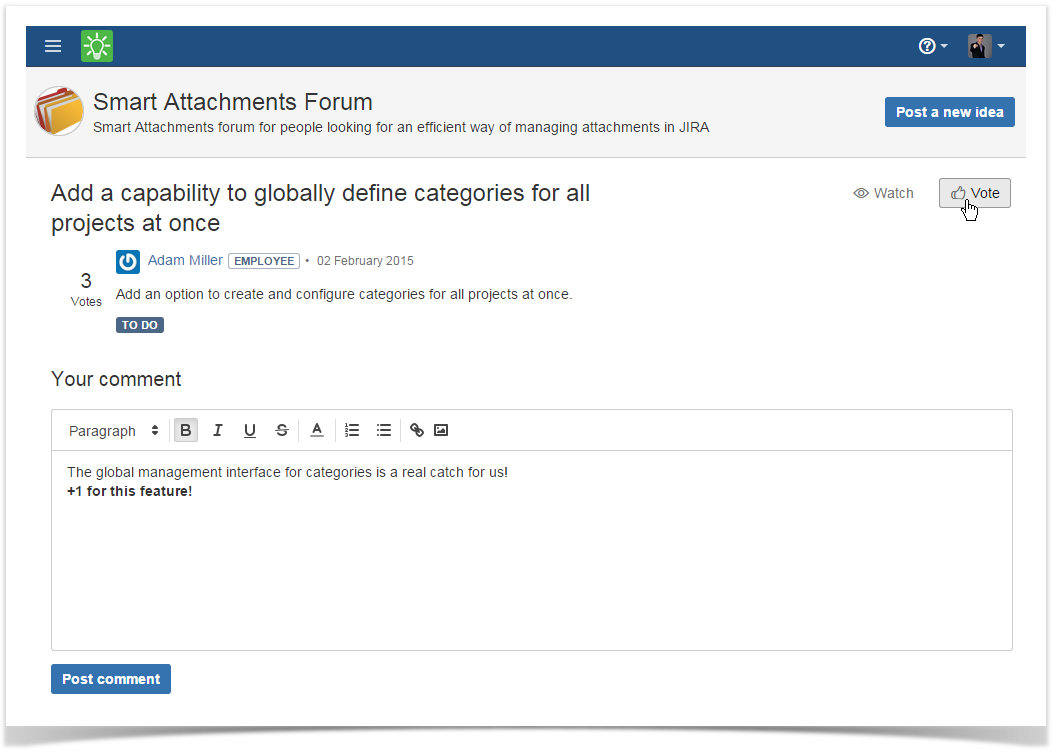 Notifications and Subscriptions
UserVoice allows visitors and users of your customer feedback portal to select which notification types to receive:
The administrator of the portal has also a capability to select which notifications to receive, as follows:
moderation requests
new ideas
new comments
new notes
new user feedback
status updates
status updates on watched ideas
comments on watched ideas
daily digest of all activity on the portal
Customer Case notifies your visitors and customers when they become watchers of ideas. They start watching ideas after submission of their own ideas, commenting the idea or when they manually subscribe to some ideas. In this case, notifications about any activity on the ideas, such as addition new comments, or update of idea status will be sent to their mail boxes. In addition to Customer Case notification, administrators of the customer feedback forums can configure the required set of scheduled notifications about ideas through the built-in JIRA email subscriptions.
Reporting and Analytics
UserVoice is equipped with the reporting engine that allows you to get the generic statistics about activity on your feedback portal, such as number of users, ideas and so on. The activity thread keeps you updated on all events on your feedback forums.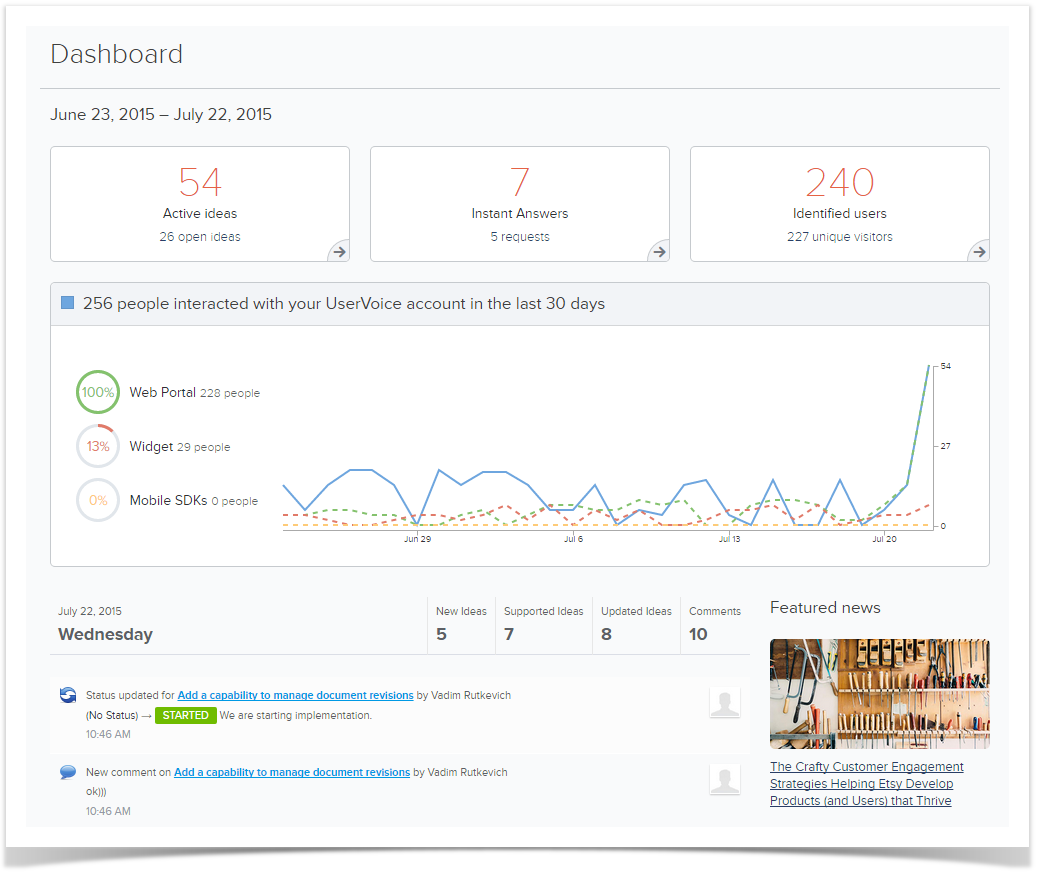 User Insights reports provide you with the mechanisms to compare new vs existing users, posted ideas, days of user activity, page views and some other information.
If you decide to use Customer Case, you will be able to take maximum of the JIRA's reporting engine for output the series of data tables with required information or multiple pie or column charts with the relevant information. JIRA's JQL queries can help you to get only the data you actually want to evaluate. For example, you can get the list of ideas from Customer Case project with more than 2 votes.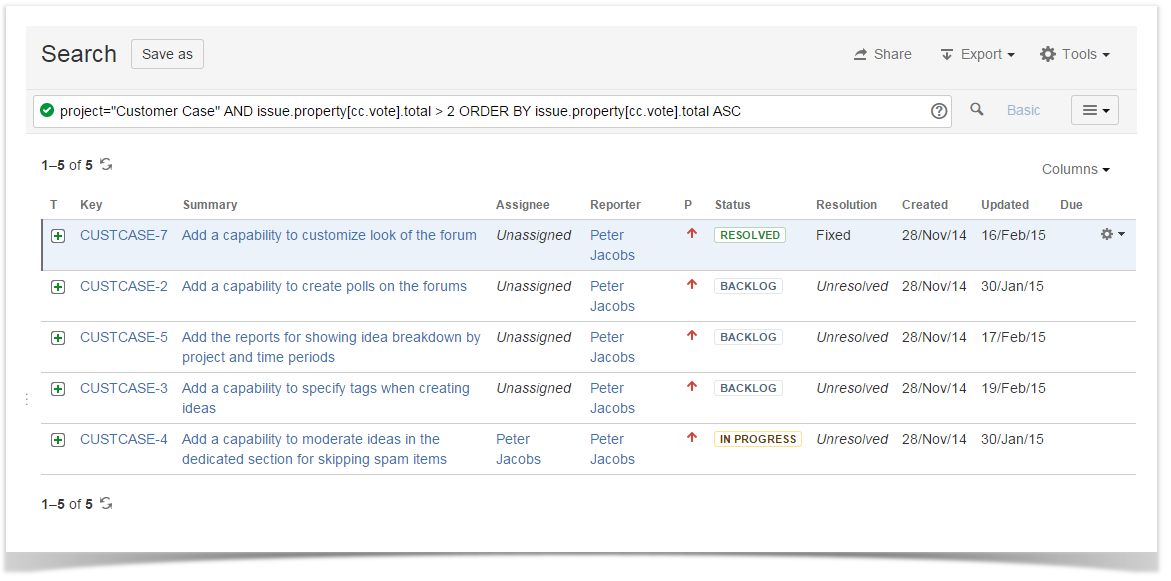 You can always save the entered JQL queries and store them as individual filters for usage in the future, generating reports on their basis or viewing charts on your JIRA Cloud dashboard. You can fine tune appearance and parameters of charts and adjust to your needs or aesthetic preferences.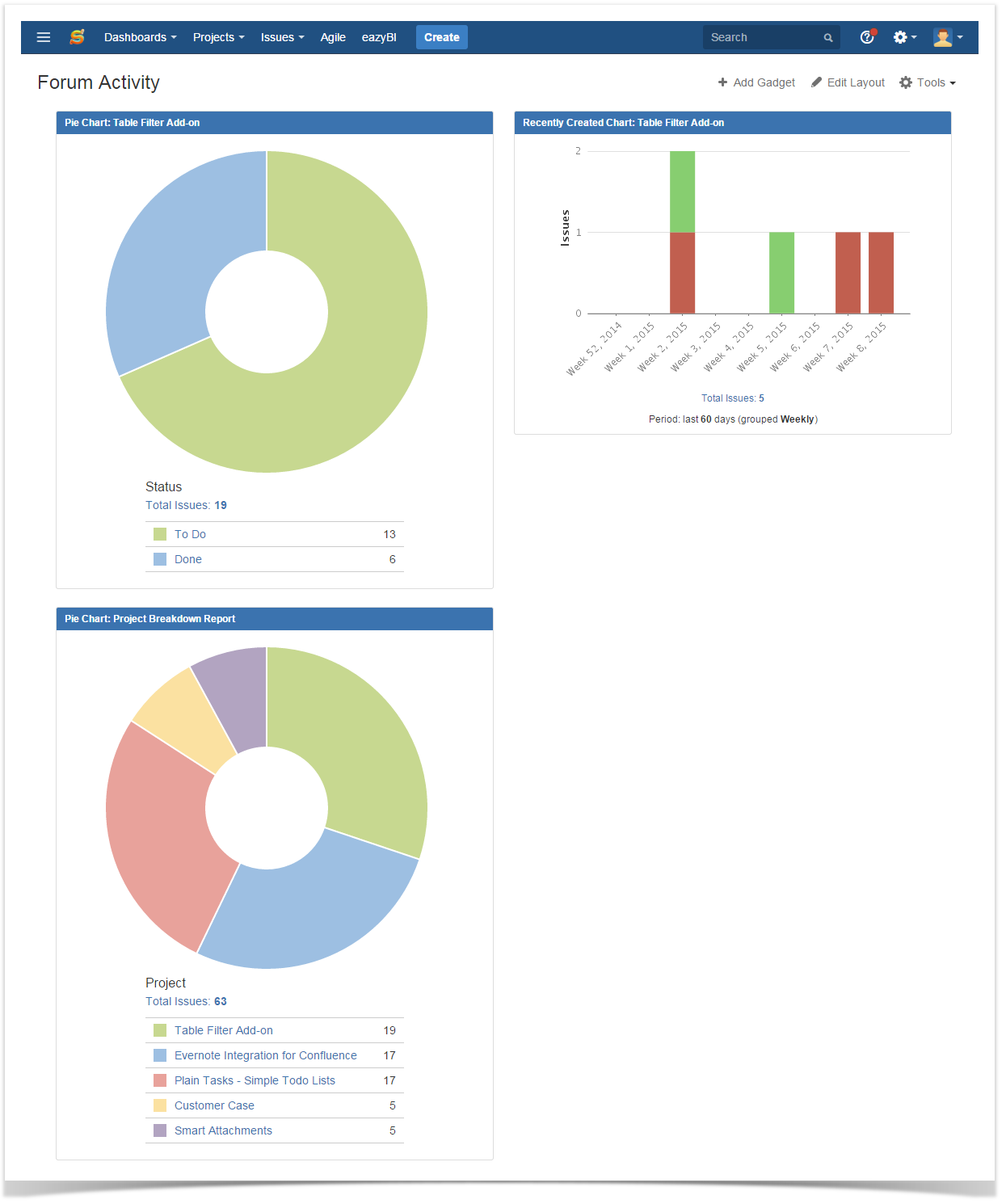 Customizations and Enhancements
UserVoice allows you add minor updates into the design and look of your online community portal. For example, you can upload your logo, set colors for background, text and links, set redirection to the appropriate feedback forum or replace the existing styles and scripts with your own markup.
As of now, Customer Case does not offer special options to adjust look of your user community portal. By default, the system applies the JIRA project logo as branding. You can always vote for the idea of portal customization in the company's Customer Case.
Widgets and Social Media
UserVoice allows you to show the feedback widget on your websites. All you need is to configure its look and insert its code onto the required pages of your website. And that's all. The widget rotates the submitted ideas and allows visitors of your websites to vote for the ideas they are interested in.
With the help of social sharing functions, you can tweet some idea or put a like and share the idea on Facebook.
Customer Case does not provide any widgets for quick data access and usage from external resources, but StiltSoft team plans to have these features in the next releases of Customer Case. You can also support them by voting for these features – widget support and social sharing.
Pricing
UserVoice is a Cloud customer satisfaction platform that will release you from additional expenses on maintenance and infrastructure support. The key difference between packages is the number of supported accounts and monthly usage of your community portal, as follows:
Basic ($499 per month) – 3 administrators, 10k users, 40k API calls and 40k portal page views.
Premium ($999 per month) – 10 administrators, 25k users,100k API calls and 100k portal page views.
Enterprise (determined individually)  – 10+ administrators, 25k+ users, 100k+ API calls and and 100k+ portal page views.
Customer Case is the add-on for JIRA Cloud that transforms it into the customizable and flexible customer community platform. You need to get subscription for JIRA Cloud and Customer Case in order to start using the portal with feedback forums. We will provide the monthly prices for both systems. The pricing indicates the number of allowed JIRA users who can be administrators or support agents in Customer Case, the number of visitors and users of the feedback portal is unlimited, as well as the number of feedback forums.
| | Customer Case (Monthly Subscription)* | JIRA Cloud (Monthly Subscription)* | Total Monthly Solution Price |
| --- | --- | --- | --- |
| 10 users | $10 | $10 | $20 |
| 15 users | $20 | $50 | $70 |
| 25 users | $40 | $100 | $140 |
| 50 users | $100 | $200 | $300 |
| 100 users | $150 | $300 | $450 |
| 500 users | $200 | $500 | $700 |
| 2000 users | $400 | $1,000 | $1,400 |
In case of the yearly subscription, the resulting price will be less due to the yearly discount.
Conclusion
UserVoice is a rich-in-features customer feedback management platform that provides you with a set of tools to gather feedback from users and measure customer satisfaction with your products and services. This system will be a good solution for large companies, as the pricing for small companies will be the main disadvantage.
Customer Case together with JIRA Cloud is a multi-functional customer relationship management system created for gathering client feedback and rapid transition of submitted ideas to development process. The intuitive interface and helpful features will be a good experience for administrators of feedback forums and visitors of your community portal.