Search, Filter, and Delete Attachments in Jira Software
June 15, 2023
#

Document management
#

Reporting
#

How To
#

Jira
#

Project management
Stiltsoft, in conjunction with Atlassian, continues to roll out tools and functionalities for all teams. Many teams use Atlassian Jira Software to manage projects, create roadmaps, and upload project artifacts. Our Smart Attachments for Jira app facilitates file management. If you are new to Jira project management software, this blog post will guide you on everything you need to know, starting with Jira Cloud features. Also, we will discuss how to search, filter, and delete attachments in projects and issues efficiently. Read this post to learn how to use Jira Cloud and manage attachments in Jira Software.
Features of Jira Project Management Software
Seamless Project Management
Project management gets a lot easier with Jira. The software gives a clear direction for project creation. Jira Software helps you house different boards, issues, ideas, or attachments under a project to aid better project management. This way, you can create, organize, and monitor projects in one place.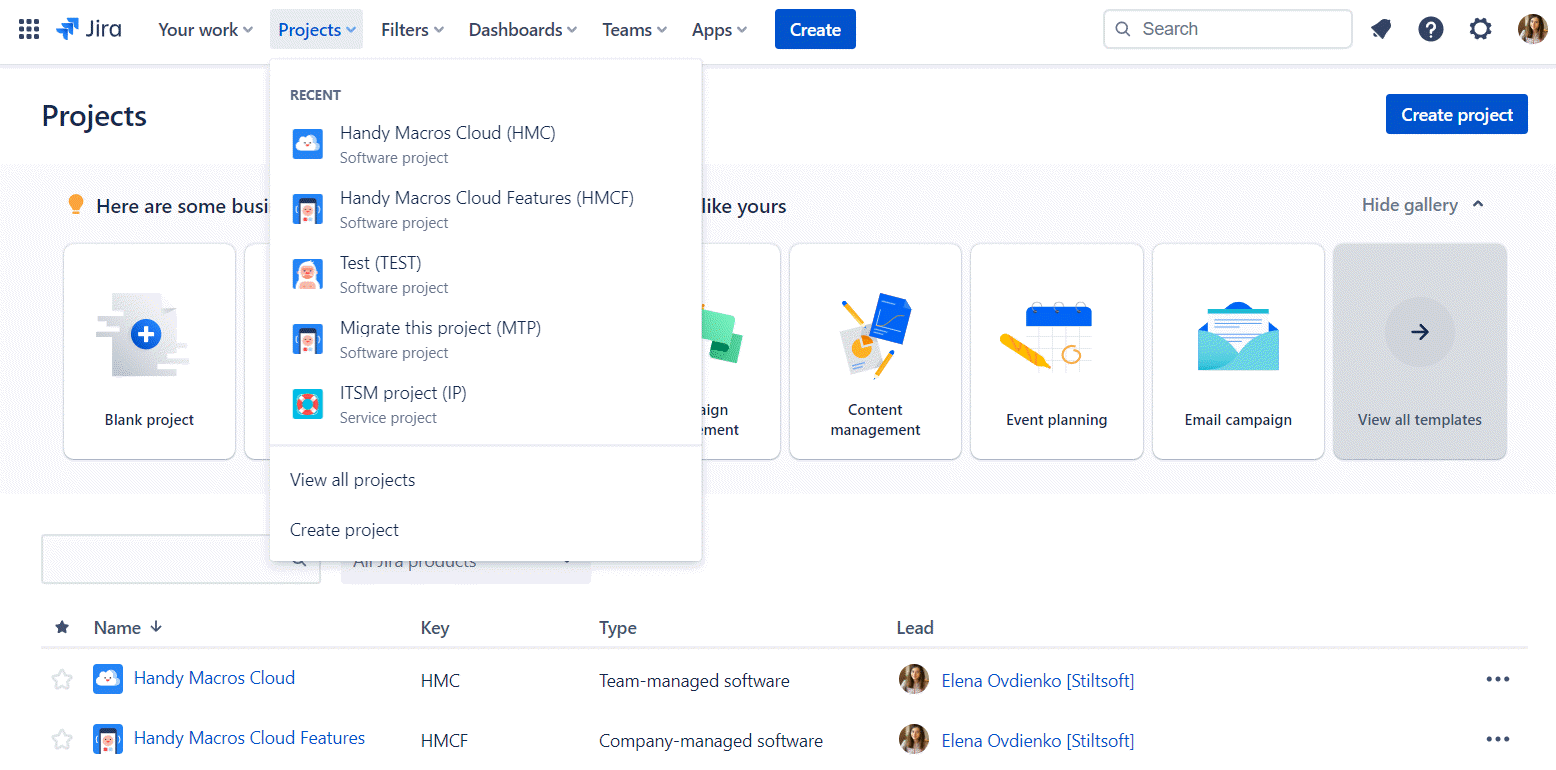 Ready-to-Use Templates
As you work within Jira Software, you have various pre-made templates for different teams or projects. You do not have to build or create anything from scratch; the templates have every feature you need. Today Jira has 15 templates for teams and activities in software development, legal affairs, IT, analytics, or human resources. So any team, be it an experienced crowd of professionals or a startup with enthusiasts, can find the template to kick off their project in Jira.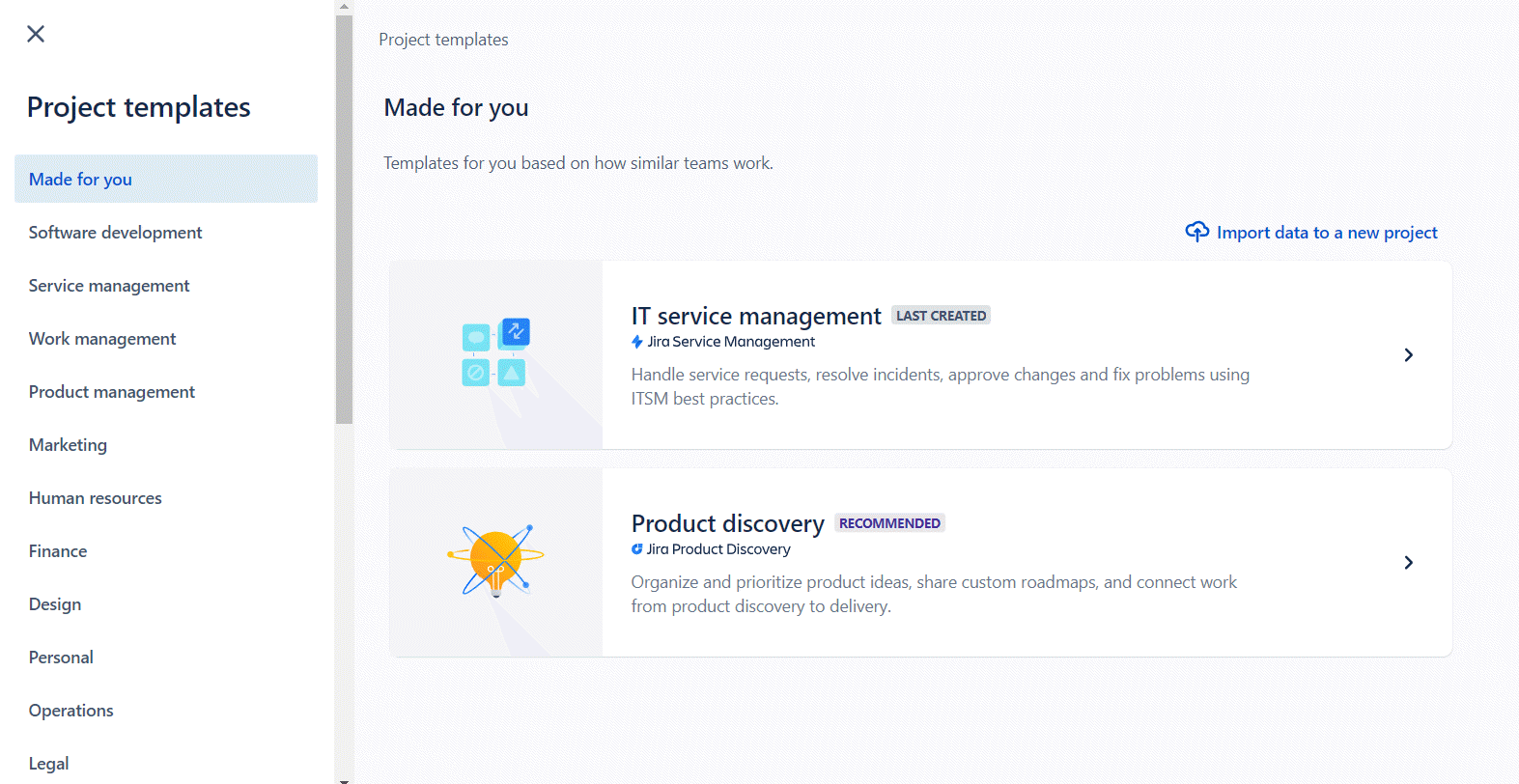 Clear Roadmaps
With a clear roadmap, it becomes easy to reach your project goals. Jira Software helps you map work processes, view project dependencies, and identify bottlenecks. The advanced roadmap feature enables you to create several roadmap versions, track project progress, and make more brilliant plans.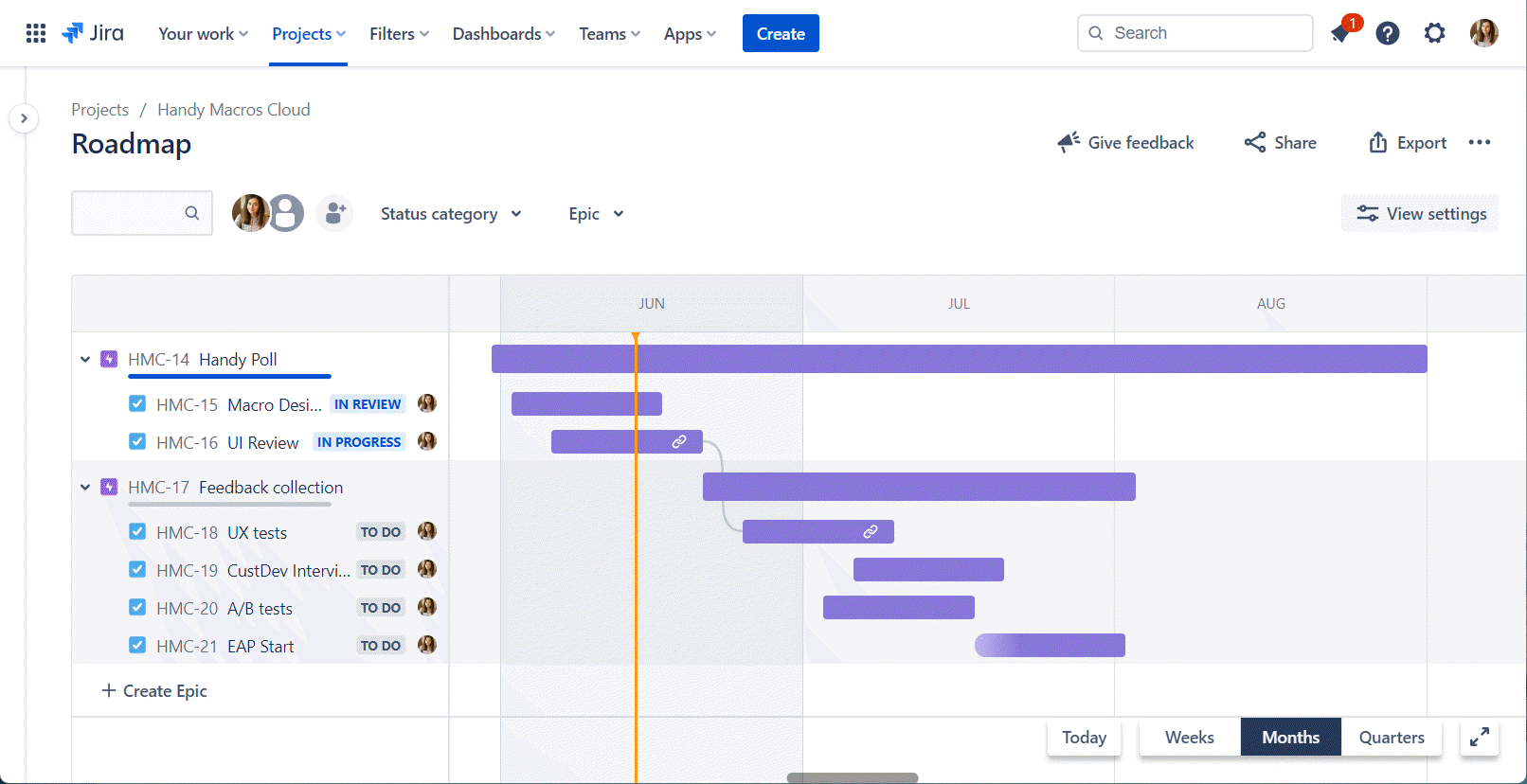 Atlassian Marketplace Integrations
Atlassian has enriched its Marketplace with apps that will accelerate project processes and make your job easier. It has numerous apps for different purposes, which you can integrate with your Jira Cloud instance.
App categories in the marketplace include customer relationship management (CRM), code review, design, sales, charts & diagramming, and many more. You can navigate across solutions on the Atlassian Marketplace with the help of its quick filters, keyword search, or by combining them.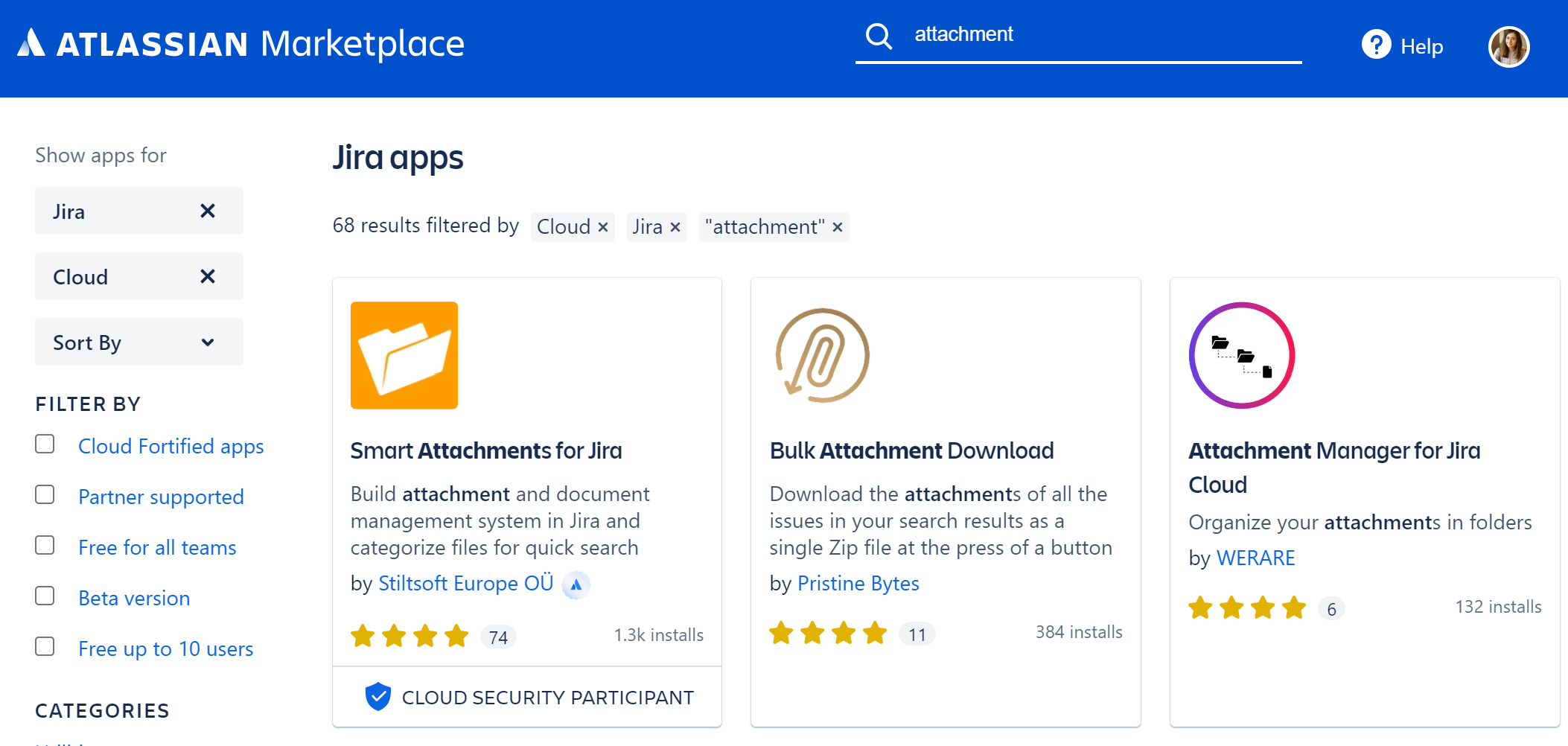 Project Insights
Jira Software provides you with real-time insights about your projects. These insights will help you make data-informed decisions to move your projects forward and grow your team and company.
You can find the list of available reports from the project sidebar. Locate Reports and select the one you need for your analytics.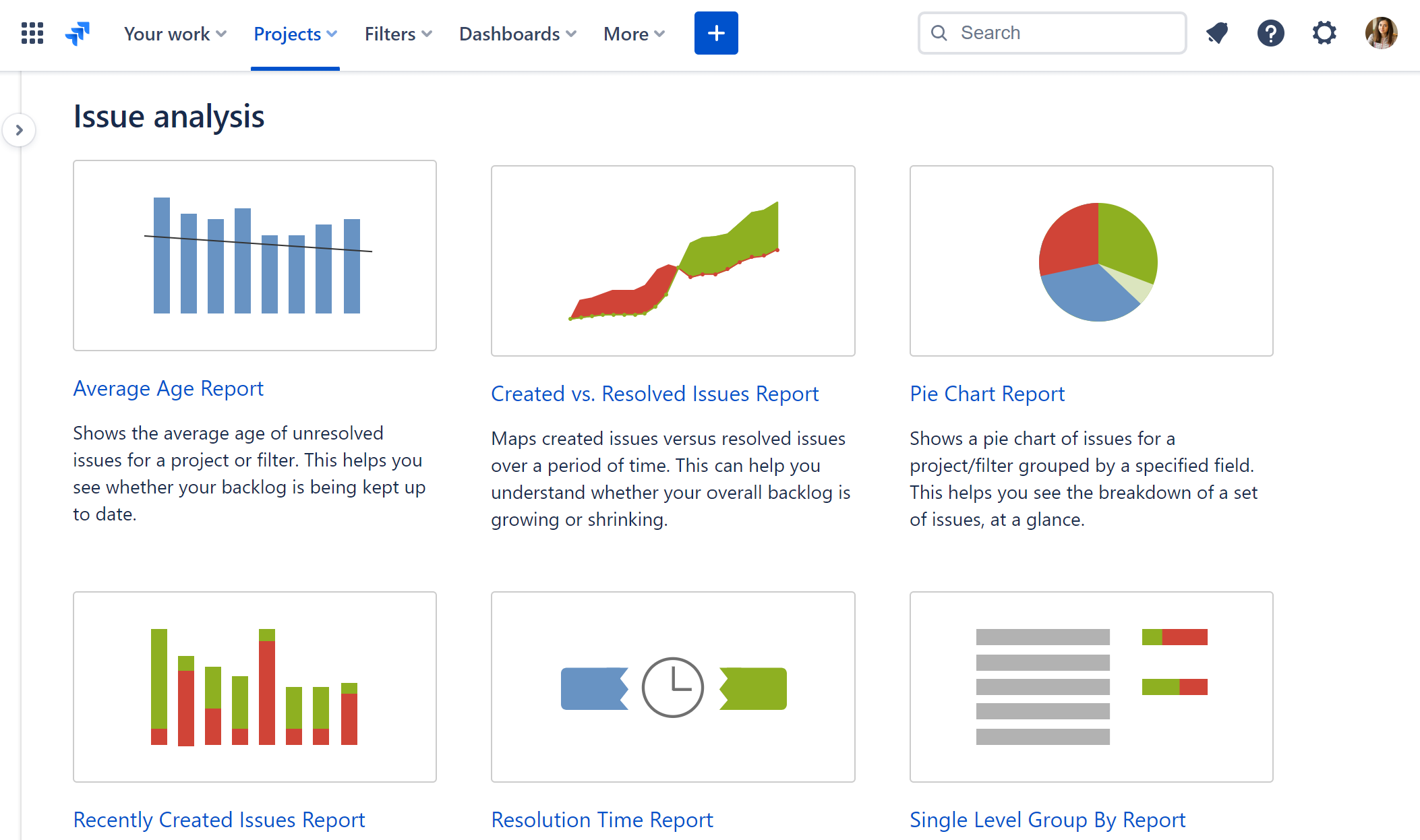 Pros and Cons of Jira Software
Teams love Jira for many reasons:
Apps from Atlassian Marketplace are easy to add to your account. You do not need Jira or an in-house tech support team to integrate a new solution.
Jira helps enterprises to scale and make data-informed decisions through Jira reports & analytics. It also helps companies stay compliant with regulatory policies on security.
The software has a free pricing plan for small teams.
The things you need to consider:
The free pricing plan is limited in functionality. It does not have data analytics and user roles & permissions features. The Standard and Premium pricing plans offer only a 7-day free trial each.
Many solutions on the Atlassian Marketplace require additional payment. In return, you get not only the software itself but also regular app updates, new feature releases, and responsive support.
Basics of Attachment Management in Jira Cloud
Here, we shall discuss how to improve file management using the Smart Attachments for Jira Cloud app. Below are the three major steps to get the app from the Atlassian Marketplace.
Sign up to create a Jira Software account or sign in to your account.

On the start page, you will be redirected to your dashboard. If you already use other Atlassian products like Trello and Confluence, you will see a list of these products, including Jira, which you just signed up on. Click Jira Software to go to your Jira instance.
Create a project. To do this, go to the header and click Project. Below the drop-down that comes up, select Create Project.
On your dashboard, go to the header and click Apps. Next, click Explore more apps and search for Smart Attachments for Jira. Click on the app and add it to your account. Now you can manage attachments in your project issues.
Attachments in Jira Software: Pro Tips
While executing projects and tasks, teams often have documents with which they work. These documents could be interviews, research, briefs, and pictures for flawless project completion.
As your team collaborates on Jira Software, uploading these documents as attachments for concerned persons to access is necessary. This looks like the basic workflow without any concerns. Things change once your project issues get way too many files attached to issues. It becomes difficult to operate this hip of documents. Here comes our Smart Attachments with the ability to filter, group, search, or delete bulk attachments in Jira.
How to Organize Attachments in Jira Issues
The app is ready to use immediately after the install. You can start with labeling your attachments in Jira issues to keep them organized.
Open the Jira issue with attachments. To label an attachment, move to the sidebar and click Open Smart Attachments.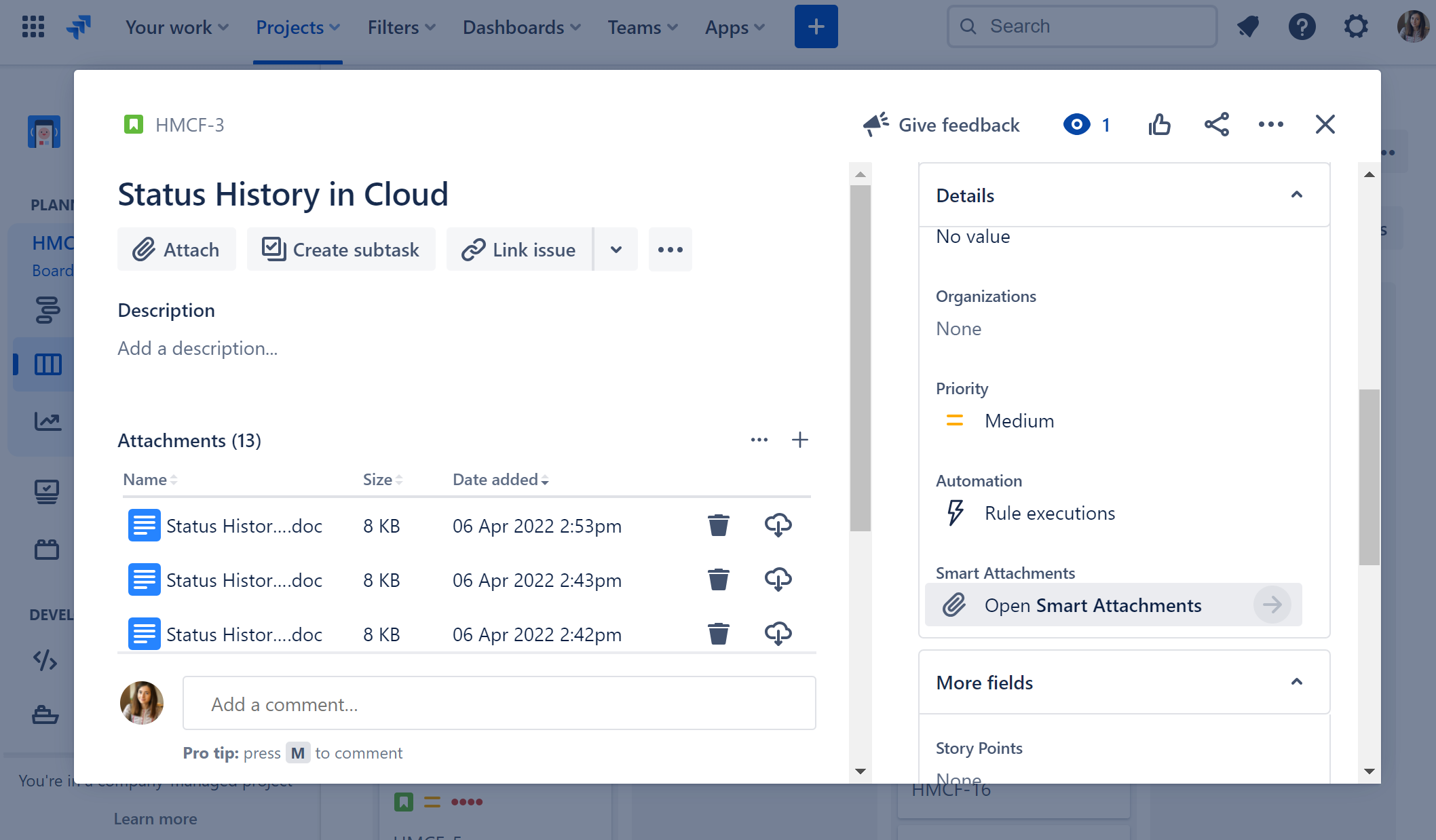 Move your cursor over the attachment you want to label to reveal +. Click the + button and type in your label. Click Create <Insert label> (New label). If you want to use an existing label, click + and select the label from your list. The labeled attachments will then become color-coded.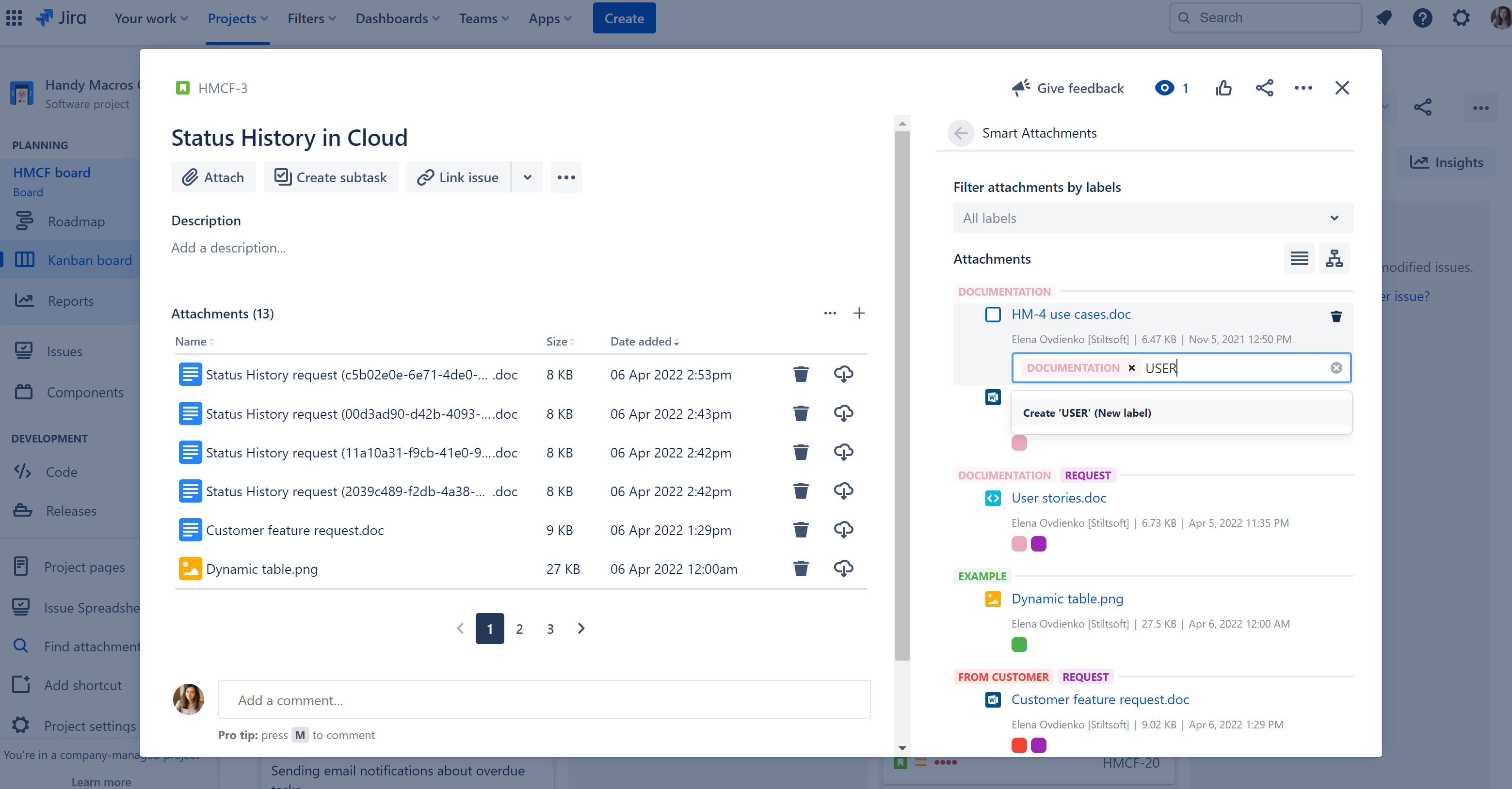 You can also select to enable the Smart Attachments panel in your issue view by default. Navigate to the app project settings and turn on the toggle there.
How to Group Attachments in Jira Software
Appropriate labels work fine for document classification and clarity. Once your Jira files are labeled, go on to organize them.
There are three ways to group Jira attachments in your project issues. You can group by label, uploader, and upload date. To group your attachments you need to:
1.Locate the Smart Attachments panel.
3.Click and select your group choice.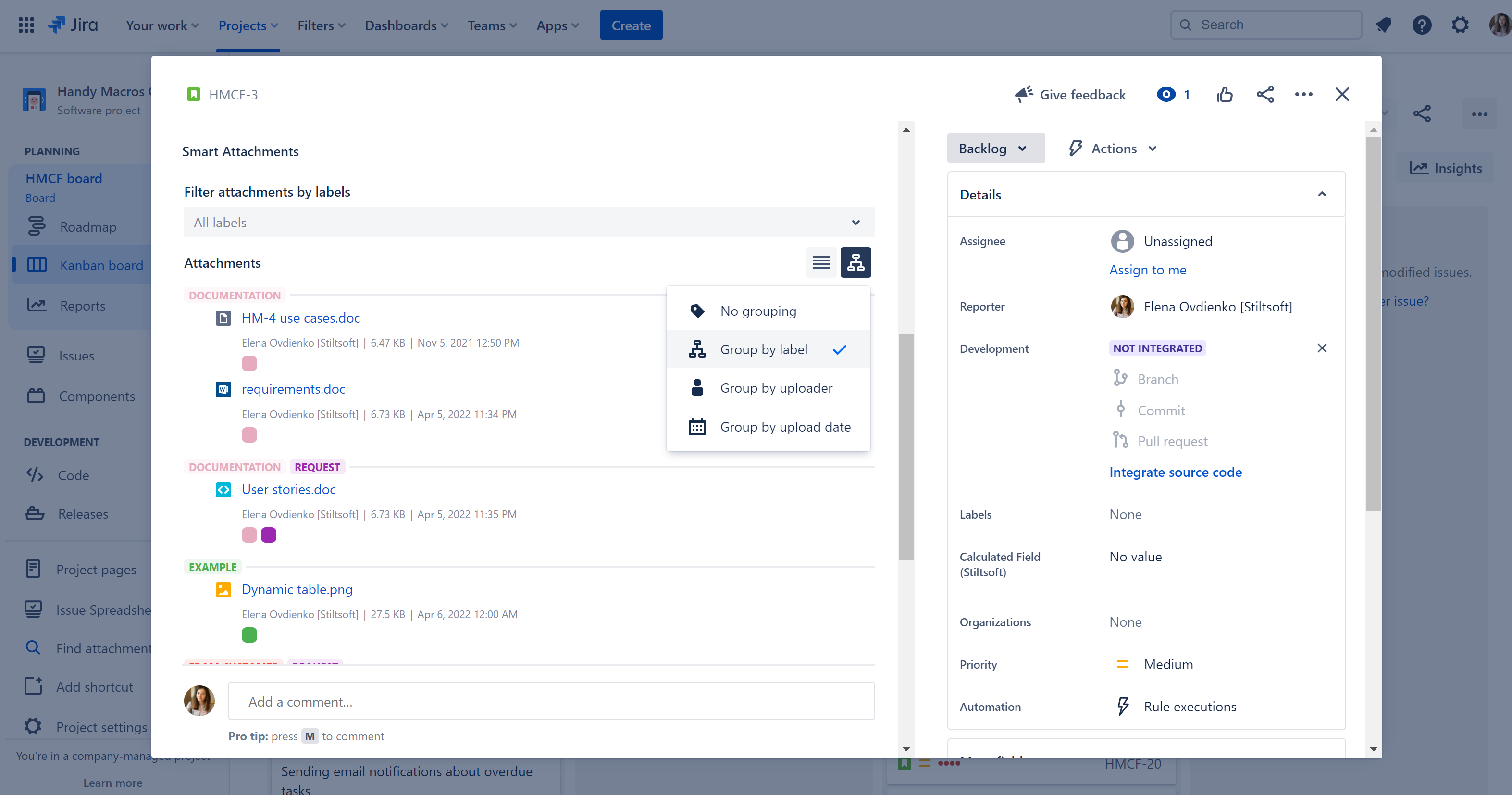 How to Perform Bulk Operations on Attachments in Jira Software
Have you ever felt frustrated deleting files in Jira Cloud one by one? Routine operations can be quite annoying as they look like a simple waste of time. The Smart Attachments app has a magic wand for this use case. You can save time with bulk operations on your Jira attachments.
To manage files in Jira issues in bulk, you need to:
Move your cursor over attachments to reveal checkboxes.
Tick the checkboxes and scroll down to Operation.
Select the bulk operation – Add labels, Replace labels, Remove labels, or Delete attachments.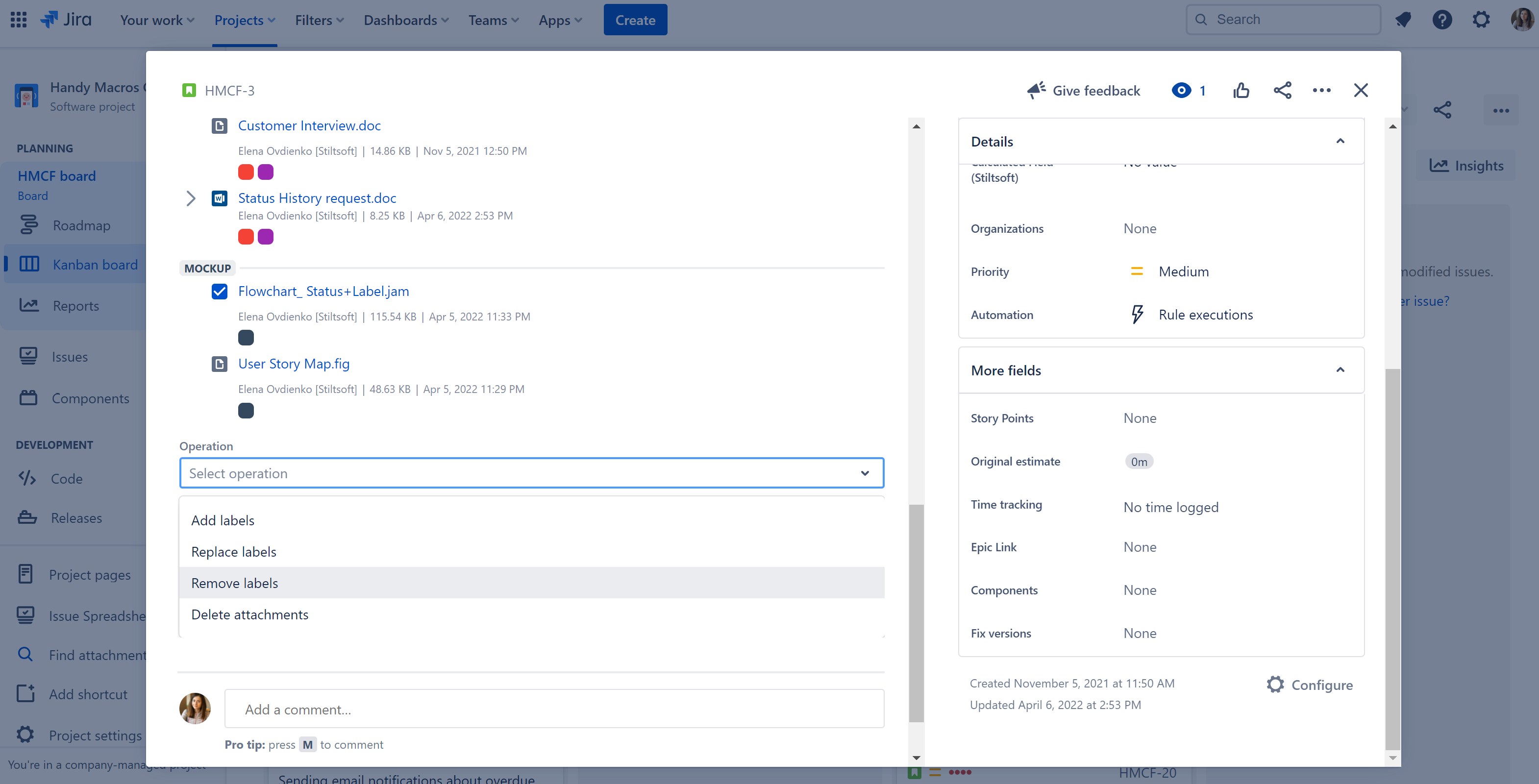 How to Search for Issues with Attachments
If you have multiple issues in a project, it can be overwhelming to look through them all manually just in search of one. To avoid this tediousness, you can search for an issue with an attachment based on your custom criteria across all Jira projects.
Here is how:
Open your project.
Select Find attachments on the side bar.
Run the search.
You can search for an issue using an attachment's author or uploader. Also, you can search with the attachment's name or a few characters from its name. Once you type this in the search bar, click Search. From the results, you will see a link to the issue you searched for under Issue Key.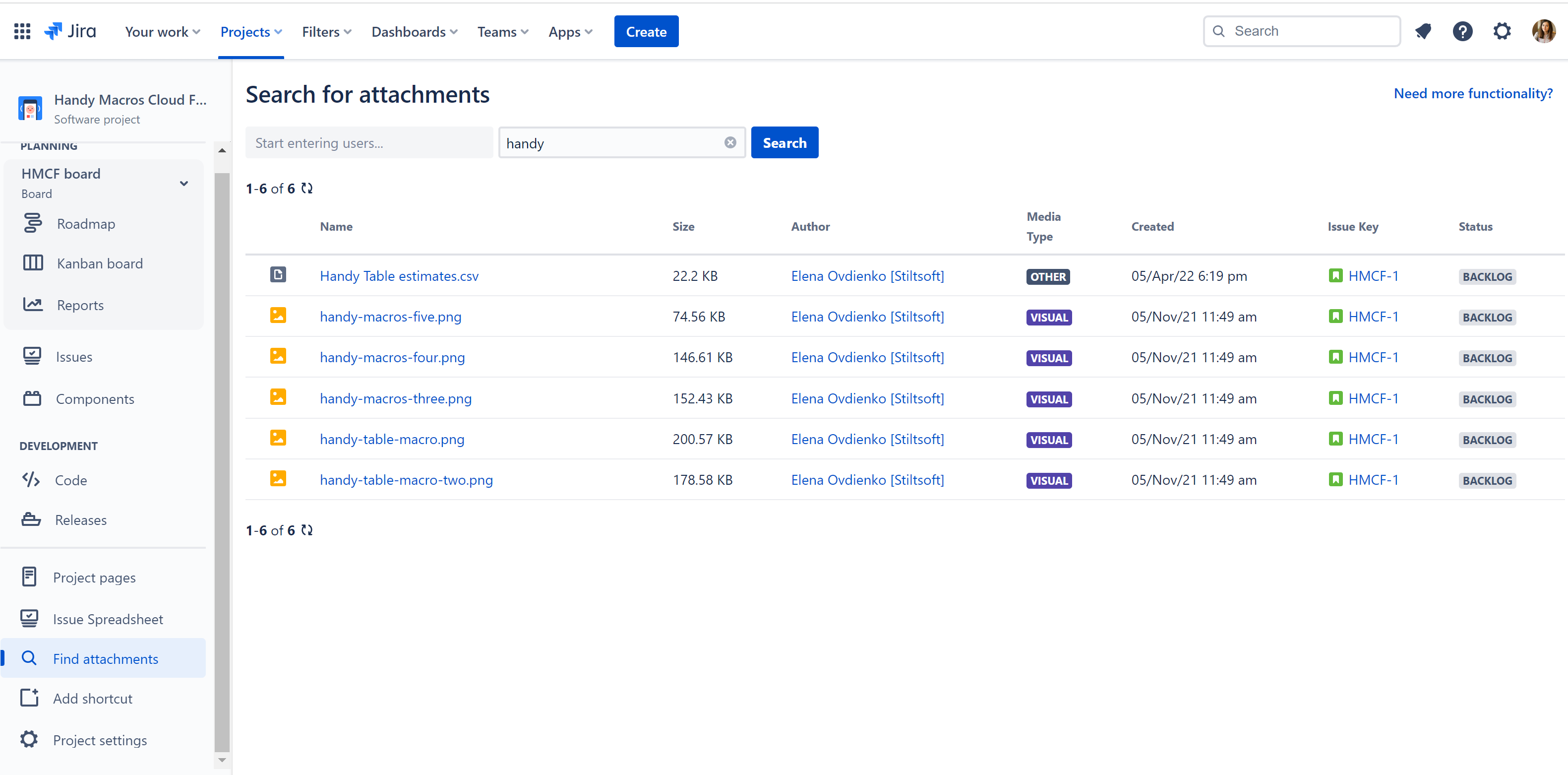 What's next?
If you are considering trying Jira Software on Cloud, it's high time to start and master the platform capabilities. For those of you who have some expertise in Jira and want to organize document management processes, Smart Attachments for Jira can be beneficial. This app helps you to label documents for further filtration and grouping, track document revisions, search for attachments, view all attachments within projects, or delete bulk attachments.