Handy Tools to Boost Your Activities in Confluence
Atlassian Confluence is known as a robust and collaboration-driven platform for documentation and decision tracking. A rich set of tools and goal-centered augmentations made this application ideal for all spheres of project development and knowledgebase management.
But of course, there is always room for further enhancements and optimizations for user experience in any application, even in Confluence. Installation of additional apps from the Atlassian Marketplace can add some missing features and empower it with new capabilities. And today we want to highlight a couple of our apps that can significantly refine your experience in Confluence and improve your approaches of content management in Confluence.
The first tool that we would like to present is the Favorite Pages app. This solution neatly integrates into your Confluence menu bar and provides you with the inline list of your top visited and saved for later pages.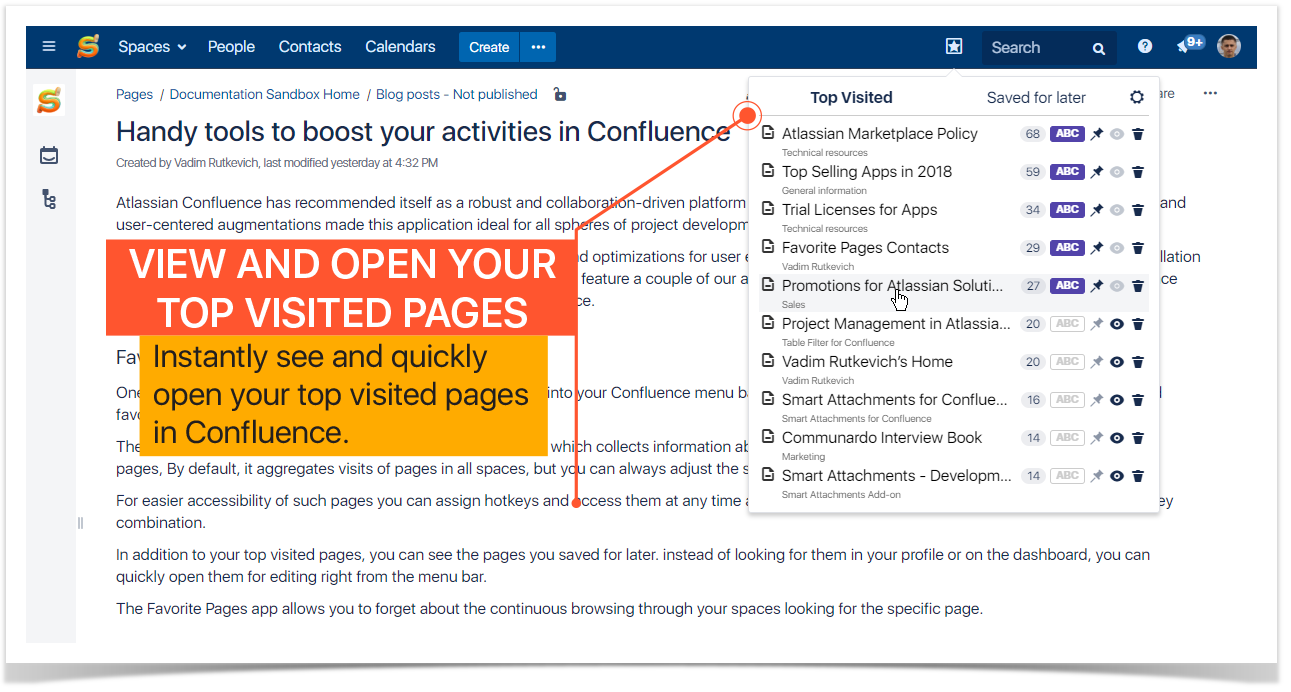 The Favorite Pages app bundles the page tracking mechanism which collects information about your page visits and generates a list of your top visited pages. By default, it aggregates visits of pages in all spaces, but you can always adjust the set of spaces for tracking or modify the tracking settings.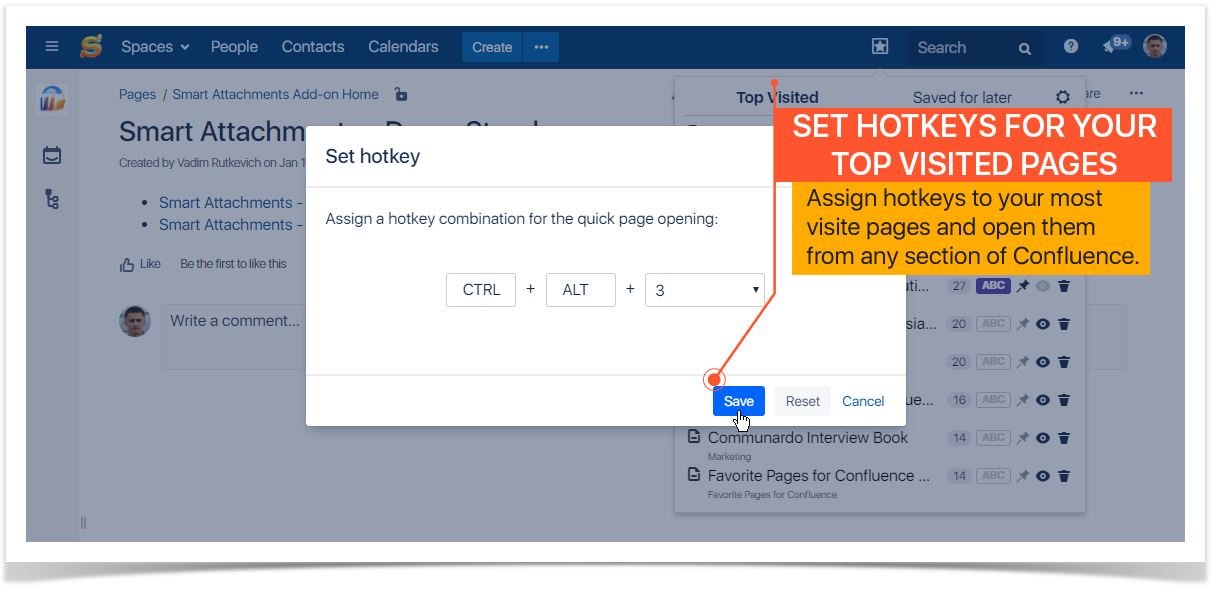 For easier accessibility of such pages you can assign hotkeys and access them at any time and from any place in Confluence by pressing a dedicated key combination.
In addition to your top visited pages, you can see the pages you saved for later. Instead of looking for them in your profile or on the dashboard, you can quickly open them for editing right from the menu bar.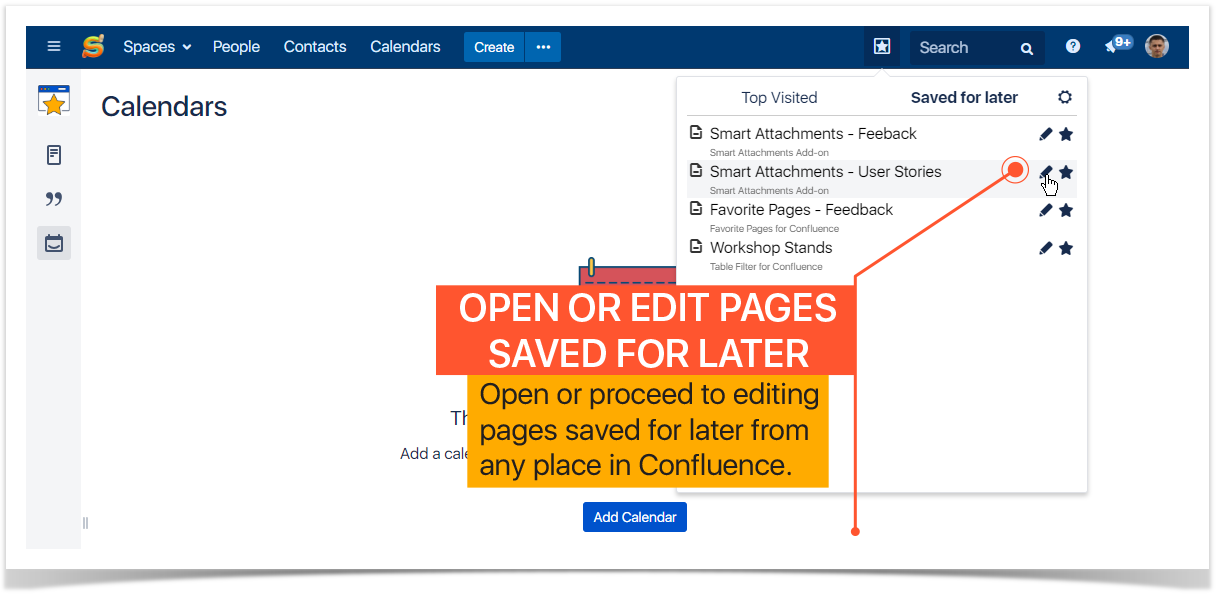 The Favorite Pages app allows you to forget about the continuous browsing through your spaces looking for the specific page. Start a free trial right now!
The other tool which is worth mentioning is the Handy Macros app. This is an extended bundle of macros and augmentations designed to simplify common and generic tasks and make Confluence more interactive and responsive.
So what enhancements are available in this solution?
Handy Statuses
Dynamic status sets are one of the features that can save a plenty of your time on a simple operation, such as change of the status. In addition to this, you can also preserve the consistent sets of statuses and use them across the entire Confluence instance. The best thing about this is that you can quickly switch from one status to another right in the page view mode without page editing.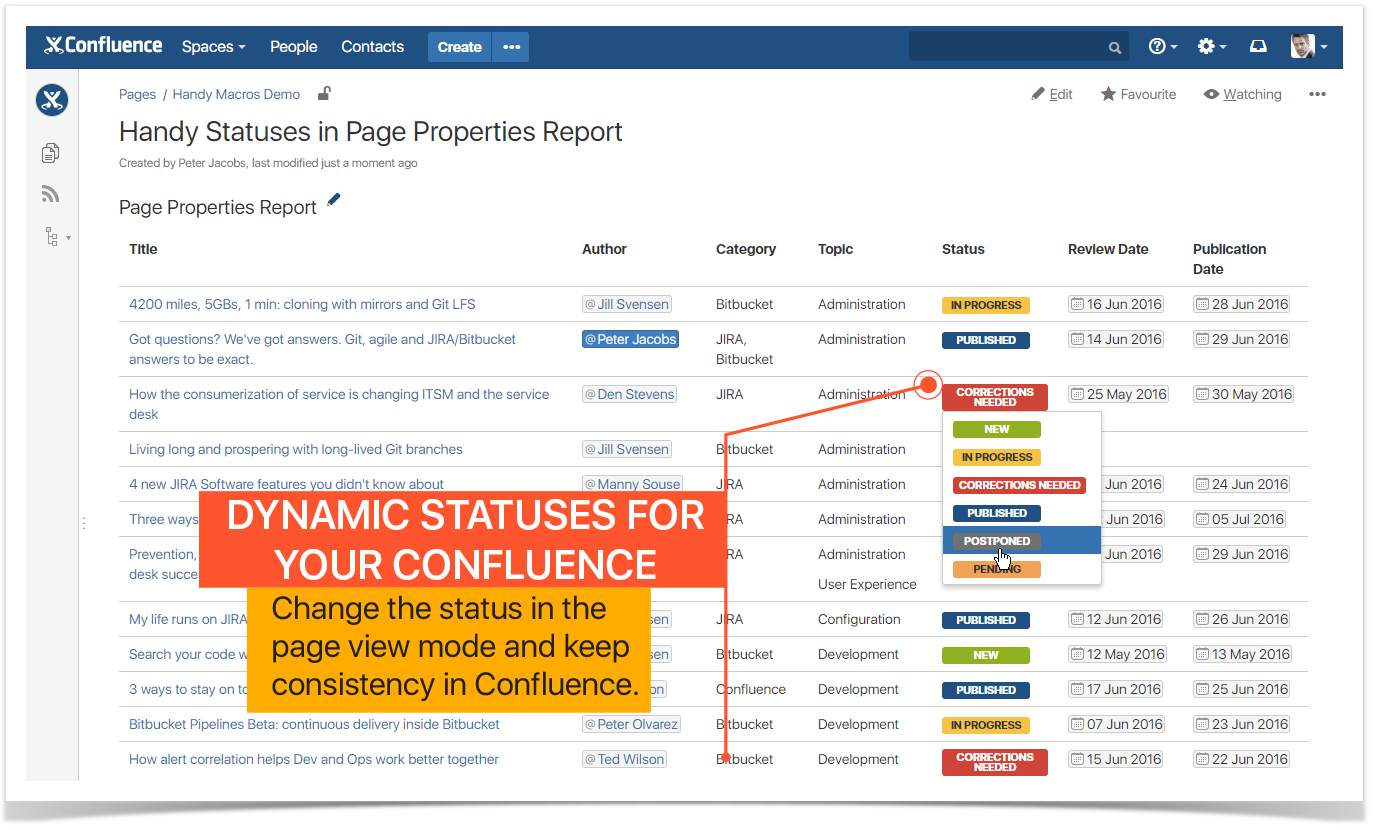 Handy Tasks and Reminders
Another, enhancement includes a combination of two features that radically refines the existing approach for task management in Confluence.
First of all, you get a capability to add tasks inline and assign them to your teammates, as well as, set due dates. Additionally, above the task list there appears a pane for quick filtration of tasks by due date and assignee. This way you can quickly leave tasks assigned to a specific user or view all the overdue tasks.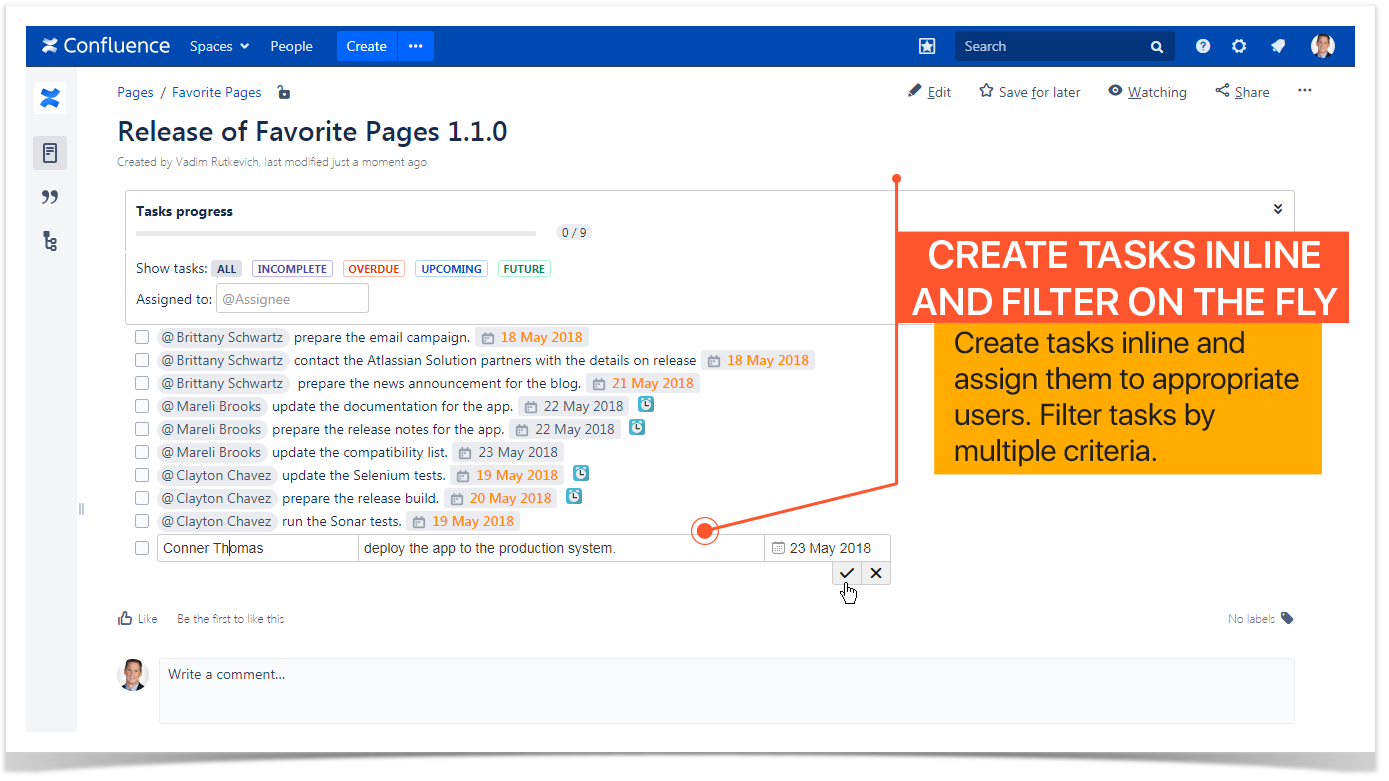 Just not to forget about this or that task, you can add the reminder next to the task item. It will trigger an email notification on a specified date or on a regular basis due to your configuration.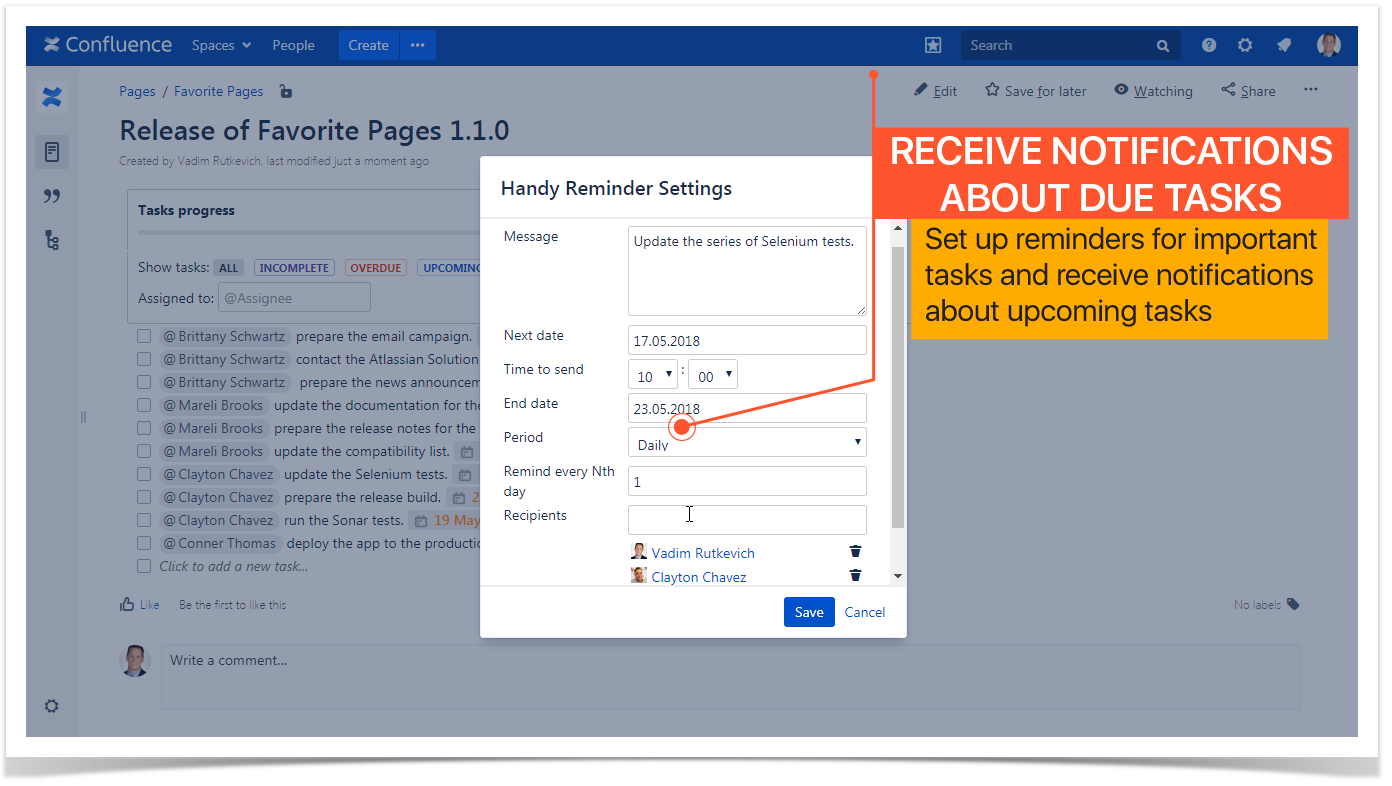 Page Diff
The Page Diff feature introduces enhancements into the page revision mechanism. It allows you to view all the changes made to the page since your last visit to it. Now you will not have to search for the old page revision to compare it against the recent one, but you will be able to quickly see these updates at once.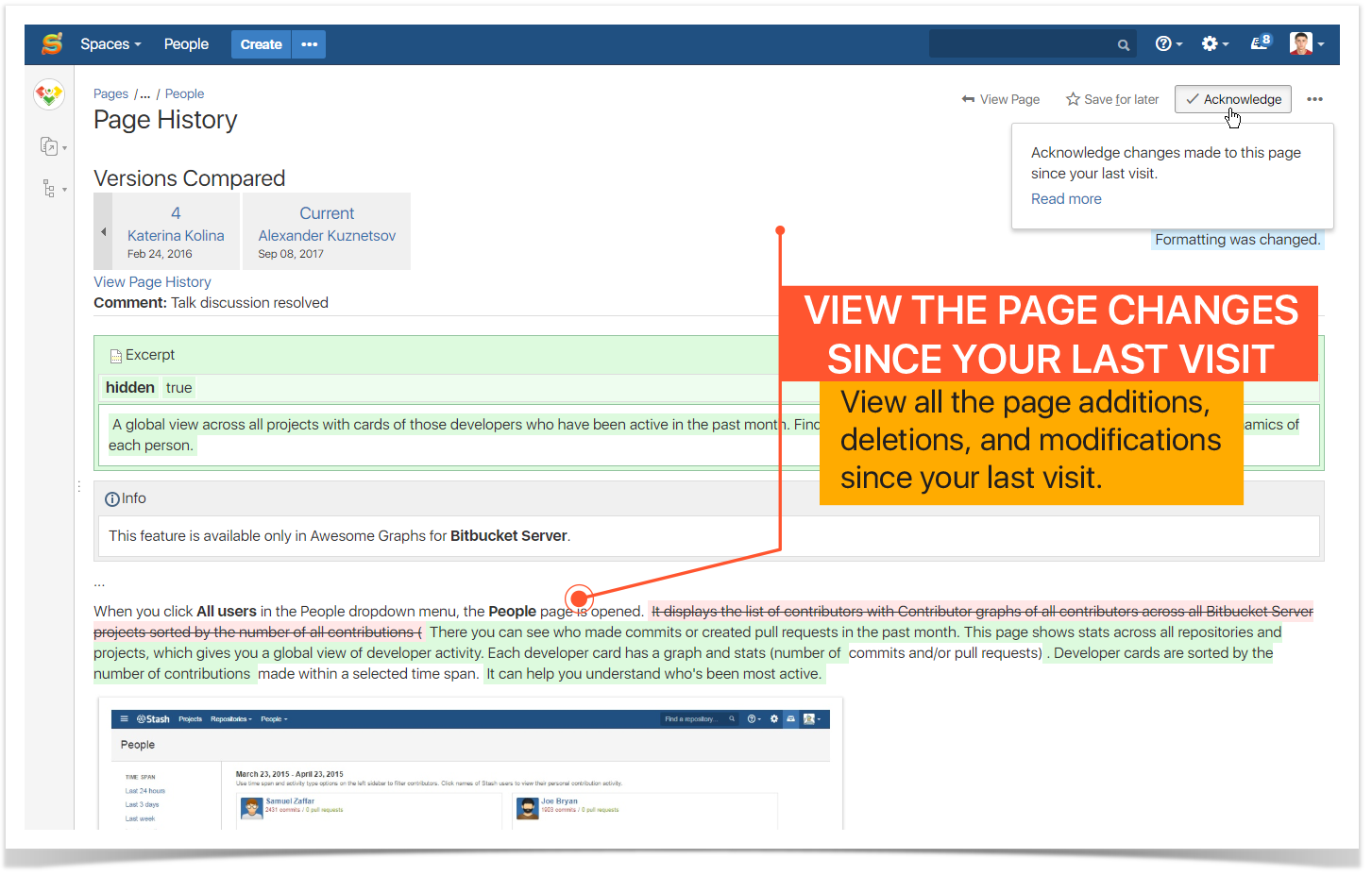 You can always acknowledge these changes to see only the new updates upon the return to this page after some time.
Handy Carousel
And the last thing which can improve interaction of our readers with images and videos is the Handy Carousel macro. It allows you to show your graphics assets in the continuously rotation gallery or carousel capturing attention of your readers.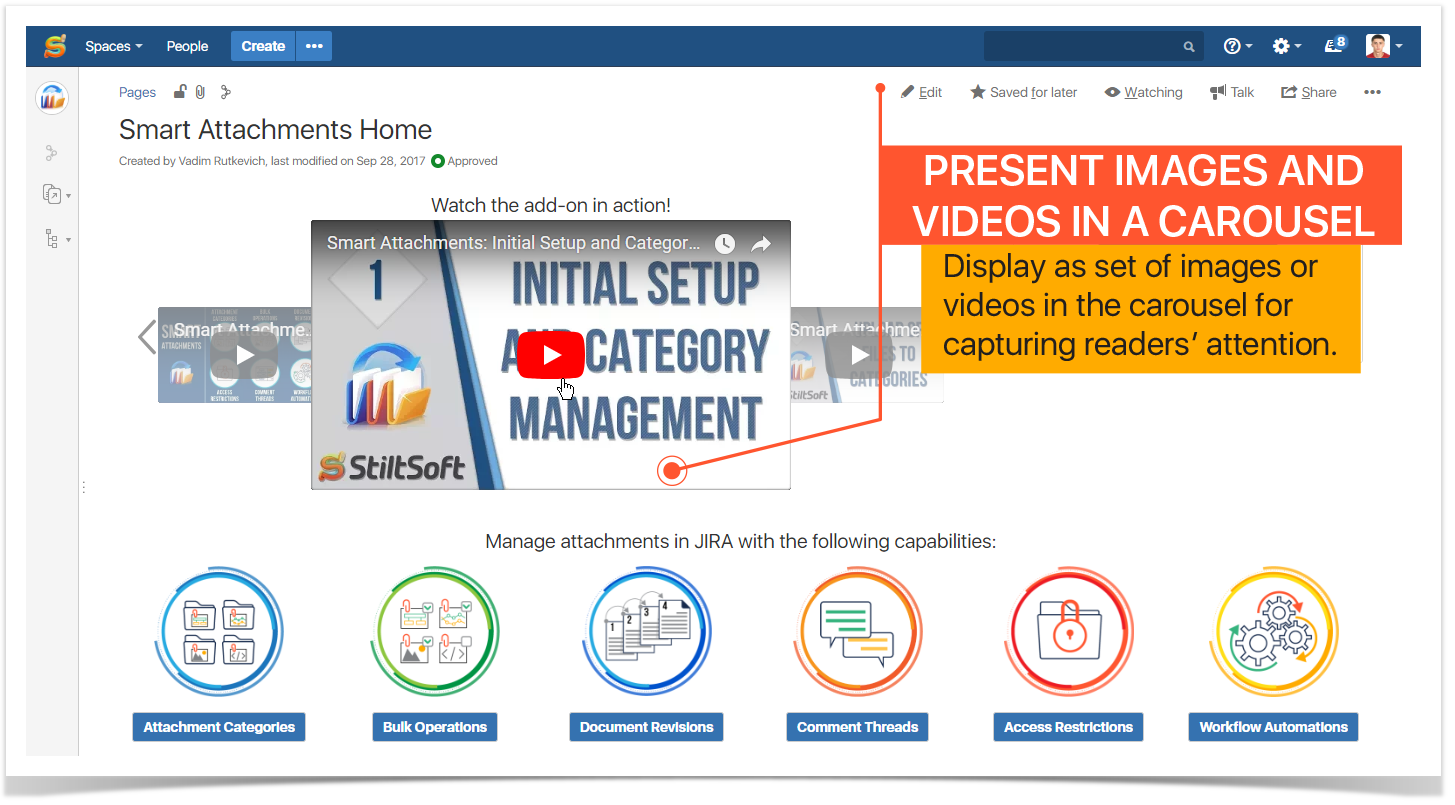 Use together
You can always use a bundle of the Favorite Pages and Handy Macros apps to better navigate across pages in your Confluence and improve the page interactivity with dynamic and handy elements.