Three elegant ways to create HelpDesk in JIRA Cloud
March 1, 2016
#

How To
#

Jira
#

Collaboration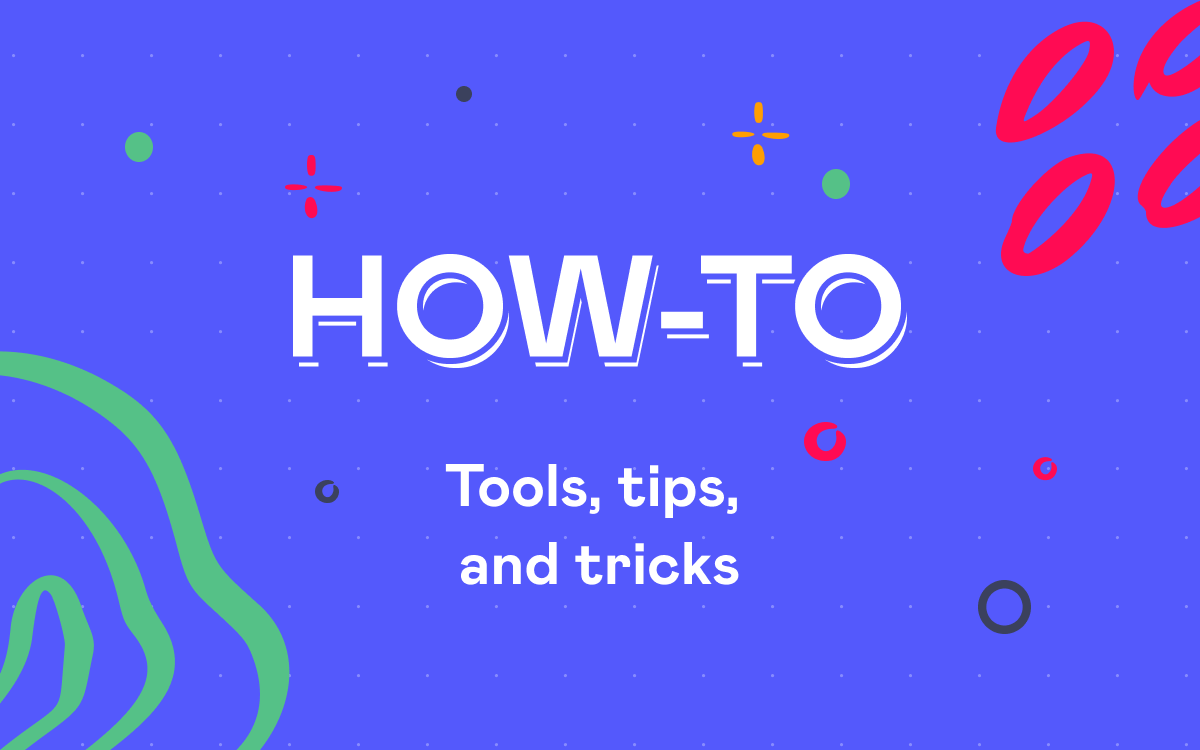 Are you working in a company that produces something or provides services of some type? If so, you understand that your revenue mainly depends on the level of satisfaction of your customers. The level of customer satisfaction depends on the quality of your products or services, but, unfortunately, nobody can guarantee the supreme quality all the time.
So, on this step you may need to have some tool that will allow your customers to submit their issue reports to you for evaluation. The market of HelpDesk tools is dynamically growing, so there is a variety of platforms that will help you to resolve all customers' issues. "But which tool to choose?" – you may ask yourself and get no answer though.
In this blog post we will try to evaluate capabilities of JIRA Cloud as a HelpDesk platform and offer you three ways of how to build HelpDesk system on its basis. So no more talks, just action!
A bit about JIRA Cloud
JIRA Cloud is a project and product management solution that allows you to efficiently manage tasks and all sorts of requests. The great flexibility in configuration allows you to easily fine tune it to achieve the desired results. You may ask: "How it works?" – Okay! So…
JIRA operates on the basis of projects, each of which can contain thousands of tasks, issues, requests, problems and so on. You can easily configure the necessary issue types for each project depending on your actual requirements. Each issue type  may go through its specific workflow which allows you to configure the required transitions between different steps  of the workflow. So now you can build workflow of any complexity and adjust it to your actual needs. This is really convenient.
Moreover, you can add custom fields for entering some custom information and keeping it all the time available while working on the issue or request. The smart engine of permission management allows you to regulate access to individual projects and grant the sufficient level of permissions to each member of your team.
Availability of issue organizing boards and extended reporting engine allows you to easily keep track of support requests and get insight into performance of your support agents and their efficiency.
Transforming JIRA Cloud into HelpDesk System
There are three types of solutions that can help you create the full-fledged HelpDesk system on the basis of JIRA Cloud. You can choose among the following ones:
So let's review all these application and see what they offer to their customers.
Simple but Sufficient …
The first solution that you can start from is Customer Case  from StiltSoft team. This is the add-on for JIRA Cloud that allows you to convert JIRA into the HelpDesk system with a capability to use it also as the feedback aggregation platform.
What do you get? You get a quick a capability to deploy a HelpDesk system on the basis of support forums. Each support forum is mapped to the specific JIRA project which will be used for storing support requests submitted by customers. Within the associated JIRA project you can create components that your customers can use for categorization of support requests before ticket submission.
Each project which the add-on is activated for gets the URL address that can be used for access to the dedicated portal for submission of support requests. You can use either the URL which Customer Case assigns or you can enter your own address instead. When your customers proceed to the support forum, they can view and track progress on their own requests, or submit new issues for evaluation.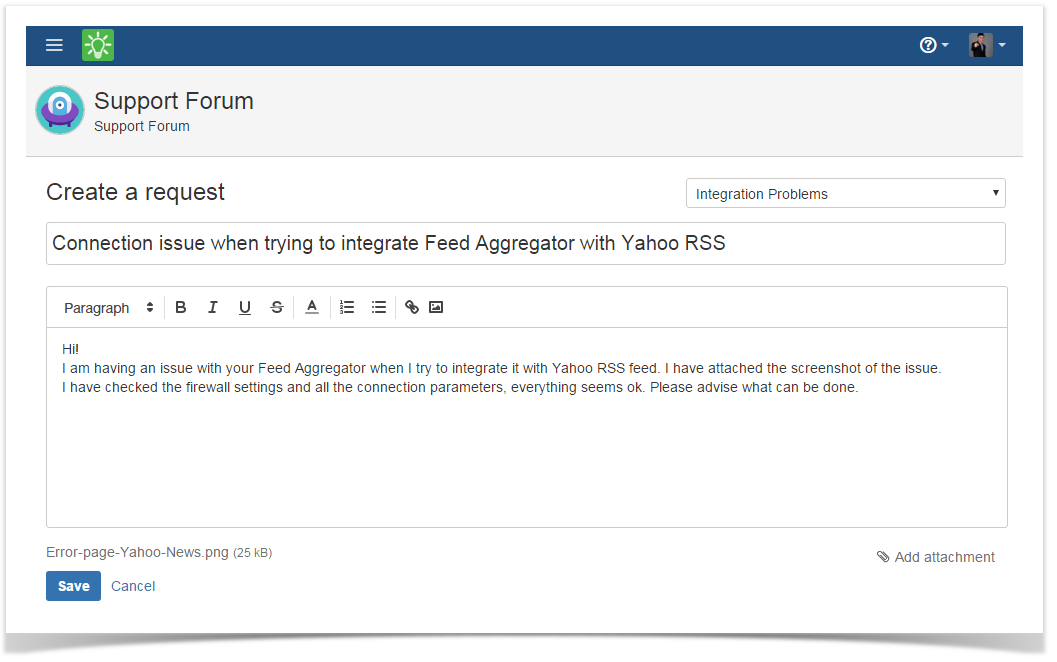 Your customers need to specify the summary of support request and enter the detailed description of the occurred issue. Optionally, they can attach one or multiple files illustrating the issue or giving hints for its quicker identification.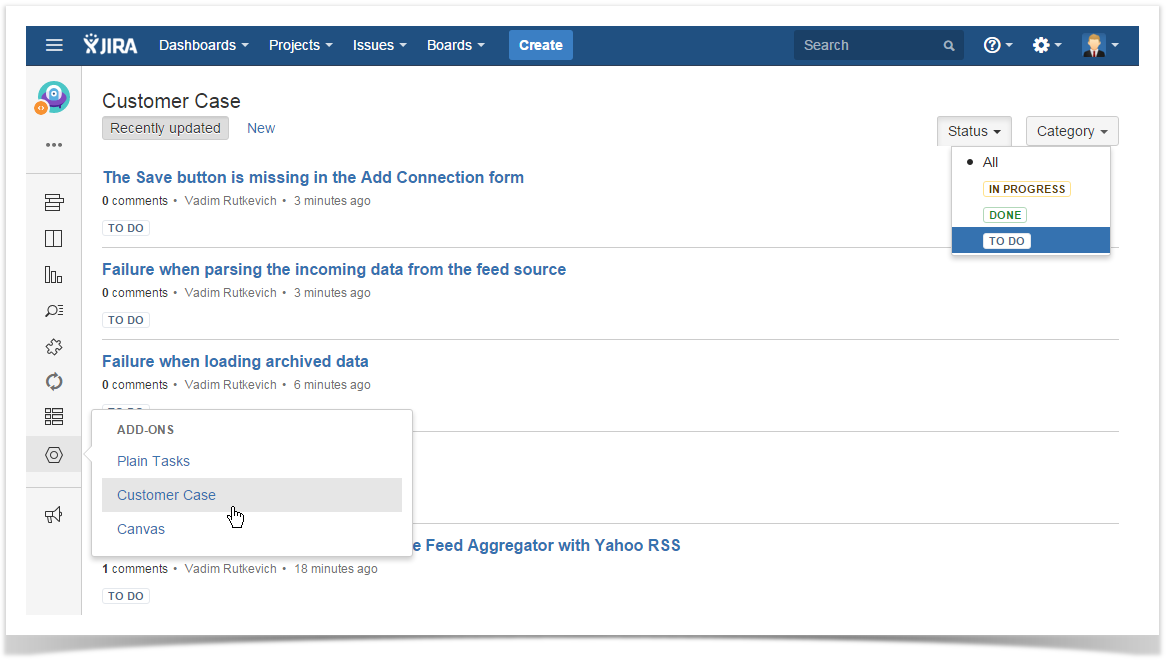 The add-on creates the dedicated section within the project where support agents can quickly filter the submitted support requests by status or category.
When opening the specific support request, your support agents can work with it as with a generic issue. Additionally, the support request can be moved to the next transition steps according to the workflow configured for the project. This allows you to preserve the high level of collaboration between multiple teams and gives you enough flexibility to tailor the project workflow to the specifics of your support process.
The add-on adds the Customer Portal tab into issues of the project which the add-on is activated for. Here, your support agents can keep external communication with the issue reporter, the internal communication is kept within the standard JIRA comments.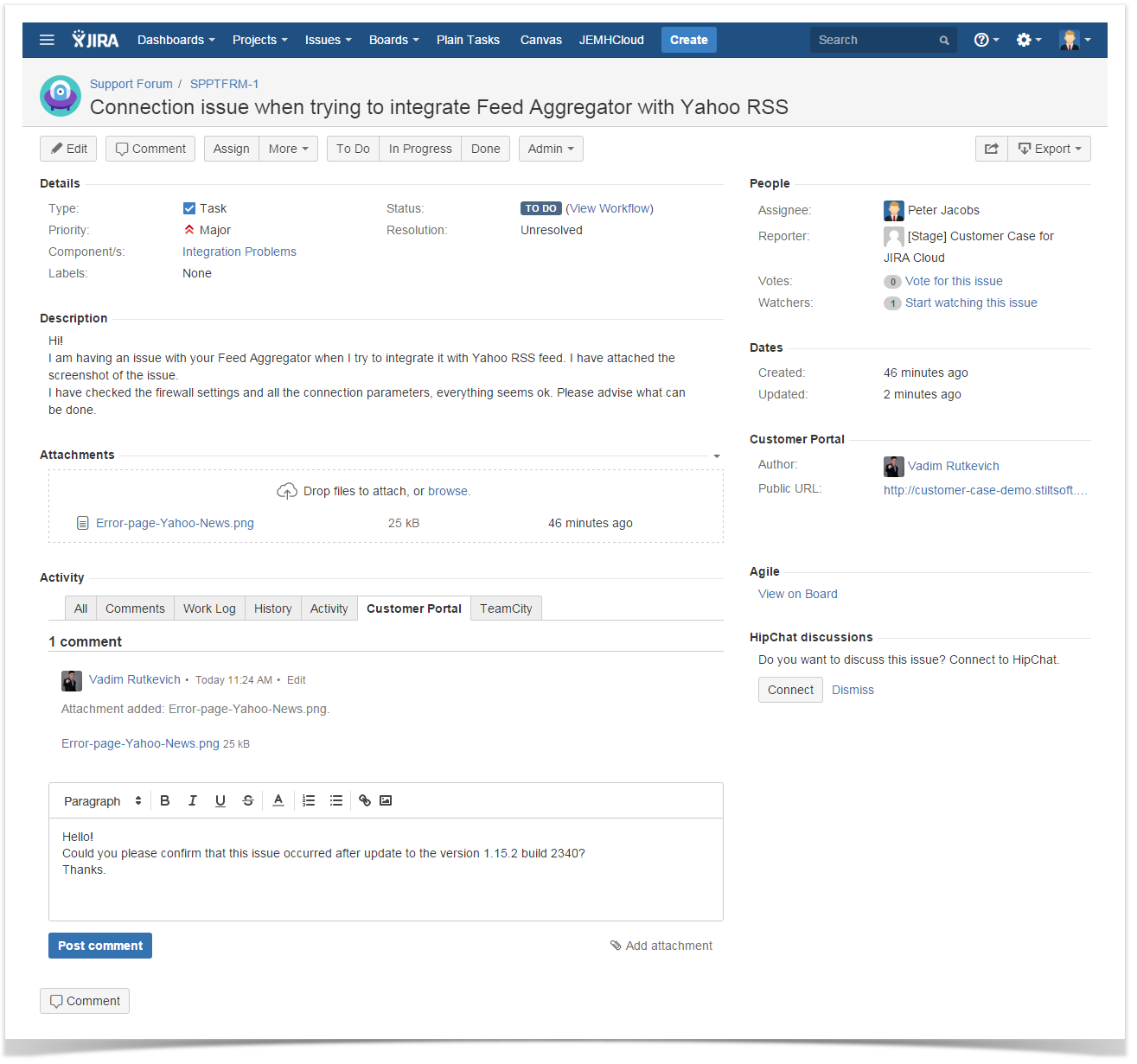 Support agents can instantly view description of the issue report, view the attached files, start progress on the request or close it. The quick links allow agents to quickly transition to Customer Case for viewing the support request there or open the issue reporter's profile to view other requests submitted by this person. The customer will automatically get notifications about new comments posted or change of the request status.
The add-on also provides a capability to create a mailbox for processing the incoming emails and transforming them into support requests. So, besides communication via the HelpDesk portal your customers can keep communication via email. Customer Case processes the incoming emails and retrieves the issue key for the correct mapping of new responses to the specific support request.
Optionally, you can set access restrictions for each support forum and define the login options.
In such a way, you can both have public support forums available to customers and private feedback forums with the restricted access for internal users within the company.
Customer Case is quite a simple but flexible solution that provides your customers with two channels for submitting their support requests – online portal and email. The intuitive interface and quick configuration will allow you to launch your HelpDesk system within a short period of time.
Tricky but Configurable …
The next solution that you can try is Enterprise Mail Handler for JIRA Cloud from the Plugin People. This solution provides only one support channel –  emails.
This add-on creates the mail handler that allows you to process the incoming emails and convert them into JIRA issues. The add-on provides three ways of configuration, as follows:
Inbound – allows you to create issues from incoming emails.
Outbound – allows you to send email notifications to customers when issues are created, updated or commented.
Inbound & Outbound – allows you process emails, create issues from  them and send emails to customers.
For creating the HelpDesk system you need to choose the last option which will require configuration of the mail settings for retrieving email and sending, as well as define mappings to JIRA projects. Once the initial setupis complete, you can proceed to usage of this solution for tracking support requests from your customers. The add-on processes the incoming emails for presence of the issue key and matches it to the existing support requests. If no issue key is found so it creates a new support request, but when it matches so you get a comment to the request.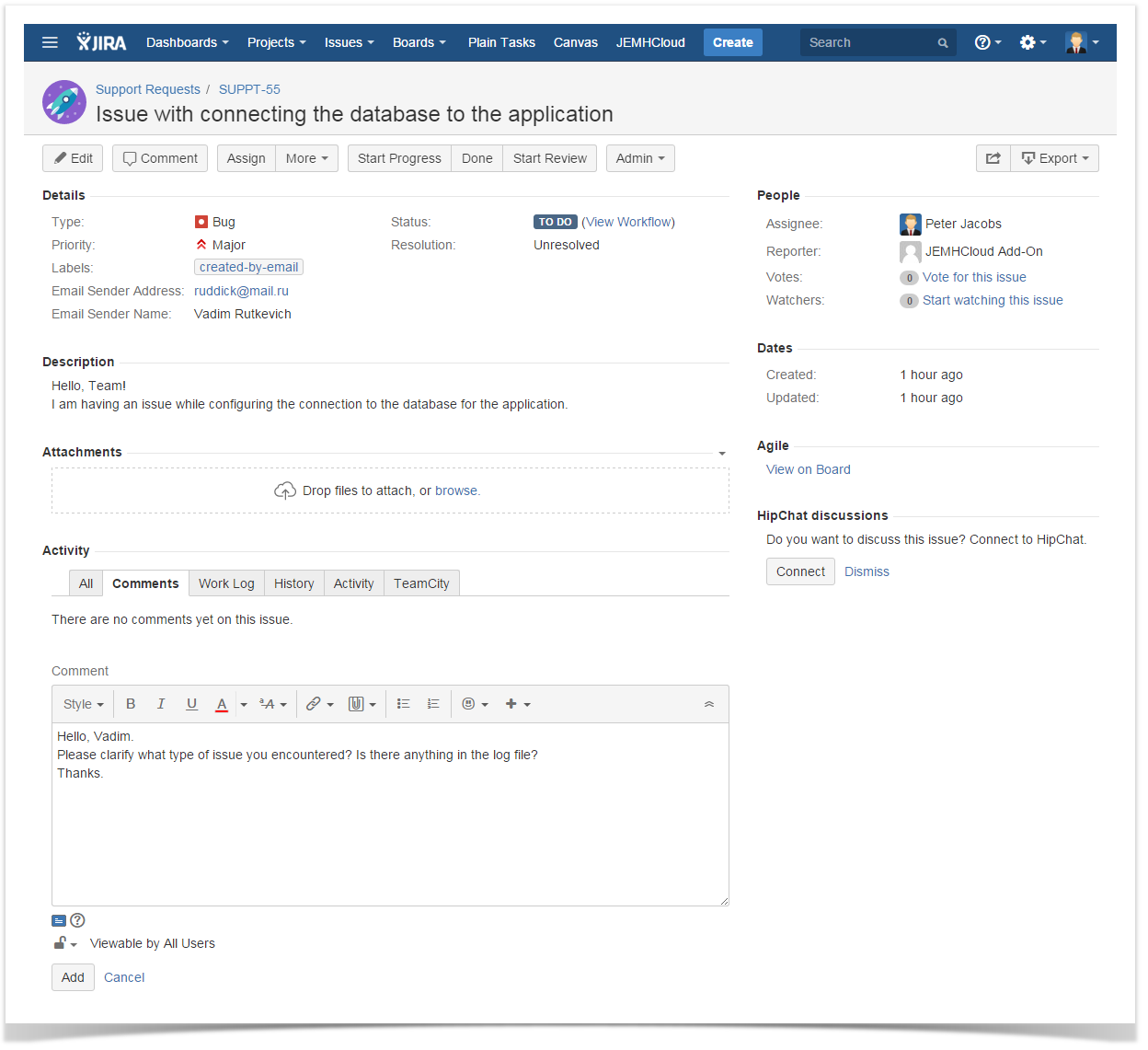 All you need is to share the configured email address with your customers so they can submit their support requests to the dedicated email and that's done. Nothing changes in your workflow, you will get a notification about the newly submitted ticket which you can instantly start investigation on.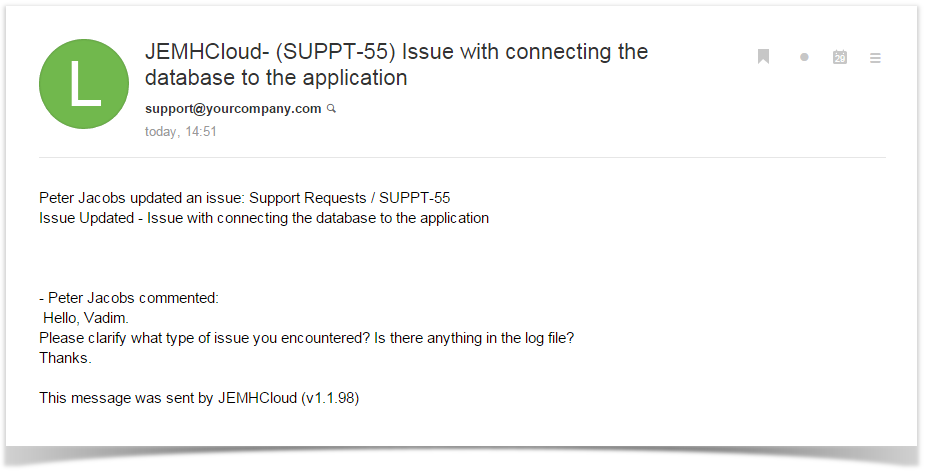 Your customer will receive your comment in the form of email. So in such a way you can keep your communication with customers. All the issue updates will be sent to the issue reporter. Optionally, you can add other participants to the same issue, so you can involve other support agents or customers into the communication.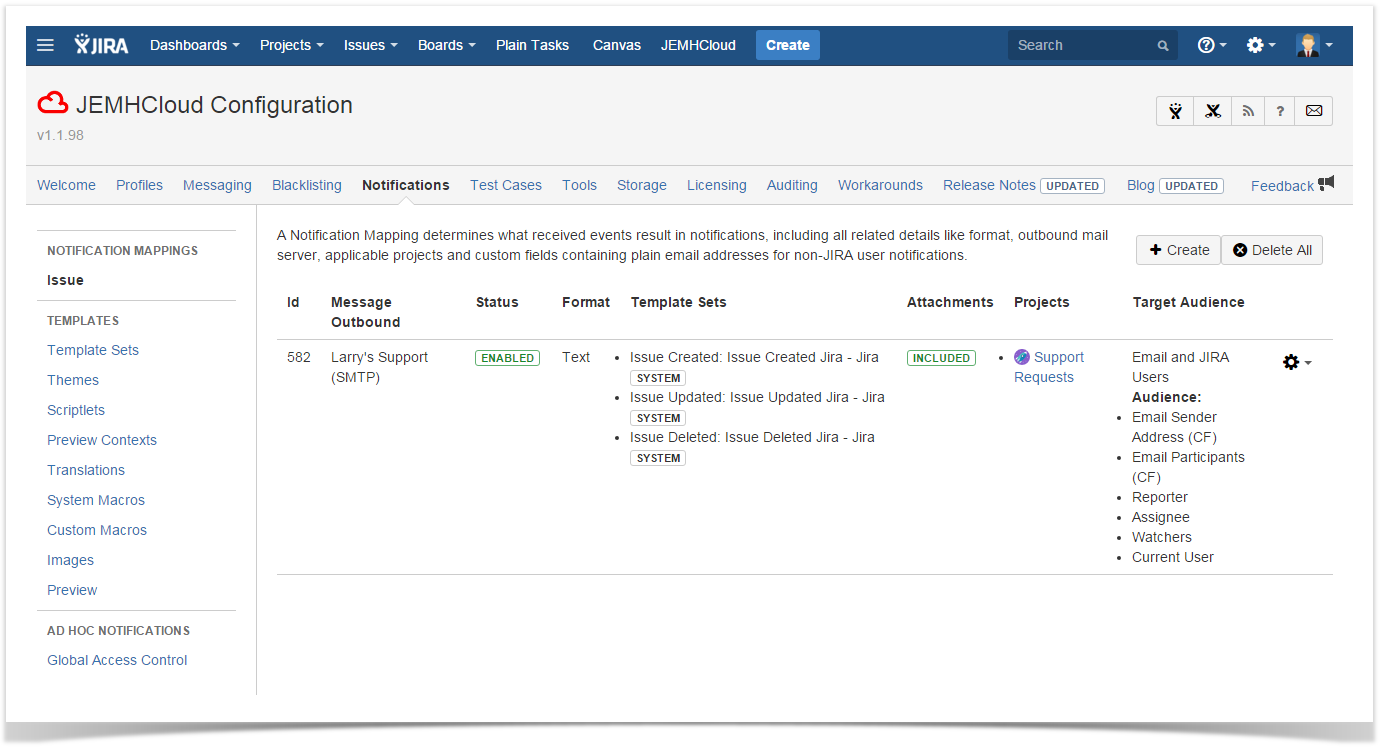 What other options does this add-on offer? You can configure blacklisting options to skip emails by subject, sender and recipient, or attachments by fingerprint. Additionally, you can keep the blacklist and whitelist of email recipients. For different cases you can design multiple notifications that will be send in case of occurrence of a specific event.
Enterprise Mail Handler for JIRA Cloud is a rather convenient and flexible tool if one communication channel is sufficient for your HelpDesk system.
Native but powerful …
The last solution in our blog post is the edition of JIRA – JIRA Service Desk. This is the solution from Atlassian that allows you to organize your JIRA Cloud instance as HelpDesk for internal or external usage. What does this mean?
You can transform your JIRA into the public HelpDesk system or into the internal corporate support desk. If choosing the first option, you will allow your customers to submit their support requests for your evaluation. When choosing the second option, you can organize the Service Desk for your colleagues and employees of your company. Upon occurrence of any issue, they will be able to get the quick support from the dedicated specialists or support teams.
So what options become available to you?
First of all, you need to define whether you want to use JIRA as a shared or private Service Desk. You can either enable creation of customer accounts in JIRA with further provision to customers or allow your customers to freely create account and submit their support requests.
Additionally, you can add slight updates into the look of your Service Desk and configure which communication channels you want to preserve of email and online portal.
Once this initial configuration is complete, you get the external address of the online portal that you need further to share with your colleagues or customers. You also get an email address which your customers need to send their support requests to for their automatic conversion into tickets or comments. If needed, you can connect your existing support email address.
When someone accesses your Service Desk he just selects the request type for submission. Each request type is configurable and can be mapped to the specific problem. You can also configure the set of fields for submission for each issue type in particular.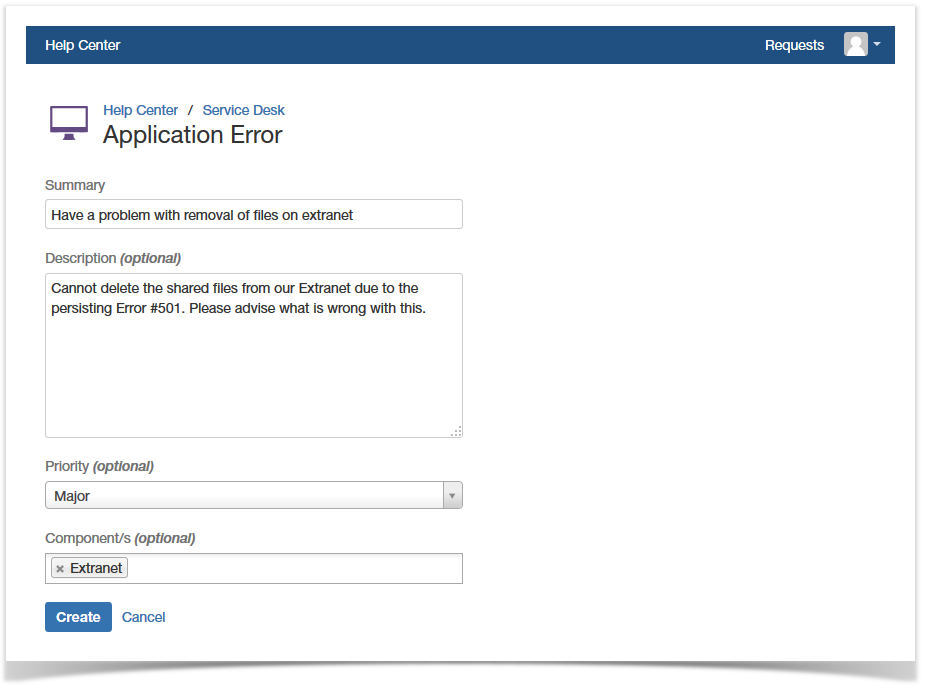 The other powerful thing that you get with JIRA Service Desk is SLA agreements that will help you to monitor the support requests pending the quick response within the specified time limits. You can configure metrics for each SLA agreement, these metrics will indicate how much time is left for support team to respond or resolve the issue.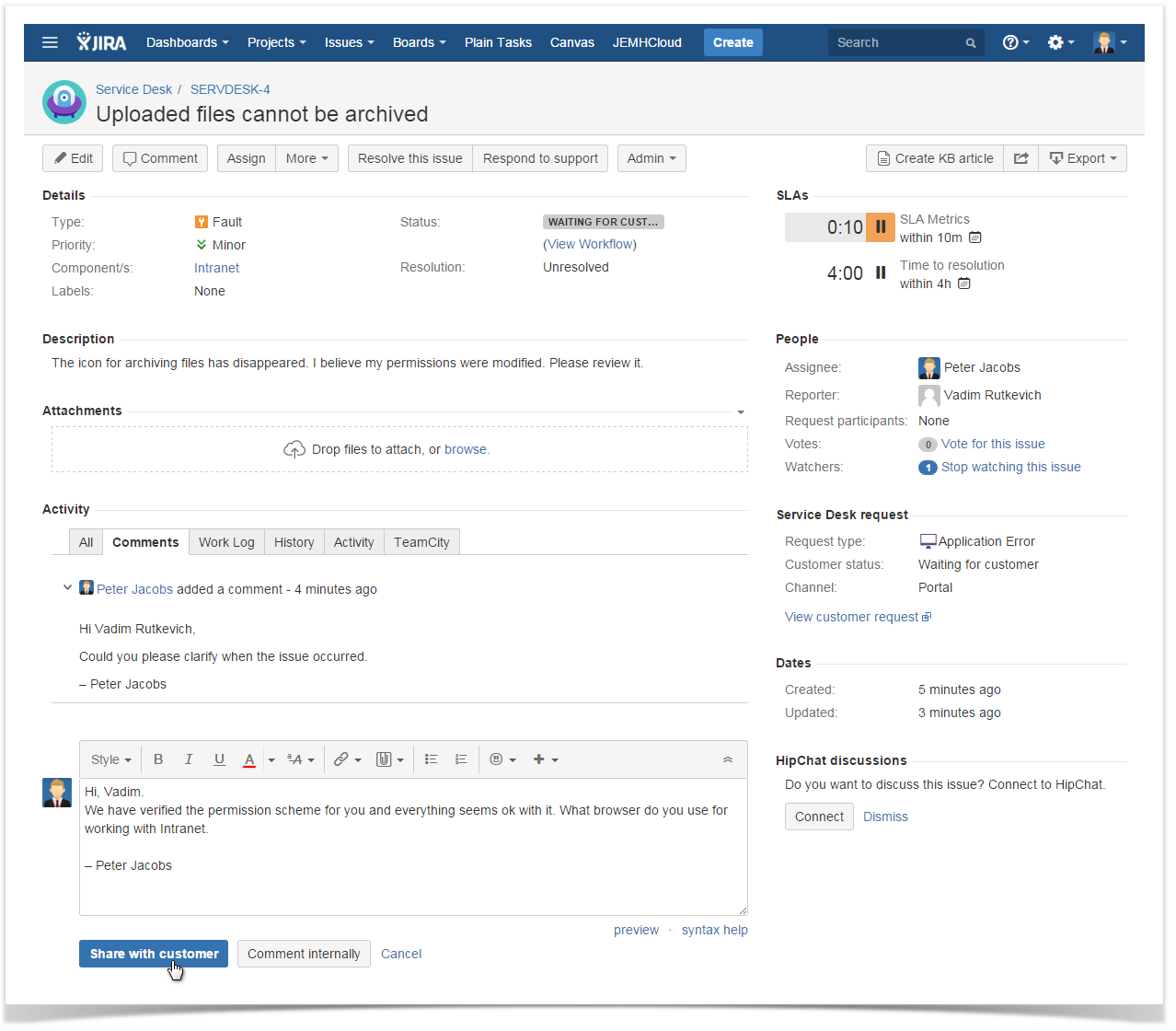 Support agents can reply to customers by using the standard comments, in this case they need to select whether they want to comment internally or share with the issue reporter. Alternatively, agents can post the response by clicking the Respond to customer button.
For automation of the support process, you can configure automation rules that can be like a response to some external action from your customers or colleagues. For example, you can set the additional alert for urgent requests or send the automatic response about the tentative response time to the customer.
Moreover, you can create knowledge base articles from JIRA and keep all the reported issues as How To or troubleshooting articles in Confluence. Integration with Confluence also allows JIRA Service Desk to find out knowledge base that match the entered issue summary before the customer submits it to Service Desk.
Service Desk projects supports the standard set of JIRA functionality, such as configurable workflows for individual issue types, custom fields, work time logging, and others. This solution will allow you to provide the high-rate support and increase the customer satisfaction level.
Which solution to choose
The choice of the solution mainly depends on the types of Service Desk you want to have and communication channels with the target audience you want to provide. Enterprise Mail Handler for JIRA allows you to interact with your customers through emails only, which can become quite inconvenient for some companies. Customer Case combines capabilities of both HelpDesk and feedback aggregation platforms, so you can use it for processing customers' requests and managing the incoming ideas. JIRA Service Desk is a powerful and flexible solution that can simplify the support procedures for your company and increase the response speed to customers' requests.