Choosing the Right LMS for Your Team
February 9, 2021
#

Confluence
#

Learning Management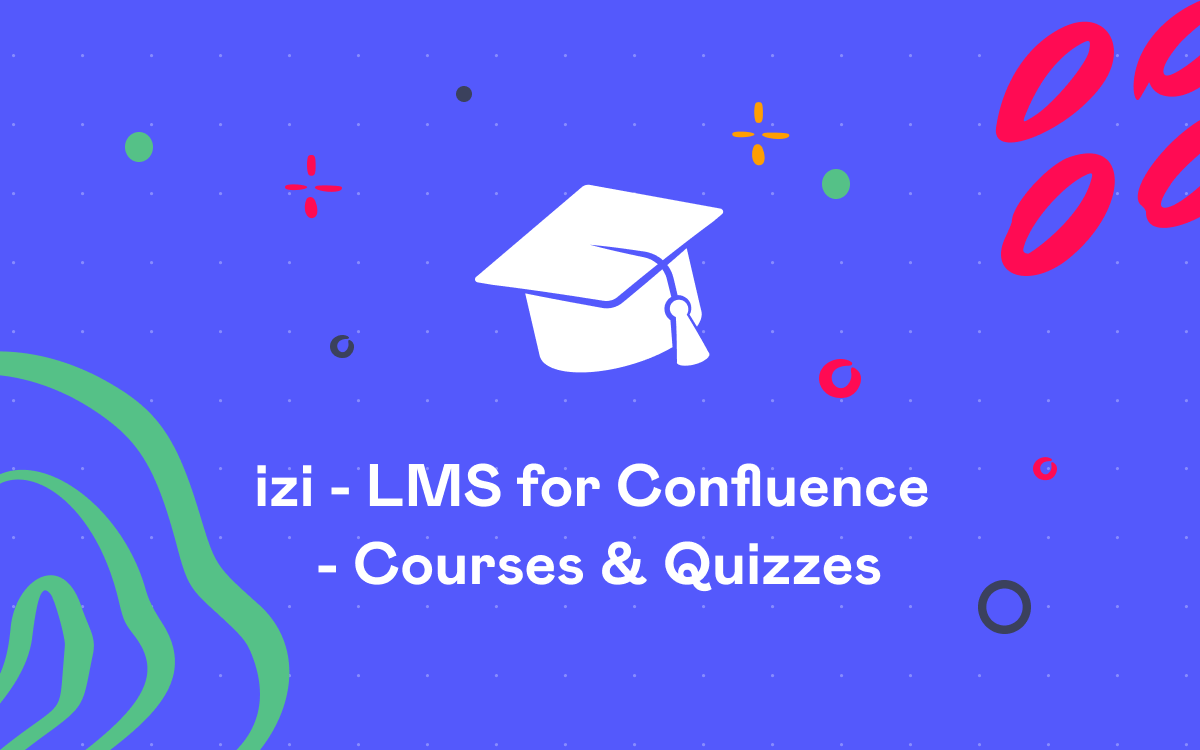 Today, when coronavirus puts a spotlight on remote working, a lot of companies show interest in eLearning. If your organization wants to build a remote learning environment, it's crucial to find a user-focused solution that will not only correspond to the company's business needs but will help you create top-notch training for the team, partners, and customers.
Remote-friendly companies of all sizes use different software to manage their tasks, communicate, and structure their work, including Confluence. Confluence is a shared workspace that allows teams to create, discuss, and share content. You can power up this software with different apps depending on your needs. For example, it can work as a learning management system.
Since we want you to have your options open, we'll feature both Confluence apps and standalone tools that can help you create and deliver training courses:
Here is a brief summary of all the solutions we will describe in detail.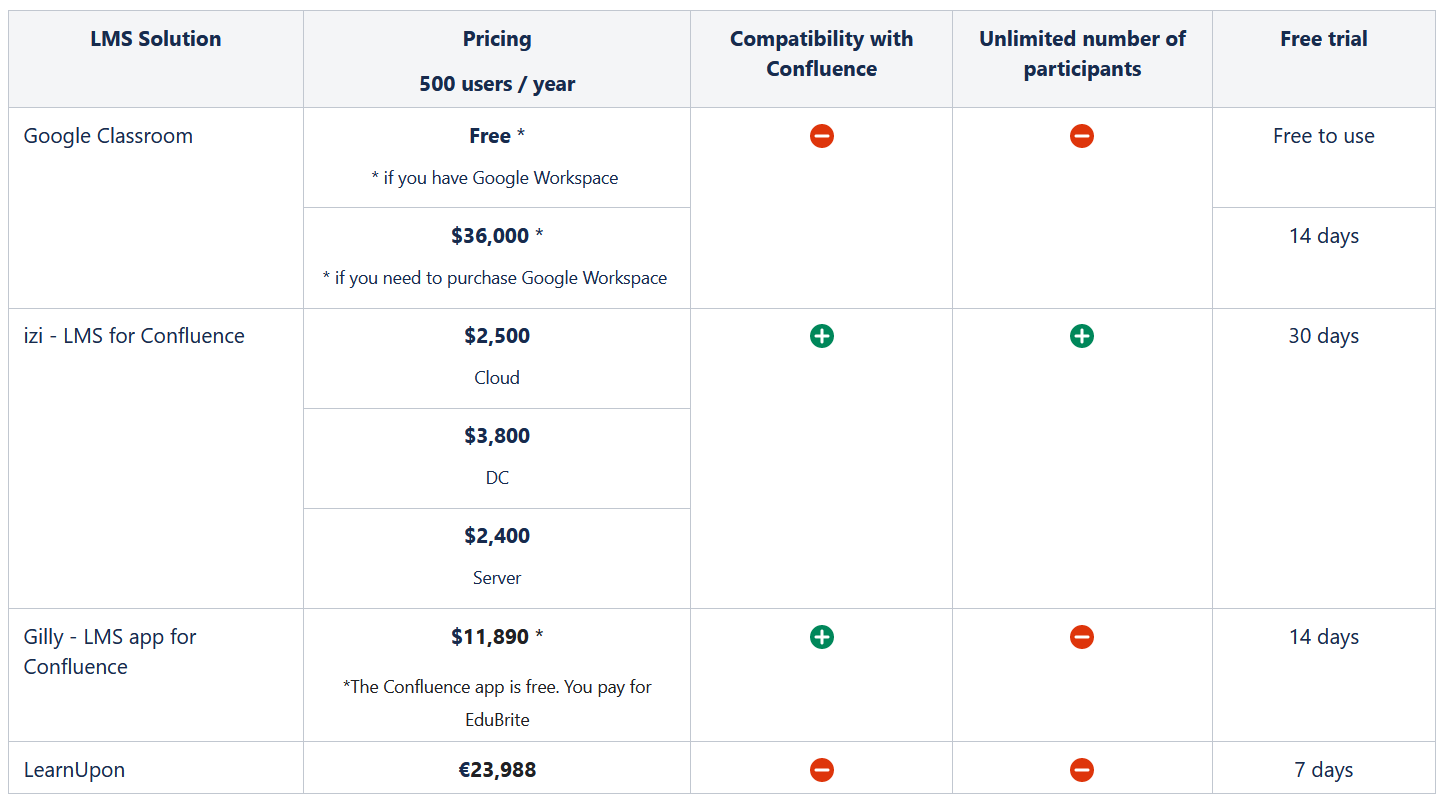 So if you are looking for more opportunities to improve your employee training, let's learn a bit more about how you can deliver and track your online learning.
This free solution can be a perfect match for those who already use other Google Workspace products. You need a Google Workspace account to create and manage content. The great thing is that you can use any existing Google document as a training material without fuss, be it a Google Sheet, Slide, or Form.
The Classroom helps you make the most of G Suit products when it comes to interaction between teachers and students. For example, you can perform face-to-face training with the help of integration with Google Hangouts and create quizzes using Google Forms.
The familiar and easy-to-use interface lets you start working without any problems. Just note that you need to create accounts in Google Workspace to access all the capabilities of Google Classroom.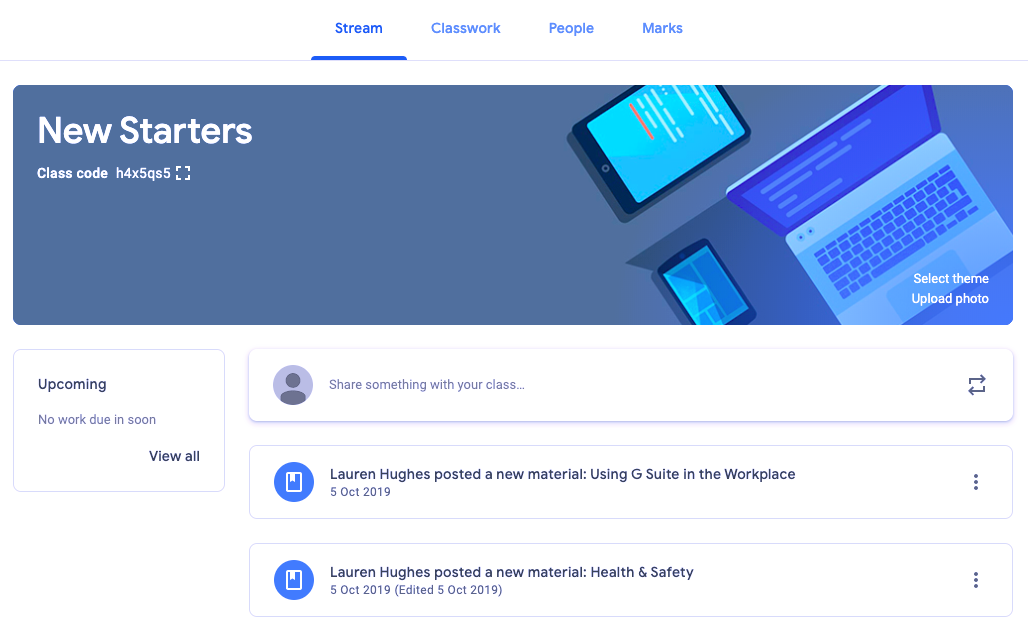 It's difficult to name the Classroom a full-fledged LMS since you can't create courses or get extensive reporting on your students' results. However, it's a powerful platform for interaction between students and educators where they can share materials and stay in touch from school/university, from home, or on the move.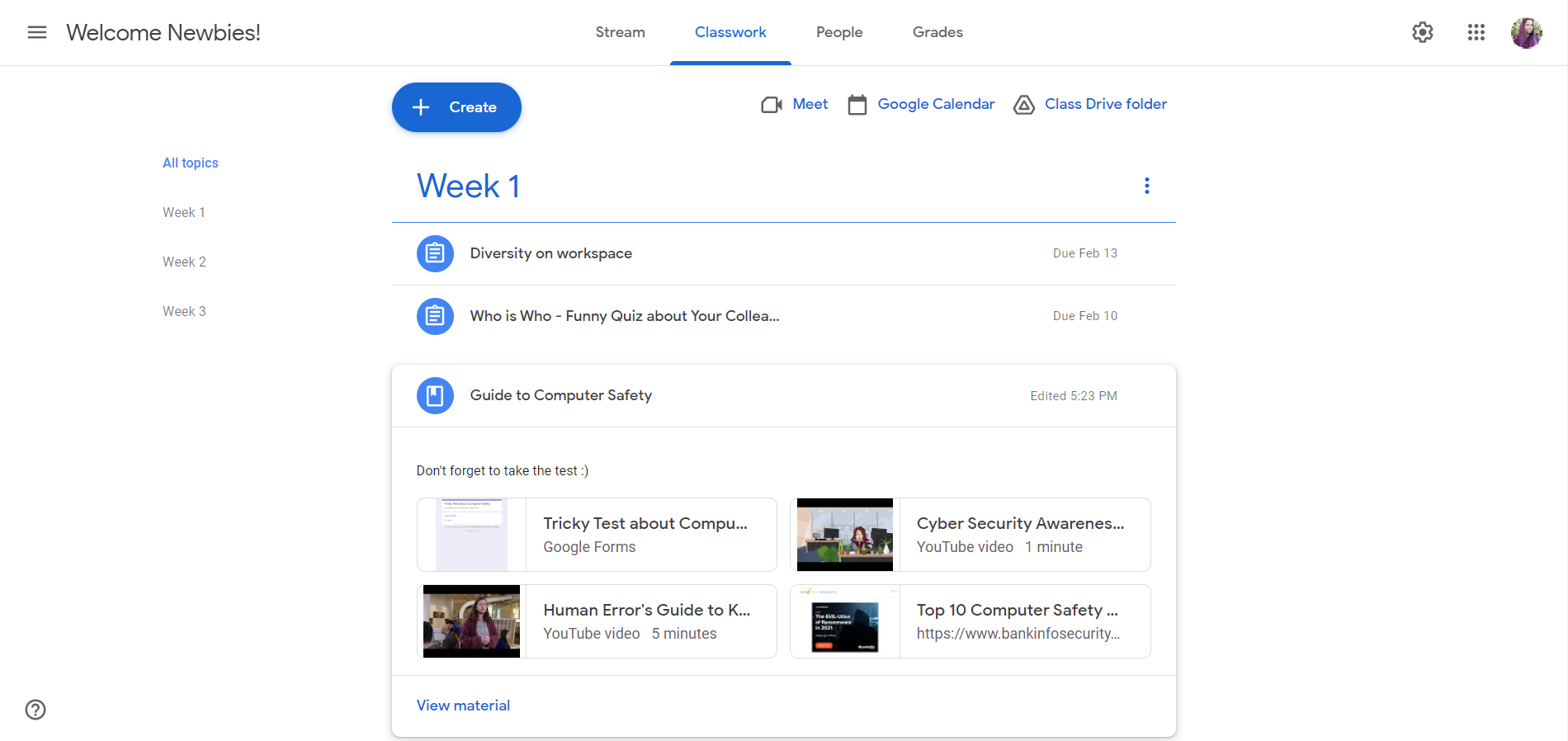 The Classroom is free to use.
Having an LMS in Confluence enables unlimited opportunities for eLearning right in Confluence. You can create courses and quizzes right after its installation. The great news for Confluence admins is that it works out of the box.
izi LMS app allows you to repurpose Confluence content and use existing pages for your training courses. It's especially handy if you use Confluence as a knowledge base and have many pages with important information. You can structure this useful content as training modules, chunking all the information into digestible bites to ensure that users pass the course step by step.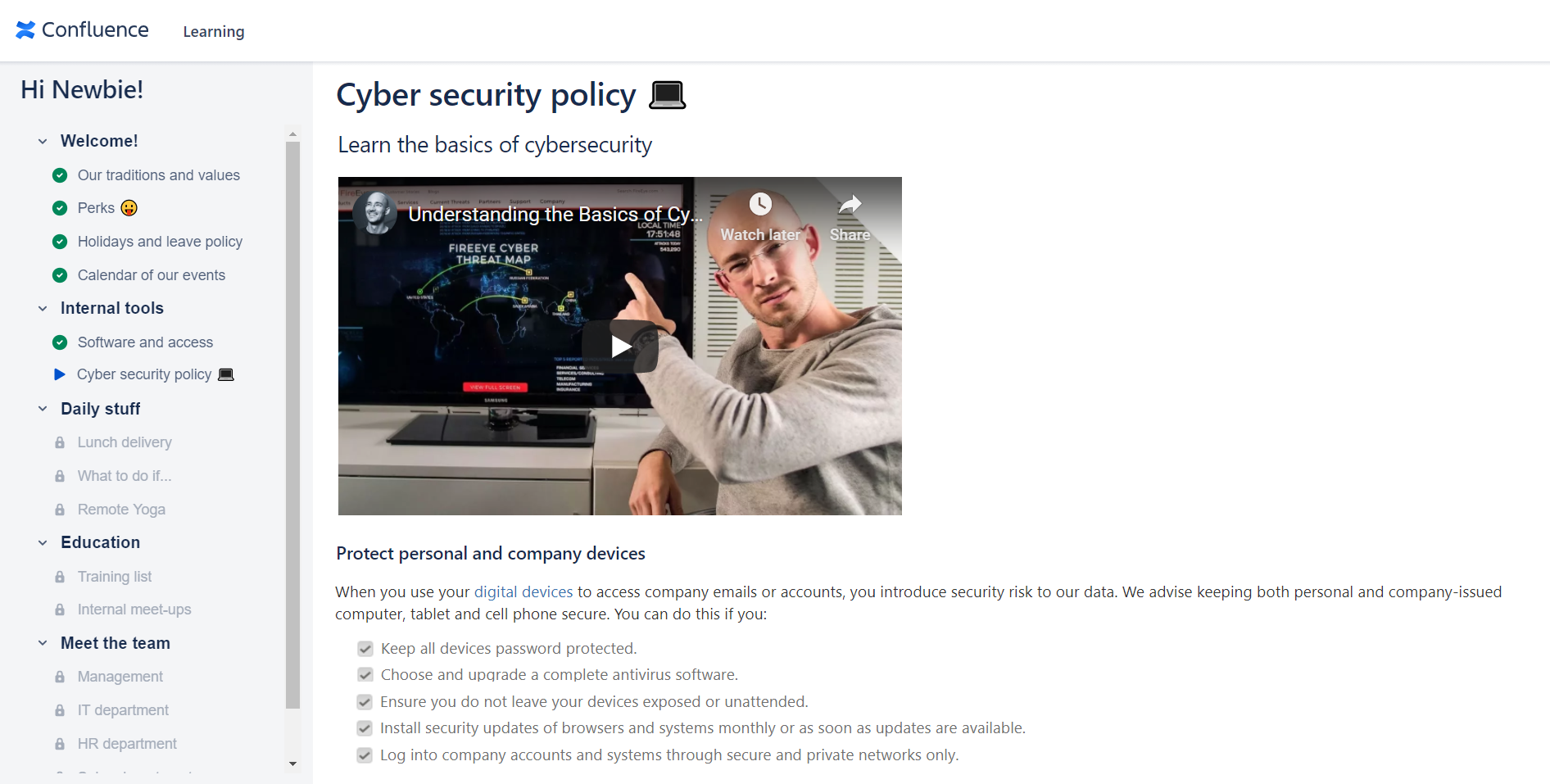 If you need to perform a knowledge check or pre-employment testing, you can take advantage of quizzes right in Confluence. It's a good idea to add quizzes to courses to reinforce the knowledge acquired by participants. Moreover, this app lets you reuse existing quizzes or just use them separately.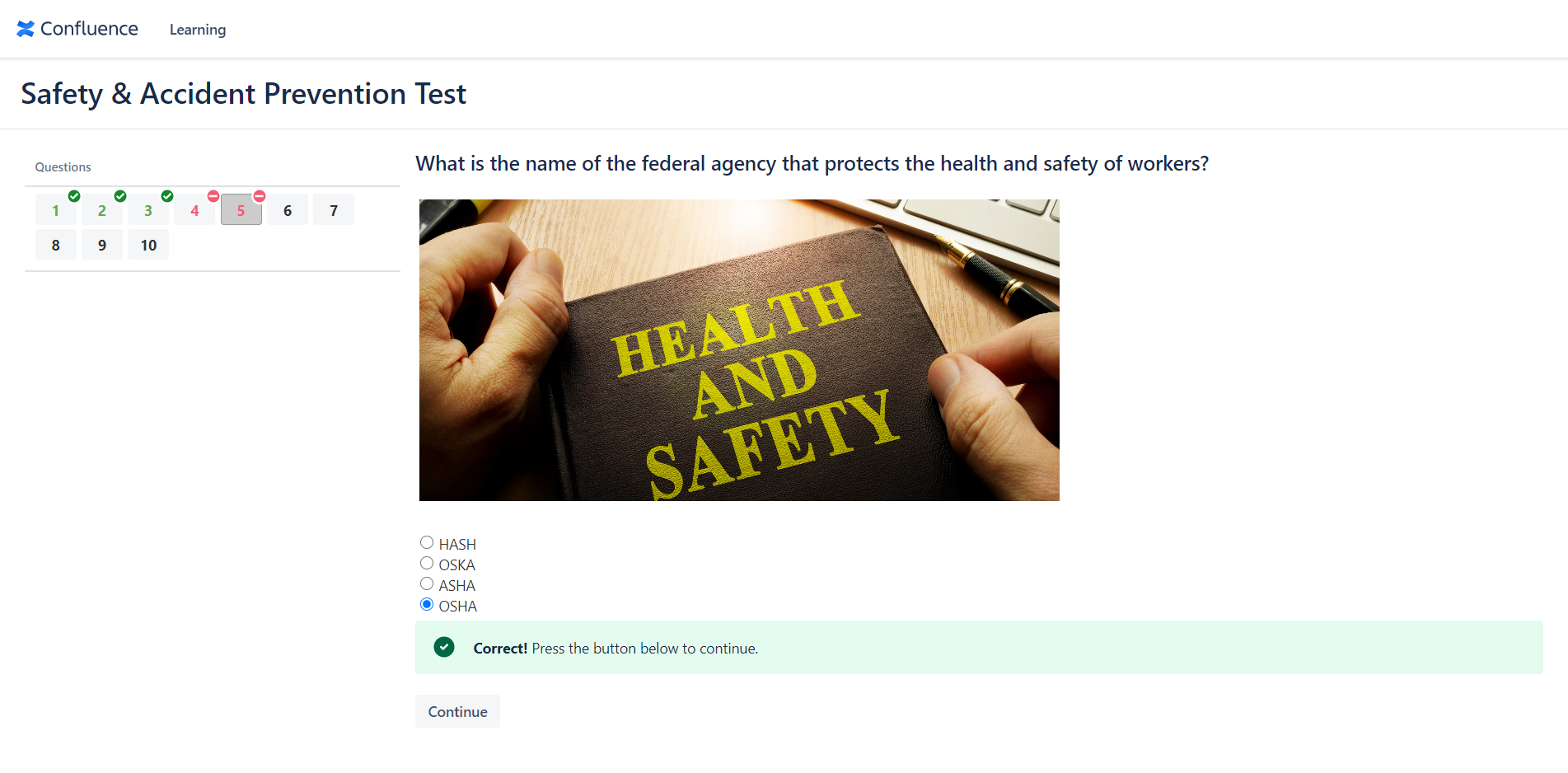 The Learning portal is one click away from the Confluence menu bar, it provides users with a bird's eye view of their training progress and allows them to quickly access courses and quizzes. Learners do not need to switch between Confluence and a third-party LMS, they can find all the materials right in Confluence.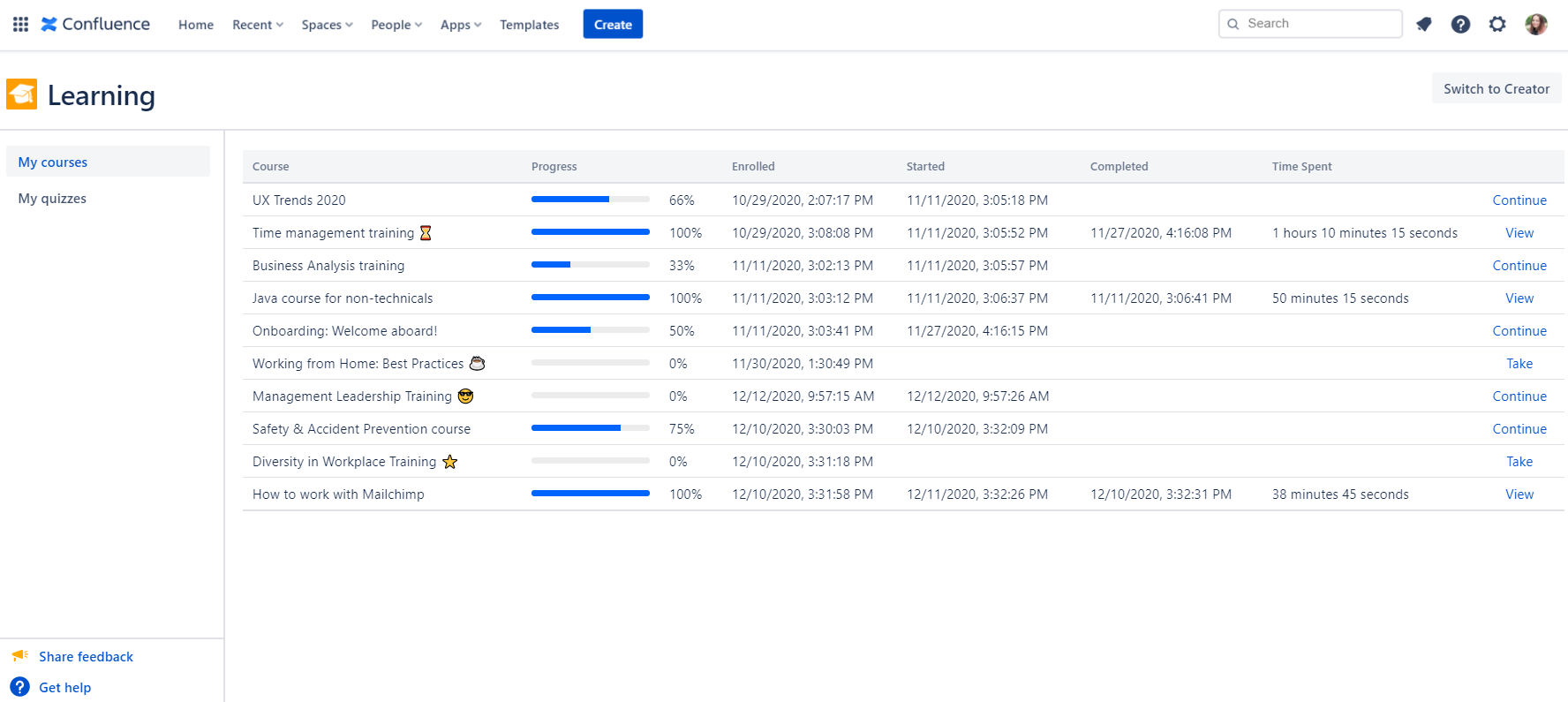 You can share courses and quizzes with existing Confluence users or people outside your Confluence. You do not need to pay extra for course participants without Confluence accounts. Course administrators have reports for tracking participants' progress and course completion.
izi LMS is available for Confluence Cloud, Data Center, and Server. Your team will rapidly get a handle on how to create and take courses and quizzes because they already are familiar with the user interface in Confluence.
You can check the capabilities of the LMS in Confluence during a free 30-day trial.
Another app that can power up your Confluence with courses is Gilly – LMS app for Confluence. This multifunctional solution is an integration of EduBrite LMS with Confluence. It helps you turn Confluence into LMS with the help of macros. You do not need to create accounts for your Confluence users because they automatically get EduBrite accounts when they start a course.
This app meets practically all of your training needs ranging from a robust knowledge base you can build to certification programs you can create by yourself.
Gilly is a free app that requires integration with EduBrite. This means that you will need a paid EduBrite account. Before using the app in Confluence, your Confluence administrator needs to perform additional configuration of the Gilly app. Only after that, you can create courses in EduBrite. Then you need to add them to your learning dashboard in Confluence.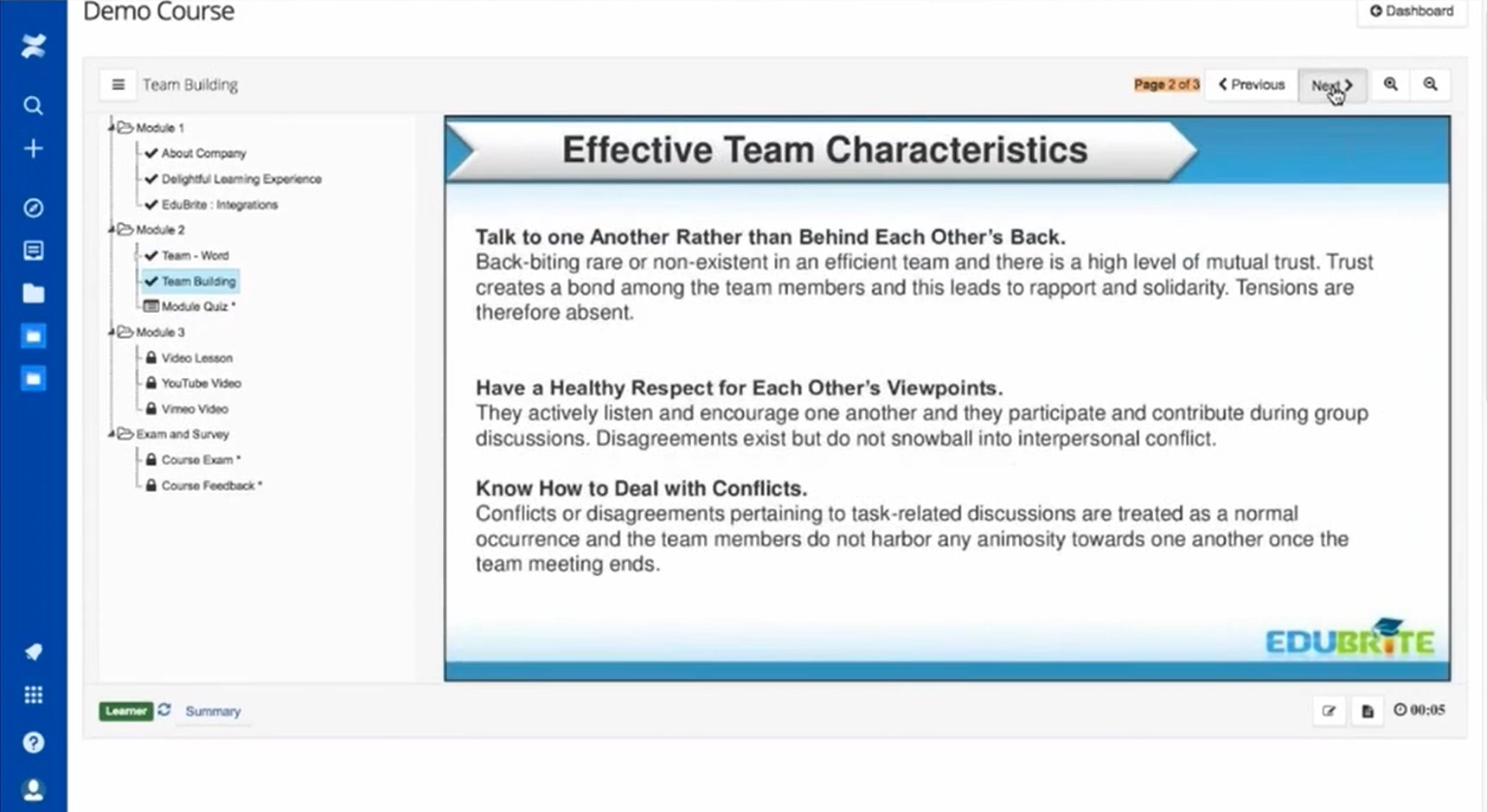 Courses can contain multiple modules with several sections you can navigate with the help of buttons on the screen.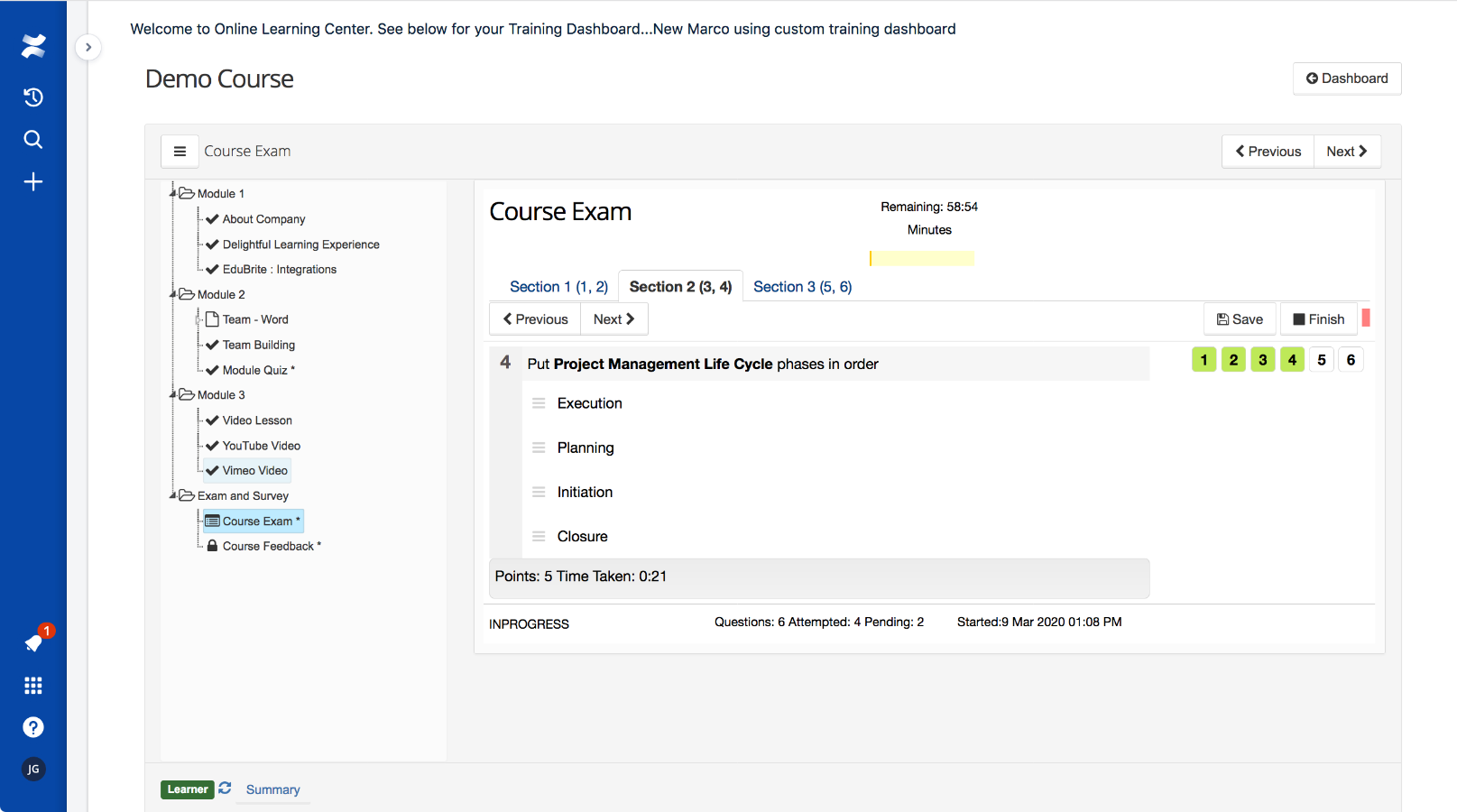 his app is available for Confluence Cloud, Server, and Data Center. You can check its capabilities during a free 14-day trial.
Probably this solution has every possible feature you can think of when we speak about learning management systems. For example, it provides integration with Zapier and other tools to help users connect their LMS with CRM, webinar software, payment gateway, and more. Moreover, you can even sell courses and training created with the help of LearnUpon.
You can find many use cases described in the LearnUpon blog and discover a lot about how to adjust your existing processes to online classes and courses.
With LearnUpon, users can access a dashboard with the essential information about their courses, achievements, and live sessions.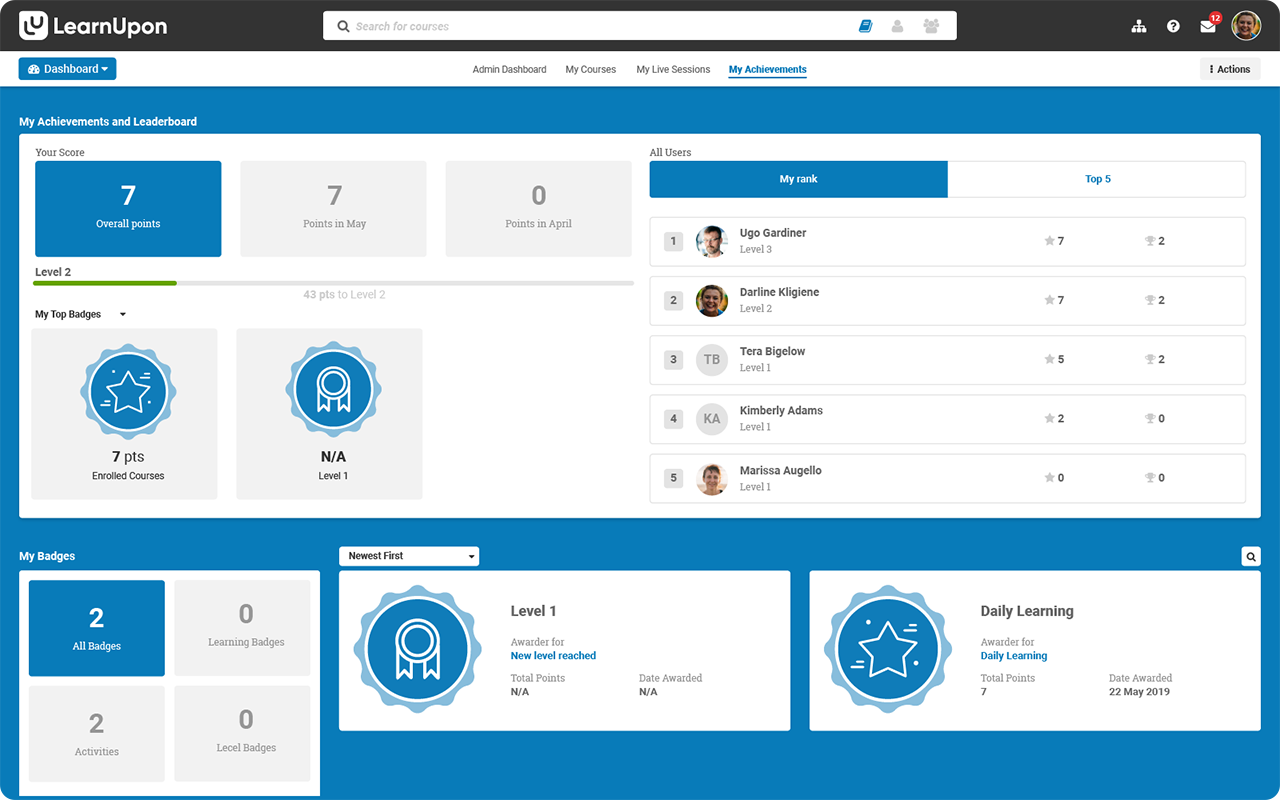 You can create remote training and onsite classes in a blink of an eye. This app allows you to take advantage of gamification elements to better motivate and engage your teammates in the learning process.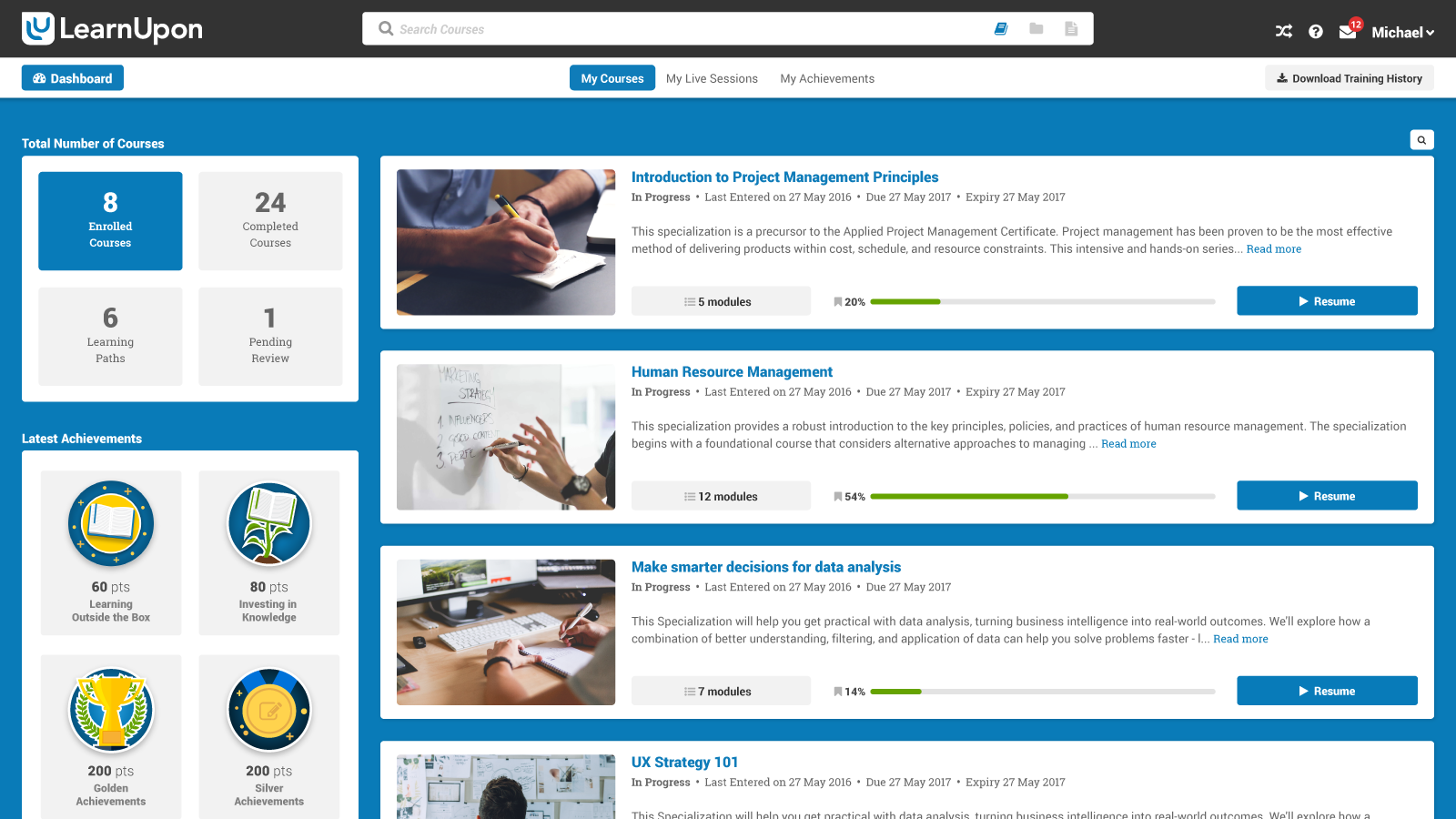 This solution has no integration with Confluence. It has even more capabilities than a user needs, so it's a good idea to give this app a fair 7-day free trial before you decide to purchase it.
How to choose your LMS
Obviously, your choice of the right LMS for your team will depend on your requirements and use cases.
For Confluence users:
izi – LMS for Confluence is for teams that want to work and learn without switching between different tools using Confluence. With this app, you can take advantage of existing Confluence content and reuse it for your courses. You will save your team time and effort because the UI of the app will be familiar to Confluence users.
Gilly – LMS app for Confluence can be a good fit for you if you are already using EduBrite and your company starts using Confluence. You can also choose this app if you do not want to mix your existing Confluence documentation with training materials. In this case, you can store courses right in EduBrite.
For those looking for standalone solutions:
If you need software that will help you keep in touch with your students and perform remote training, Google Classroom can work for you. It can also be useful for small teams with a low budget.
You can take advantage of LearnUpon since this learning management system is tailored to the needs of companies that want to level up their learning process.