Comparison: Talk and Confluence inline comments
December 21, 2021
#

Collaboration
#

Confluence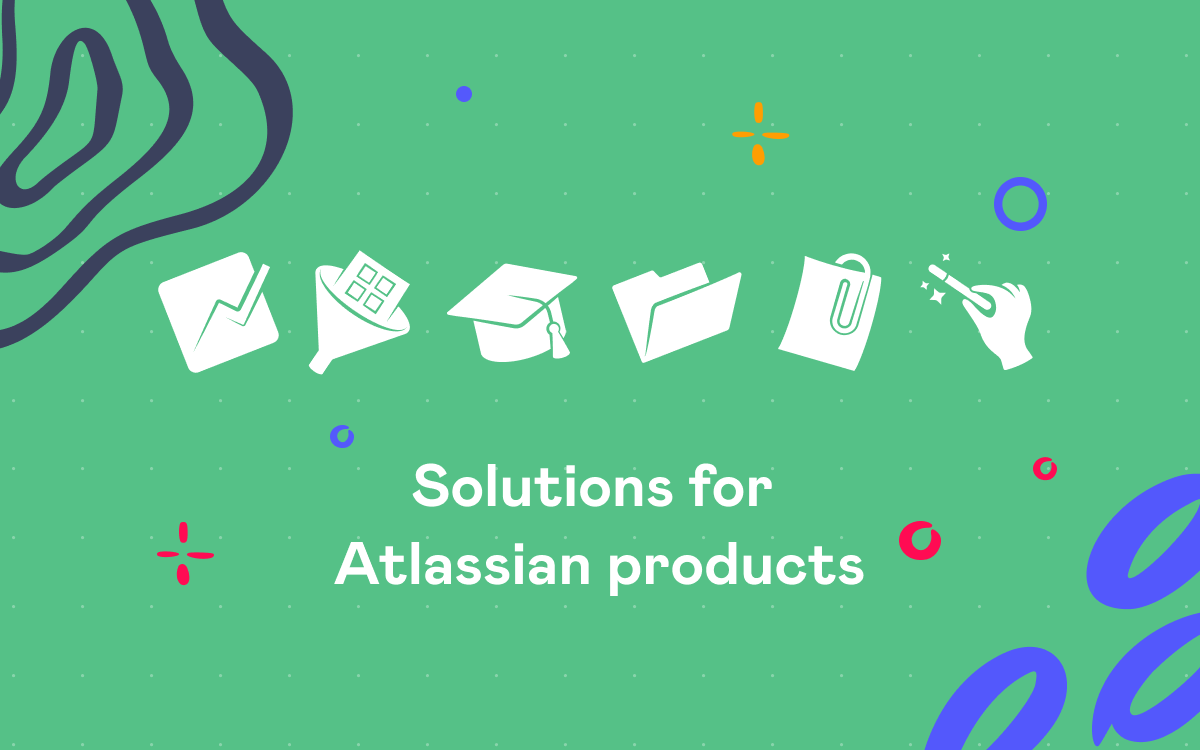 Note: the information in this article applies to the Server and DC deployments. 
Those of you who use Confluence inline comments and have just found our Talk – Advanced Inline Comments for Confluence app may wonder what's the difference between them. To save you time and effort, we compared these two solutions in the table below.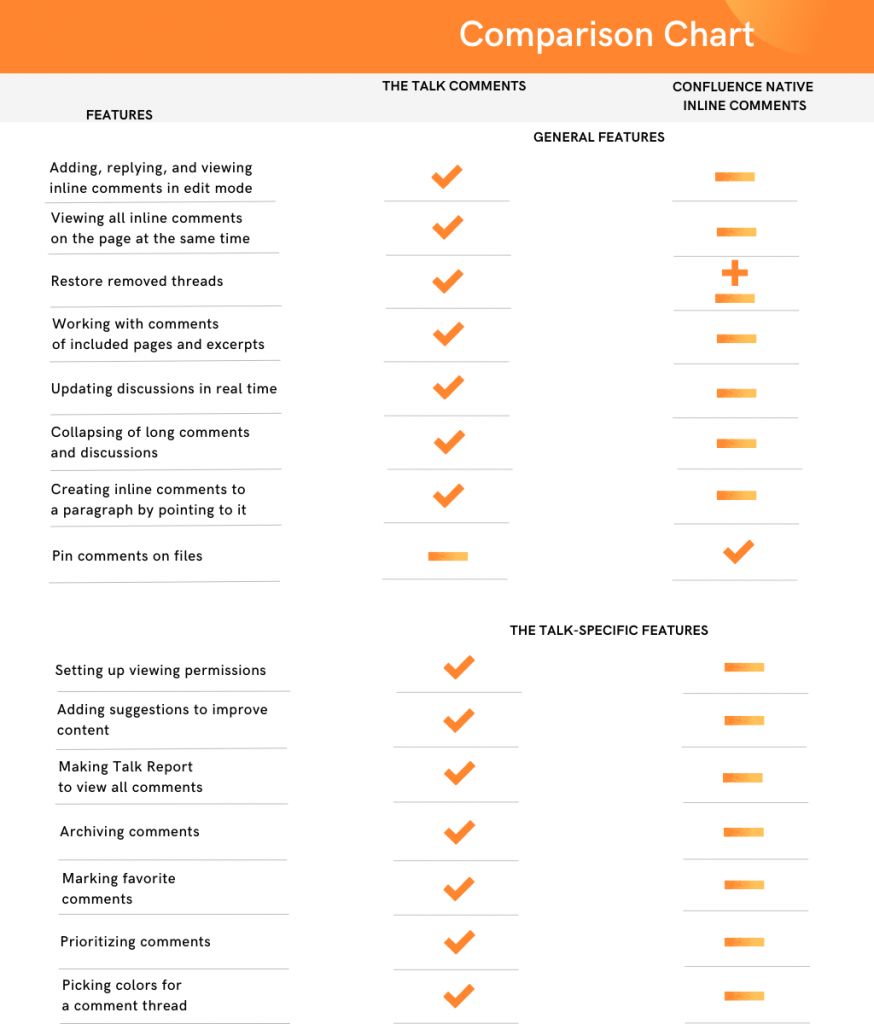 As you see, the list of differences is quite extensive. If we go into detail about every feature, it could overwhelm you with information. That's why in this article we decided to focus on the Talk-specific features.
Setting up viewing permissions
Talk: You can set default space viewing permissions applied to all the Talk inline comments (hereafter talks) created within a space. It gives you the option to hide talks from certain users while letting them see the rest of the available page content.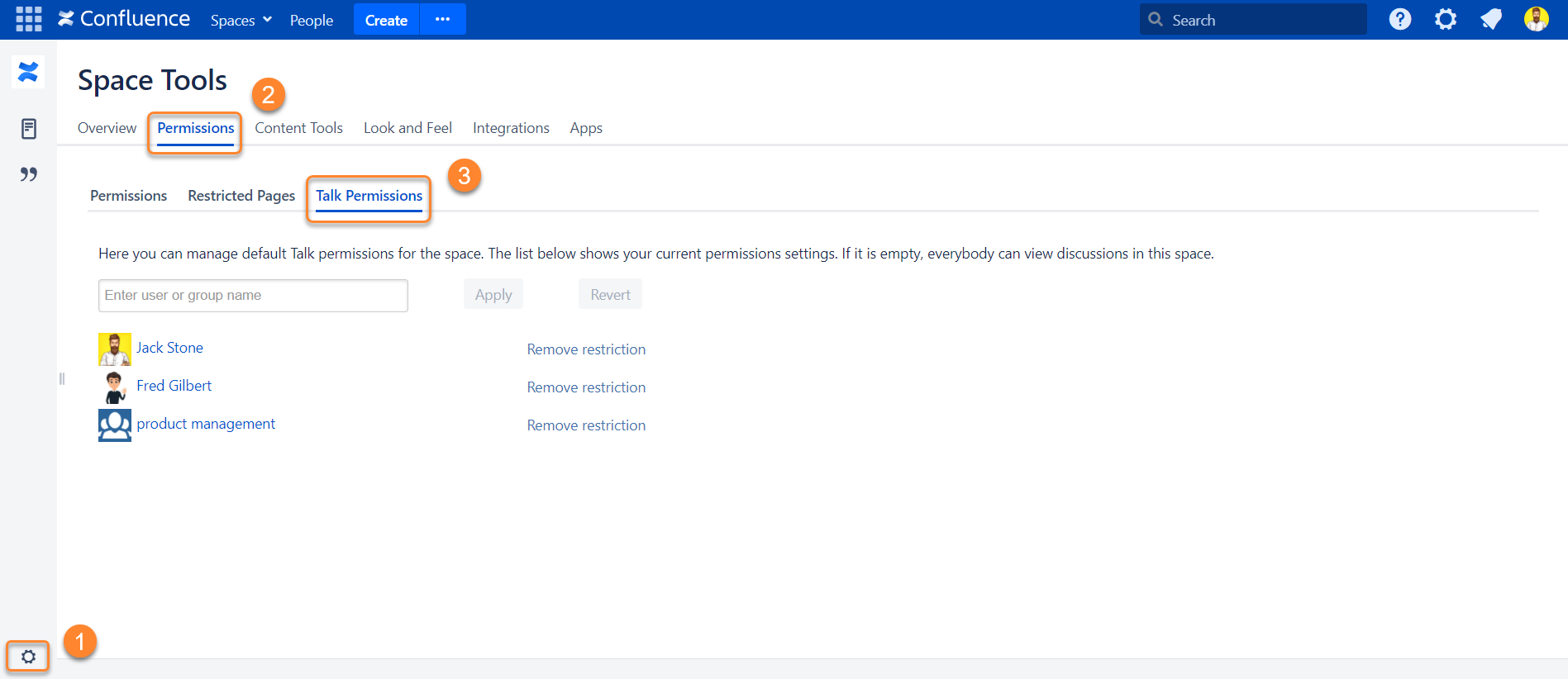 The list of users who can add talks in the space
It allows you to have by default (for example):
talks on your public pages visible only to your company users and hidden from external viewers
talks hidden from some of your team members/teams, who have the View All permission for the current space
only one user with the Talk space viewing permission to create private notes
Moreover, you can override space permissions for any specific comment on a page while adding or editing a talk. You can include certain users/groups in discussions or make personal notes.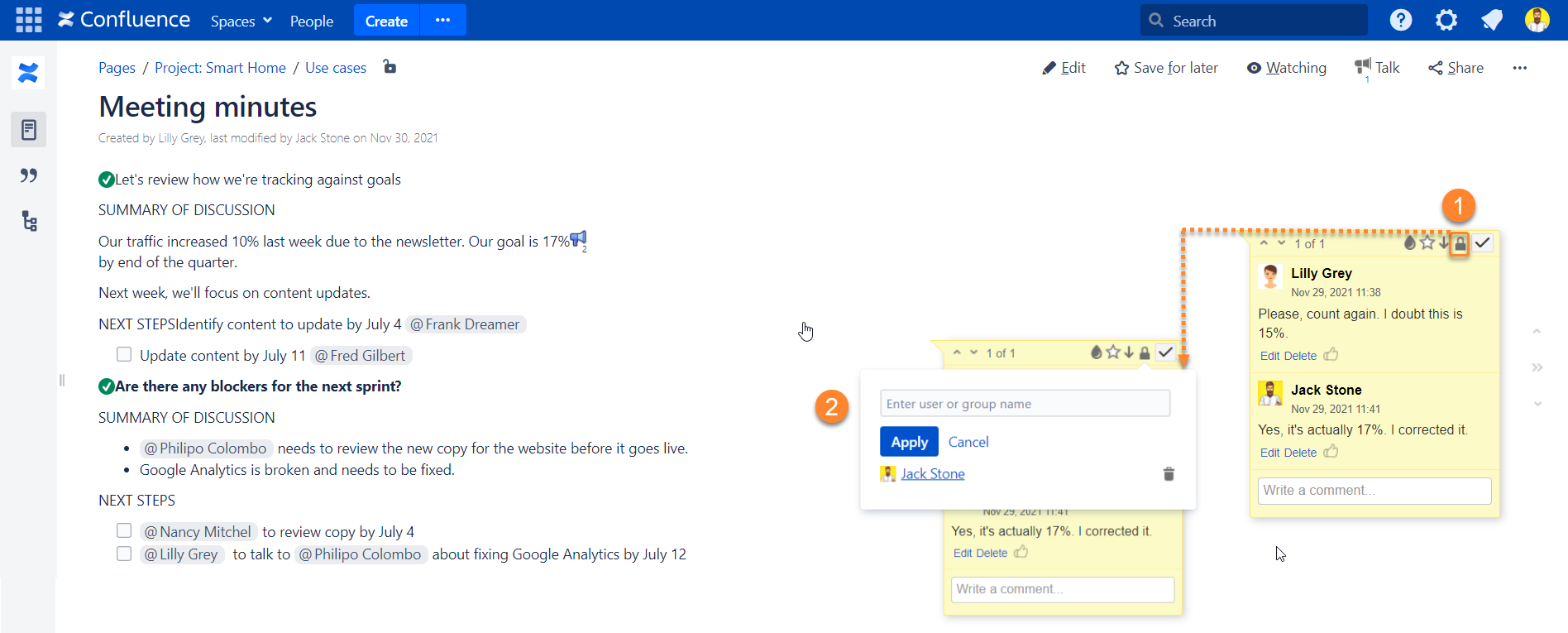 Confluence inline comments: In Confluence, you can give user permissions only to delete or add comments (including inline comments), but there's no way to restrict viewing of inline comments to users with the View All permission.

Adding Talk Suggestions to improve content
Talk: Along with a megaphone button on the highlight actions panel, you can notice a person with a chat bubble right next to it 
. It's our Talk Suggestion feature. Sometimes your eye catches mistakes while browsing some pages in Confluence. To handle the error in the easiest way, you can suggest changes to this word.
It's also a must-have feature for content creators and editors in your company. With Talk Suggestions, they can rapidly review content and make remarks to improve it. The author can accept these changes or reject them. Once accepted, they automatically apply to the highlighted text.

Talk Suggestions facilitate content review and make this process more user-friendly than Confluence inline comments. You can add Talk Suggestions in edit mode as well.
Confluence inline comments: It takes you a while to apply multiple changes to your page since Confluence inline comments are inaccessible in edit mode.
Making Talk Report to overview comments
Talk: When your page has a lot of comments, it's proving difficult to browse all the comments and find the appropriate one. The difficulty may also arise when you want to find comments with high priority or the talks with your mention. The situation gets worse when a comment you are searching for is on another page or space. It may take hours to handle this job.
Talk Report allows browsing comments on any space/page without the necessity to leave the current page. It provides you with an overview of all comments where you get information about their content, author, status, date, and more.

This is how Talk Report looks on a page
To learn more about how to work with Talk Report visit the Talk Report page in the app's documentation.

Confluence inline comments lose one more score against Talk – Advanced Inline Comments for Confluence in this regard.
Archiving comments
Talk: Why overload your page? You can take comments out of your sight for a while and restore them later.
Once you archive a talk, it disappears from the comment sidebar but continues invisibly exist on the page.

Confluence inline comments: You only have a choice to delete or resolve comments. In both options, the comments are absent on the page.

Marking favourite comments
When using native inline comments, you might fancy a place to store important comments and easily access them like Confluence tasks. With Confluence inline comments, you have to rifle through multiple spaces and pages to find the one comment you need. To make life easier, we rolled out the Favourite comments feature. It allows you to mark interesting ideas, thoughts, or high-priority inline comments and put them in one place. To see their context, you can press on a talk and automatically find yourself on the original page with it.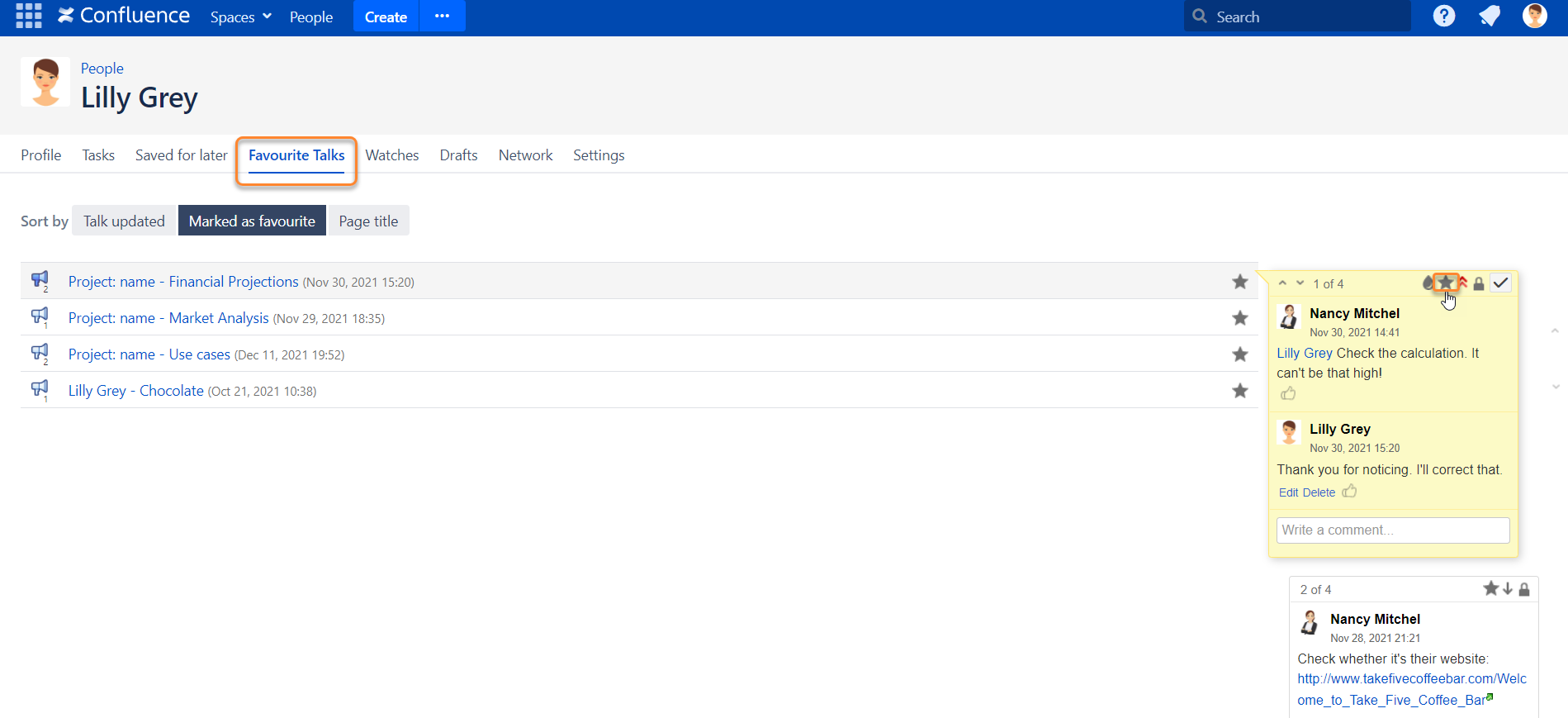 The view of the page with Favourite comments
How to proceed to your Favourite comments and manage them check our Favourite comments guide.
Confluence inline comments: It can be quite time-consuming to find the appropriate comment because they don't provide similar functionality.
Prioritizing comments
It's often the case that our users add talks as their personal notes or leave talks as tasks. By defining the priority for a talk, you can set the level of significance to it and decide what you should implement firsthand. You can choose one of three levels of priority for a comment:
low (default)
medium
high
Also, Talk Priority can be helpful for a company or team leader to draw attention to the talks that need a quick response.

Confluence inline comments miss this feature.
Picking colors for a comment thread
Talk: The option to pick a color for a comment thread may come in handy in situations when different teams chat over the same document. You will find it convenient to distinguish teams, topics of discussion, or to highlight important comments with color.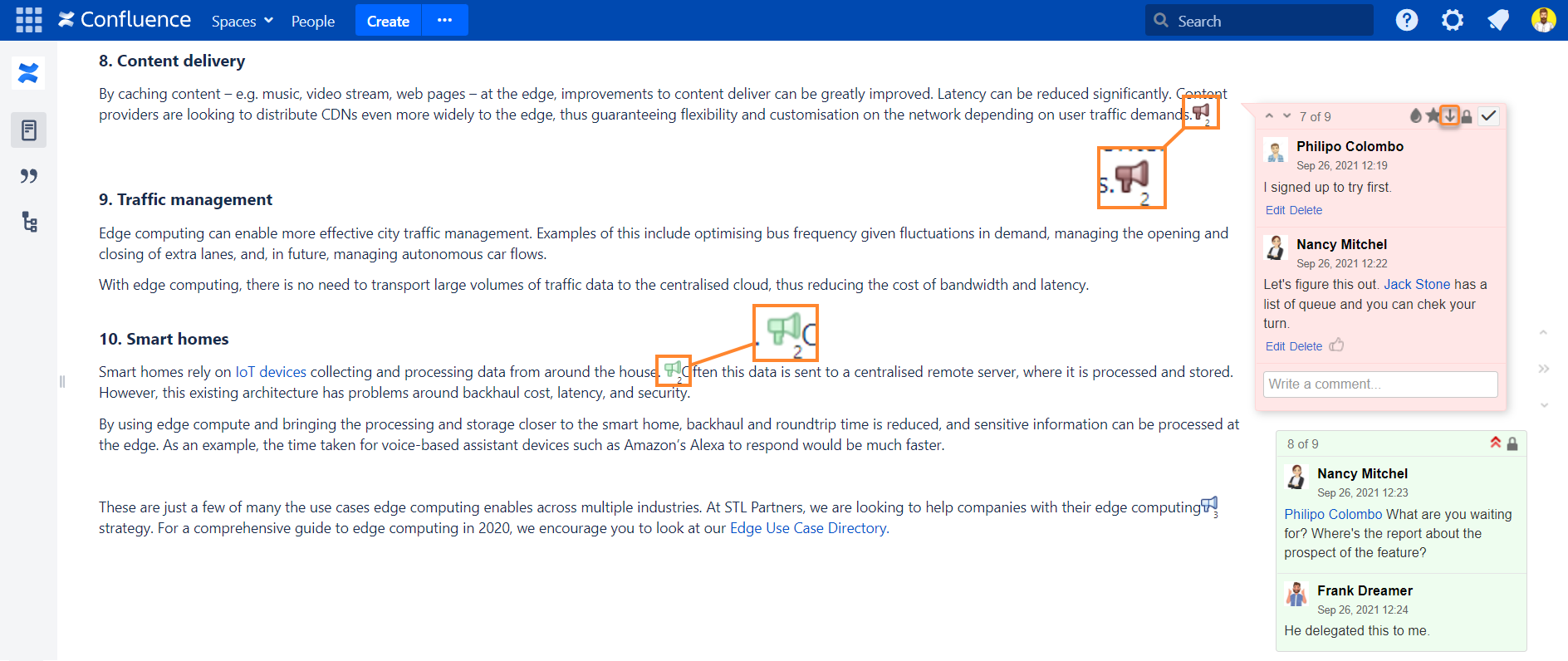 Different teams decided to distinguish themselves with a color
Confluence inline comments only provide one color for all the comments on a page.
We hope that this list of the Talk features impressed you in a positive way. Indeed, our app gives you more flexibility and deals with a greater amount of use cases. But, as we said in the beginning, the listed options only partly describe the differences between Confluence inline comments and talks. If you're curious to know more, watch the Talk video and check Talk documentation. Also, you can pass our 3-minute quiz and decide what comments you need more.
In case you have any ideas on how to make your experience better with our app, create or vote for ideas on our Talk feedback forum.