Confluence for Onboarding in Tech Companies
October 25, 2022
#

Confluence
#

Learning Management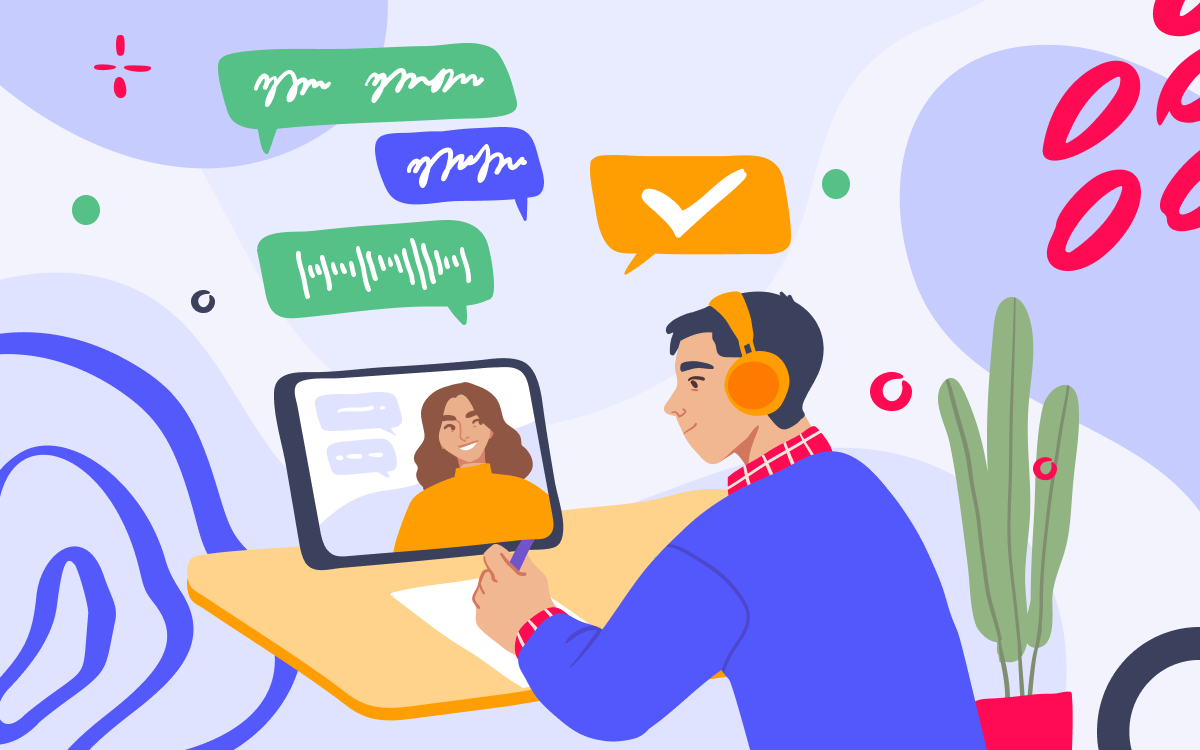 Here is your workplace, and here is a list of tasks for a trial period. Seems that these words are familiar to everyone.
As a rule, most people associate the first working day with stress and uncertainty. You need to delve into new programs, get acquainted with a bunch of people (and forget their names at once). And of course, you don't want to seem ill-prepared and narrow-minded and ask too many questions.
A lot has changed over the past few years.
The pandemic forced drove us to the transition to distributed teams that work not only from home but from different countries and cities. We have an office in Estonia and employees who work from Poland, Georgia and Turkey. In these circumstances, it is no longer possible to provide the new staff member with just an office tour with a couple of phrases about our company.

Smooth remote onboarding and orientation become essential if you want to help newcomers adapt to their new workplace.
As a tech company, we want to share how our team benefits from using Confluence for onboarding and introduction of new people to the organization, its work processes, culture, and principles.
When your team is growing fast
For more than seven years, we have remained a small team that mostly consisted of developers. New people came to the team once or twice a year, and at this point it was enough for us to just talk with newbies about their tasks for a probationary period, show what and where was in the office, create an account in Confluence and Jira, and grant them access to the necessary pages.
As our business grows, the products evolve requiring new skills from the teams. In less than 5 years, we have tripled in size and realized that onboarding is a vital part of new employee's adaptation. Especially, when it comes to onboarding from a distance.
Welcome on board at Stiltsoft
Everyone at Stiltsoft has a probationary period of two months and gets a list of tasks for this time. We will describe how onboarding goes for our new senior Java developer Alex.
During the first working day Alex communicates with four people:
HR manager provides him with all the required information about the people he needs to contact. She describes our processes on a company level during a Zoom call.
Our office manager sends him a laptop, monitor, keyboard, and all the required equipment. He also receives a welcome pack with the branded swag.
Our DevOps creates accounts in Crowd, grants Alex access, and creates him @stiltsoft.com email address.
And, finally, Alex's team lead shares the link to the Onboarding space. There he can find a lot of information about how his team works and a list of introductory tasks.
How we use Confluence for onboarding
Earlier, our team leads spend a lot of time to tell new employees about how we work and what they need to do. They explained the same things to newbies. They could forget about something or add more details.
Today, we combine several onboarding practices. We have a separate space for newbies, use onboarding task checklists, and take advantage of training courses to help new employees learn the required information.
Studying general info about the company
We use Confluence to document all workflows and we think that a separate space for onboarding is a good idea. Alex finds his title on the home page of the space and clicks it to check everything related to the duties of senior Java developer.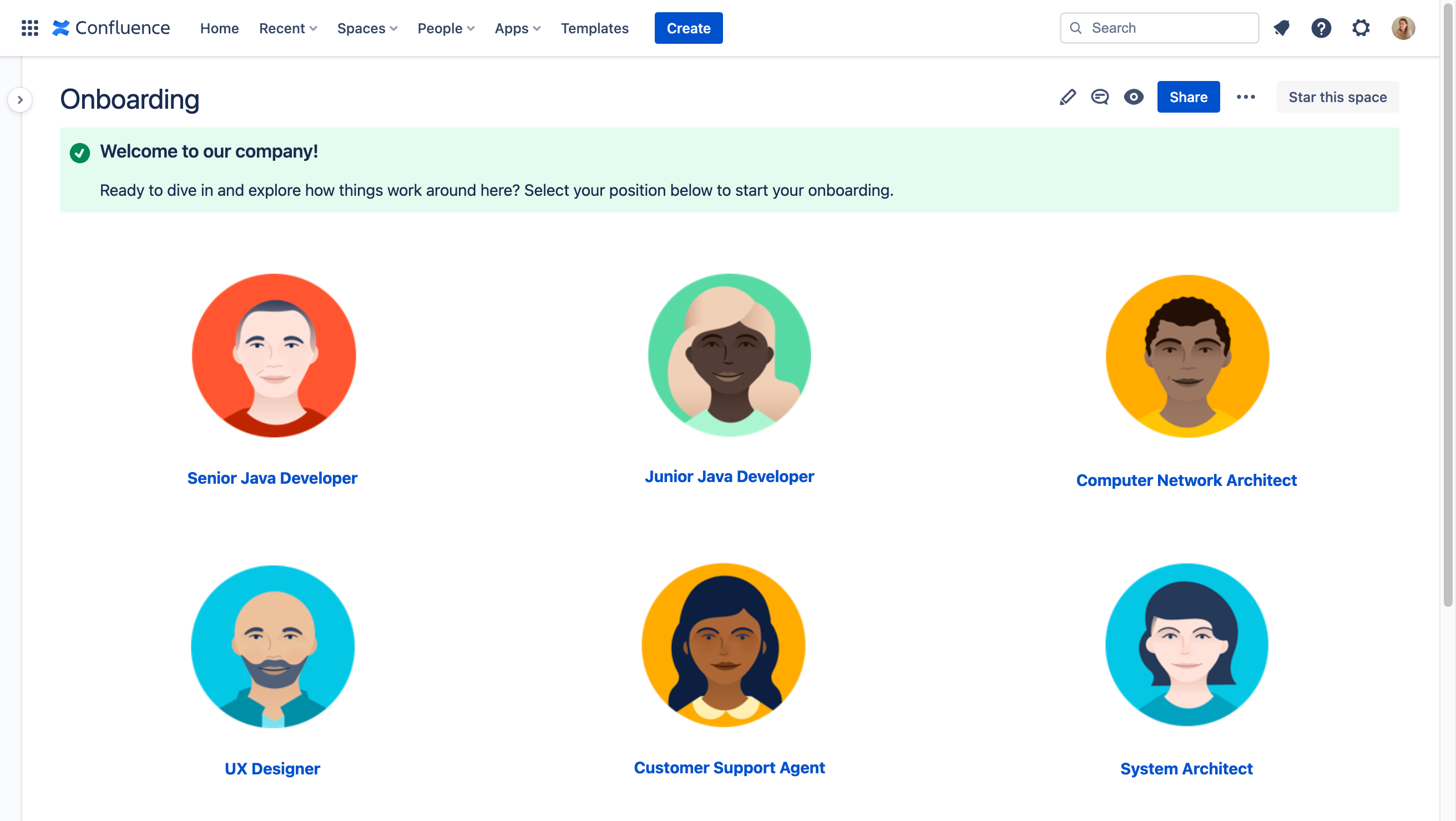 Our company has five different teams that develop apps. The processes within our teams differ a bit and this also applies to onboarding. Since Alex is a part of the Awesome Graphs team he opens the list of tasks his team lead assigned to him. It has an intro that outlines task statutes their team uses and some general information.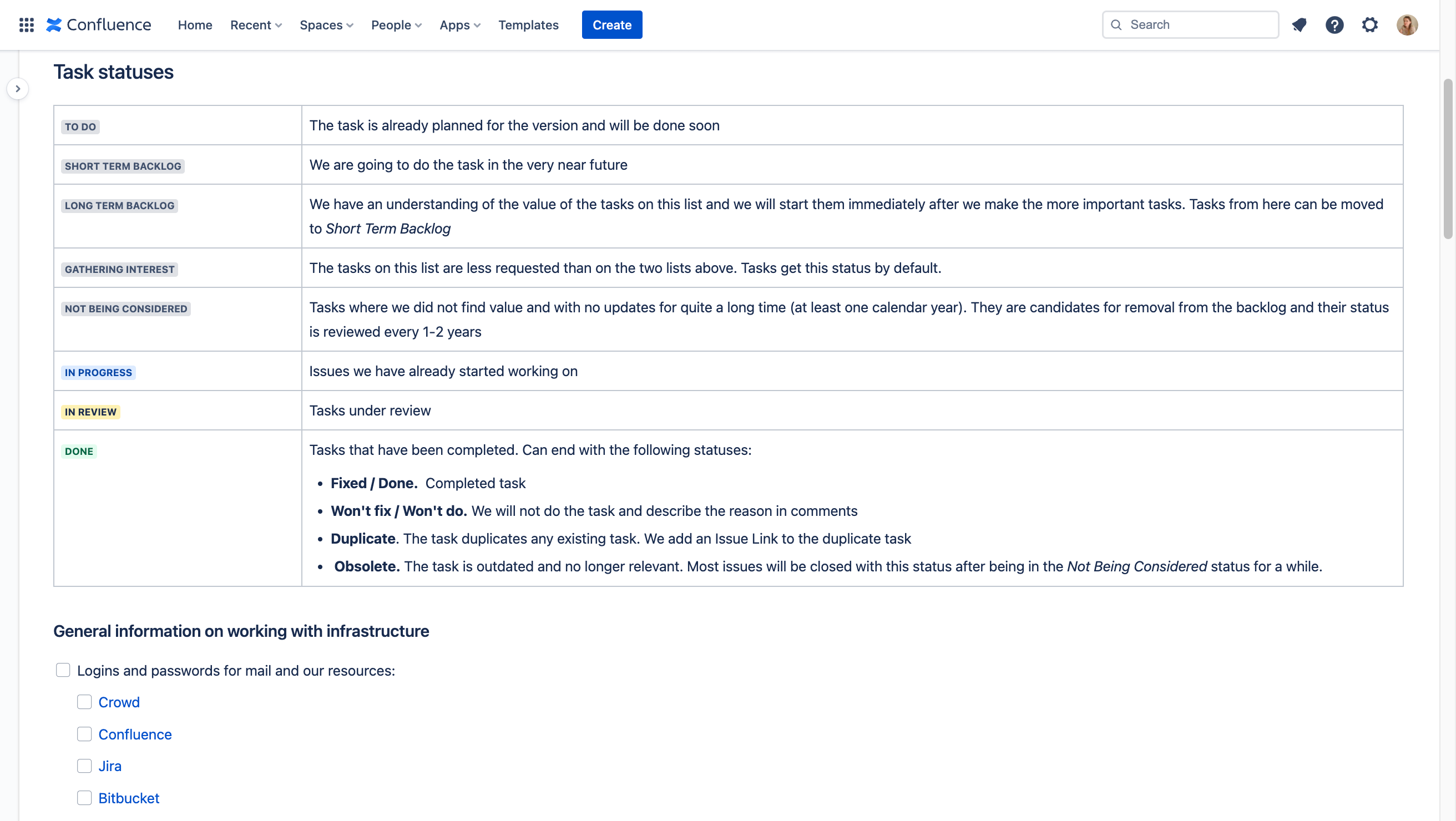 The Stiltsoft Beginner's Training is among the first links he finds in the task list. It's a course that consists of seven modules and helps newbies find answers to any questions they may have at the beginning of their work at Stiltsoft. We maintain the relevance of this course and update it when newcomers share their feedback with us.
With the help of this course, Alex learns how to take a three-day vacation, what to do if he needs an IntelliJ IDEA license, or how to buy a book on Amazon. Of course, he reads about a variety of Slack channels we have, starting with important tech related ones ending with the ones where we share our pictures from around the world (we also included a bonus section with the description of our custom emojis).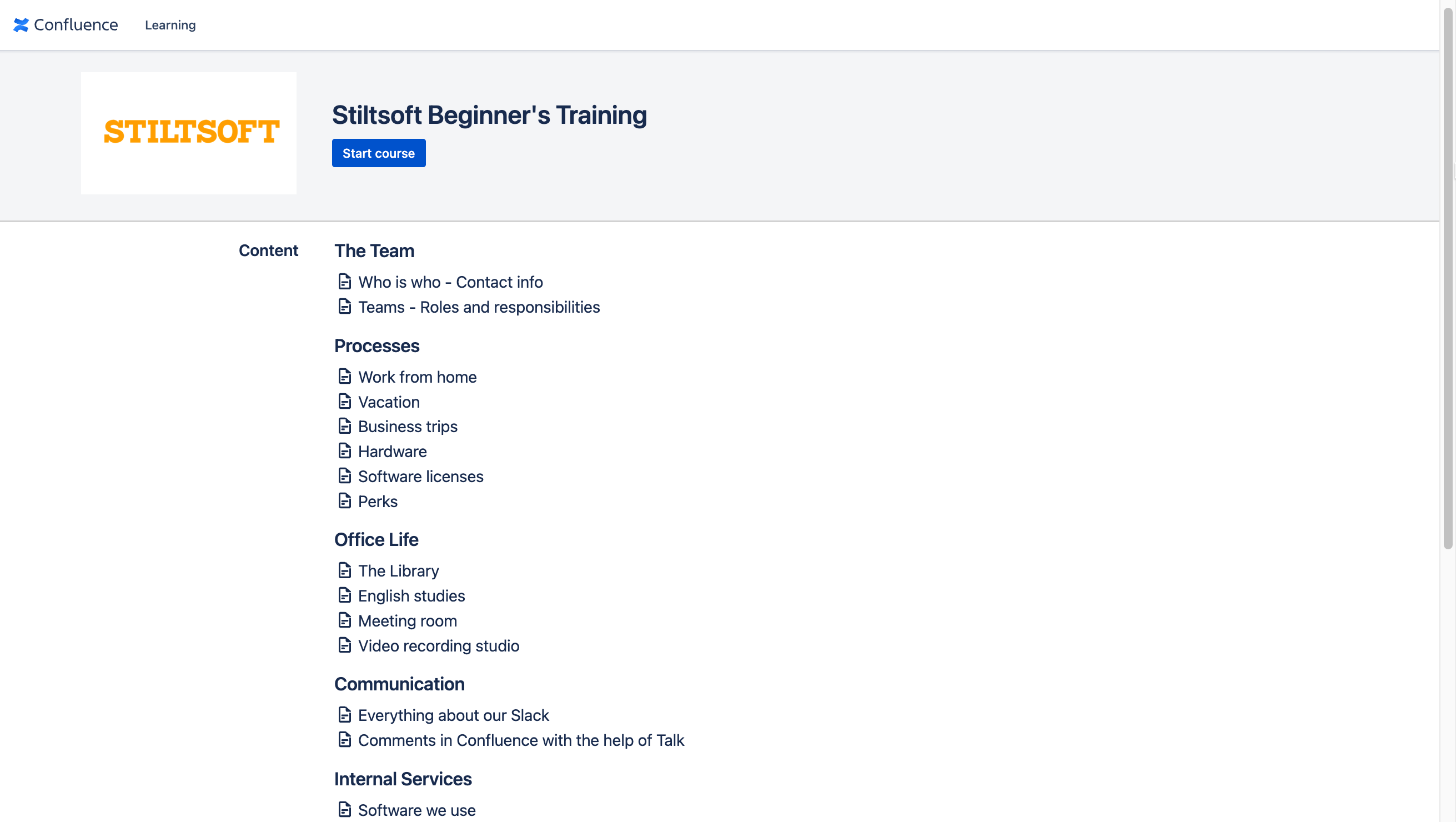 Alex can open module by module to study the information. In this introductory course, he won't find any tricky questions in the end, it simply collects the most useful content about different spheres of our work.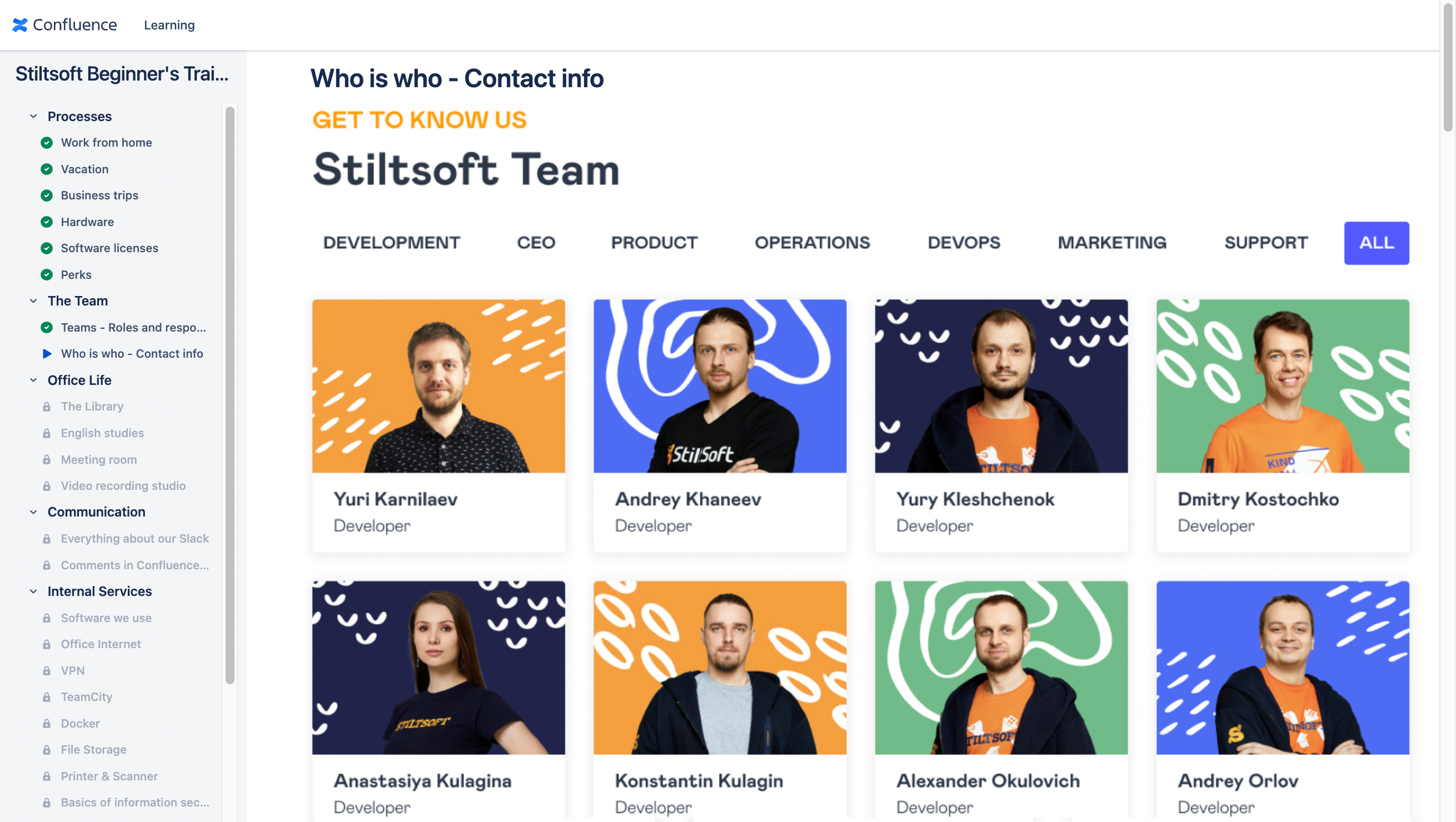 When Alex clicks the Complete button at the bottom of every page, he opens the next training module. He can take the course at his own pace with breaks and resume from where he left.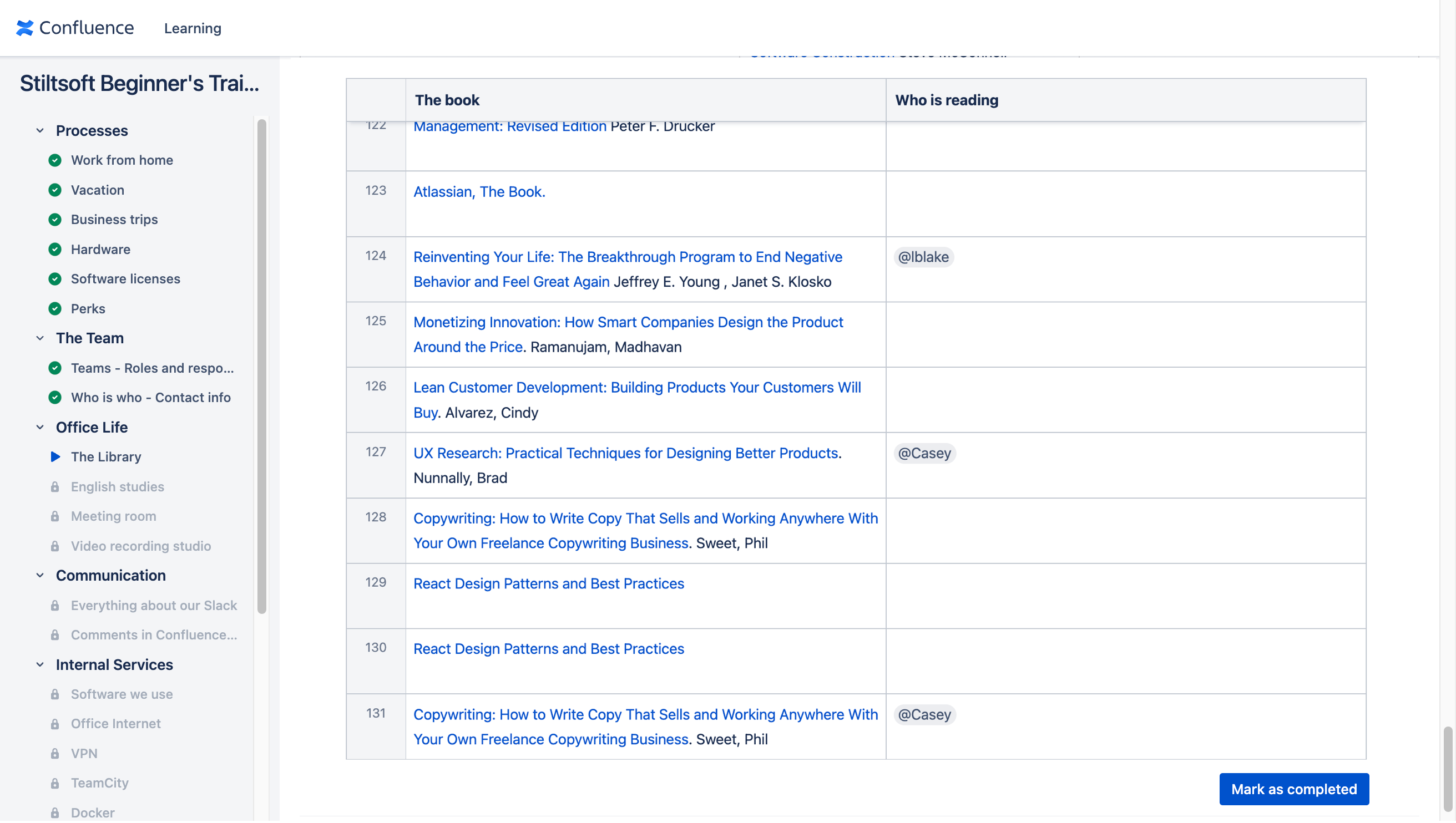 We have many spaces in Confluence with tons of useful information about our apps, marketing, software, training and education, R&D. It's too challenging for new staff to navigate between all these spaces. Moreover, newbies usually get limited Confluence access on their probationary period. The training course that incorporates essential info from different Confluence pages can be a great start for a newbie. You can reuse existing Confluence pages as training modules or create new ones.
Our HR manager is a course administrator and can check Alex's progress on this course. This way she can see if some of the modules take too much time to study and can split the information into smaller chunks.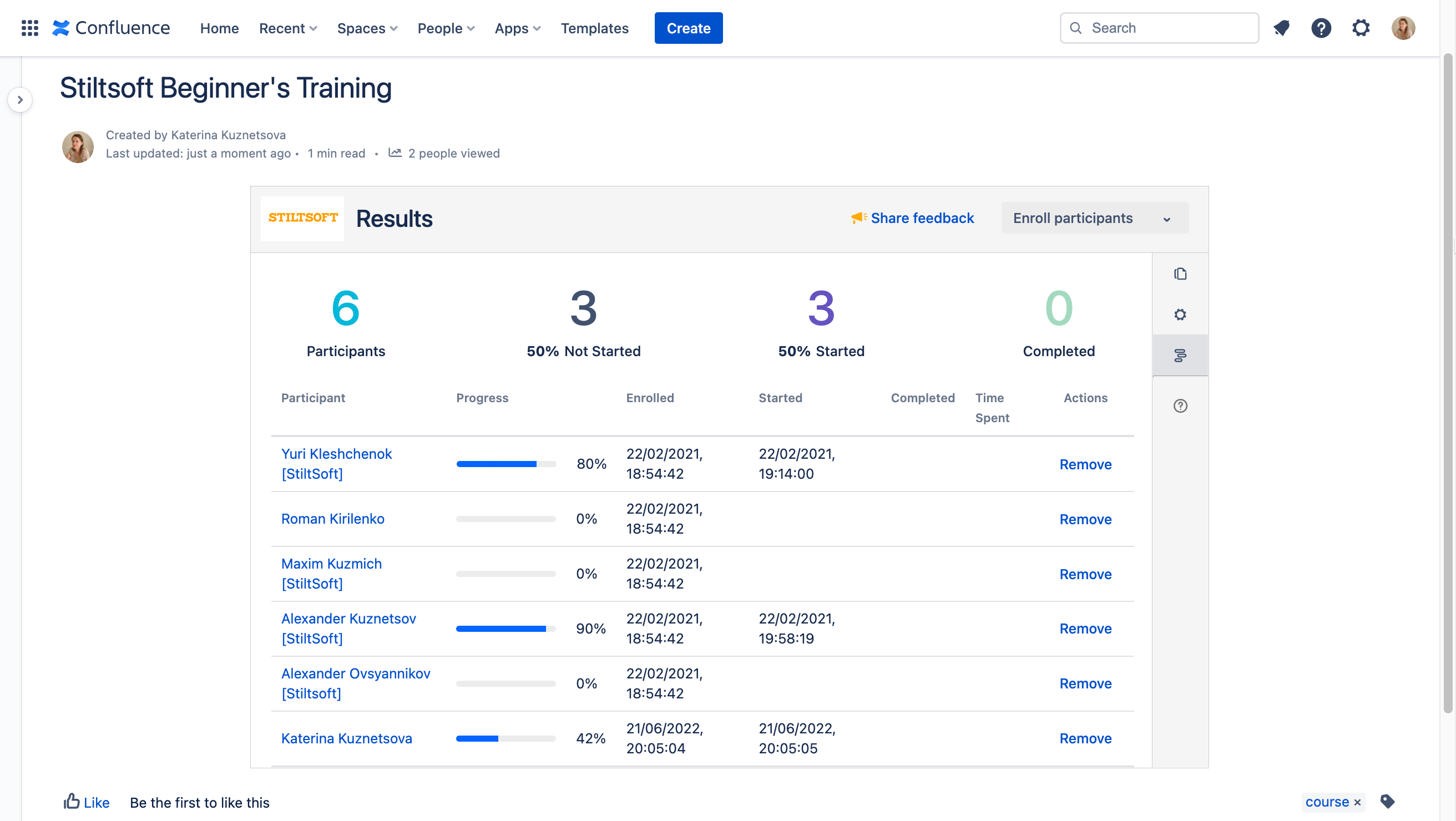 This course is created with the help of the izi – LMS for Confluence app.
Diving into team processes
Alex needs to study how the Awesome Graphs team works. His team lead created a list with the links to Confluence pages with the information about code review, releases, Jira workflows.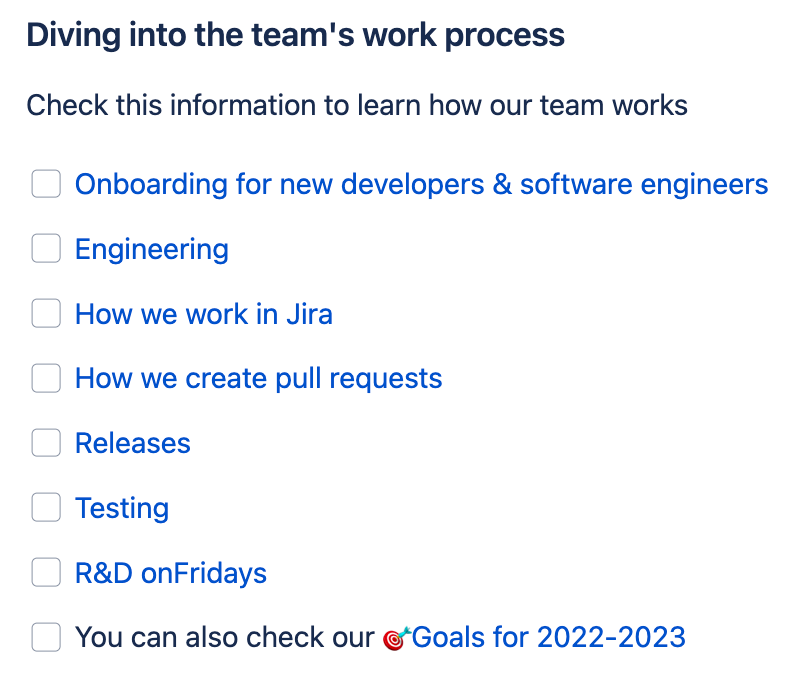 For example, he reads the guidelines for a new developer. At every stage of studying he can reach out to his team lead and ask any questions. He also has a buddy. It's a colleague who is not connected with his tasks, but can simply support, listen, and advise something. In general, this practice helps adapt to a new reality in a friendly way.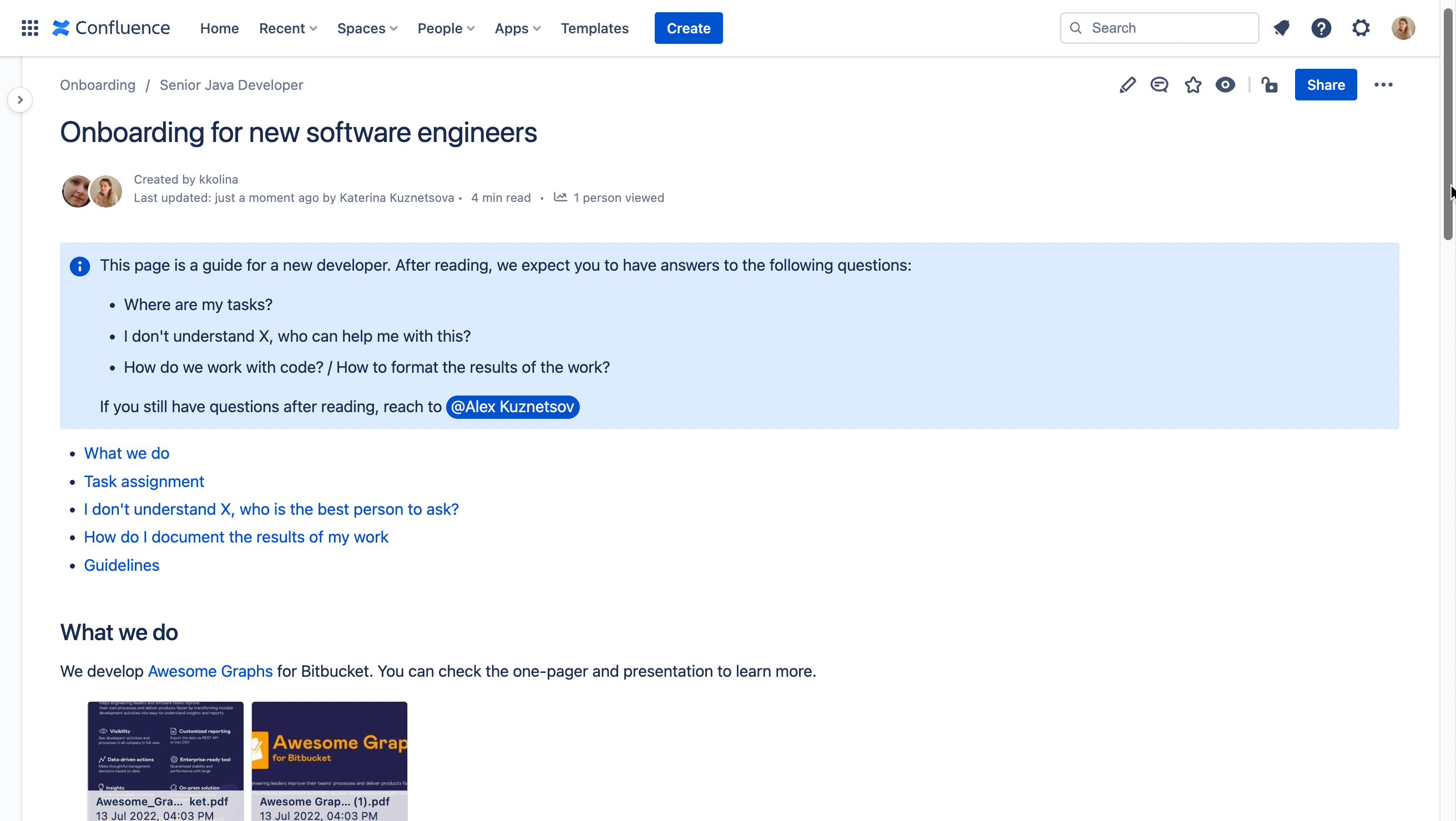 He also studies the agreements of the Awesome Graphs team in relation to the general principles of coding and their work with tasks.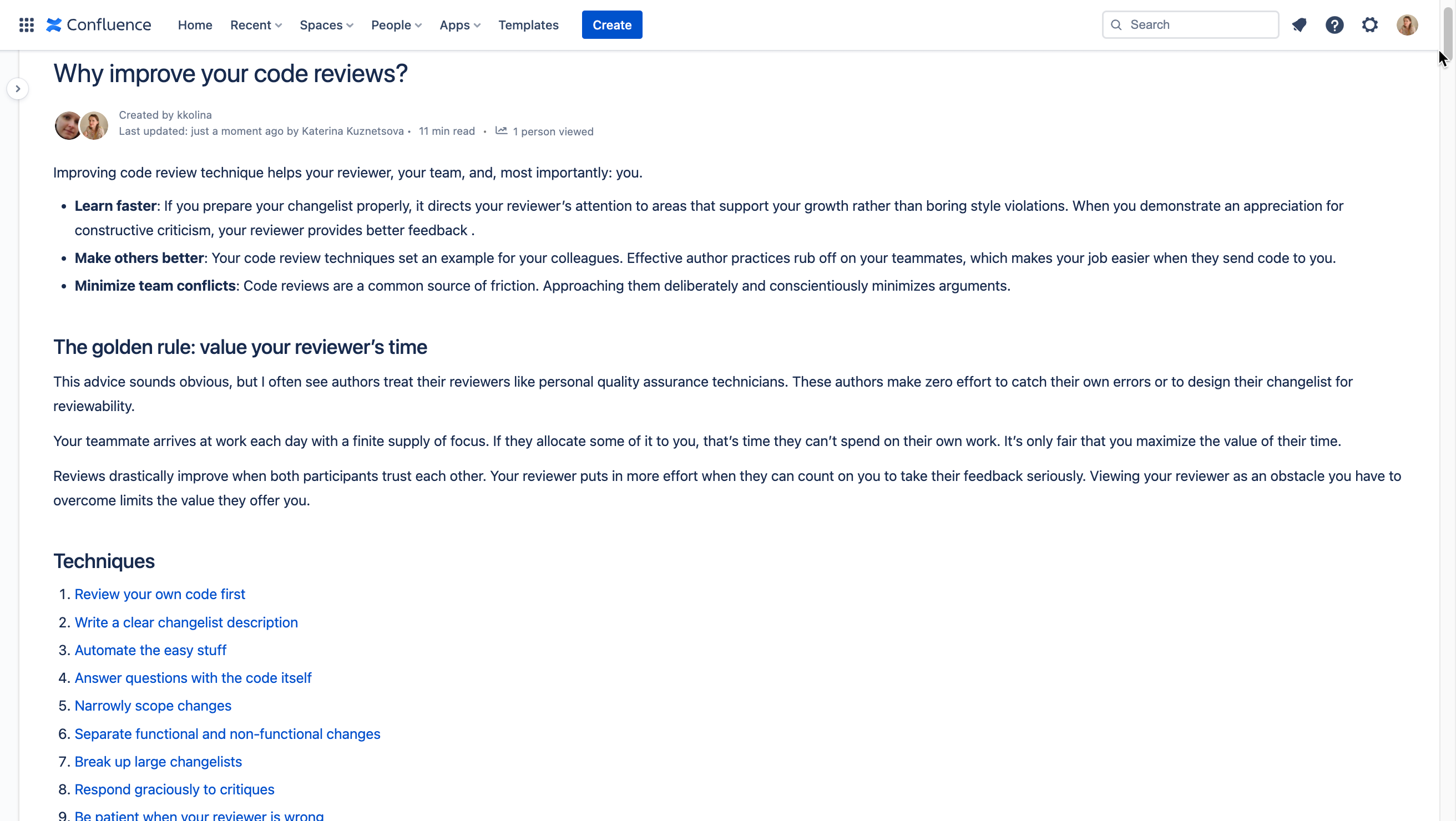 He finds the information on how the team assigns statuses to Jira tasks, uses filters and dashboards, creates pull requests.
Finally, Alex is ready for practical tasks for the two months of his probationary period.
When a probation period comes to an end
Everyone understands that feedback is important here. Of course, we live in a modern world and use a lot of different apps and services, however, a person still needs communication, approval, and exchange of opinions.
We don't want newcomers to have bad experience when there was no feedback from their team lead and when they have no chance to tell us about their probationary experience. We check on the progress of our newcomer at the end of the first and second month of their probationary period. Usually, our co-CEOs, HR manager, and the team lead join this call with the newbie.
So Alex's team lead collects feedback about his work from his colleagues after the first probation month and before the final performance review. Meanwhile, our HR-manager asks Alex to share his feedback about the two months of his trial period.
Key takeaways
We remember the times when hiring of two people simultaneously was super stressful for the company.
Today, our clear and transparent onboarding process allows us to hire as many people as we need at the moment. For example, now five people from two countries are on probationary period at Stiltsoft. The onboarding space in Confluence in combination with check lists and training courses saves us and new employees time and effort.
Here are a couple of things to keep in mind to organize employee onboarding in Confluence.
Make sure that new hires can find everything in one place
Create an onboarding space with useful information
Create child pages with the names of job titles you have in your company and add information/checklists relevant to different positions
Add links with the names of job titles to the home page of this space
Review the content in this space quarterly to make sure it's up-to-date
Take advantage of training courses with the help of izi – LMS for Confluence
Install izi – LMS for Confluence
Create courses for your employees right in Confluence to introduce them to your processes

Reuse existing content and include it in your courses

Create courses for a particular job title

Check new hires' knowledge with the help of quizzes
Remember about the feedback
Communicate with new employees throughout the trial period. Help them resolve issues and connect with colleagues.

Collect feedback from the team and the team lead. The more, the better.