Easy Steps to Amplify Employee Training in Atlassian Confluence
June 13, 2019
#

Document management
#

How To
#

Confluence
#

Learning Management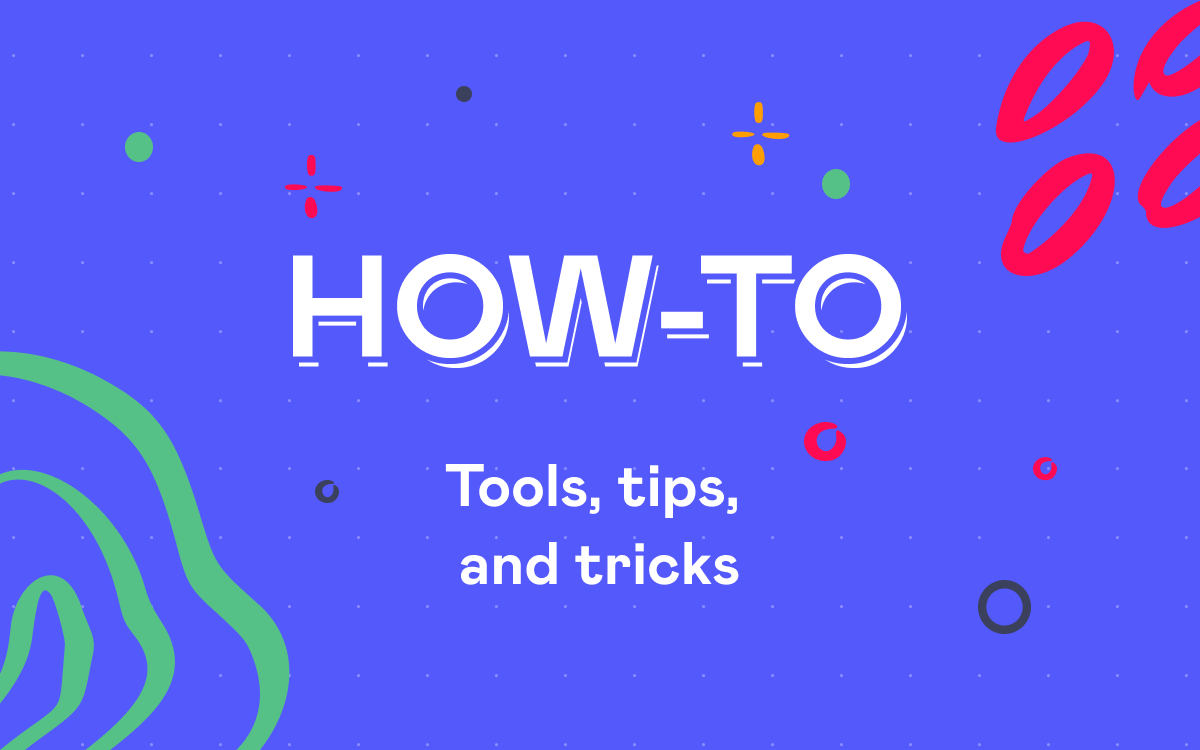 Luckily, employee training is no longer limited to classroom learning with cluttered PowerPoint slides and handouts with endless paragraphs of text. Nowadays, when training content is more accessible than ever before, both employers and employees have higher expectations of employee education. Companies are looking for solutions that can help their teams learn and retain information effectively and remotely. Trainees are looking for well-structured courses with interactive and engaging content they can access in one place.
We will show you how companies that focus their attention on continuous employee training can benefit from using Confluence along with izi – LMS for Confluence and Smart Attachments. A bundle of these solutions powers up Confluence helping its users create effective training courses and manage learning or educational materials with ease.
Below are some steps that can help any organization provide its employees with education courses tailored to their needs.
Step 1: Populating space storage with training content
Document management is of the utmost importance when it comes to retaining training materials. Course administrators need to work with multiple files and documents to create engaging training content and deliver clear messages on a given topic to each worker.
With the help of the Smart Attachments for Confluence app, course administrators can benefit from using a centralized file storage in every Confluence space aggregating the informational modules for courses. This solution helps them instantly create a clear hierarchy of educational resources adding separate folders for different courses, topics, or learning modules. They can rapidly re-use these materials in any training course or on Confluence pages.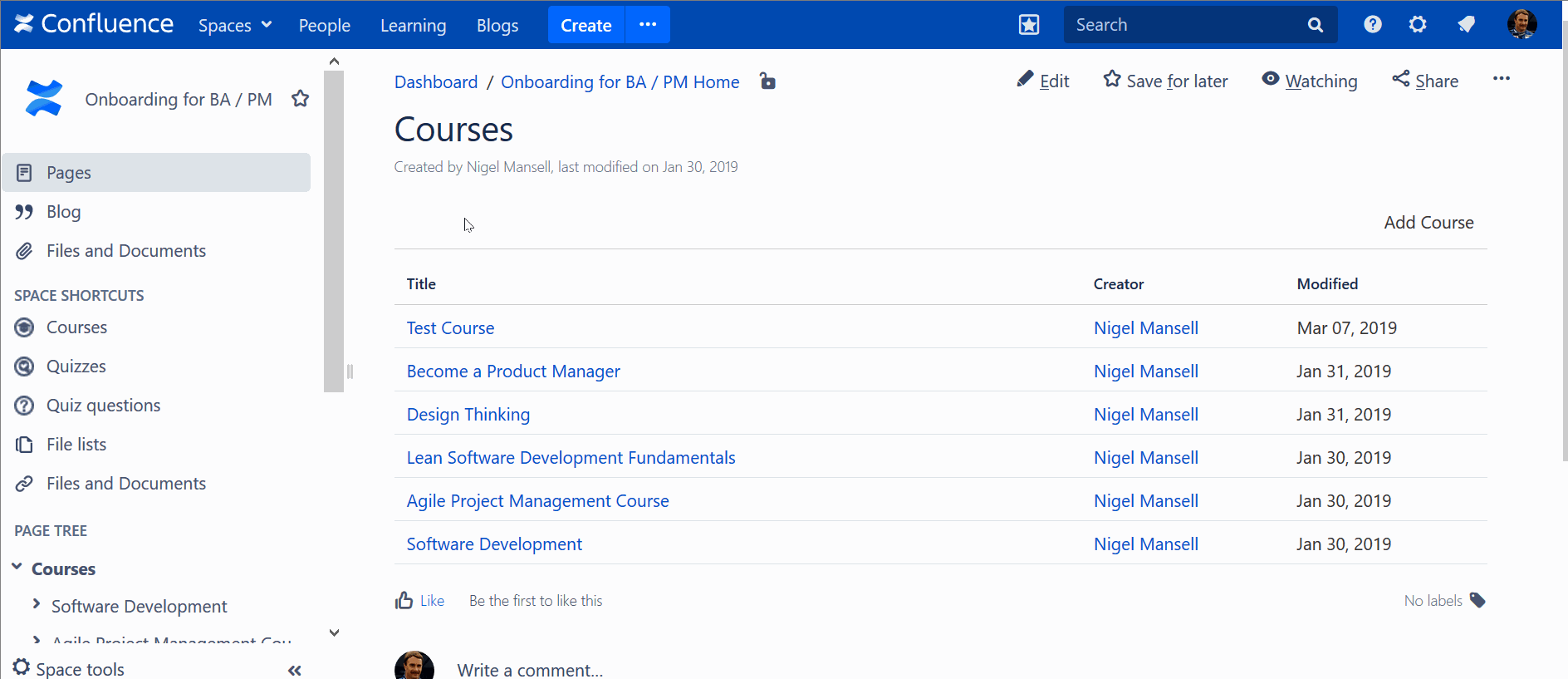 Course administrators can keep their files in Confluence with no need to use any other file-sharing services. They can also edit files right in Confluence with the help of the Atlassian Companion app keeping the entire history of document changes in the space storage.
For more tips on how to better work with files and documents in Confluence, check our blog post on document management.
Step 2: Creating a new training course
izi – LMS for Confluence allows course administrators to create new courses from scratch. They can divide the program of the course into multiple topics and populate them with the required learning modules and quizzes. They can also reuse existing materials, quizzes, and tests from other training courses or add any Confluence page that contains important information to the course.
To facilitate the interaction between the course modules and the learner, the administrator creates engaging content. Having an LMS in Confluence, they can easily combine text with YouTube videos, images, PDF files, and more.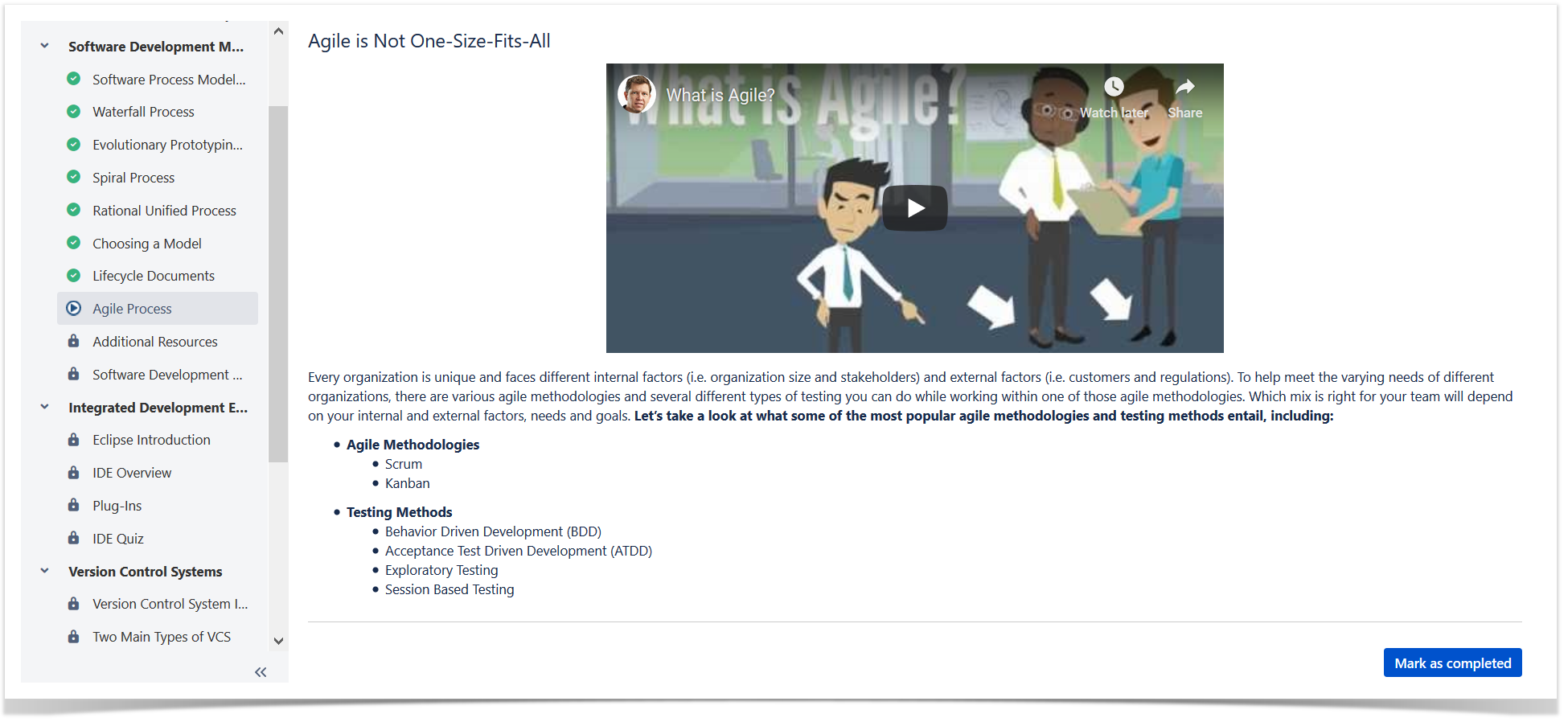 They can add more modules and sections, swiftly reorganize or rename them, or delete the ones they don't need.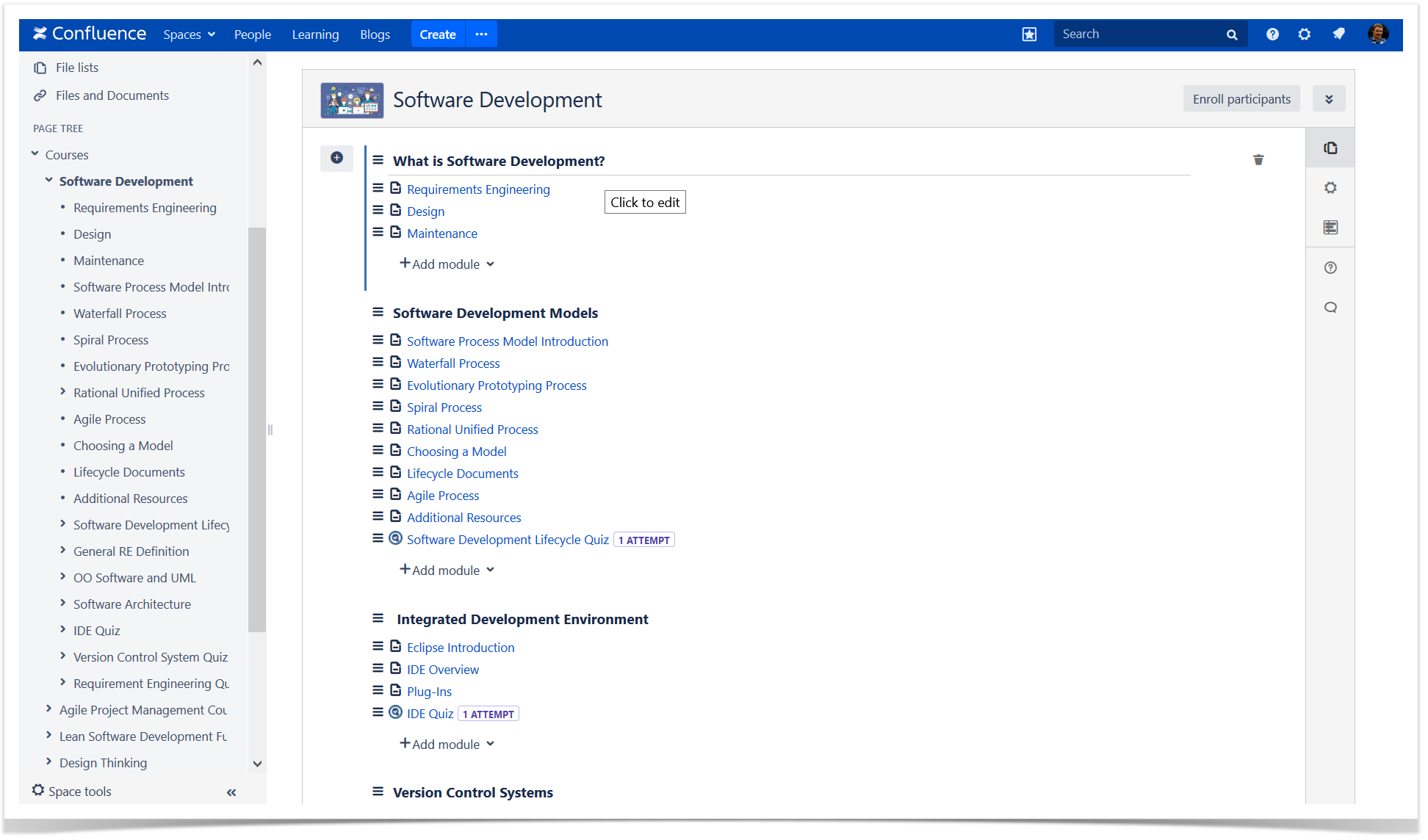 The next step is to create even more effective training materials and add more useful information for self-study.
Step 3: Embedding additional training content into course modules
Adult learners are self-directed and goal-oriented. This means that any course creator needs to focus on what's important for the employees and be short and concise so that the learners can quickly refer to and recall the information. So it can be useful to put the employees in control of the learning process and provide them with additional resources they may need to dive deeper into the topic.
The Smart Attachments for Confluence app helps course administrators avoid endless texts and embed files and folders into the course modules right from the space storage. This way students can access this information in one module and easily navigate through directories with materials finding resources to enrich their knowledge.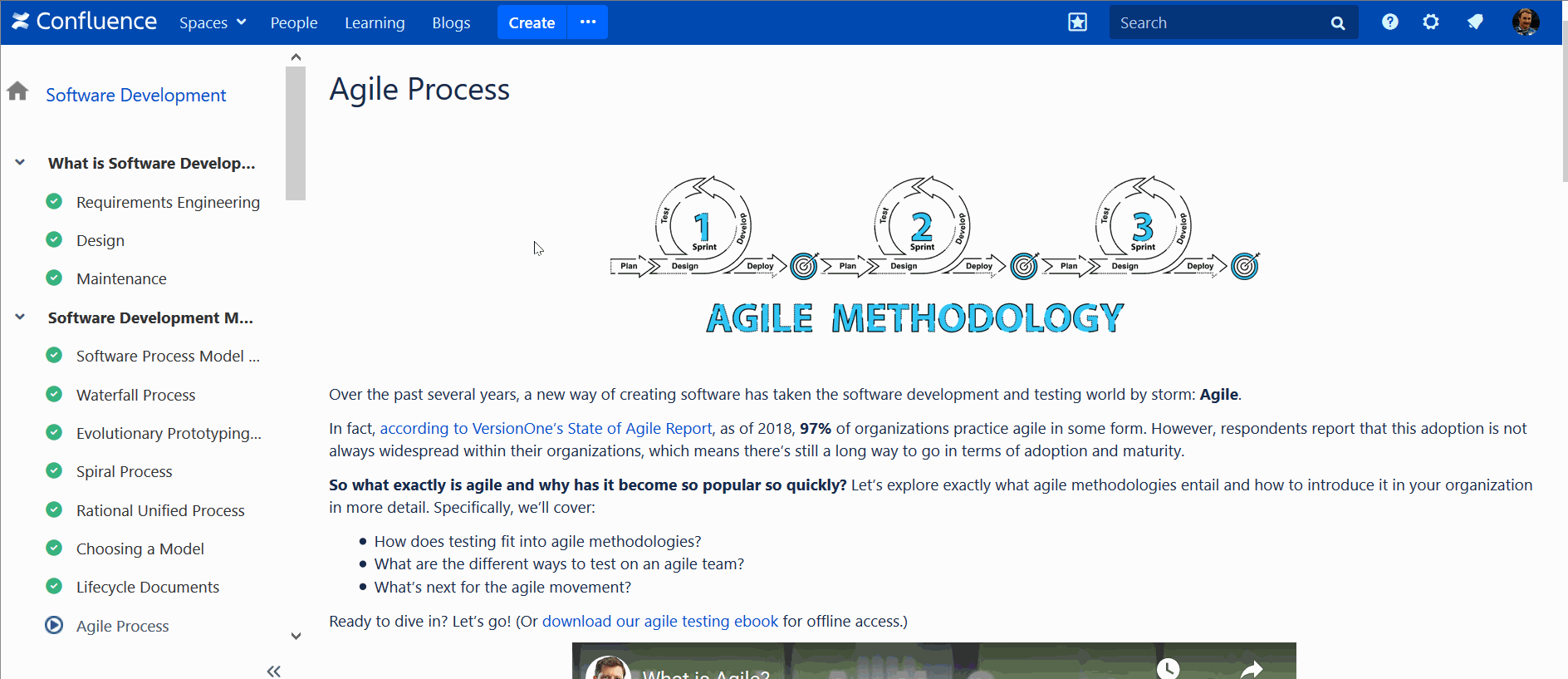 When the course is ready, a learning administrator needs to share it with the employees.
Step 4: Enrolling participants
Even the employees without a Confluence account can take advantage of the training course created with the help of izi – LMS for Confluence. Course administrators can effortlessly add Confluence users and emails of their colleagues to the list of course participants.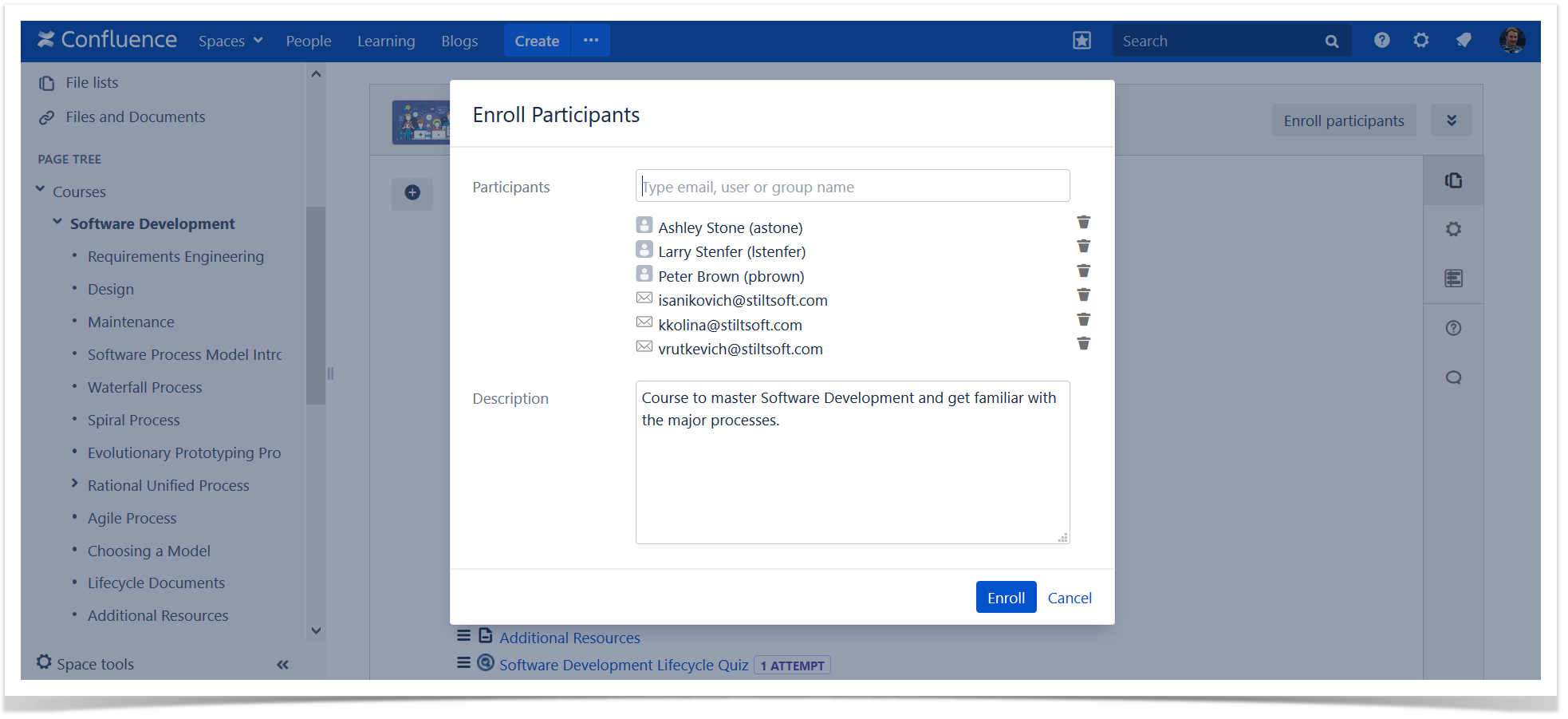 Moreover, they can add the course to the Learning catalog (available in the Confluence header menu). This means that all Confluence users can find this course in the Learning section and easily self-enroll.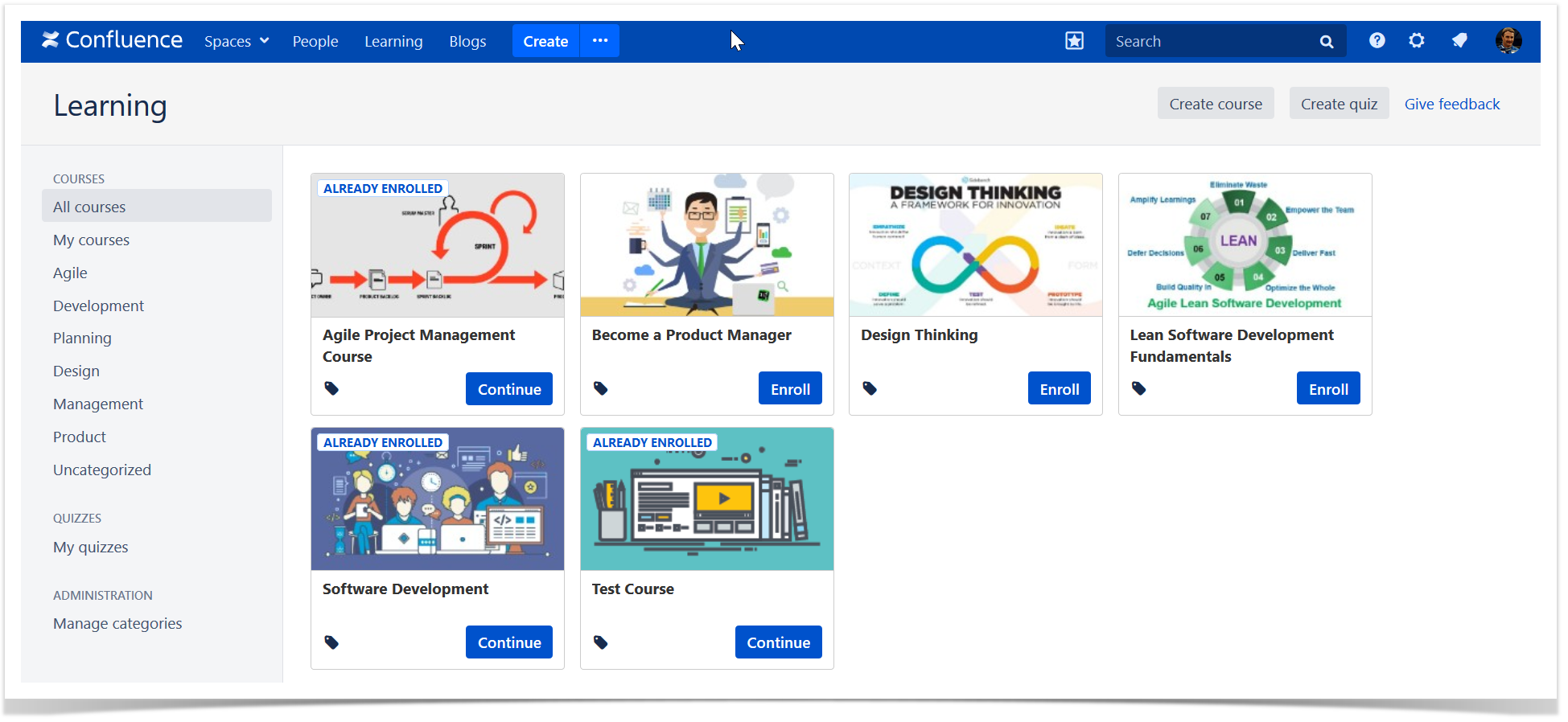 Step 5: Tracking results
Course administrators can access all the required information to evaluate the employees' progress. They can check the average time the participants need to complete each module and view the completion rate per module to get some insights. They can also get detailed information about the progress of every participant.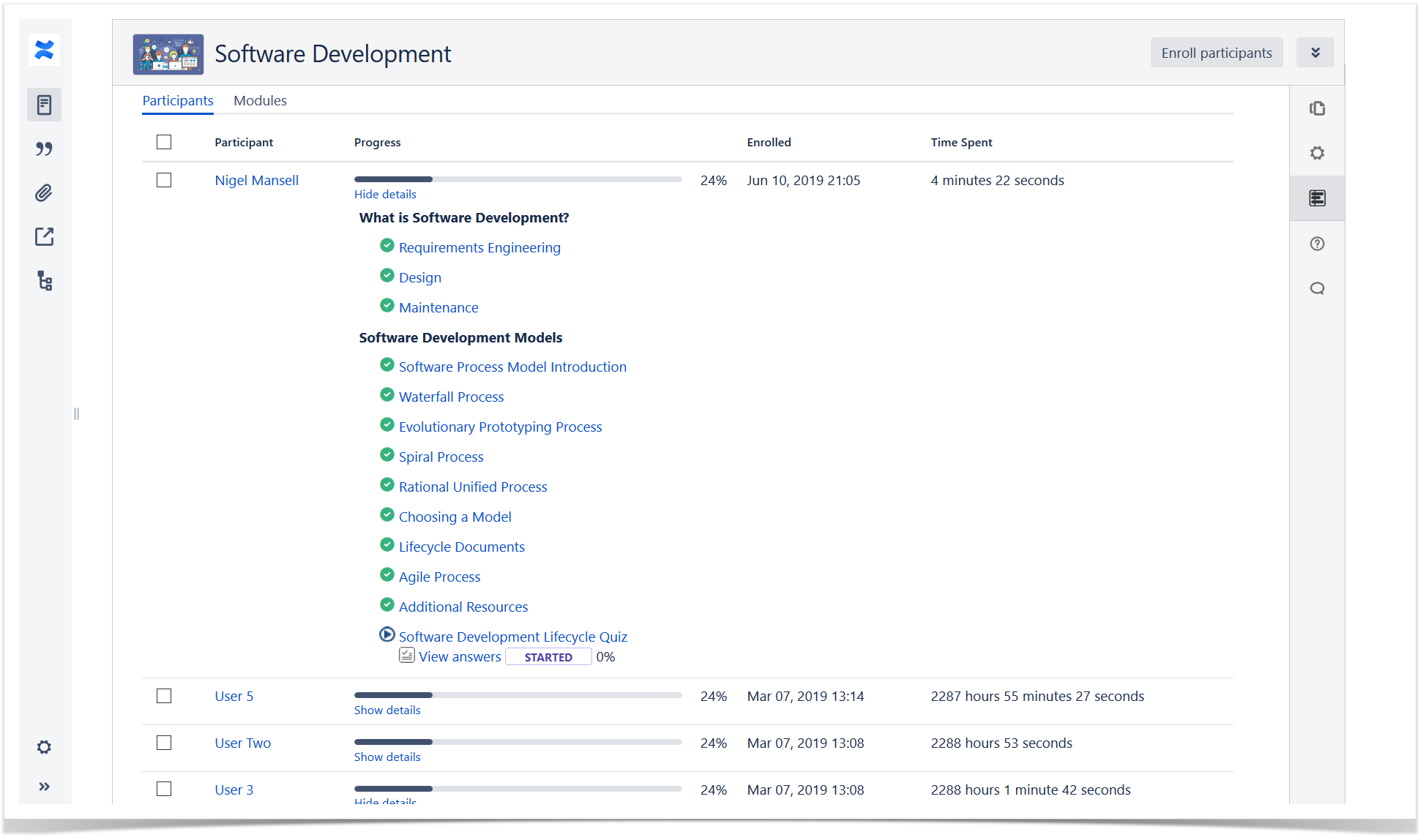 Moreover, you can create customizable reports about all the courses on one page. Learn more about how to create course reports and check course results on the fly in this blog post.
Whether you want to boost your employees' motivation, check their level of skills, or create a smooth onboarding process for new hires — you need the right platform and tools to ensure your staff training is a success.
Confluence might be an ideal solution for effective interactive employee training if you use it along with izi – LMS for Confluence and Smart Attachments for Confluence.
If you're ready to dig in, discover how to encourage self-directed learning in Confluence and ace employee certification helping your employees learn at their own pace.
If you want to discover more about how to turn Confluence into an LMS for effective employee training, let's chat about how to get through it in the comments below or you can just drop an e-mail at info@stiltsoft.com.