How to Improve Team's Workflow with Dynamic Statuses in Confluence
October 6, 2020
#

How To
#

Confluence
#

Case Study
#

Task Management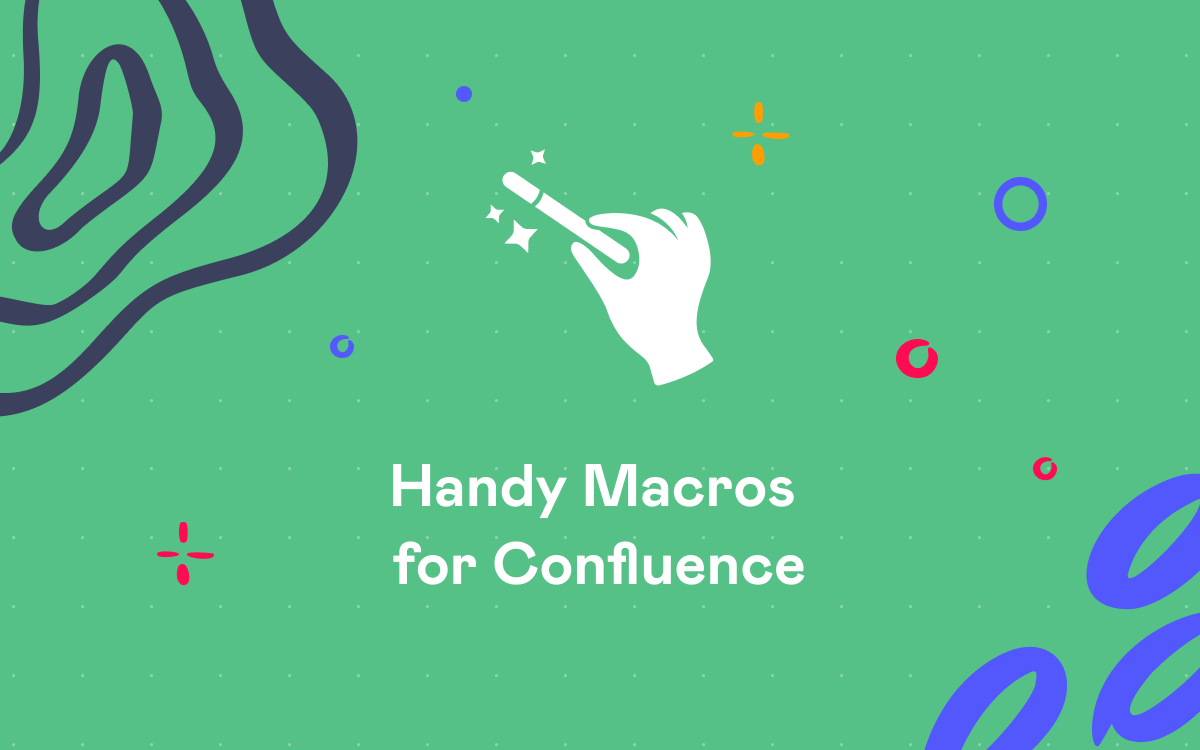 I would highly recommend Handy Macros for Confluence to any company (in any industry), which is looking to standardize and streamline their work management process and automate the generation of data to evaluate individual and team performance.


Michael W, Senior Engineer at DENSO
This blog post is a case study one of our customers helped us write. Michael W, Senior Engineer at DENSO, described how their team uses Atlassian Confluence in a bundle with our Handy Macros for Confluence app to deliver better work faster.
*This case study contains the screenshots we created based on our customer's information. We do not show you DENSO's Confluence pages for privacy reasons.
DENSO is the second largest advanced automotive technology supplier in the world, developing a wide range of products and systems for car manufacturers and the global mobility industry. DENSO technologies can be found in several automotive systems, including Powertrain, Thermal, Safety and cockpit, and In-car entertainment. So if you see a vehicle on the road, chances are there is a DENSO component powering it or optimizing it in some way.
With over 200 companies worldwide, DENSO leverages its strengths in R&D and manufacturing to accelerate the development of connected, autonomous, shared, and electrified (CASE) mobility, with a primary focus on safety and the highest level of quality.

Performance evaluation in Confluence
The DENSO team uses Confluence to get everyone on the same page. This collaboration software allows them to stay focused on their tasks, boost overall employee alignment. and measure individual and team performance,
They developed their task tracking system right in Confluence using Page Properties and Page Properties Report macros. Each task contains information on its type, status, deadline, owner, etc. In the process of working on a task, the team usually needs to change the information about task status and the requester.
Advantages they found using Confluence workload tracking:
Quantitative monitoring of their work output against deadlines.
Easy generation of accurate KPI output based on the information from their reports.
Update of the status from the summary view.
It also became possible after the installation of Handy Macros for Confluence. This app helped their management to succeed in communicating team output and achievements against their KPIs to their senior management and directors.
Interactive statuses for better task management
Handy Status is a macro the EU wide diesel powertrain group of DENSO uses most for speeding up data entry compared to a manual typing. The user-friendly interface of this macro makes it easy to use. The team creates different status sets depending on their needs to prevent mistakes or inconsistencies in data entry across team members.
They take advantage of the Handy Status drop-down selection because it helps them generate automated tags. These tags allow them to create tracking tables and specific summary pages. Moreover, the team can collect data and display it against their business KPIs. They also create their set of statuses per space, adding them to the tables in the Page Properties macro.
This system helps them track work according to any number of inputs (team/individual/customer/priority), making overall work management much more effective.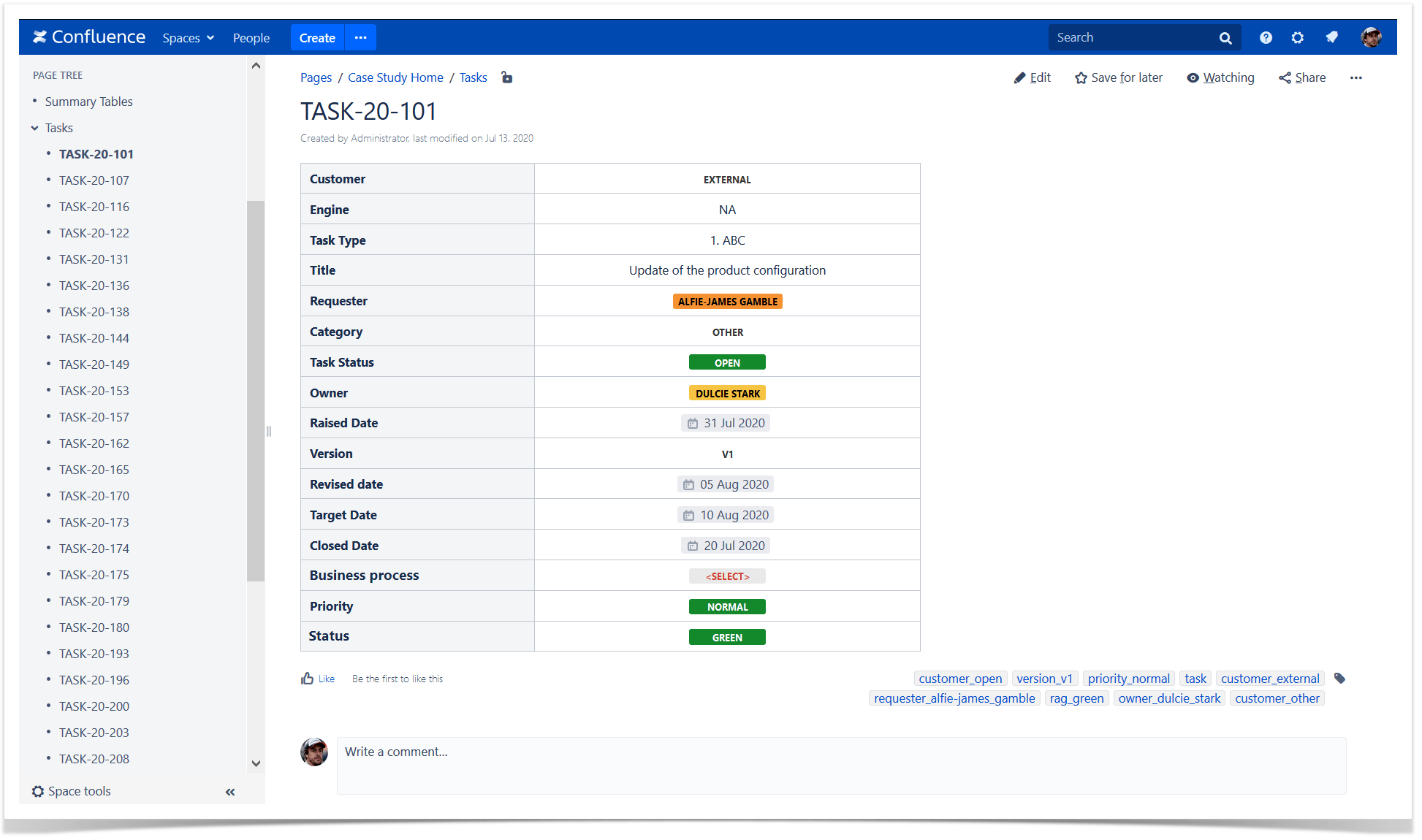 They use the Handy Status macro to define all members of the team. Since they have a lot of people to choose from, we've added the capability to filter their names on the fly. So in case, there are more than 15 items in a set, a user starts typing the colleague's name and selects the required one from the list.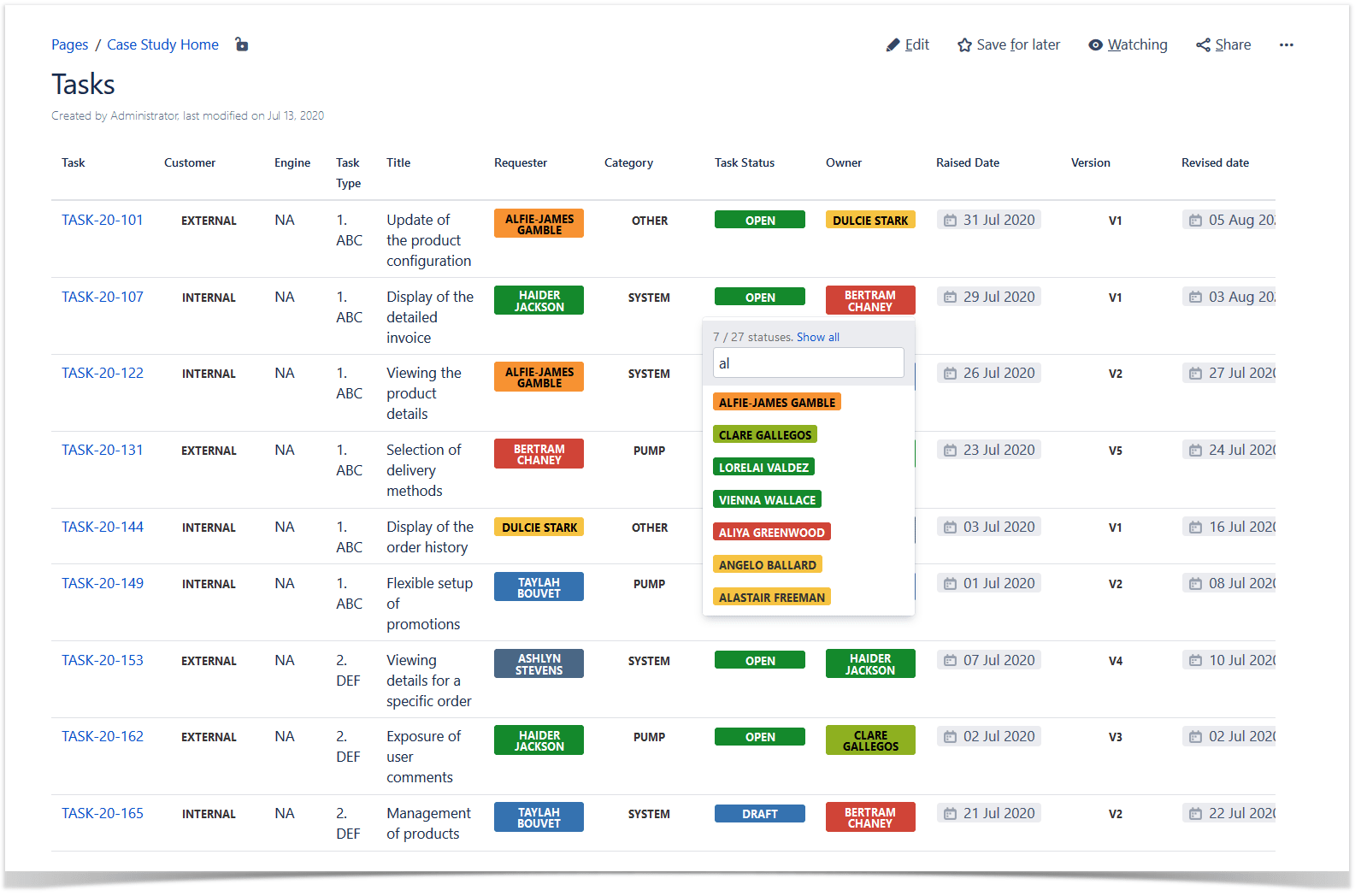 The great thing is that when users hover over any status, they can rapidly track the status change history.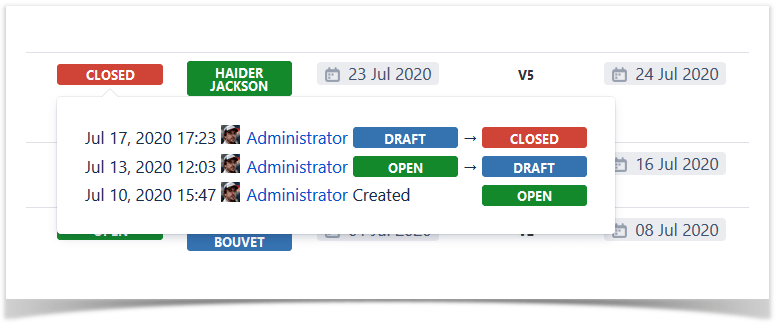 Powerful custom reports
The team can use the information from the Page Property Report macro for building reports and tracking tables depending on their needs.

Users can easily modify summary tables getting live updates from the source pages.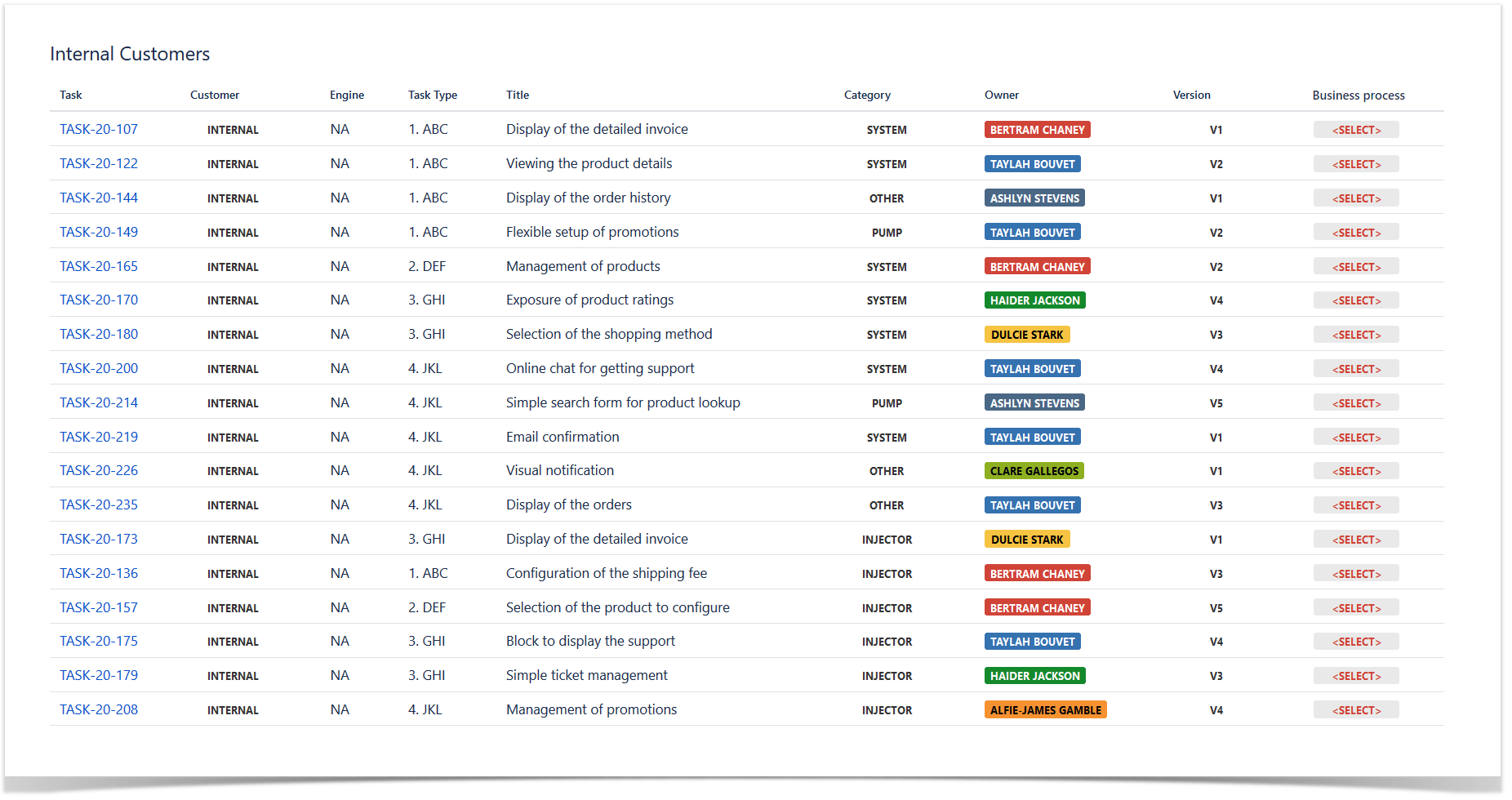 Now all levels of DENSO's engineering and management staff use this system from graduate-level positions up to the director level in their EU wide diesel powertrain group. They also plan to use it in the future across their group companies in the EU, North America, and Asia.
The primary benefit for DENSO as a company is the fact that Handy Macros for Confluence has allowed them to implement an automated system of work management, standardize it, and made it much easier for their senior management level to accurately track and understand the team output. This has become more important as the size of the group being managed has increased both in size but also across many different offices in different countries.
You can discover 11 more macros that are available in the Handy Macros app.
Try Handy Macros for Confluence for free. This app is also available for Confluence Cloud and Data Center.