3 Ways to Bring Requirements and Test Management Into Jira
July 30, 2019
#

Project management
#

How To
#

Jira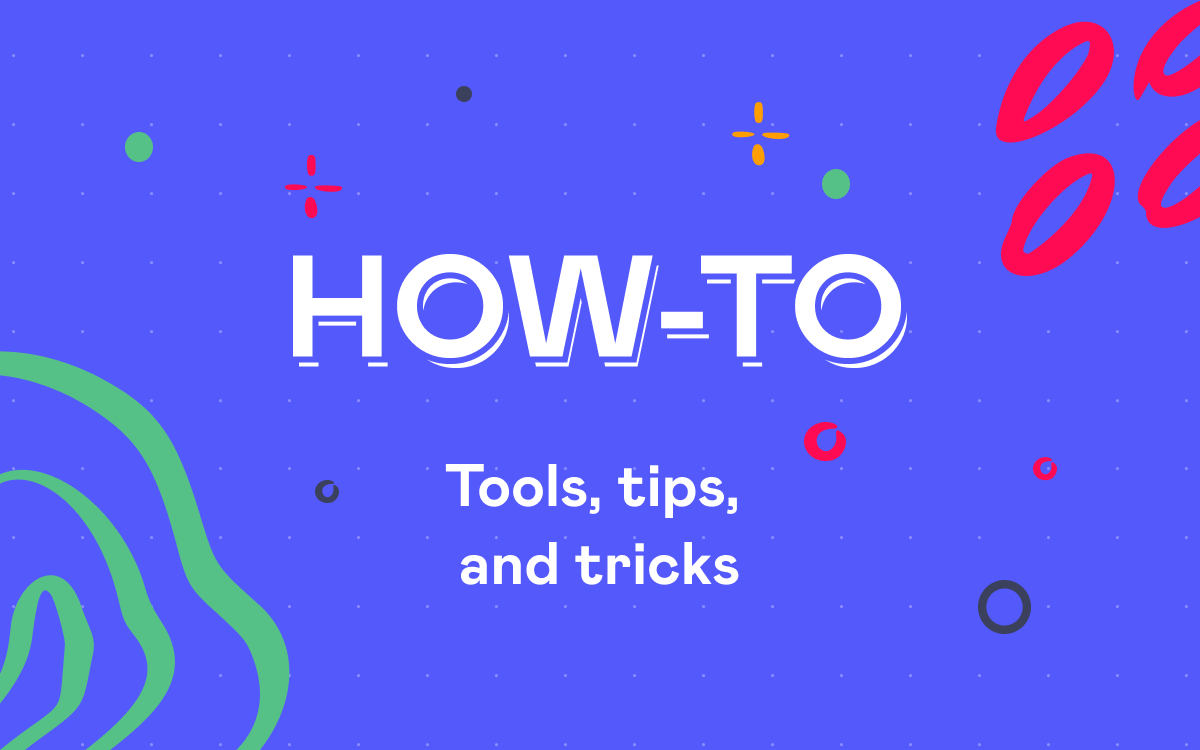 This is a guest post by Katarzyna Kornaga from Deviniti – an Atlassian Platinum Solution Partner Enterprise and a Gold Top Vendor in the Ecosystem, based in Poland. Kasia discovers the mysteries of requirements and test management in order to share the knowledge with the readers interested in the subject.
Being complex and extensive, testing requires well-organized workflow and transparent cooperation between all people involved. Considering that software development counts even more phases and participating team members, companies have quite a big challenge when it comes to project management. Not only is the process complicated and requires constant tracking, but each part is often performed in a separate tool. But not everyone knows that, as cliché as it may sound, it takes the one simple trick to make all the problems go away.
We're here to share the secret with you. Imagine how much easier your teams' life would be if the whole product development was performed in one place. Sounds tempting? Let's start with test management, which itself is often executed in separate tools. 
Software testing consists of multiple stages:
analyzing requirements,
writing test cases,
combining them into test plans,
executing tests,
creating reports,
and finally tracking and reporting defects back to the developers.
Why bringing tests into Jira is a good choice?
In the first place, Jira is a project management tool used by the most successful entrepreneurs to coordinate the work of their teams, what leads to releasing high quality software. The intuitive and user-friendly interface of Atlassian suite allows everyone to keep track throughout each part of the development process, including testing.
Second, this software provides its users with a possibility of comfortable planning, clear for all the stakeholders. As it's a popular tool, there is no problem with implementing it, and usually it doesn't require additional training for the team members, even for the new ones.
Last but not least, the point often overlooked is that Jira was originally created for bug tracking. As tests aim at preventing and fixing defects, it appears that these two make a perfect match. Not convinced yet? Below, you'll find some more benefits which Jira as a test management solution can offer.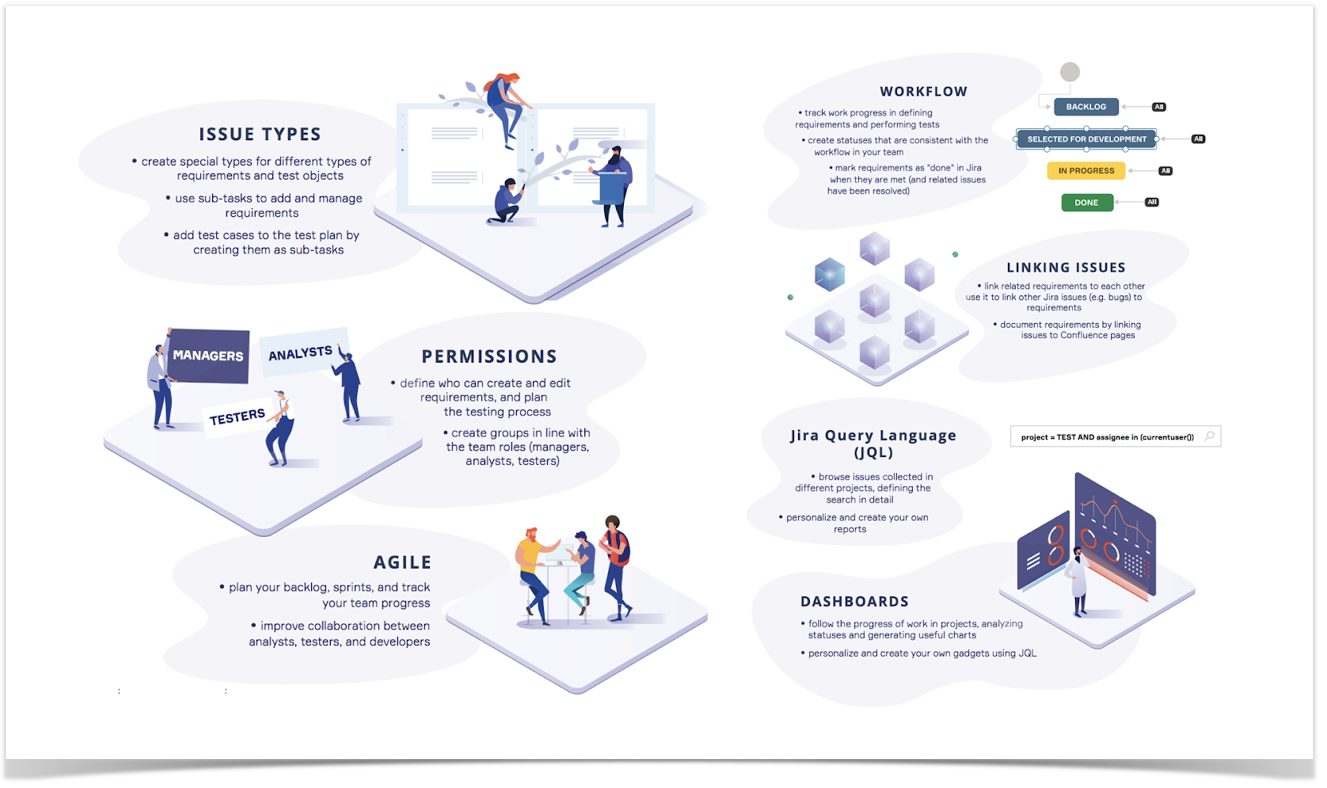 Benefits of executing tests in Jira
We distinguished 3 ways of executing tests in Jira. The choice depends on your projects' complexity, number of team members or other individual preferences. It's worth a while to analyze the specific needs and select the right one, because it will save you lots of time and money later on.
3 ways to bring requirements and test management into Jira
1. Standalone Jira
This solution is the fastest to implement, as it doesn't involve any additional tools or plugins. The first thing that should be done is setting up dedicated issue types for requirements and test cases, so analysts, developers, testers and the rest of participating team members could be able to observe all the changes and activities in a given project. The good tip is also to define each issue with related Labels and Components, because it'll make it easier to search and filter them, if necessary.
As requirements and test cases can be linked to each other as well as tasks and subtasks, Jira gives its users a possibility to track basic relations between them, which constitutes its biggest advantage. When using Atlassian software for test management, we have the objects collected together. No more writing down requirements in Excel sheets, test cases and steps in a special tool as well as using Jira only for distributing tasks or assigning roles. Now, one tool can help do it all.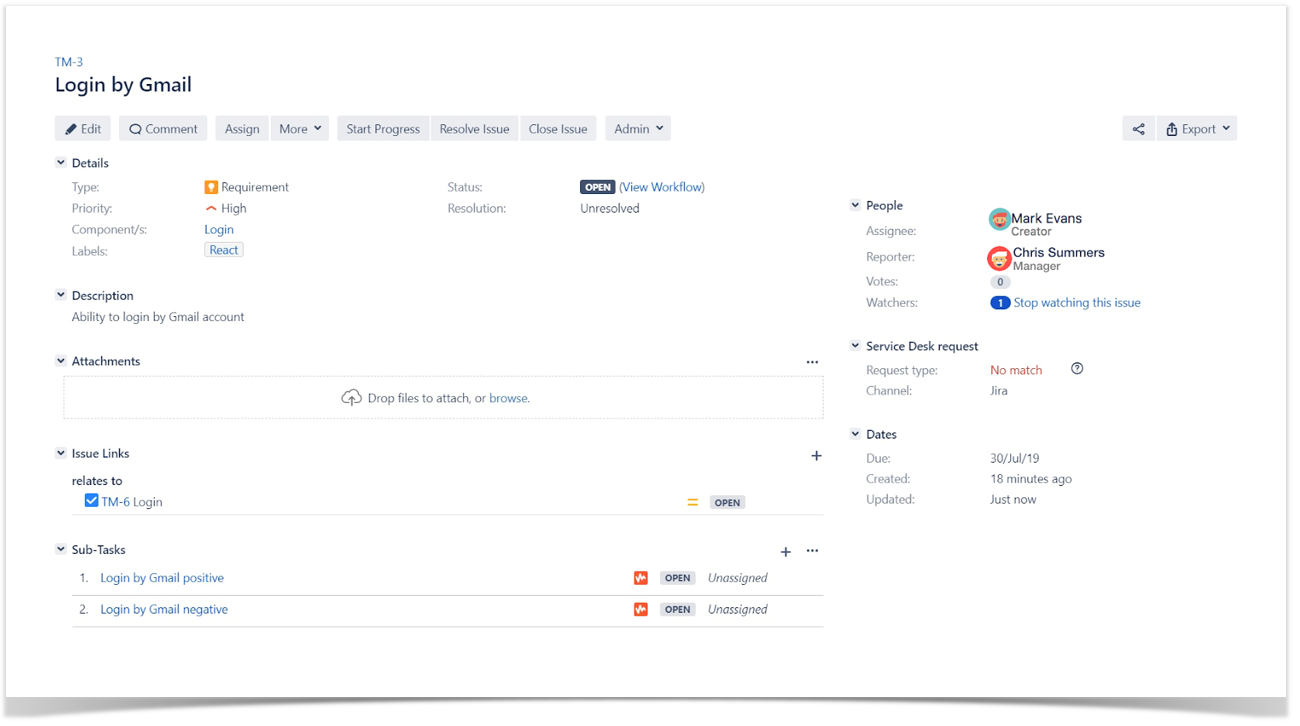 Using Jira for tracking requirements and tests allows interlinking issues easily
2. Jira with Confluence
As we know, Jira is not a dedicated testing tool, so sometimes its features may not be enough. Requirements are a good example of such a situation. As they are an initial part of the process, it's extremely important that everyone understands them well. Sometimes they require more extensive descriptions, for which Jira issues' Description field just won't be enough. That's where Confluence comes in.
This Atlassian product focuses on optimizing the work with documents, so it can gather and present a lot of information in a transparent way. And it's well prepared when it comes to requirements management, too! It's possible to create a special product requirements page in Confluence. Thanks to this option, Jira can still work its magic with presenting relations between the objects in a transparent form. The users can also be provided with a Blueprint template to describe requirements faster and easier.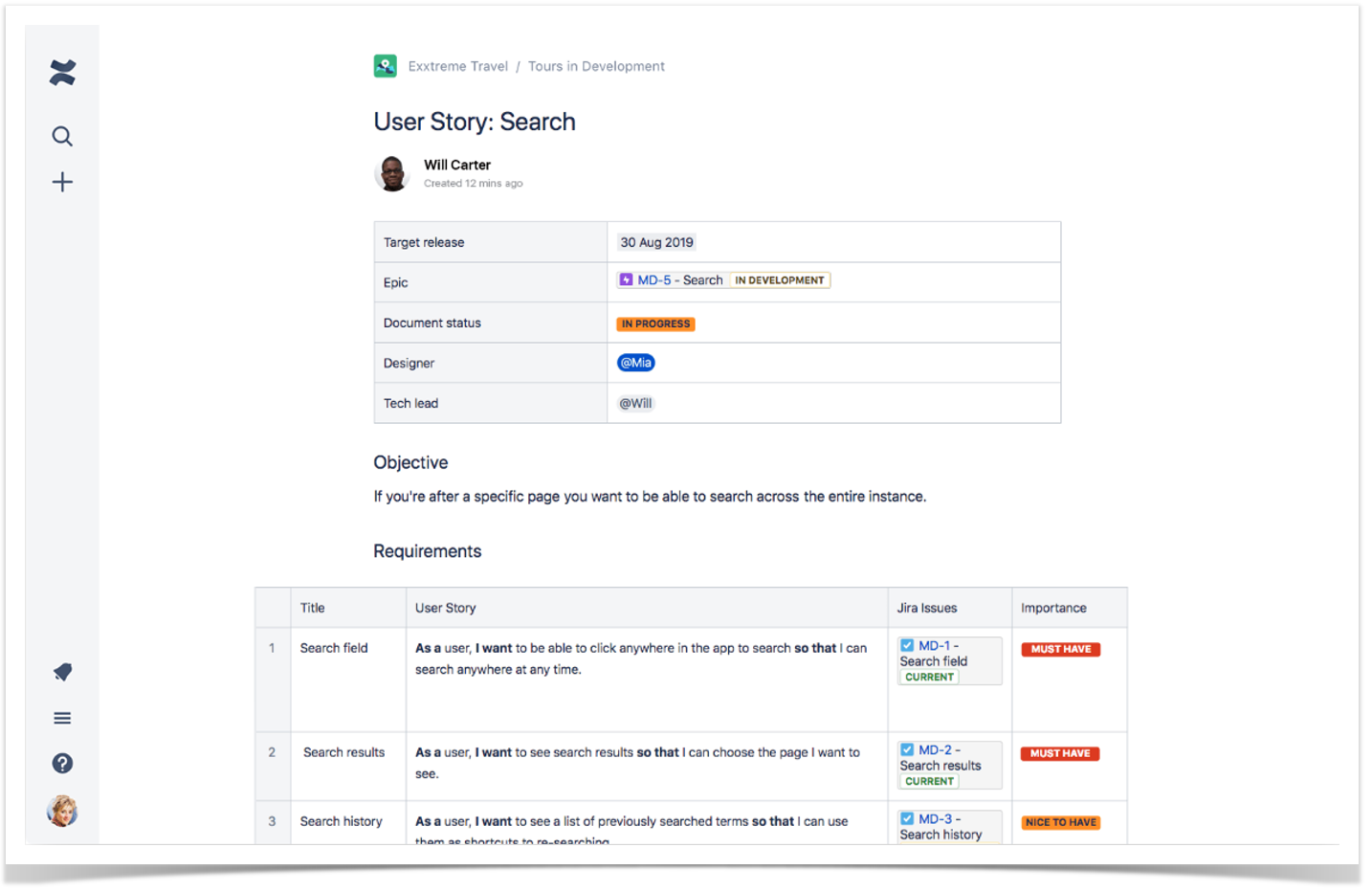 A product requirements page in Confluence. Source: Atlassian Documentation
3. Jira extended with a testing app
The third and the most functional way of executing tests in Jira is to use a dedicated extension for testing. One of them is Requirements and Test Management for Jira (RTM) which allows to structure not only test cases, like the majority of similar tools but also requirements.
The range of testing apps' features is wide. Thanks to full integration with the Atlassian suite, we keep all the tracking possibilities from two previous models and bring them to an even higher level. Requirements, test cases, test plans, executions, and defects can be connected to each other and to Epics, user stories, and other Jira issues. If you decide on RTM, all the stakeholders will know what results from what in the process and track the changes at a glance.
There are also built-in reports which present the data in charts and tables – as each testing element is stored in the same tool, the reports can be generated automatically in a few seconds.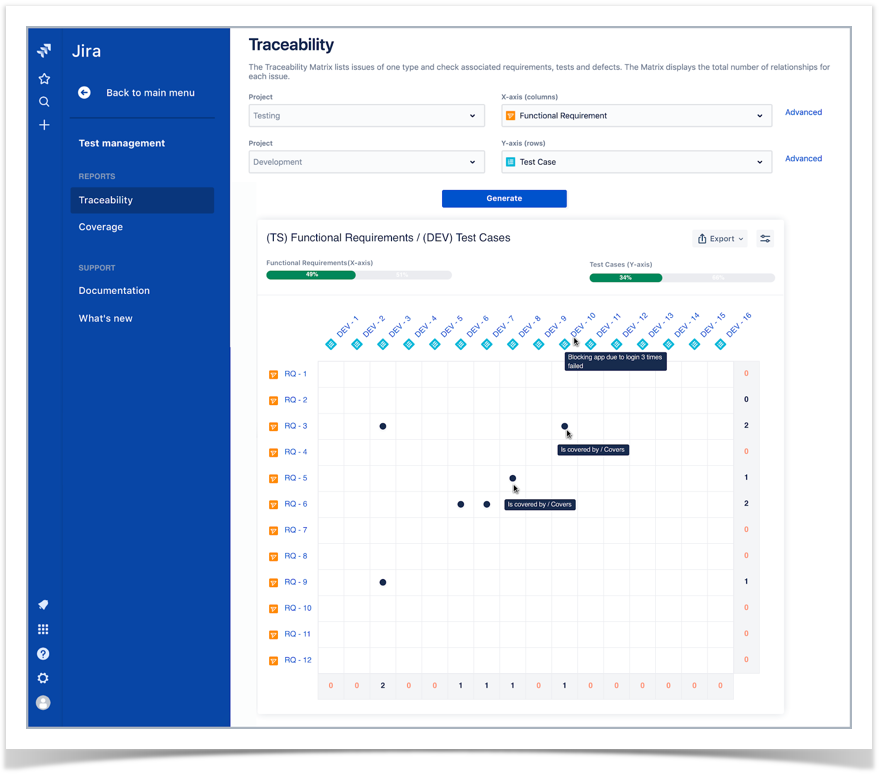 RTM's Traceability Matrix helps make sure that all the objects are covered by related ones
Jira extended with a dedicated tool will surely meet the needs of even the most demanding software development and testing teams. If you'd like to test RTM for Jira yourself, take a free 30-day trial from the Atlassian Marketplace. You can also book a live demo via Calendly to see the app in action, or read more on bringing requirements and test management inside Jira on Deviniti blog: