Assess Knowledge of Employees and Job Candidates with izi – LMS for Confluence
August 25, 2017
#

Confluence
#

Learning Management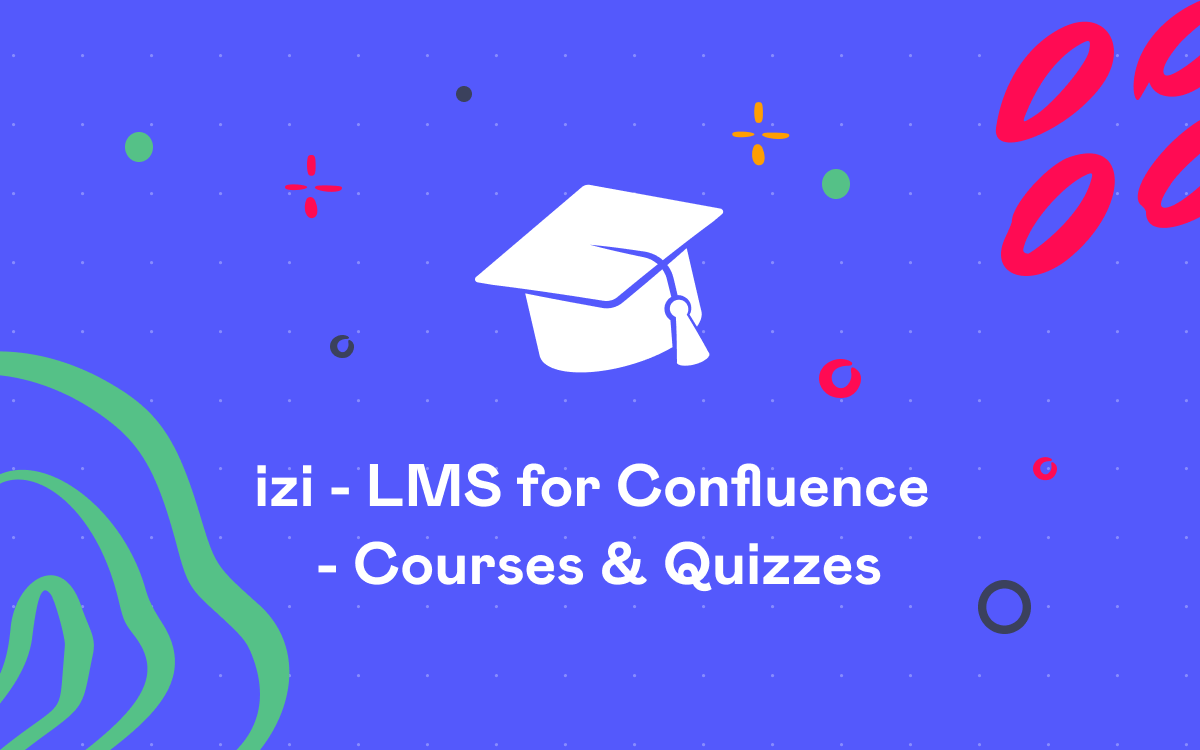 Now izi LMS app allows you to create training courses as well. You can use it for employee training and customer education. You can check how to create courses in Confluence here
Either you need to set up tests to screen job applicants, assess job fit, facilitate onboarding, check the understanding of employees after training or ensure that the team is on the same page about important regulations and requirements, izi – LMS for Confluence can help you with that. This app lets you create courses and quizzes right in Confluence and enroll both Confluence users and people outside your system.
Let's see how it works on an example. Imagine Kelly, a human resources specialist, who needs to create three tests that each employee and new hire is supposed to take. Let's say Workplace Safety, Sexual Harassment and Work Ethic tests. It's also Kelly's job to engage everyone into taking these tests and report results to her manager.
Set up Quizzes
To begin with, Kelly creates three quizzes and fills them with questions. She reuses some questions from other quizzes on related topics and creates new questions from scratch.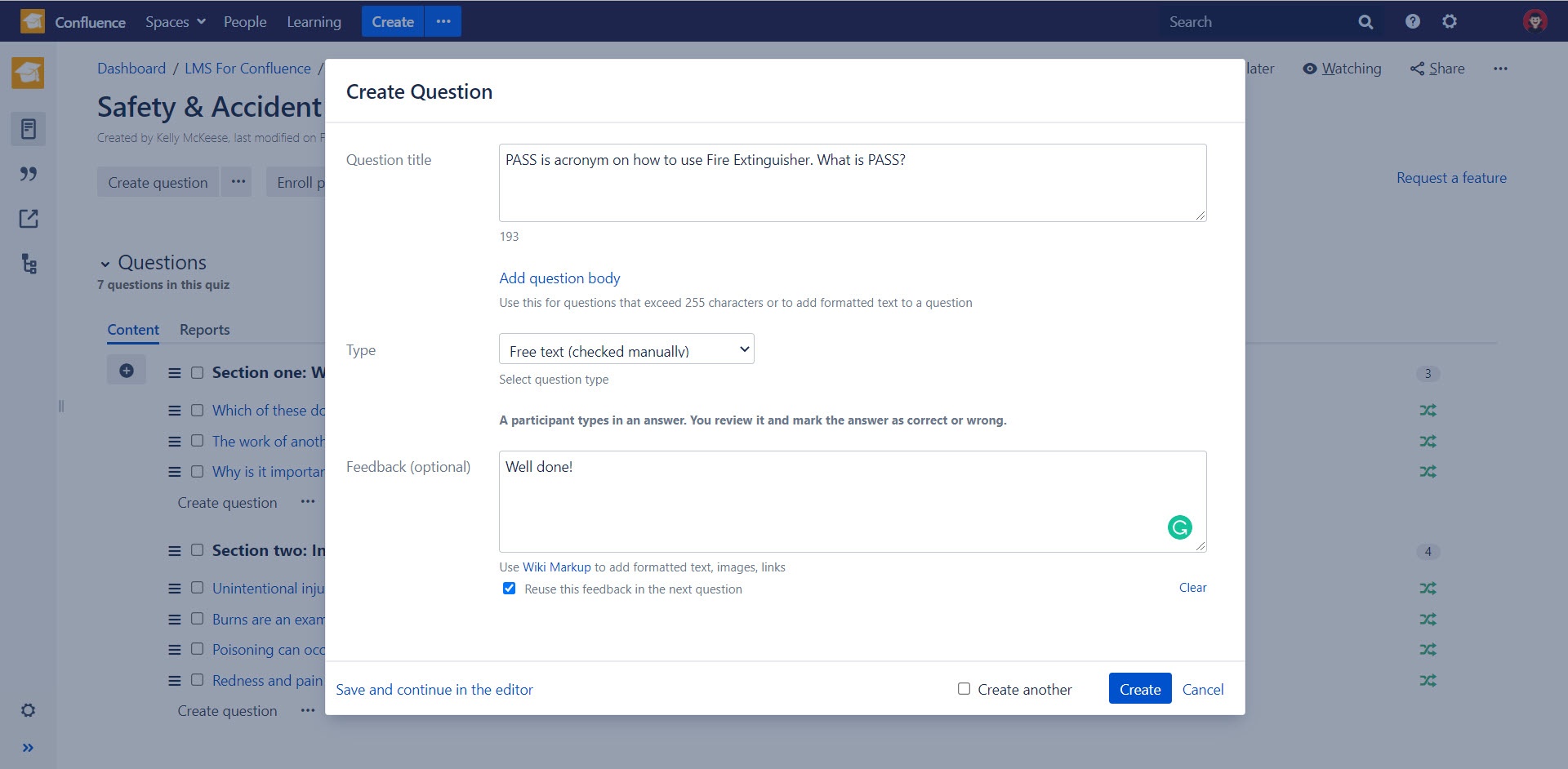 Then Kelly checks the list of questions on a quiz administration page – everything looks good.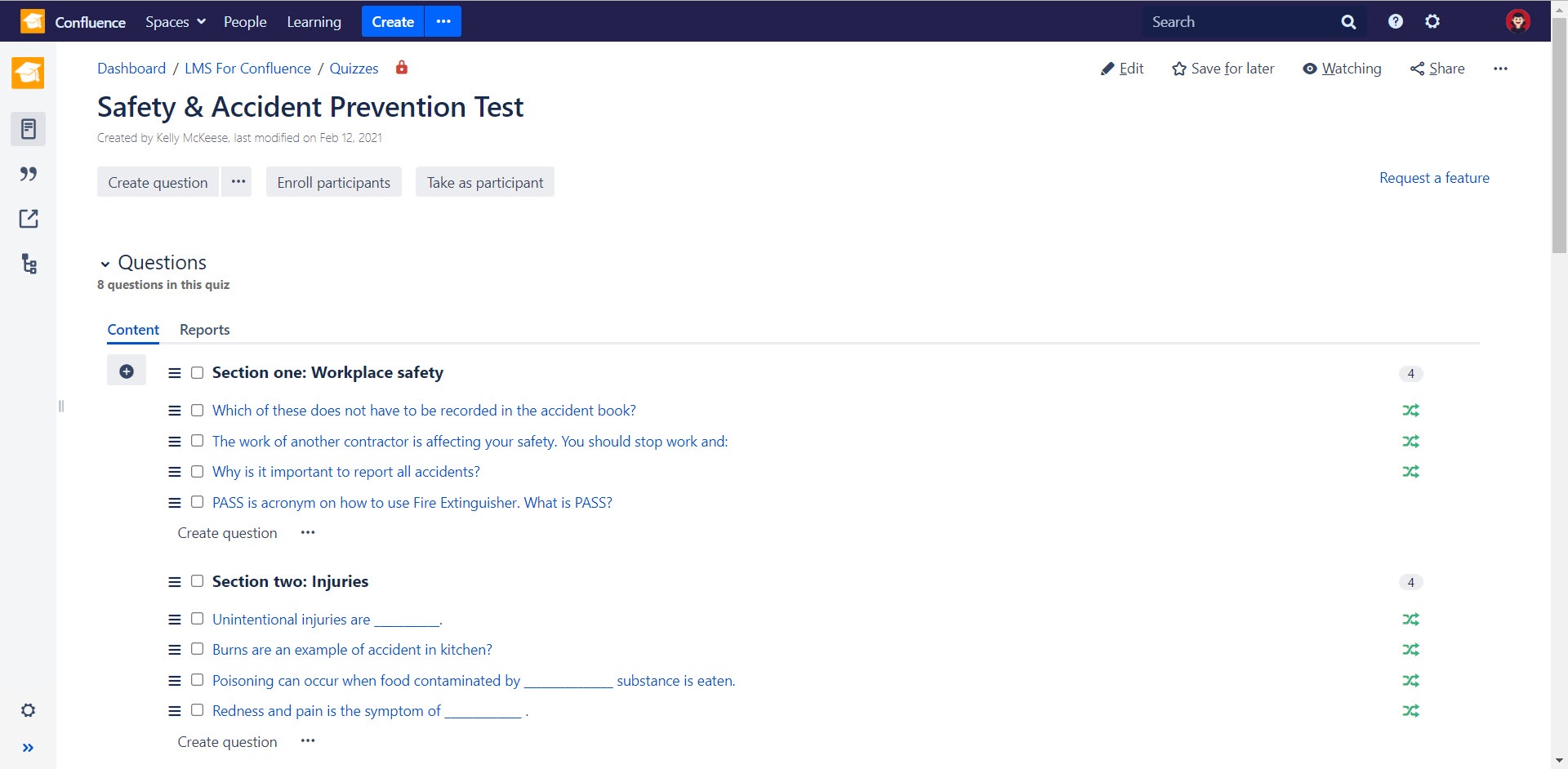 So she proceeds to configuring some quiz settings:
Pass target to 16 questions
Time limit to 10 minutes
Number of attempts to 2
Enables Results after each question so that participants could see if they answered correctly or wrong and read an explanation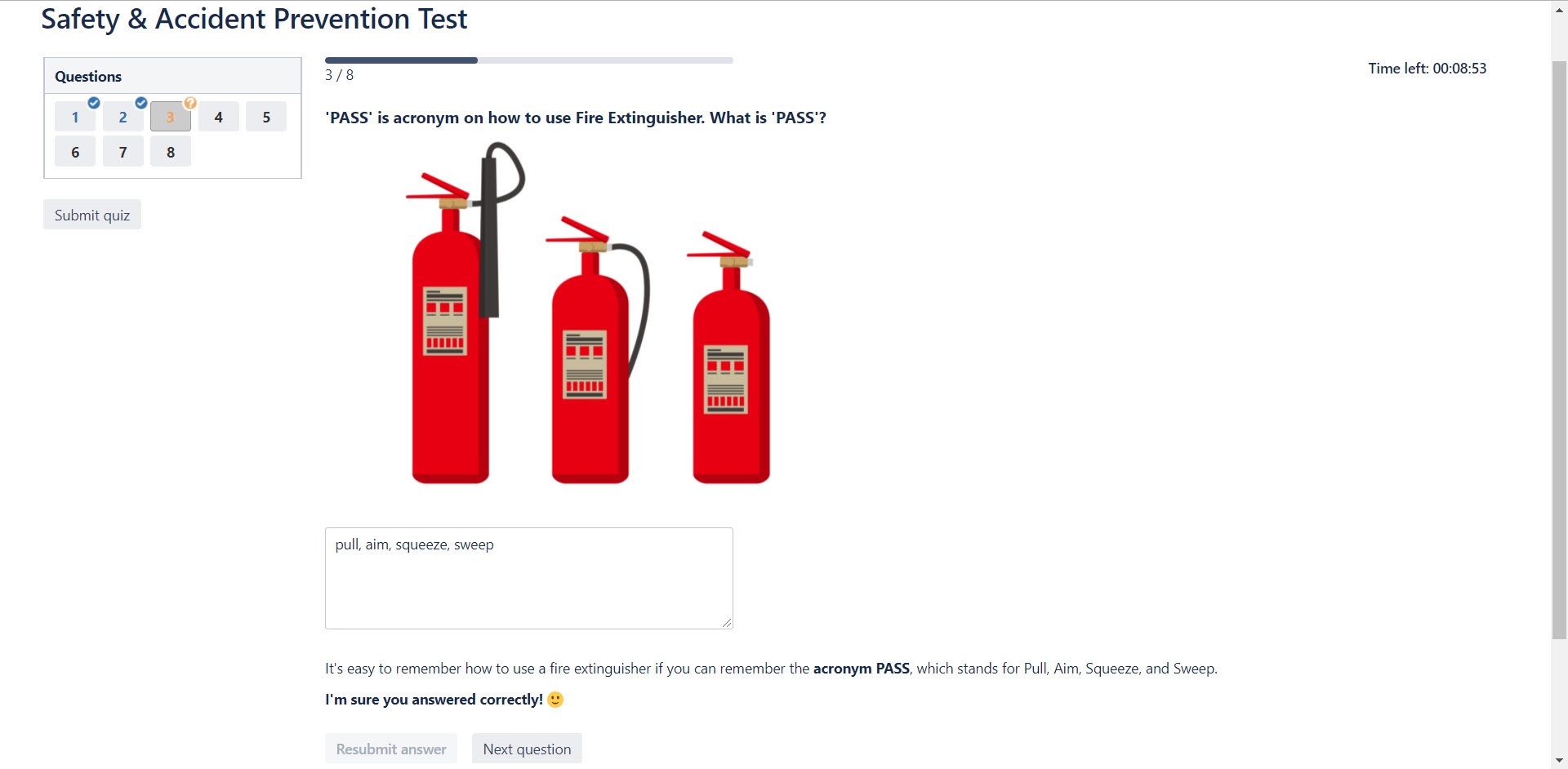 Engage Participants
After taking quizzes as a participant and making sure everything is good to go, Kelly is ready to make them available for future participants.
The employees from the sales team have training on all three topics this month and are supposed to take all the tests she's just created, so Kelly sets up a page for self-enrollment with three quizzes and shares it with the 'sales' group. She also adds this page to the checklist for new hires – they will take these tests during onboarding.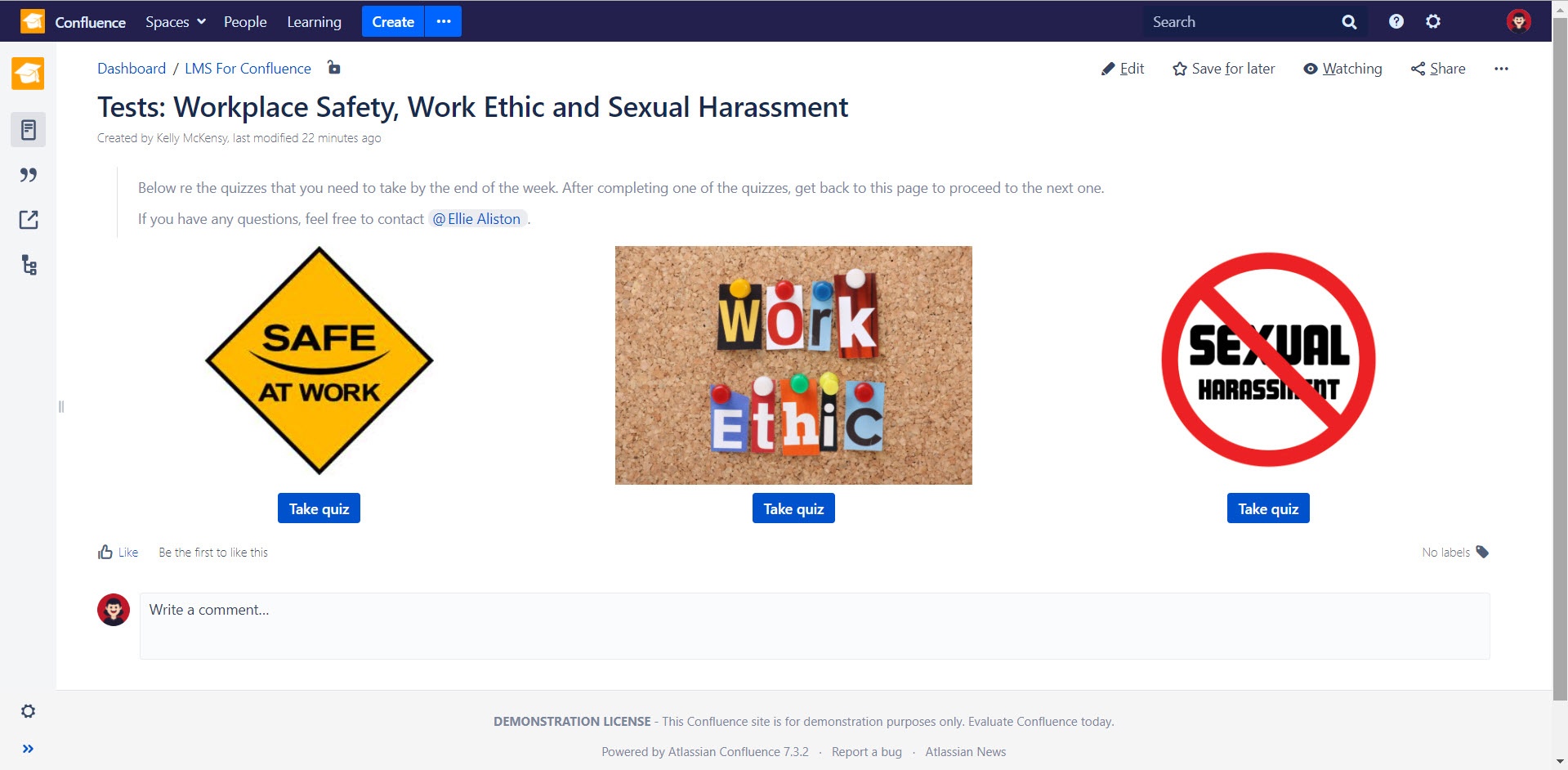 Meanwhile, the marketing team need to take only Workplace Safety quiz this month, so instead of inviting these users to self-enroll on the page with 3 quizzes, Kelly shares one quiz, Workplace Safety, with the group 'marketing' – her colleagues will get an email notification with a unique link to the quiz.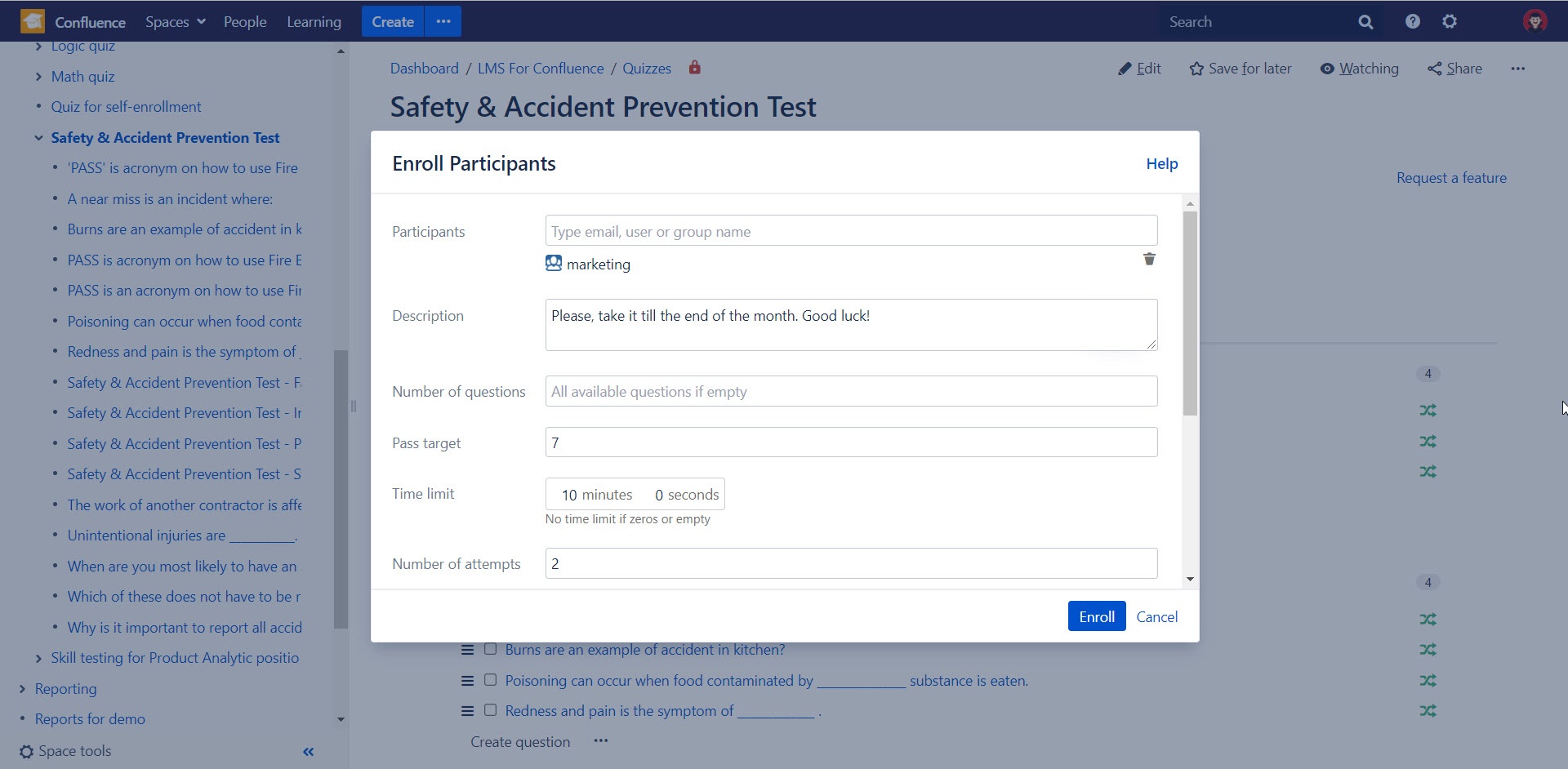 Track Results & Make Report
Each quiz has Results section, where Kelly can see:
who took a quiz
how each participant did – who passed and what score each person got
answers of each participant
Kelly also needs to provide a report with the results of all three quizzes to her manager. So she creates a new page, inserts Quiz Results Report macro and selects the names of quizzes.
As a result, Kelly gets a report similar to the one that she sees on each quiz administration page, but it includes records from three quizzes.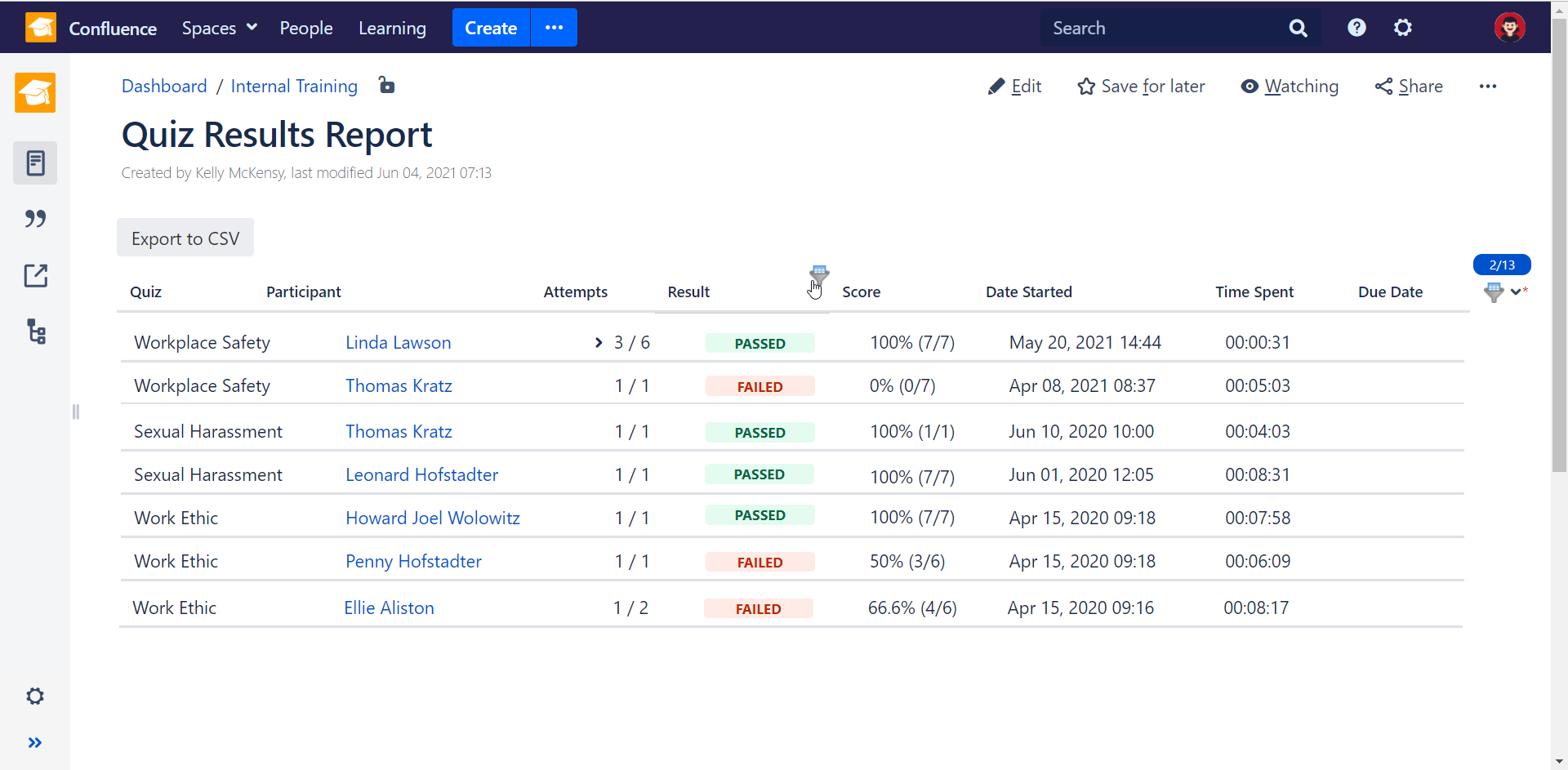 How can you do the same thing?
With izi LMS you can create assessments and quizzes in Confluence for different purposes. Participants can be even people without a Confluence account. Quiz administrators can easily populate quizzes with new questions and reuse existing questions as well. There are several ways to engage participants, flexible quiz settings and reports that show results and answers. With izi add-on you can also create training courses and use Confluence as an LMS.
Visit izi LMS Demo Site to try the add-on without installing it in your Confluence.