Confluence Best Practices for Marketing Teams
September 15, 2021
#

How To
#

Confluence
#

Learning Management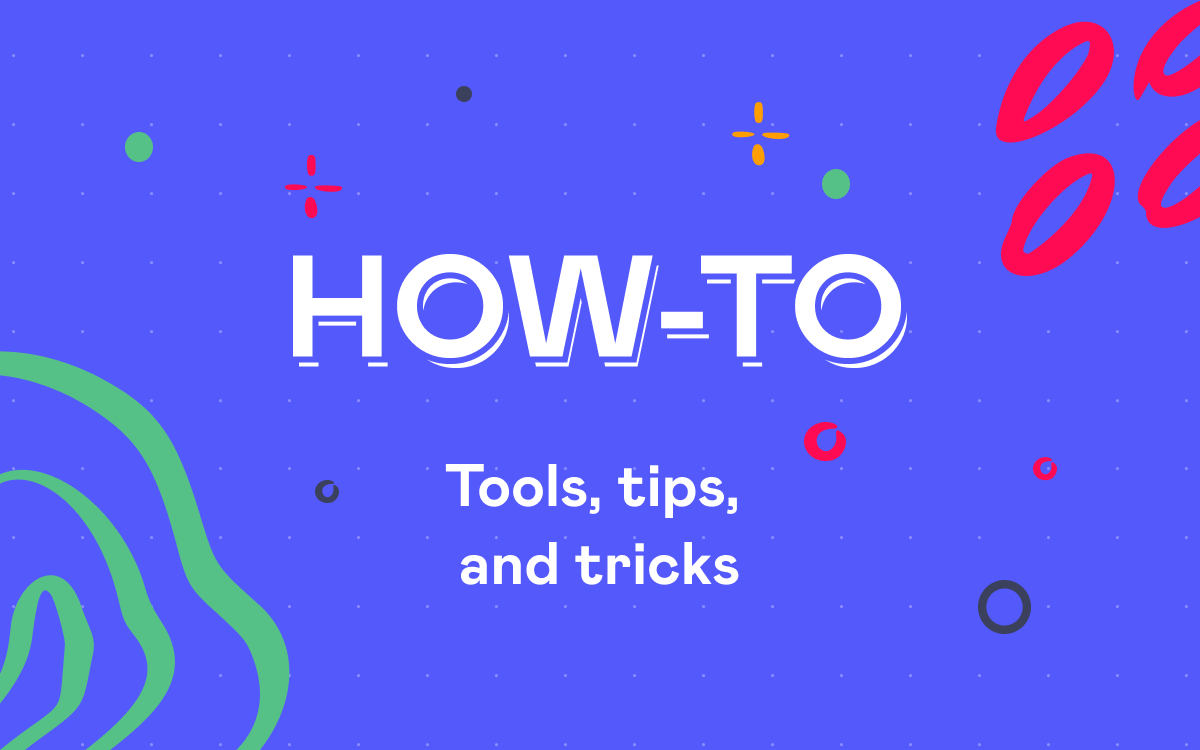 Atlassian Confluence helps people get work done faster and more efficiently. Teams of all sizes in various fields successfully rely on Confluence because it is flexible, scalable, and accessible anywhere:
Technical teams can easily create and store all their documentation in one place.
HR departments can effortlessly share their feedback about job candidates using Confluence as a knowledge-sharing tool.
Technical writers can regularly contribute to each other's pages or blog posts with comments.
Project management groups can smoothly track project deadlines, key project stages, and people involved in multiple tasks.
Marketing teams can take advantage of Confluence templates creating meeting notes, marketing plans, and more from scratch.
In this blog post, we will take a closer look at how marketing teams can use Confluence to match their business processes keeping team members aligned on strategy, purpose, and objectives. You will get answers to the following questions:
How to level up knowledge sharing in marketing teams using Confluence

How to use custom Confluence templates to streamline work process and improve workflow

How to encourage marketing people to use Confluence capabilities for their work with the help of training courses
So whether you're getting ready to introduce your product to the market for the first time, or you are a marketing pro in a well-known corporation, we've prepared some tips you can use to stay on the cutting edge and prove impact using Confluence.
Keep the team on the same (Confluence) page
The marketing industry moves fast. It is important to make sure that your team is working in a strategic way, using all available resources and tackling problems effectively to avoid burnout and wasted time. All members of your marketing department must have a clear understanding of your company's overall vision and goals.
Whether you're selling products, services, or information, your team needs a shared perception of your marketing strategy, marketing plan, positioning on the market, messaging, target audience. Moreover, marketing teams need easy-to-use tools to organize their work more efficiently.
And here comes Confluence!
1. Encourage knowledge sharing at work
It is important to create a shared understanding of what your team is building because if your strategy is not explicit enough, every team member will understand your marketing their own way. When experience people gain from their mistakes and some useful insights remain at the level of individual knowledge, colleagues don't have an immense opportunity to learn from each other's experience.
All this information can be easily organized and structured in a shared Confluence space of any marketing team. You can create multiple pages with useful information such as positioning, messaging, marketing plan, competitive analysis, editorial calendar, how-tos, and more.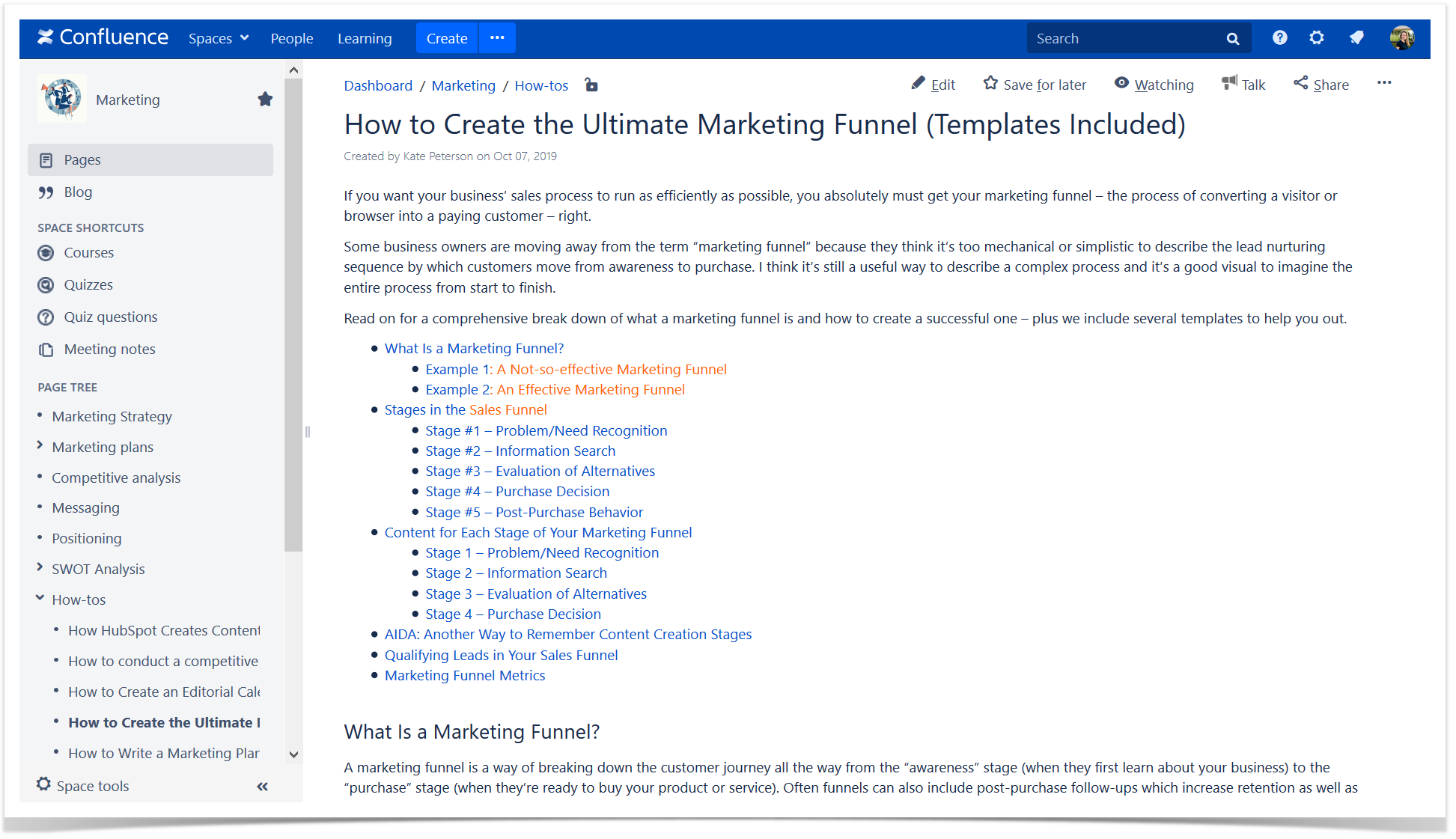 The best thing is that your team can swiftly add their suggestions to the content or comment the entire page to share and discuss their ideas making live and real-time collaboration possible.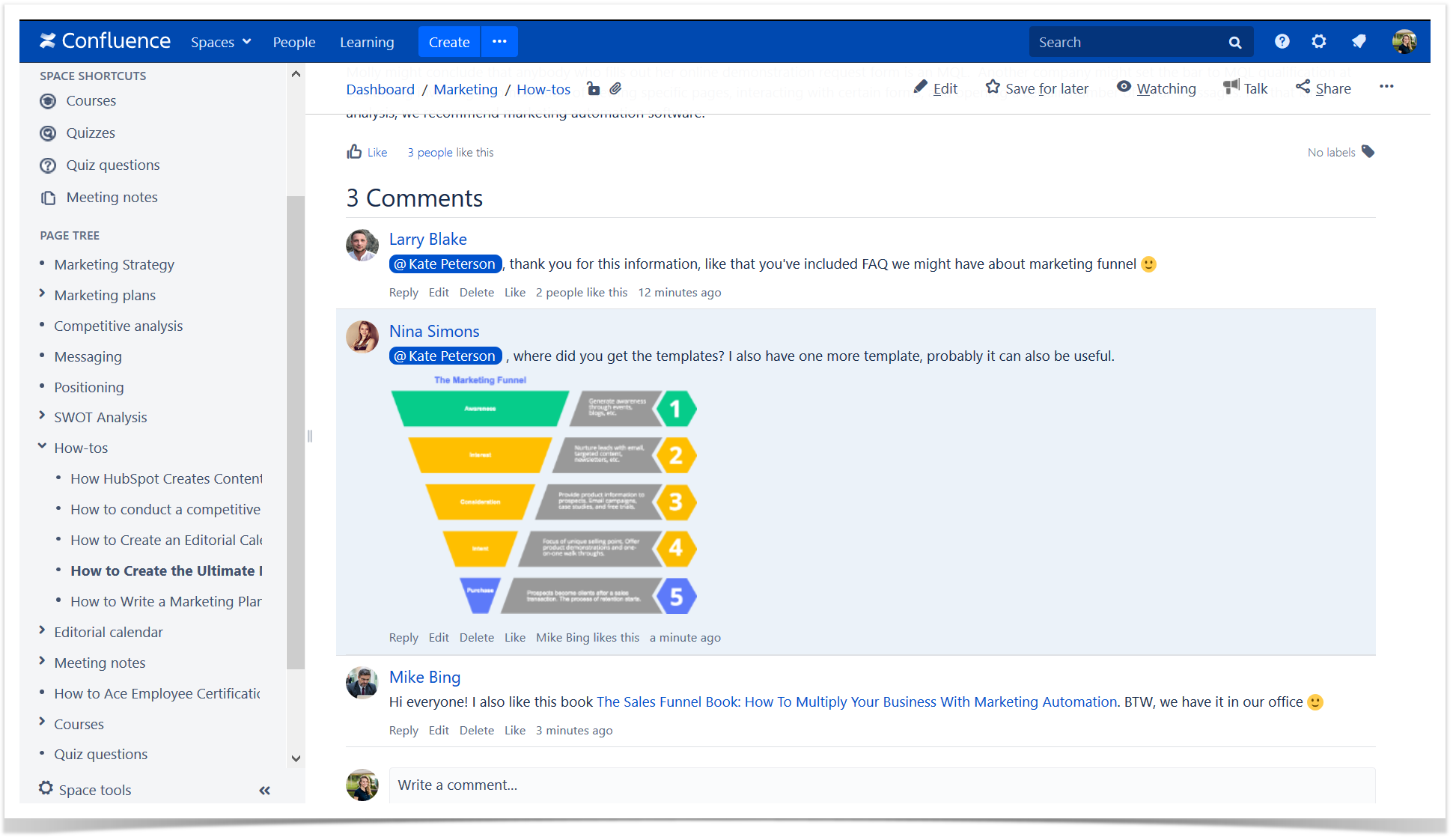 All members of the team get timely notifications about the changes made to the existing content or any new information in the space related to marketing. This way Confluence allows users to easily develop and update content keeping the team in sync.
If you only begin your Confluence journey and need some tips about how to wisely use this knowledge-sharing platform for marketing, check out the Marketing Guide created by Atlassian.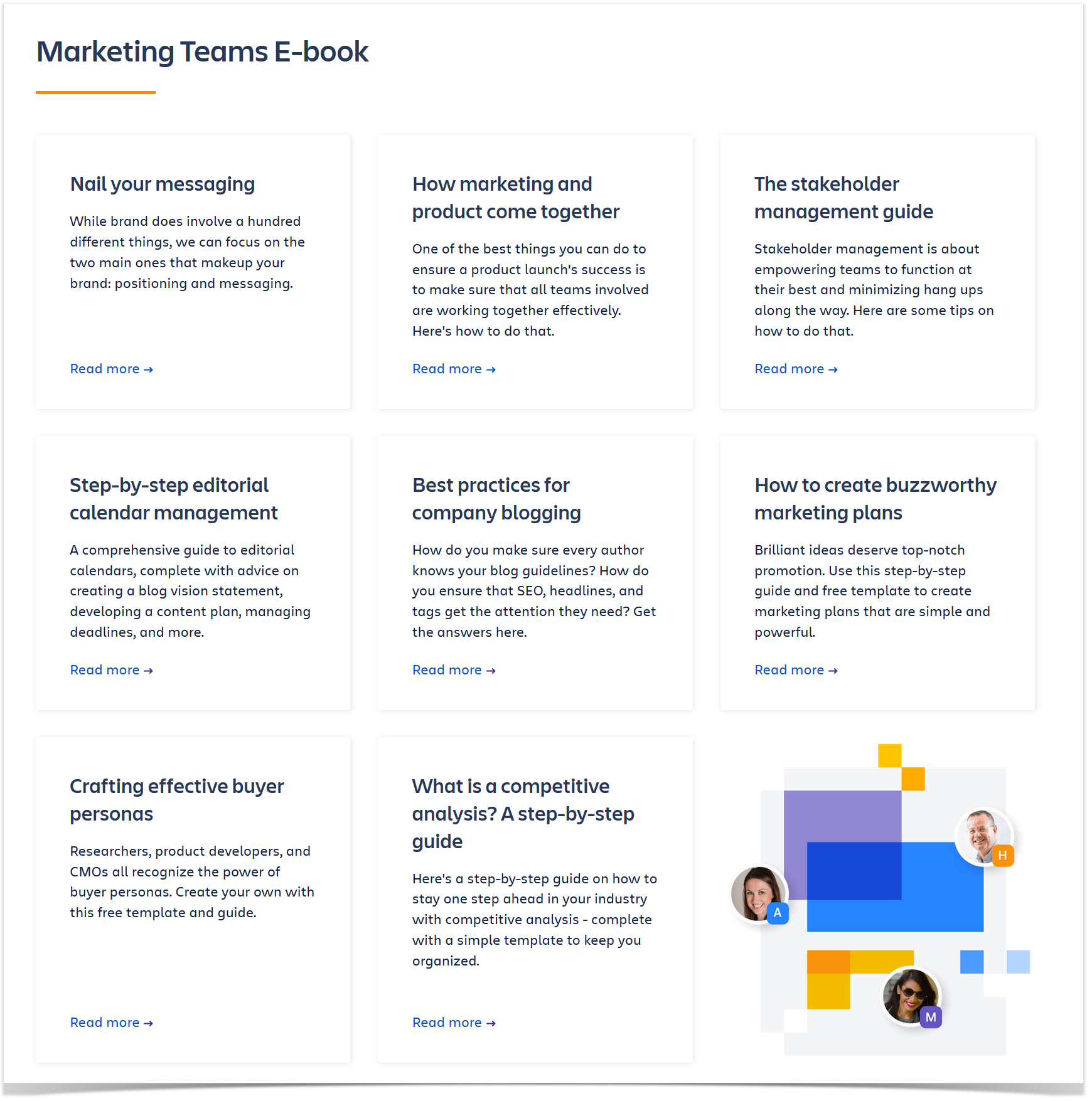 2. Take advantage of custom Confluence templates
Confluence templates can help you simplify formal workflows you deal with on a daily basis, so you can get your common tasks done faster. Editing a template takes far less time than creating something from scratch. All you need to do is to follow the directions on a Confluence page and, of course, add the information that is important for your team.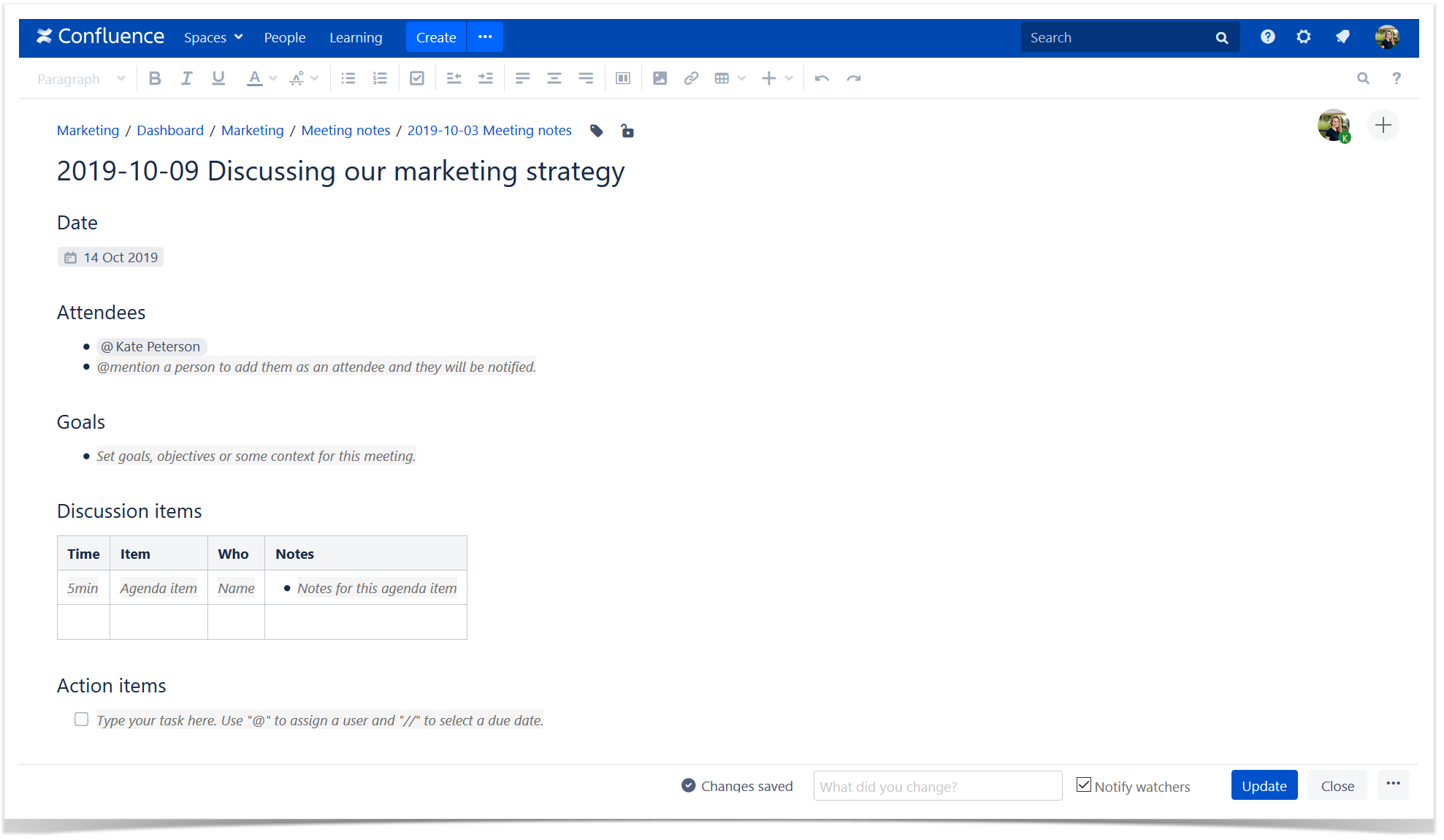 Templates help you maintain document consistency and make sure that you and your colleagues are less likely to leave out key information. When you open the marketing plan your teammate created with the help of templates, you know where you can find the information you are searching for because all marketing plans will have the same structure thanks to the blueprints. Whether you're a marketing department of many or a team of two, you can design your custom blueprints that will better fit your specific needs.
You can also explore Atlassian blueprints for Confluence Cloud to use in your work or just get inspired and create your own templates together with your colleagues.
3. Create courses from scratch
It is not enough to equip your team with the right tools and encourage knowledge sharing, it is important to ensure that people know how to work under new conditions and have no problems using Confluence. In this case, it can be useful to create a course in Confluence for the marketing department. You can populate it with the most informative pages from the Marketing space we created earlier.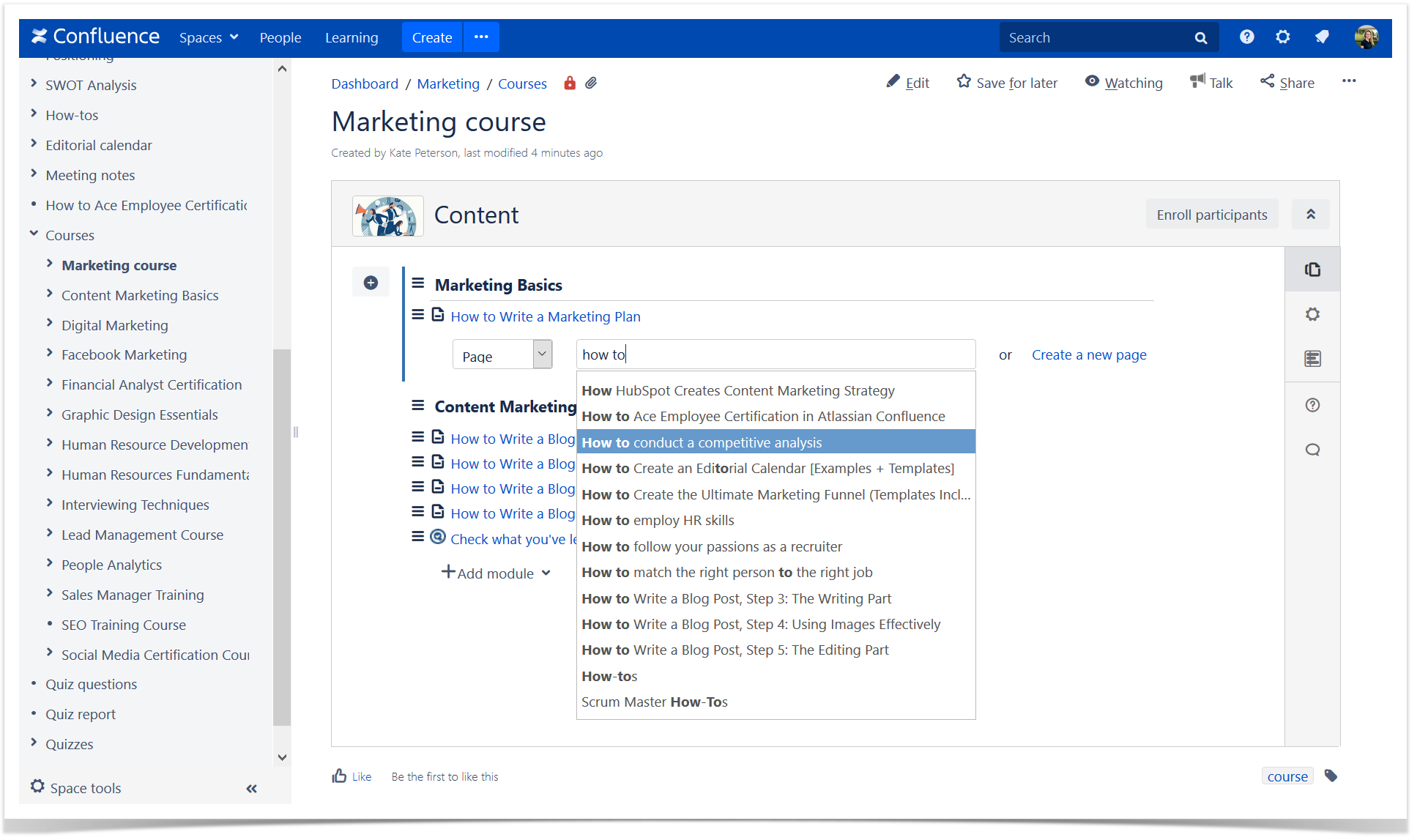 Moreover, you can incorporate your learning content with a quiz to track the progress of course participants and check what they have learned and retained.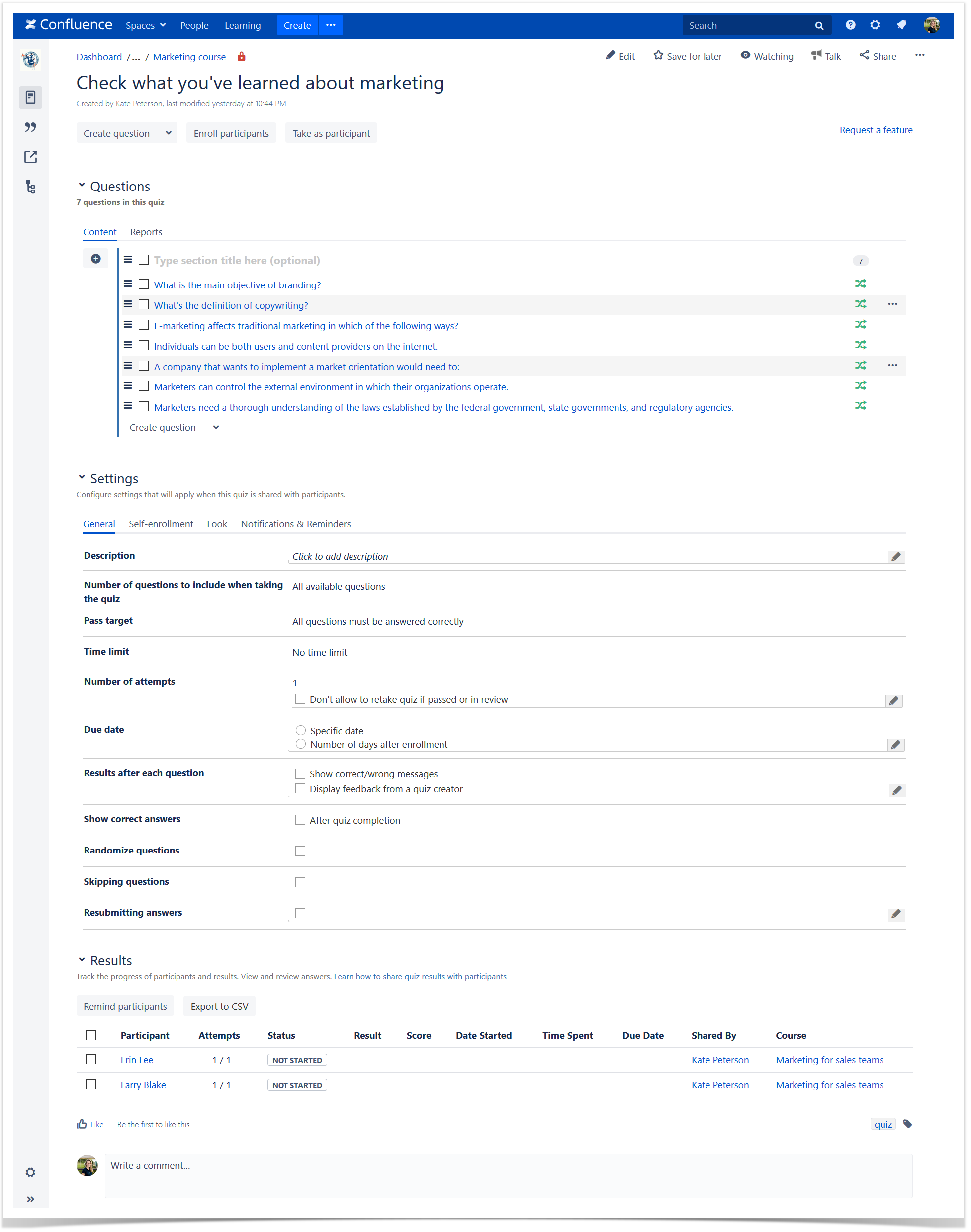 This way new hires can take this course to learn the basics during onboarding and experienced marketing managers can always use this course to refresh and structure their knowledge or learn new information about their sphere.
At the same time, marketing assets are also valuable for other teams. Sales and engineering teams need to know the key aspects of your marketing strategy, strategic plans, positioning, messaging, buyer persona descriptions, your customer's jobs-to-be-done, the latest market researches, your target audience. This knowledge will help you have a team that not only has a shared vision, but also is focused on making that vision a reality.
You can create another marketing course for these teams and start it with a quiz that will help course participants identify their strong points and detect their knowledge gaps to focus on them. Or you can create a fun marketing quiz to engage your colleagues and heighten their interest to the topics you will highlight in the course.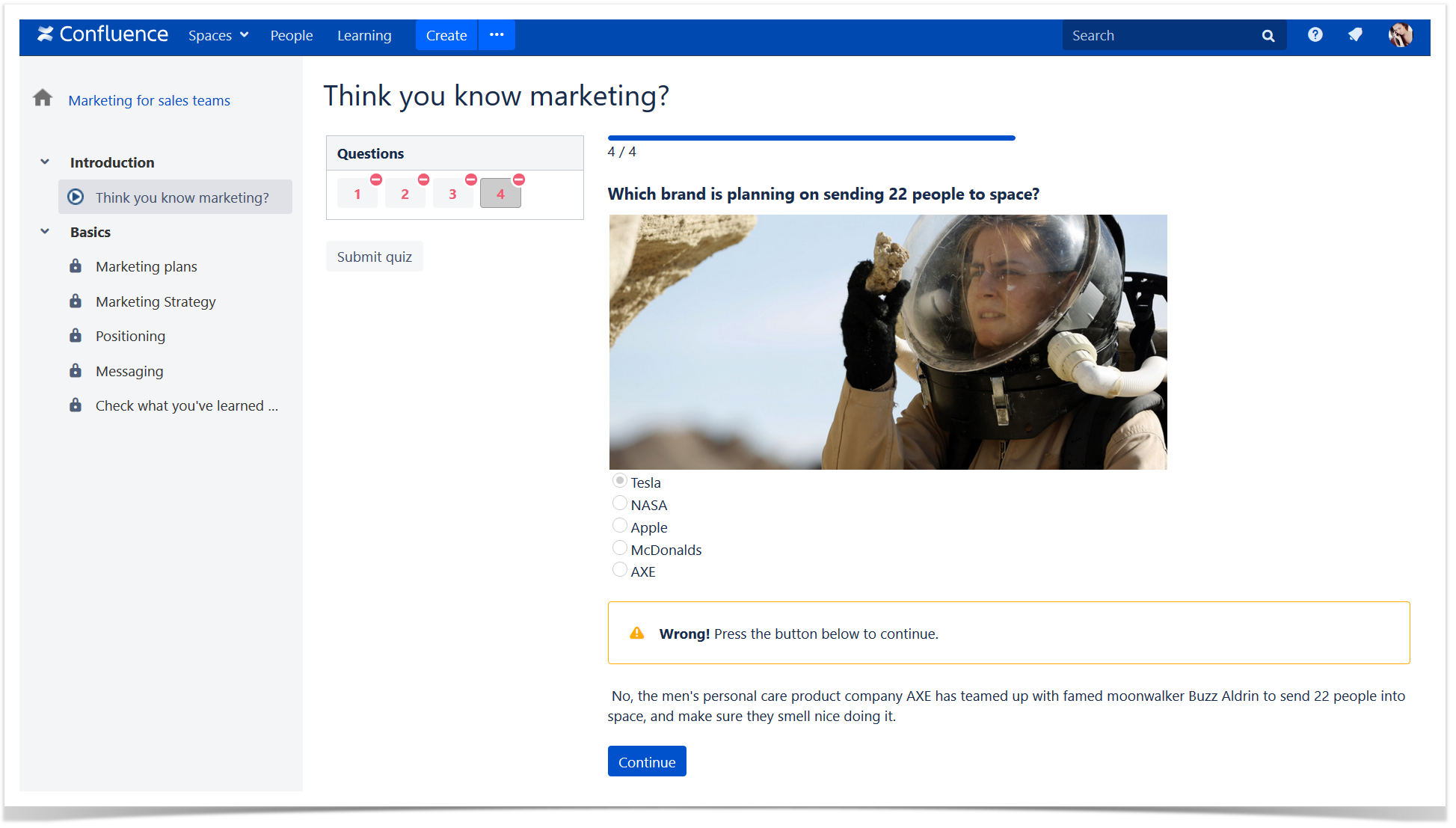 This way you can motivate your team to attentively read the content of the course delving into the subject of each module.
Confluence for marketing teams: Things to keep in mind
Set the stage for open communication in your team and encourage knowledge sharing in Confluence

Create a separate space for all the information about marketing
Grant your team permissions to add pages, blogs, and comments

Try out ready-made templates to help your team collaborate more quickly

Check Confluence marketing templates and see what works for you best
Create your own templates to save your team's time

Make sure your team is on the same page

Create courses and quizzes in Confluence to help your team learn new information and refresh knowledge

Use courses for onboarding of new hires
We hope that our tips will help marketing teams unleash the potential of Confluence. Feel free to share your ideas of how you connect all members of the team to create buzz-worthy marketing materials.