Unlocking the Power of an LMS in Confluence for Efficient Employee Training
March 14, 2023
#

Confluence
#

Learning Management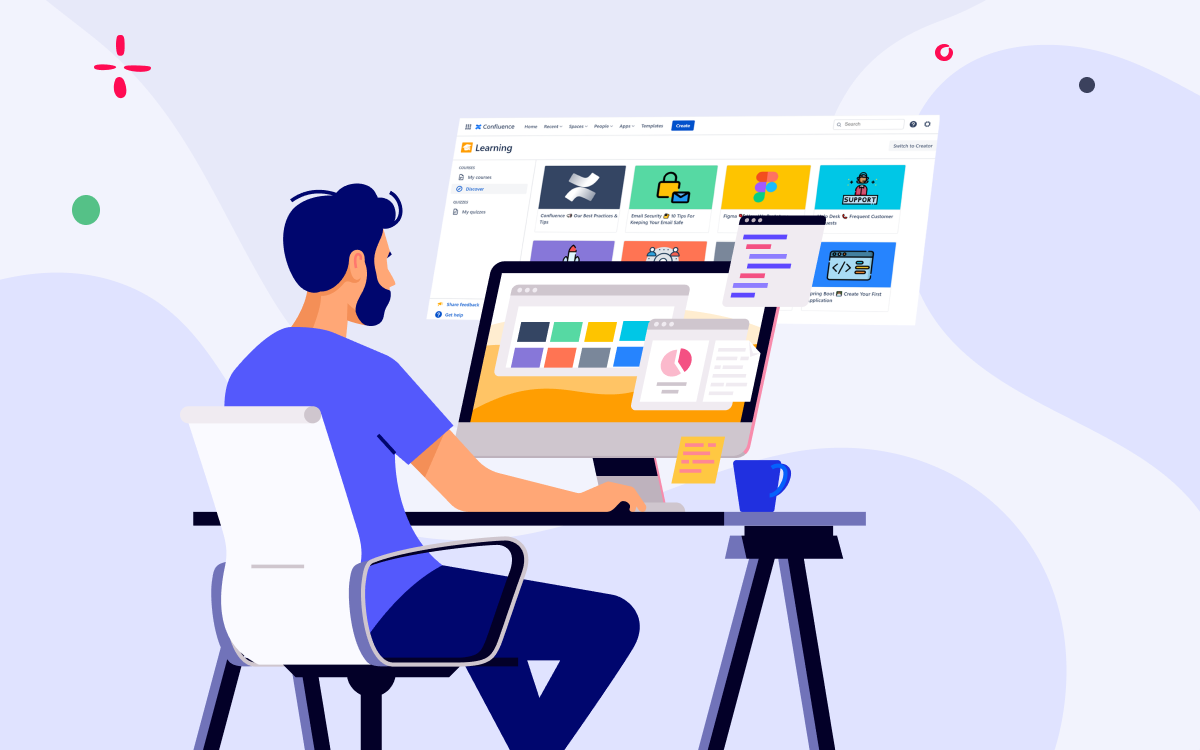 Employee training is an essential part of any business. It helps employees understand their roles, increase productivity, and stay current with industry trends.
To maximize the effectiveness of employee education, many companies turn to modern solutions for learning management. Of course, choosing the right solution for top-notch training can be challenging.
We think that one of the best ways to do this is to provide training tailored to each employee's needs. As such, you can use the software that your team is familiar with, like Confluence. By adopting this approach, companies can reduce the time and resources they spend on training while also providing their staff with the tools they need to succeed.
Let's see how to elevate employee education by leveraging a learning management system in Confluence.
Why use LMS in Confluence for employee training
Confluence is a remote-friendly team workspace that allows users to create and share content, collaborate, and access various learning resources. You get a centralized platform for managing content, reducing the need for multiple third-party tools. Furthermore, Confluence allows users to easily structure content in a cohesive way, which helps accelerate the learning process.
We bet that you already have a lot of information in your Confluence that training administrators can use for employee education. So turning your Confluence into a fully-fledged learning management system is a great idea. And it is possible with the help of izi – LMS for Confluence. This app requires minimal setup and makes Confluence more powerful and user-friendly, allowing companies to quickly get their courses up and running. And employees, in turn, get an interactive environment to engage in.
Create courses in Confluence
Setting up an LMS in Confluence is quick and easy. After installation of the app, creators and learners get immediate access to the Learning portal in Confluence.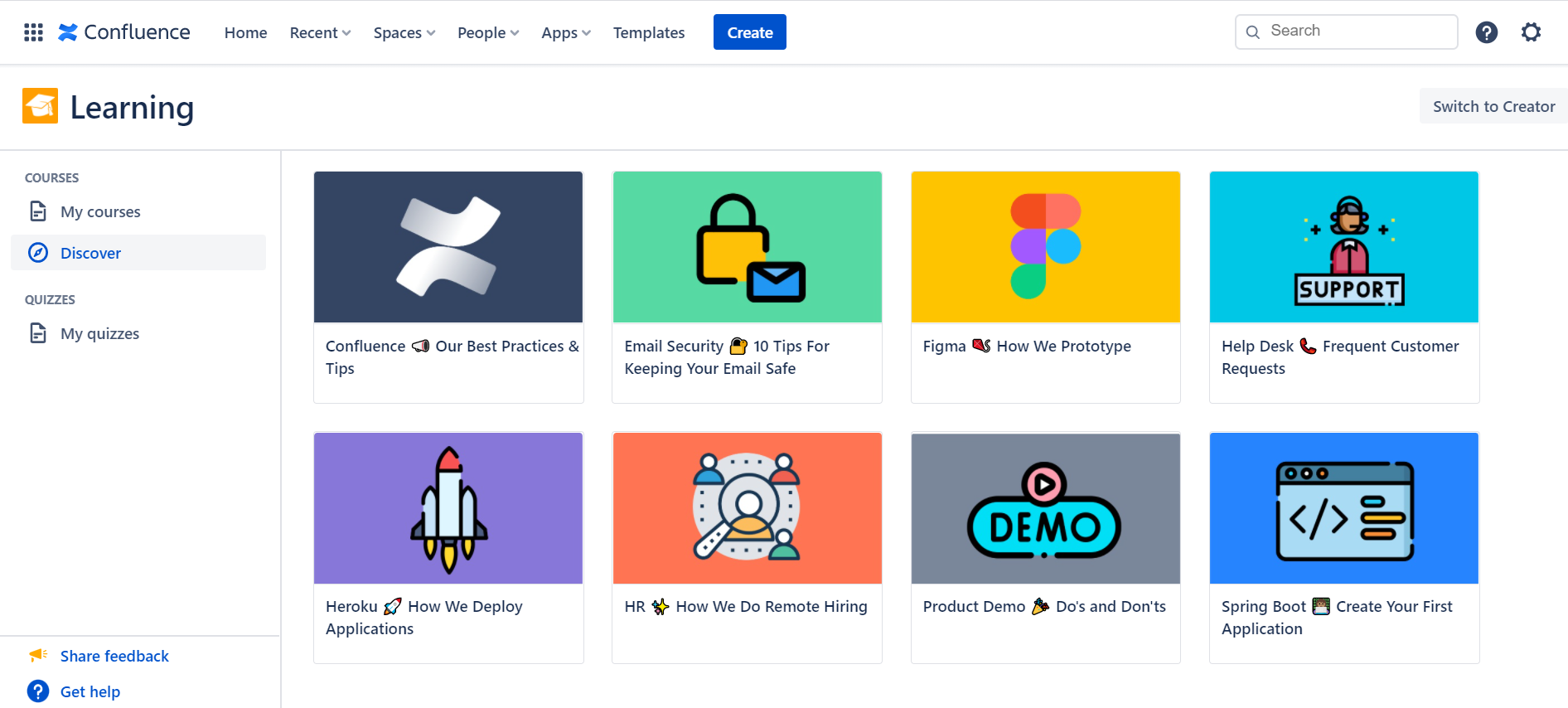 Learning administrators can create courses from the portal view or from anywhere in Confluence by clicking the Create button and using the Course template.
One of the main advantages is that izi LMS allows reusing the existing content and separate Confluence pages as training blocks of the course. Administrators can edit content if required to ensure each training module has a clear objective and the course is well-structured and easy to follow.
Populating training modules with images, videos, PDF files, and quizzes helps create engaging and interactive training materials. Moreover, administrators can update content for already enrolled course participants. In this case, employees receive the most up-to-date information when something has changed in the process covered in the course, or there is a new training module.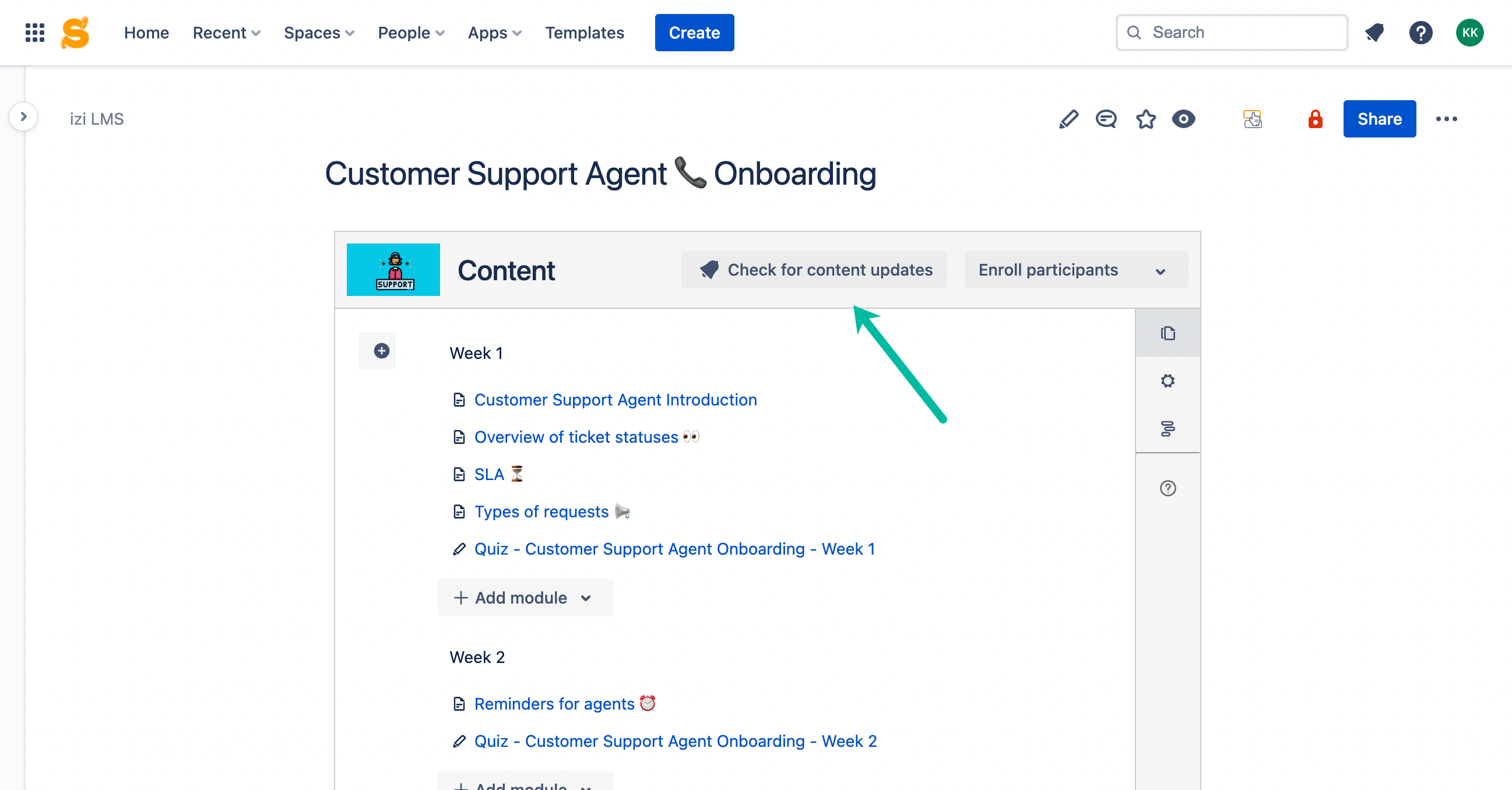 To notify course participants about the necessity to finish the course, creators can set up automatic reminders for course participants.
Enjoy a smooth learning process
Confluence users can browse the Learning catalog of available courses and self-enroll in the ones they find interesting. Also, they see their progress in the courses they are taking.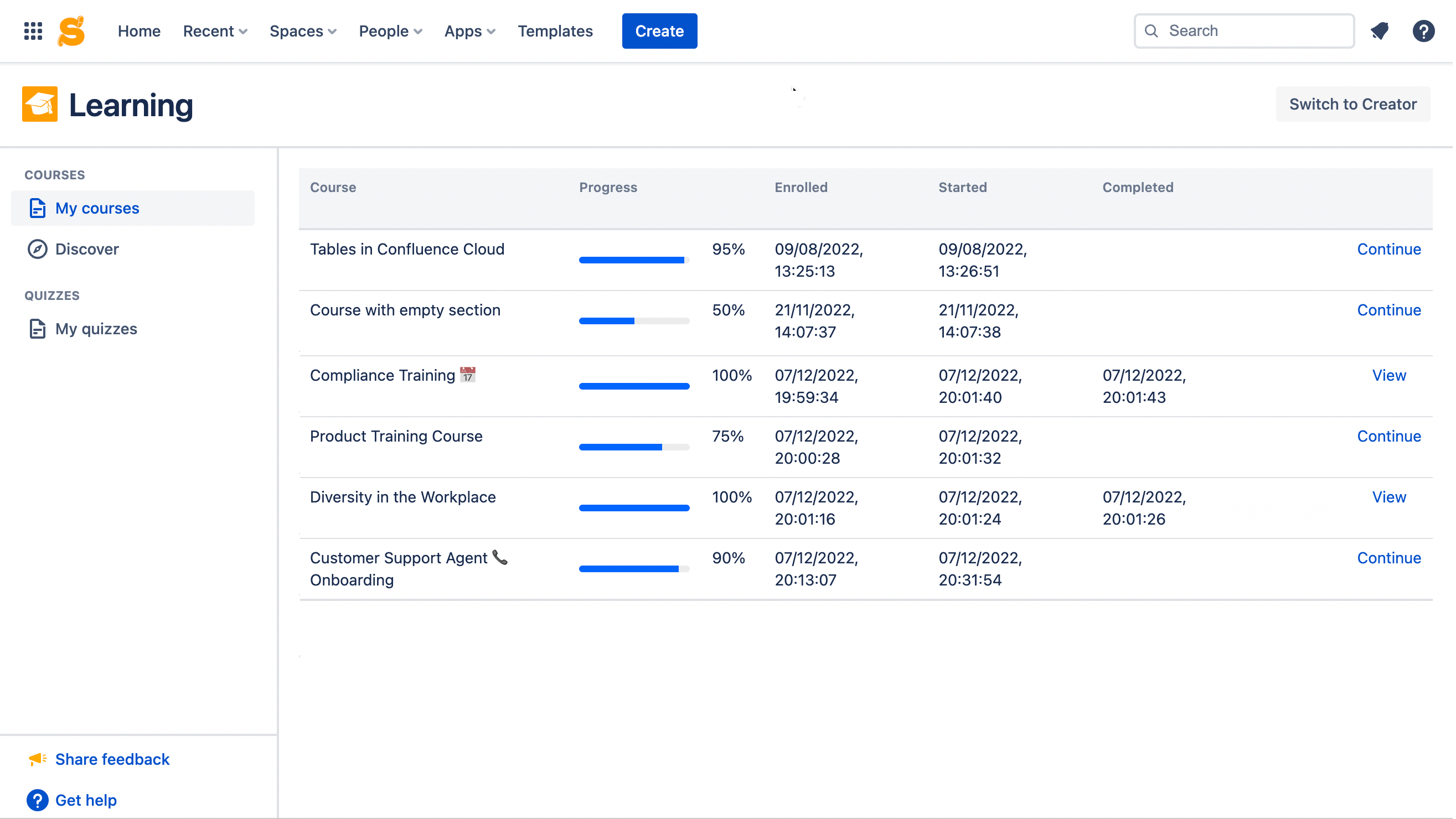 Learners see every course as a set of training modules they need to study carefully and complete one by one. Courses can contain quizzes that help assess user knowledge and understanding. This allows course administrators to rapidly identify gaps in knowledge to pay attention to and adjust courses accordingly. Questions can be of four different types:
single choice
multiple choice
true/false
free text
Free text questions let participants share their thoughts on the question with the course creator, who then needs to review answers and mark them as correct or wrong.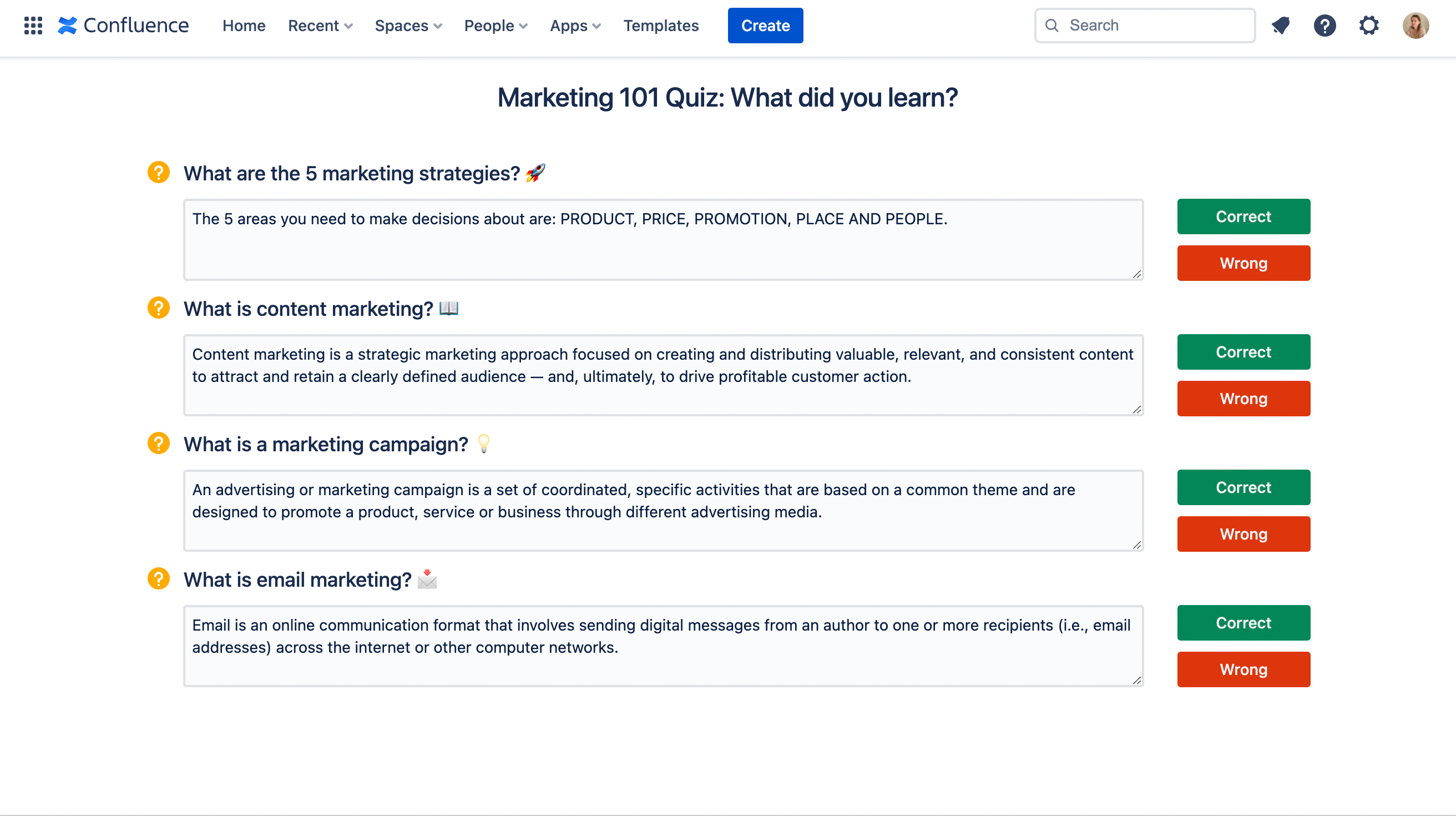 Participants can self-enroll in quizzes with a link. This facilitates the task of inviting multiple users to a quiz without typing their names individually.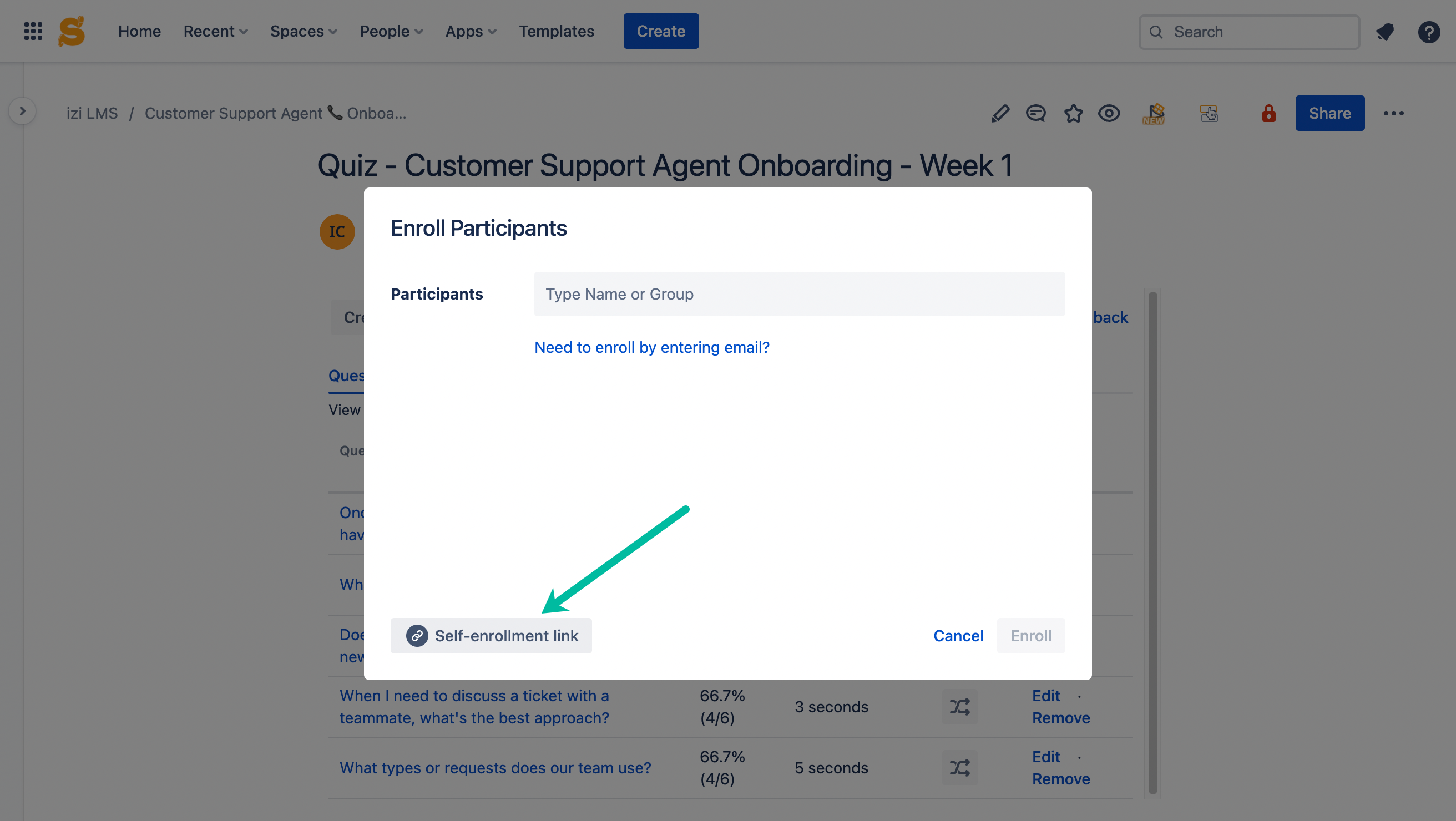 After course completion, participants get certificates they can download and share with their colleagues or on social media. It helps increase employees' engagement and productivity.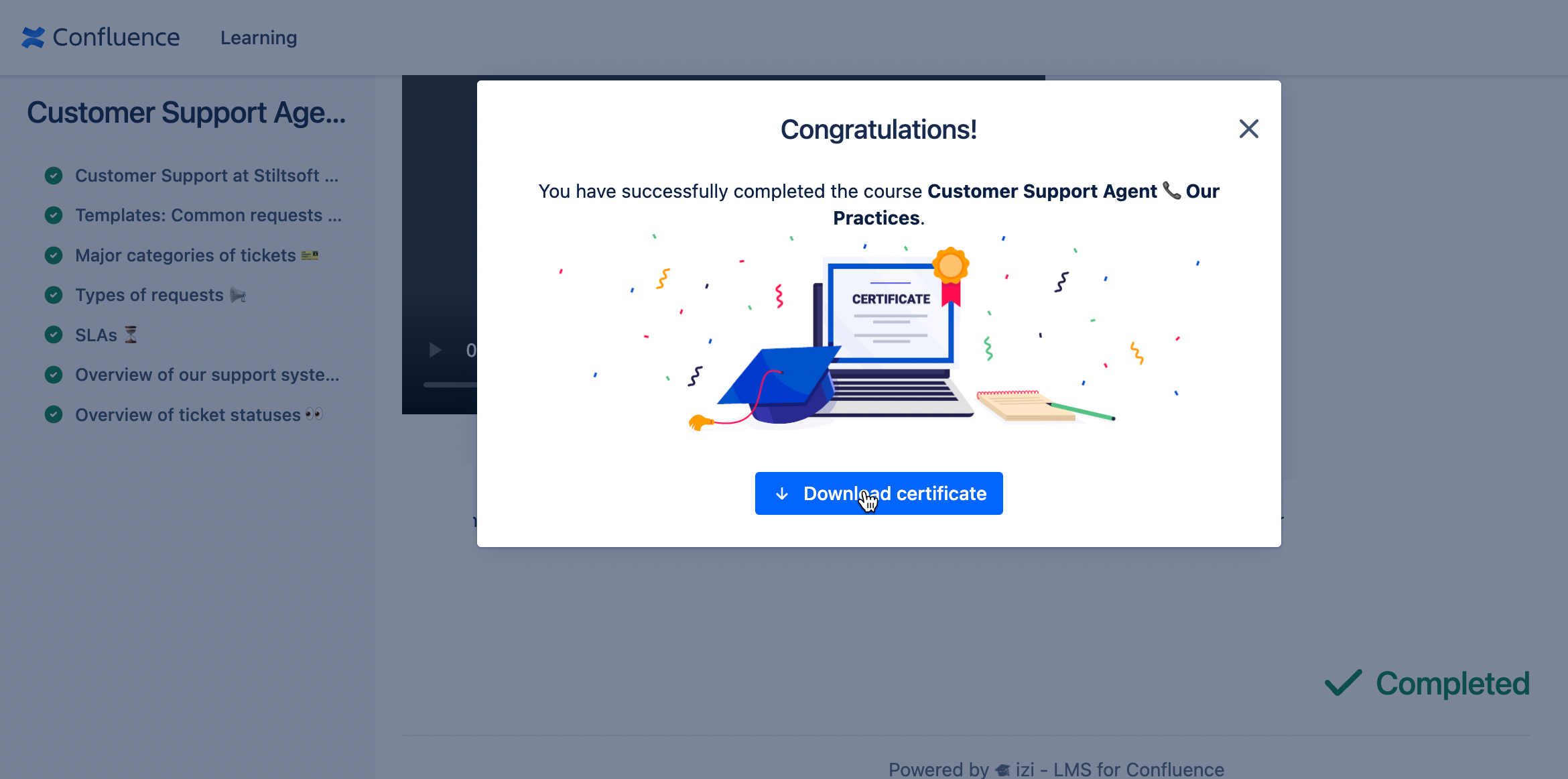 Read more about how to ace employee certification in Confluence with the help of courses.
Track participants' progress with reporting
One of the most common challenges is ensuring employees are motivated to complete courses. To overcome this challenge, it's crucial to track their progress and guarantee they are meeting the necessary objectives, as well as gain insights into where additional training may be needed.
izi – LMS for Confluence lets course administrators track participants' activity, assess their performance and generate reports both for courses and quizzes they take.
For example, every course report shows statuses such as Not started, Started, and Completed. Moreover, hovering over the status, you can see the status change history. This feature provides course administrators with a birds-eye view of course progress among all the participants.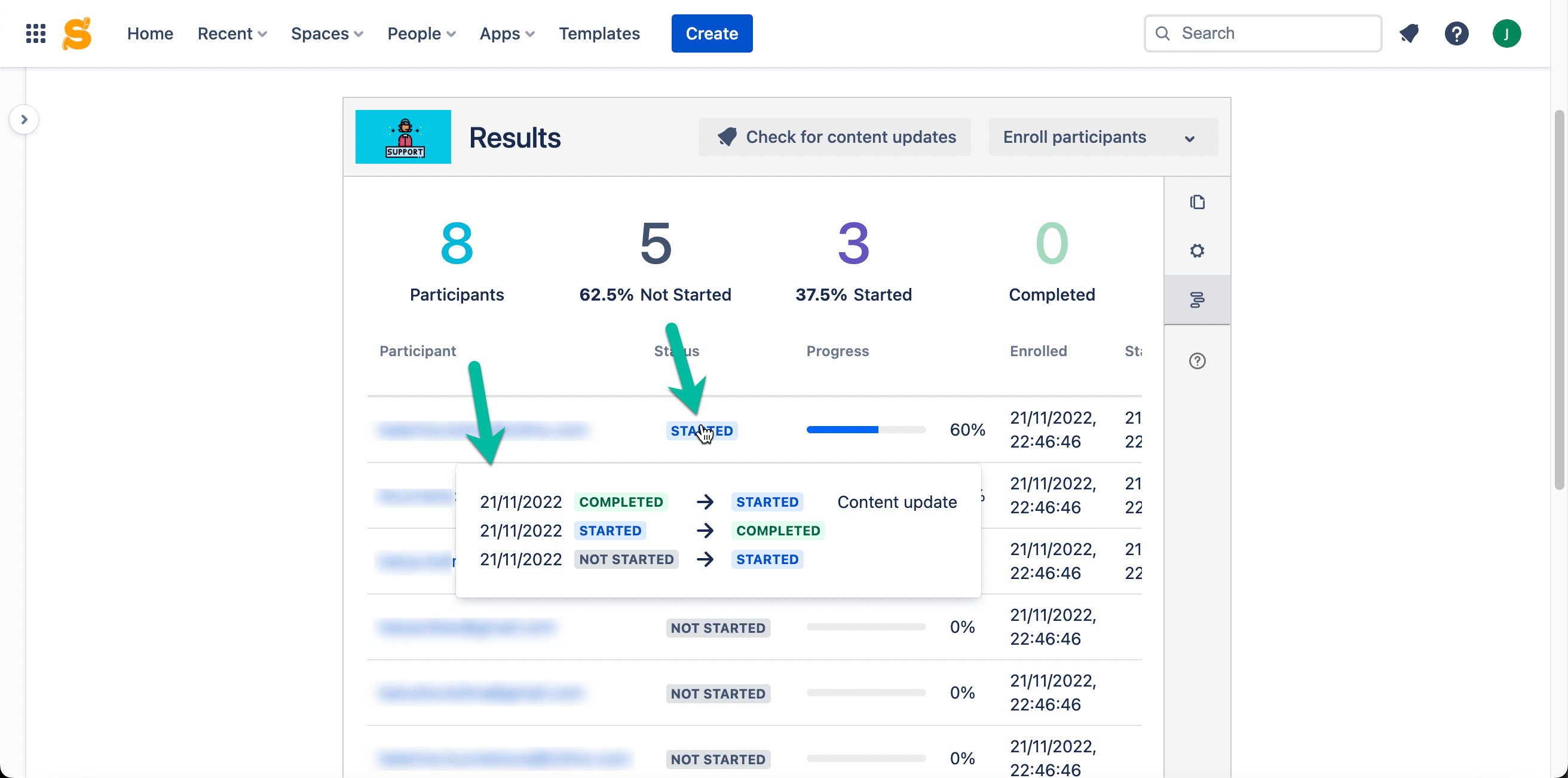 When it comes to quizzes, course creators can view answers participants gave while taking a quiz vs. correct answers.
Take advantage of an LMS in Confluence
With a suitable learning management system, businesses can ensure their employees receive the education and training they need to succeed. This approach benefits for both the company and its employees, as it allows them to manage their learning and development effectively.
Whether you're looking for a way to master employee onboarding, level up compliance training, or improve self-directed employee education, izi – LMS for Confluence has got you covered. It allows you to set up courses, track employee progress, and measure their performance on the fly right in Confluence, the software you already know and enjoy using.
Try izi LMS for free and check how it can power up your training processes. The app is available for Confluence Cloud and Data Center.