How Bittium Uses izi – LMS for Confluence to Create Training Courses
March 28, 2017
#

Confluence
#

Learning Management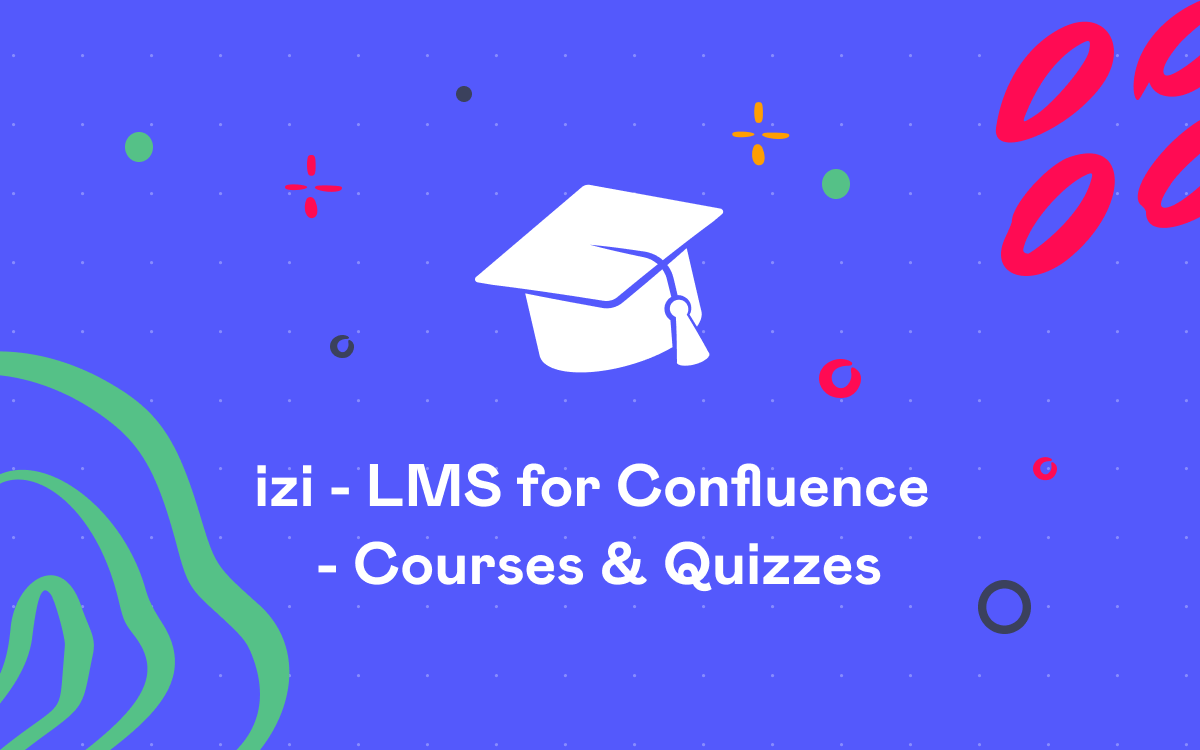 Now izi LMS app has a fully-fledged courses feature, which allows you to create training courses in Confluence even easier than described in this post. Learn more
Bittium Corporation offers products that ensure secure and reliable communications and customizable connectivity solutions for various devices and industries including defense, healthcare, public safety and IoT markets. Employee training is widely used in the company. It allows keeping everyone informed about regulations, procedures and requirements in place.
Bittium uses Confluence as their intranet and prefers to have training courses there as well. It's convenient when the training content is at the same platform where teams do their work, share information, discuss issues and store documents.
How Bittium Does It
Confluence is a powerful platform, but it is not designed for LMS (learning management system) purposes and doesn't have the assessment capabilities. That is why Bittium decided to extend Confluence with the izi LMS that provides such capabilities – quizzes that you can create right in Confluence and share with users, teams and even people outside your Confluence site.
There's a simple and neat way to build courses using Confluence and izi LMS app. The Confluence native functionality is great for creating and organizing the training material into a step-by-step course and Quizzes lets you add tests in the middle or at the end of your course and check how well participants understood what's been presented.
Bittium uses these best practices for their courses. For example, the company has Environmental Training, which is mandatory for every employee every two years. Its objective is to educate the staff about environmental legal requirements and company's environmental policy and practice. Let's see what it looks like.
Confluence pages are course modules
The Environmental Training course is broken down into modules to make it easier for participants to 'digest' the information. Every module is a separate Confluence page. Modules are child pages of the course landing page. This hierarchy of pages is very convenient for navigation and overview – you can expand the sidebar to see the list of modules and jump into one of them. On the bottom of each module page there is a link to the next module.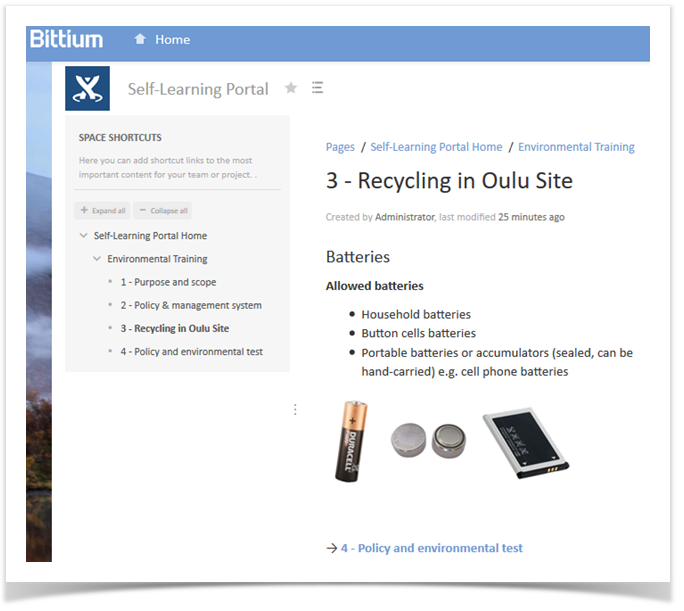 Quizzes to check and revise
Several modules (sub-topics) cover one topic. A course administrator set up tests (using izi – LMS for Confluence) for assessment modules at the end of each topic. These modules have the 'Take quiz' button. When participants click it, they go to the quiz with questions about the studied topic.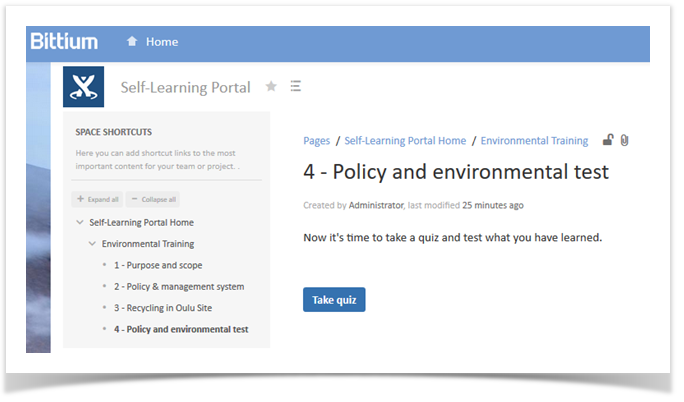 The goal of assessment modules is to revise the material and see if the employees successfully processed the information. After each question participants see if they answered correctly or wrong and read the message with explanations and feedback. So when folks make a mistake, they immediately find out what they got wrong.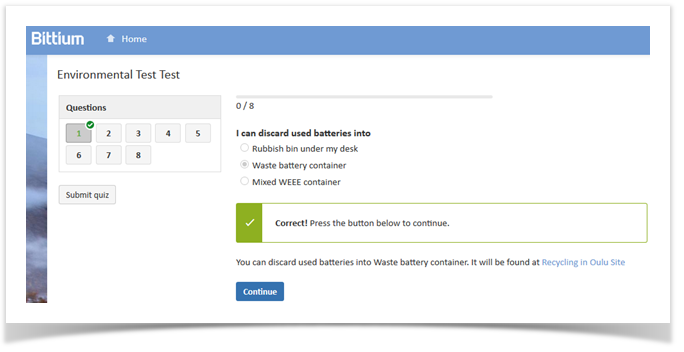 After completing a quiz, participants see results and a link to the next module. So they can easily go back to the course and proceed to another topic.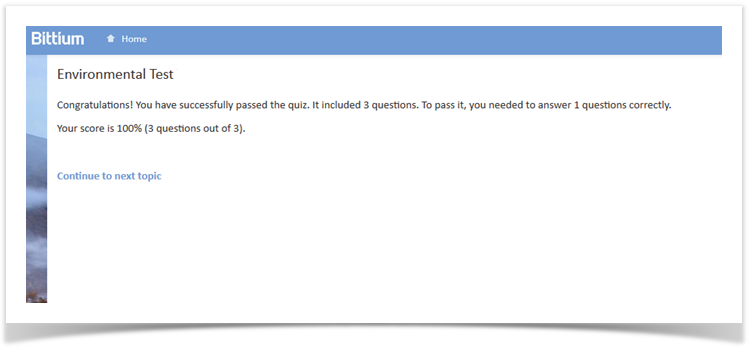 The administrator of Environmental Training monitors the reports with results of quizzes included in the course to track the progress of participants and view their scores.
Conclusion
Bittium uses izi LMS to set up, run and manage training courses in Confluence – their knowledge base and collaboration platform. The company needs such courses to train employees, who are Confluence users. However, the add-on allows you to build courses and tests for people without a Confluence account as well. It makes it possible to enrol job candidates, new hires, partners and customers who have no access to your Confluence.
Besides creating training courses, you can use izi – LMS for Confluence to set up tests, e.g. to evaluate knowledge and skills. Quiz administrators can make quizzes for self-enrollment (participants chose a quiz they want to take and go to it) or assign them to participants by sharing via email.
All this makes izi a fully-fledged LMS for Confluence that covers plenty of use cases: internal & external training, assessment, employee certification, and onboarding.
Want to build training courses and tests in Confluence as well? Learn how