Must Have Best Practices for Project Management
May 4, 2023
#

Confluence
#

Collaboration
#

Project management
#

Task Management
#

Reporting
#

Analytics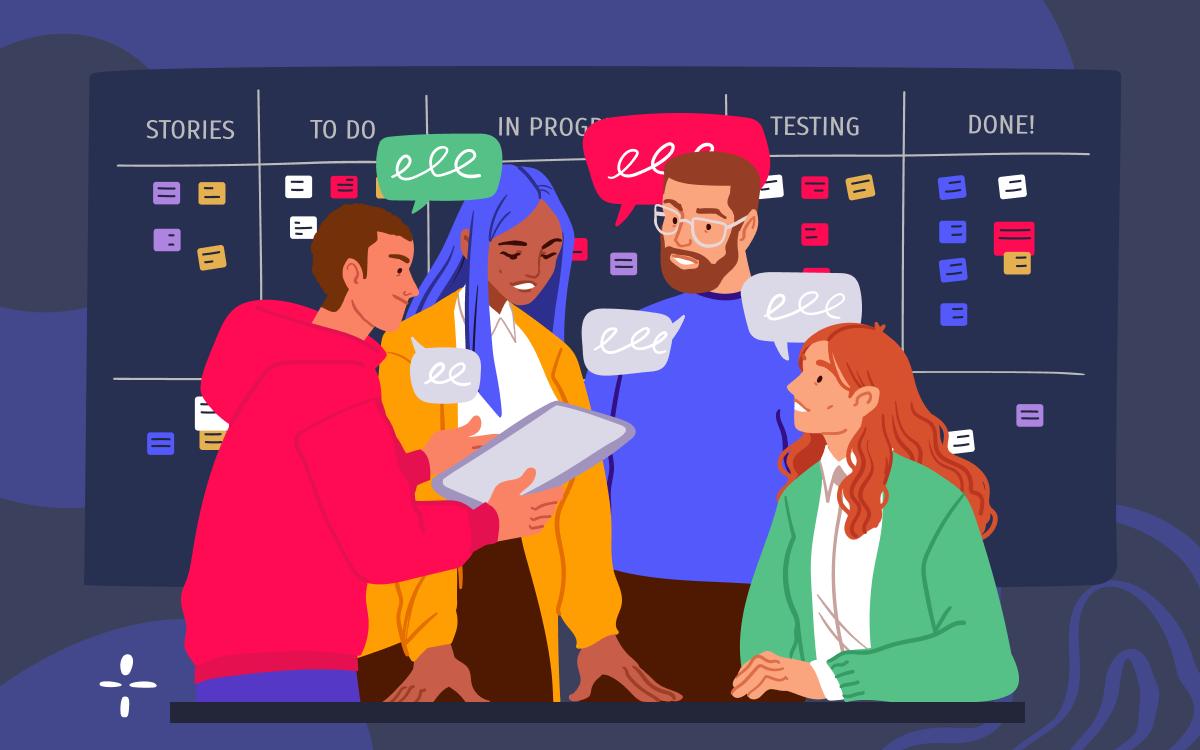 For project managers, it's vital to keep an eye on new practices that can broaden the horizons and perfect the process of managing a team and a project. But often, you get stuck with general recommendations without understanding how to bring them to life successfully.
That is why it is always interesting to peek into somebody else's workspace and get some ideas that work for other teams.
So, what is the base of successful project management? There are three spheres we can highlight:
Communication
Project planning and task setting
Further analysis and retrospective
Let's go over all of these spheres and have a look at some practical solutions. We want to inspire you and show some handy ideas that fit any project management approach.
In this article, we mainly focus on project management tools from Atlassian and ways to enhance their native capabilities. We also share some tips and tricks that help our own teams at Stiltsoft stay on track.
Communication
It is difficult to overestimate the importance of team communication. Well-structured processes contribute significantly to the success of a project. Regular meetings help to be on the same page, synchronize, quickly solve problems, and find bottlenecks. Unfortunately, there are no one-size-fits-all solutions. But you can choose what's best for your team: daily meetings, weekly meetings, or on-demand calls.
We live in the era of remote work and work from home. Over the past three years, approaches to communication have changed significantly. And we also have changed with them. Various applications help us keep in touch: messengers (Slack, Microsoft Teams) and video call apps (Zoom, Go To Meet).
To keep the meetings' history and not lose sight of anything, you can use any knowledge base tools: Google Docs, Notion, or Confluence.
Meeting notes
At Stiltsoft, we use Confluence as our primary database and have built our specific workflow in it.
You can always start with a simple built-in Confluence template. Then you can enhance the report by adding new capabilities with the native Confluence Page Properties Report or advanced third-party Table Excerpt macros.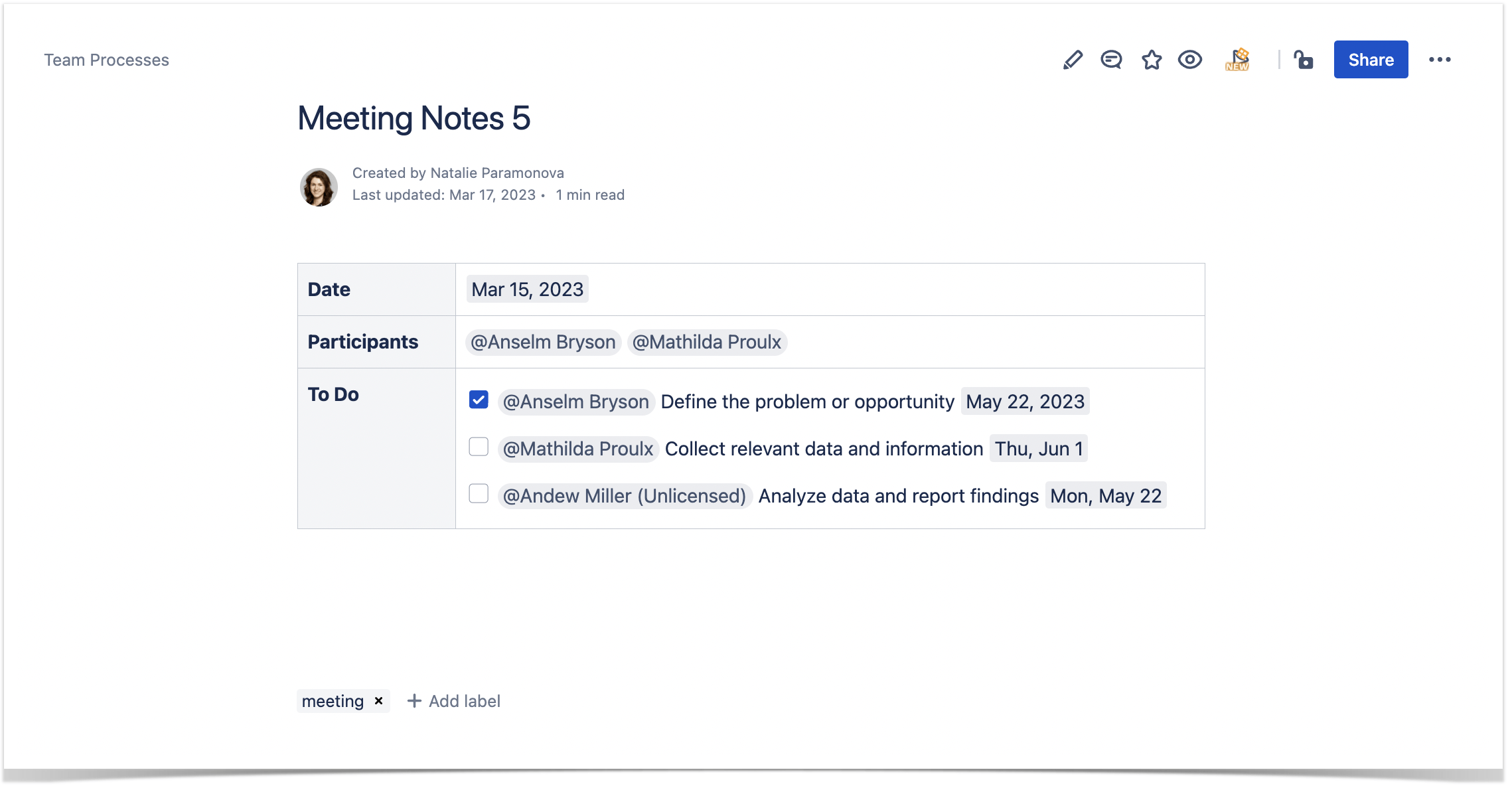 We gather all the meeting notes on one page with the help of these macros. Then we can quickly jump to the specific meeting notes to see the details. In the edit mode, you can see a pre-defined Page Properties Report macro containing the details gathered on the master page.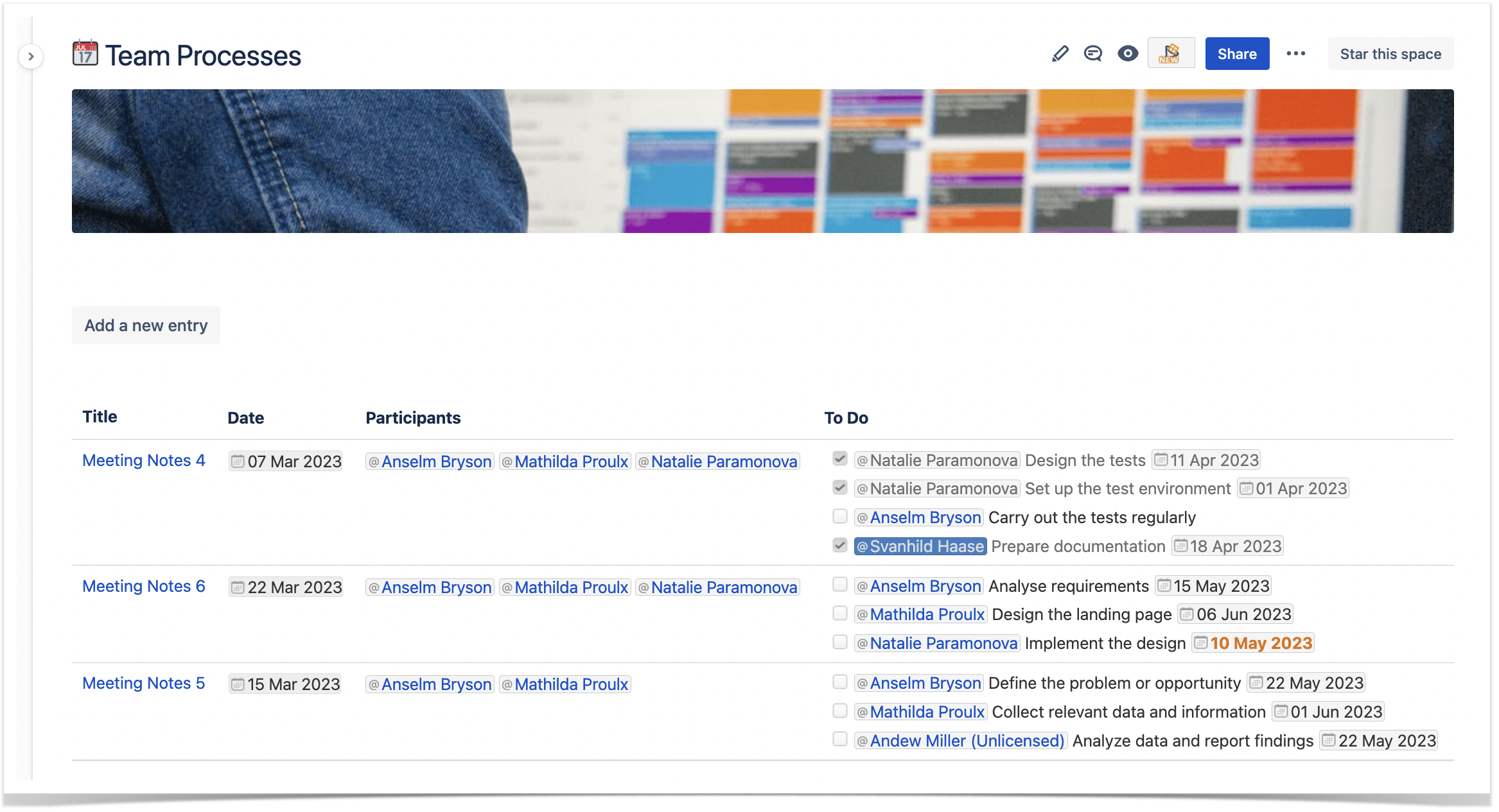 Planning and task setting
Planning is the foundation for the entire project. At this stage, you can plan project goals, objectives, and scope and develop strategies to achieve them. The success of a project largely depends on how properly the planning phase is executed.
A well-planned project will likely stay within budget and deliver the expected results.
Thousands of companies worldwide use Jira to track projects, sprints, and tasks. Some of the key advantages of Jira are:
Customizable workflows – you can create custom workflows that match their specific project needs. This flexibility enables teams to adapt to project requirements and collaborate more effectively.
Real-time reporting – Jira provides real-time reporting and tracking of project progress. This feature helps teams to identify potential issues and make necessary adjustments on time.
Easy integration – Jira integrates seamlessly with other tools, such as Confluence and Bitbucket.
Agile methodology – Jira supports agile project management methodology, widely used in software development.
Together with the Marketplace applications, you can easily fit Jira to your specific needs. You can add custom fields, edit status flows, add different estimation types, such as story points or login time for completing this task. After you add all the specific details and link Jira with Confluence, you can reuse this data for project planning and tracking.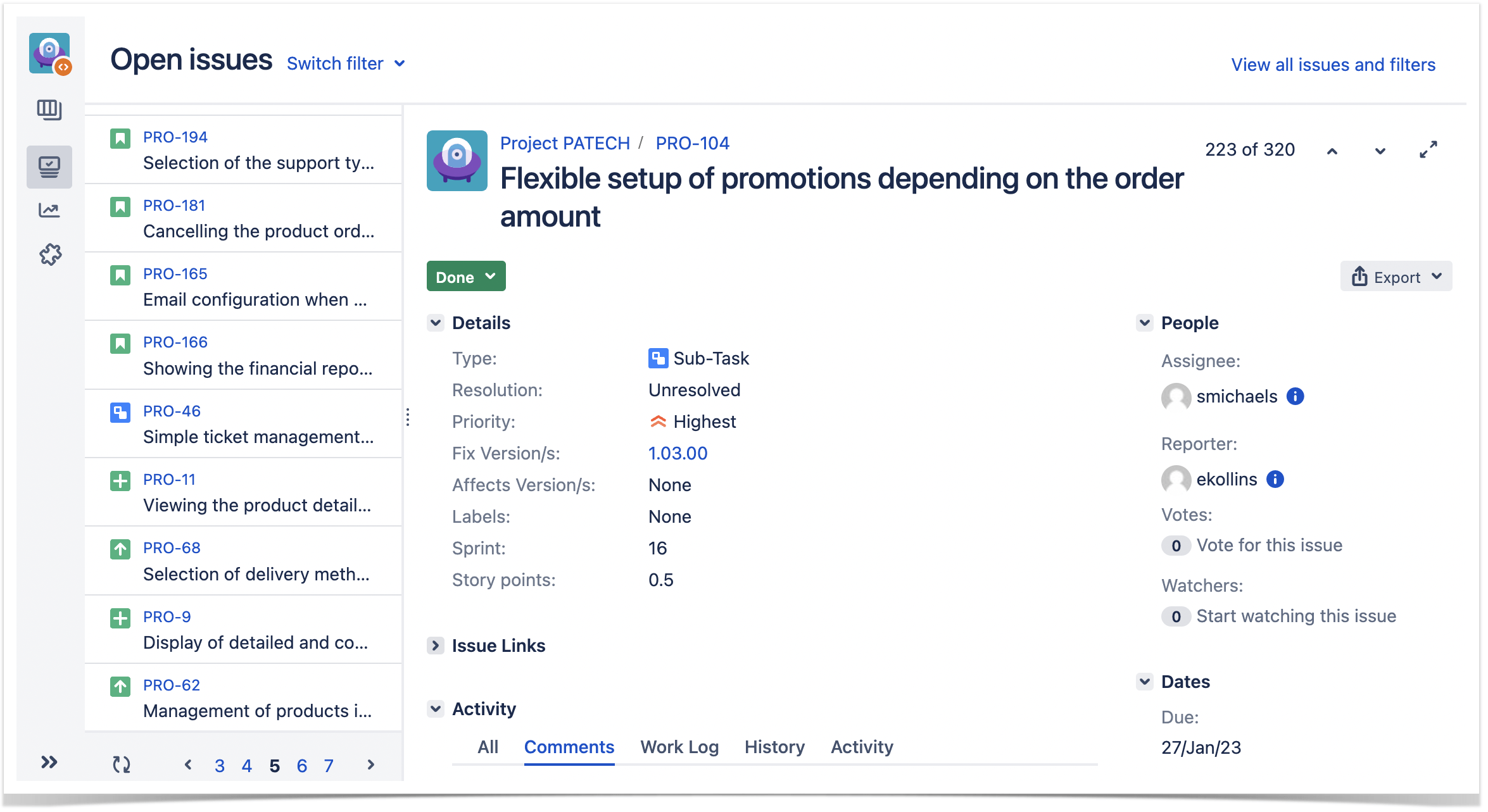 But when we need to collect information about a project from different aspects and draw up the goals and objectives, Confluence becomes a perfect choice.
Confluence is primarily designed for collaboration and knowledge sharing. It provides a platform for teams to create, organize and share documents, ideas, and other project-related information. On the other hand, Jira is more focused on issue tracking and project management.
Confluence offers greater flexibility and customization options than Jira. It allows users to create custom templates, layouts, and even frameworks.
Confluence provides better content management capabilities than Jira. It allows users to organize and categorize content using labels, spaces, and page trees. This makes finding and navigating through the content easier, especially for large and complex projects.
Confluence and Jira can be used together to complement each other's strengths. Confluence can be integrated with Jira to provide a more comprehensive project management solution that combines collaboration, content management, and issue tracking.
You can specify the objectives, add the native Jira macro to display your prioritized backlog, or track any essential and relevant data for this project. And you can share this information both with your team and your management.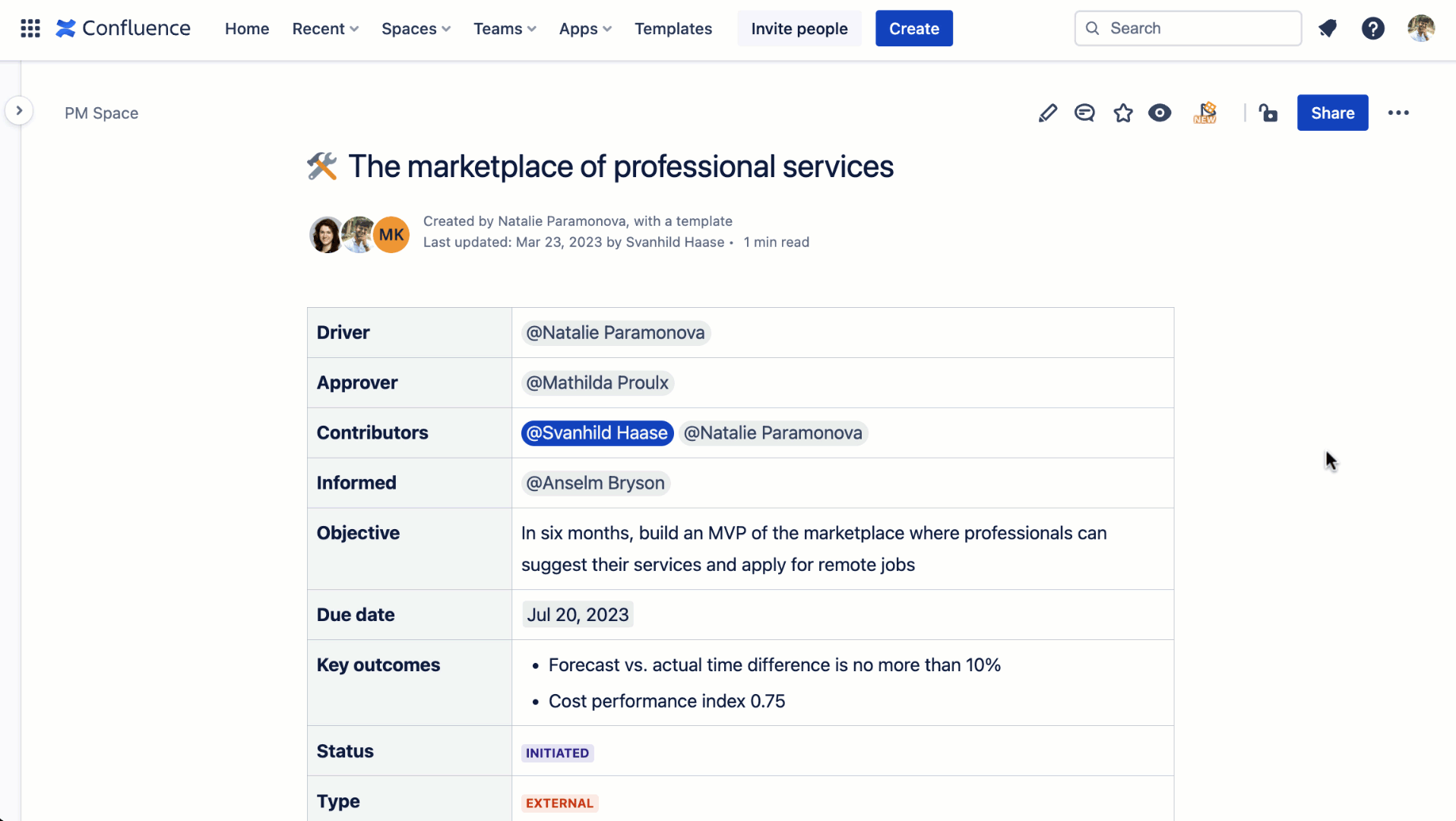 Project portfolio
Another thing you can use Confluence for is building dashboards. It's a convenient way to gather information neatly, overview the whole project or a project portfolio, and balance the workload. Dashboards also look great for presentation purposes.
Use page sections to organize the data precisely the way you need it. This way, you can have relevant blocks of information side-by-side and generally create a structure that represents your project well enough.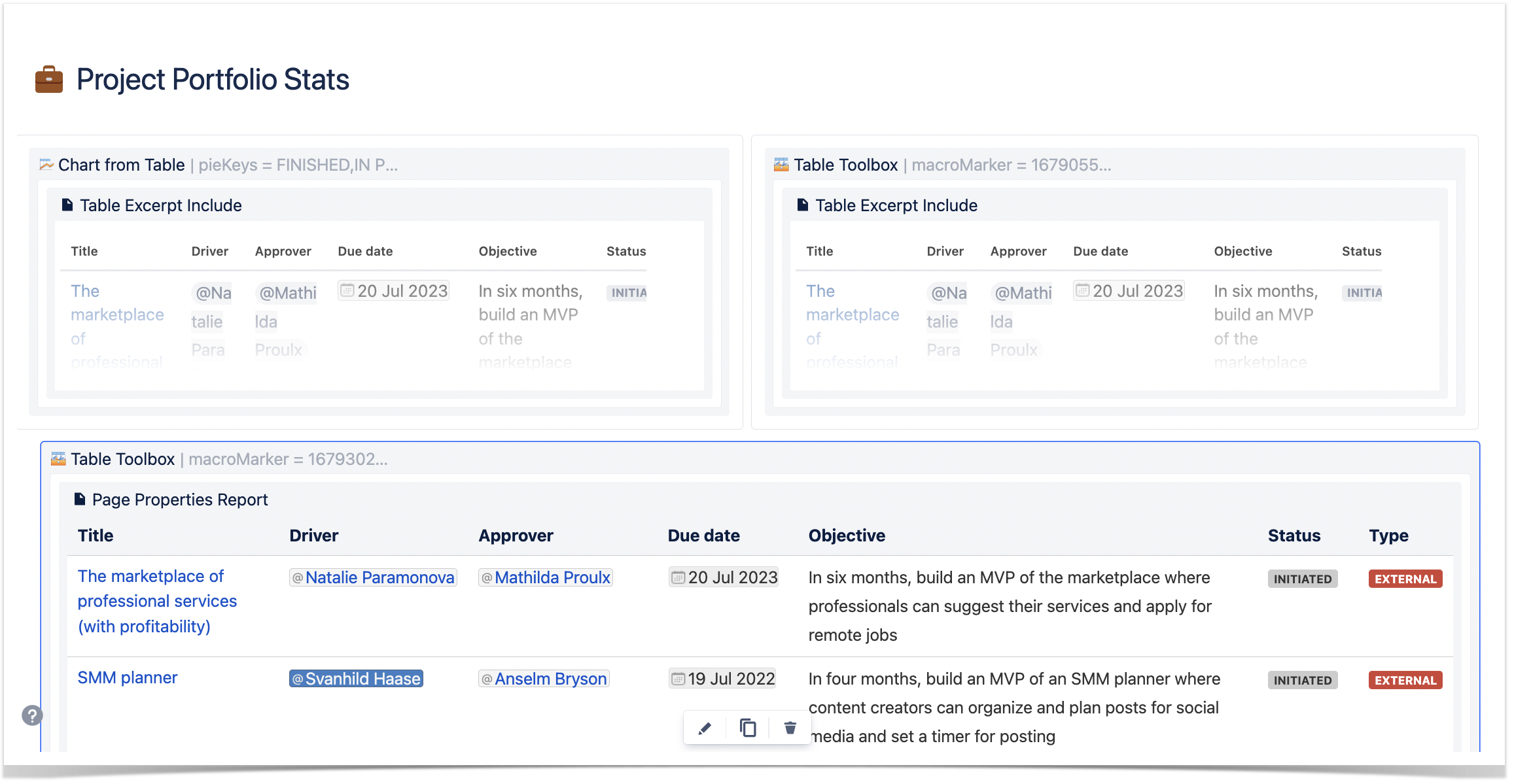 While filling in the sections, you can use various tools and macros. Pull out the list of tasks from Jira using the Jira macro. This can be the base of your dashboard. Fill in some sections with your long-term goals and more short-term tasks and ideas.
You can as well visualize the statistics with the help of various charts and graphs. Use the macros included in the Table Filter and Charts for Confluence app for these purposes.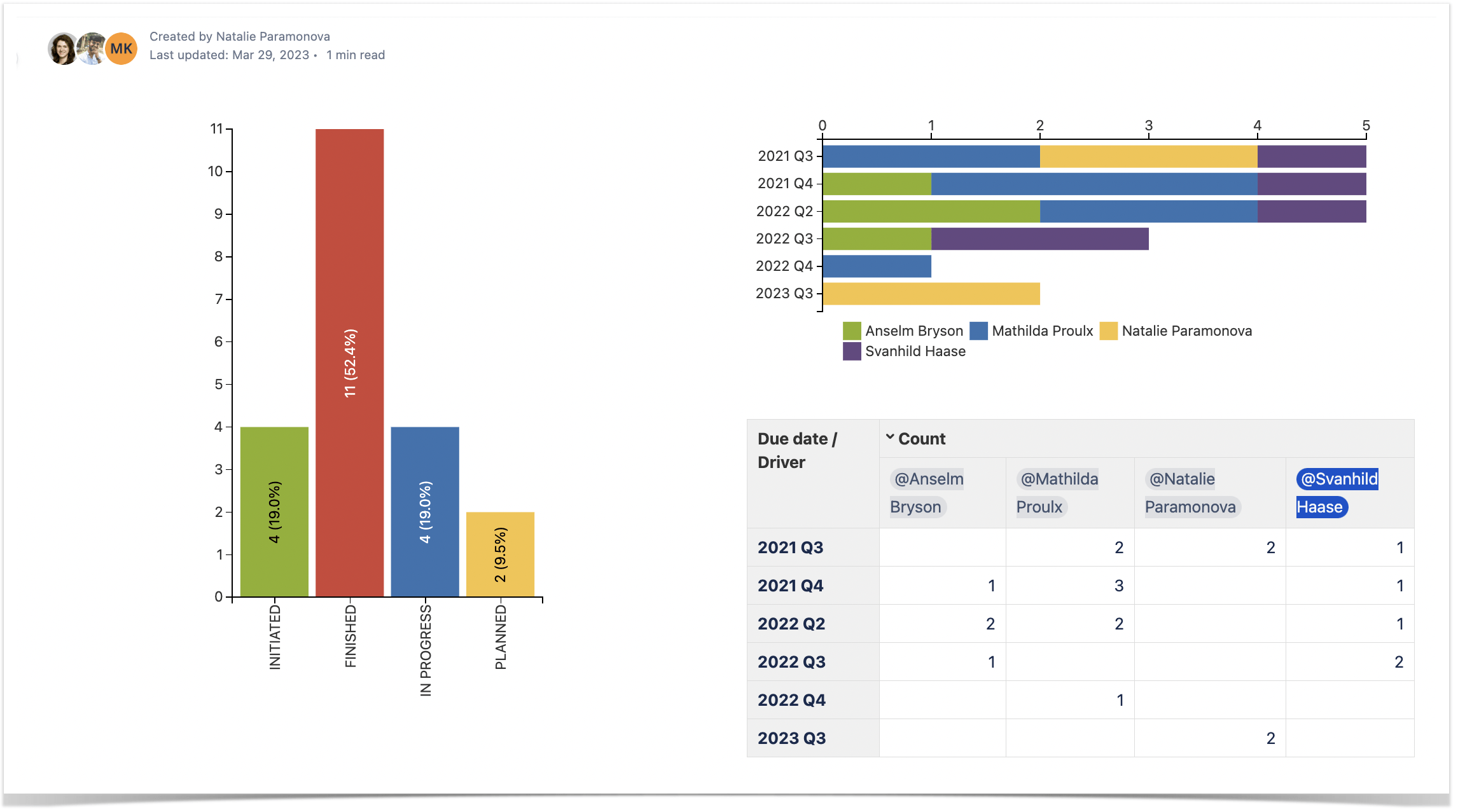 Further analysis and retrospective
Regardless of your approach, looking back and analyzing the completed work is an essential part of project management.
Regular retrospectives give you time and space to reflect on your achievements, celebrate success, and analyze mistakes. It can bring a team together and allow deliberation upon the improvements. Retrospective encourages participation and sharing interests and views, taking the team toward an amicable solution.
Sprint retrospective
The first one would be a sprint retrospective. It covers a shorter period, but being done regularly improves the quality of work without adding extra pressure on teammates. Alternatively, you can have a retrospective of a more extended period. Do this quarterly, bi-annually, or annually.
If you plan to hold retrospectives in Confluence, you can start by using some of the native tools and power them up with macros provided by third-party apps.
First, create a table filled with simple facts about the past sprint. Here, you can include a link to a task or tasks in Jira. The Jira issues macro will pull the data to Confluence and briefly describe each task. You can also have such data as start and finish dates for the chosen sprint, overall time estimate, and actual time for code writing, review, and adjustments. If you have any other indicators you want to track, you can add more lines and columns to your table.
You can also break down the sprint time into the required time to complete each task or subtask.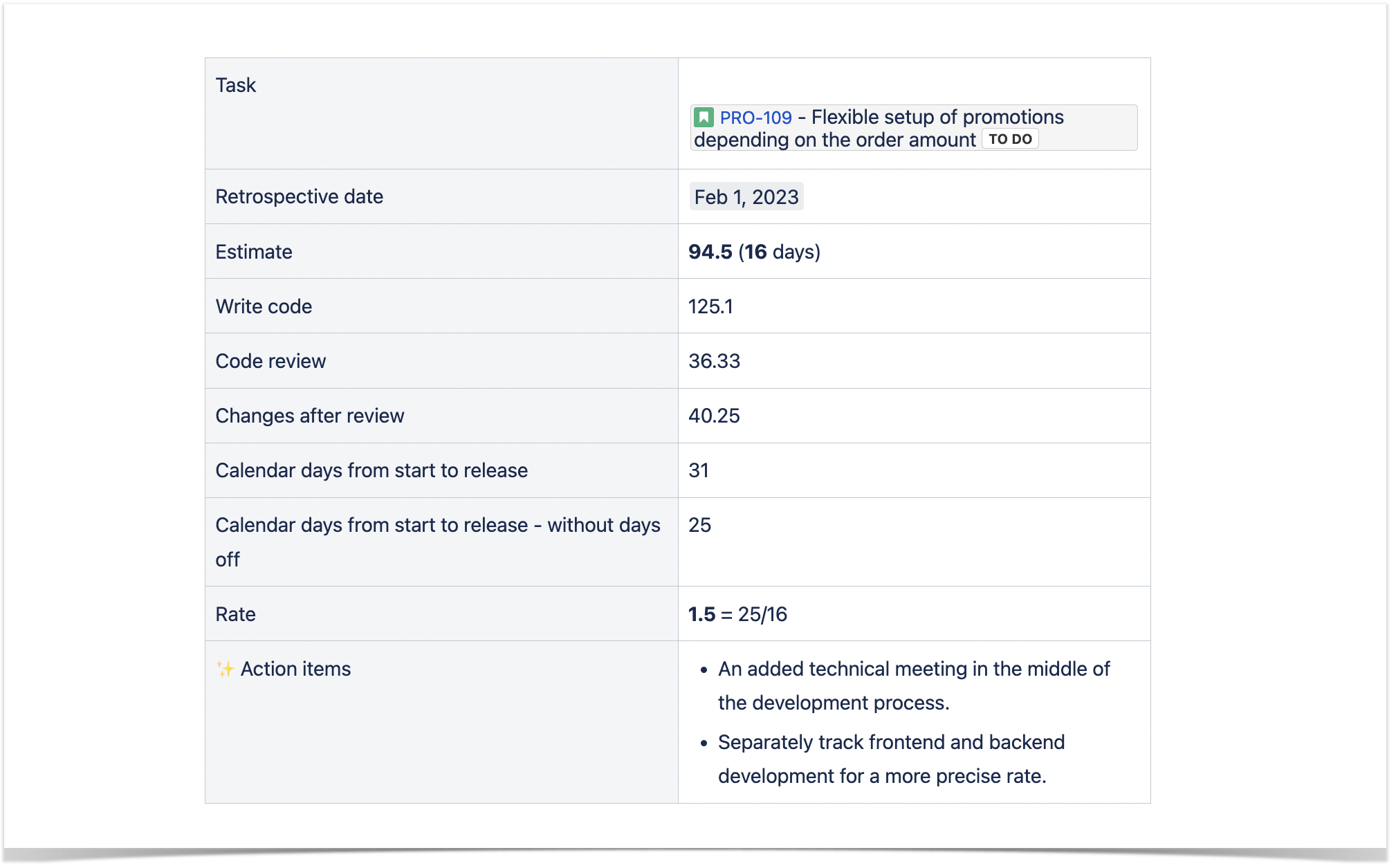 Next, let your team share their point of view of the sprint. You want to know what they think they did well, what they considered a failure, and what they would like to do differently. Then you can sum it up and devise a list of action items you want to implement in the upcoming sprint.

If you look back on your sprints regularly, you can then review the processes in your team. Use the Page Properties Report macro to create a table with relevant data about each sprint. This way, you can see the global picture and discover repeated issues.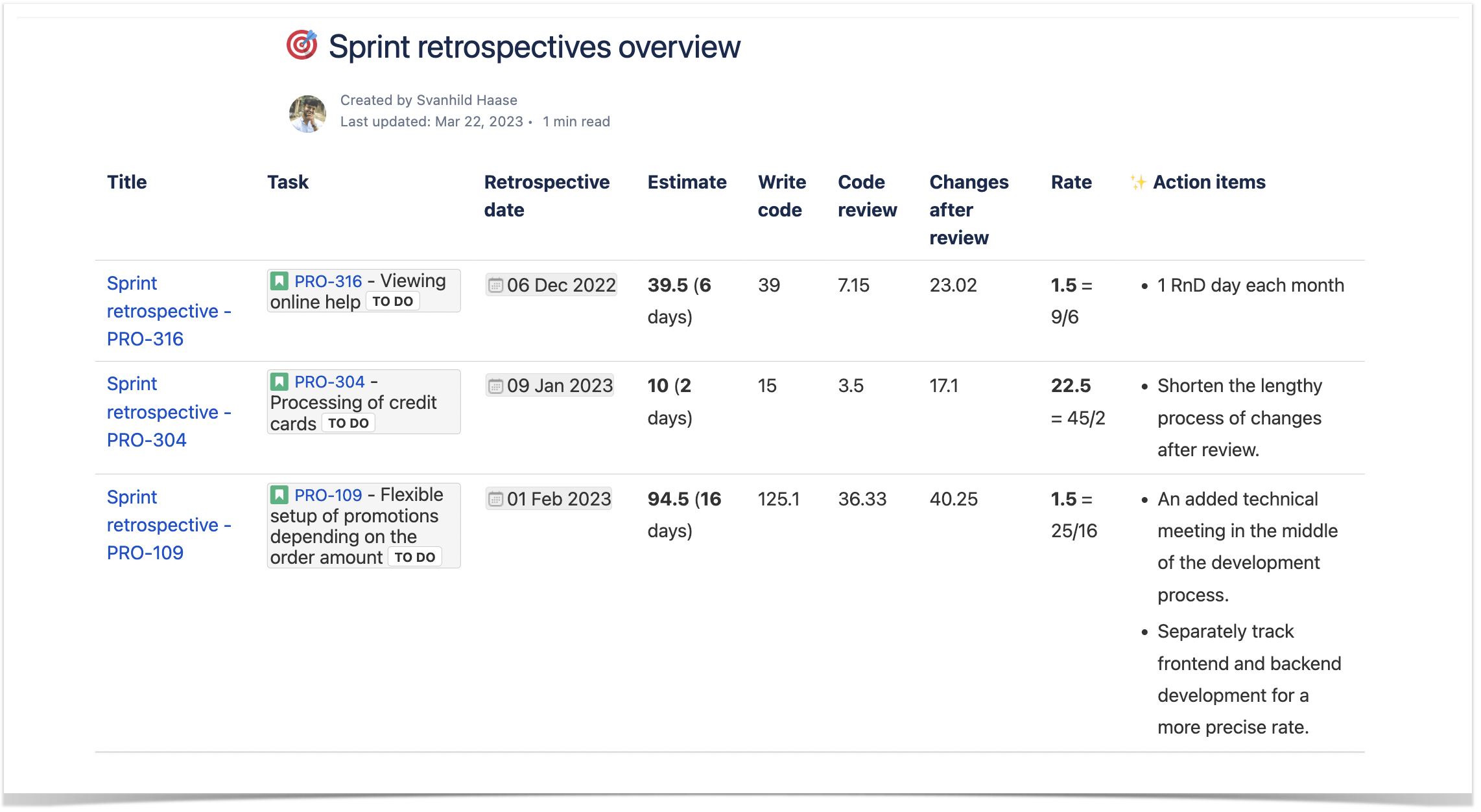 Annual retrospective
Let's look at an example of an annual retrospective a product team might have. The first thing you can see here is a visualization of the whole year. To make it, you can use a Roadmap Planner macro. It consists of product-related and team-related events. You can add as many bars as you need and fill them with relevant information.
Apart from that, it is important for each team member to reflect on their work. They should suggest things to start, stop, or keep doing to encourage collaboration. Next, after a brief discussion, a team can make a cooperative decision to implement some of these items or stop doing certain things that feel counterproductive to most members.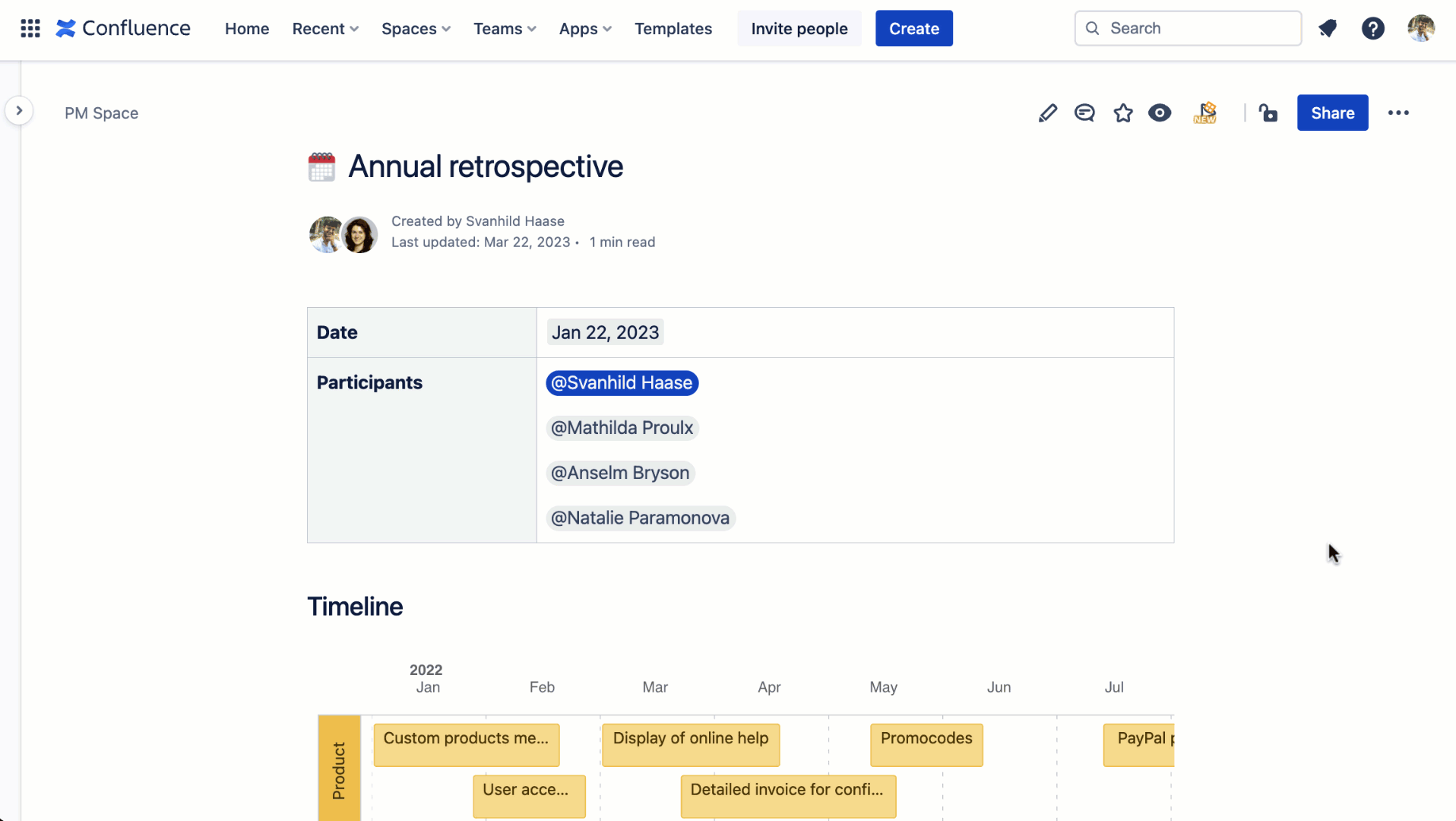 Atlassian tools for project managers
Confluence and Jira are two of the most popular tools used for project management. Their integration allows teams to collaborate effectively and manage projects efficiently.
We hope the tips we shared inspire you to try out new tools and implement new practices in your project.