Overview of To-Do Management Tools for Teams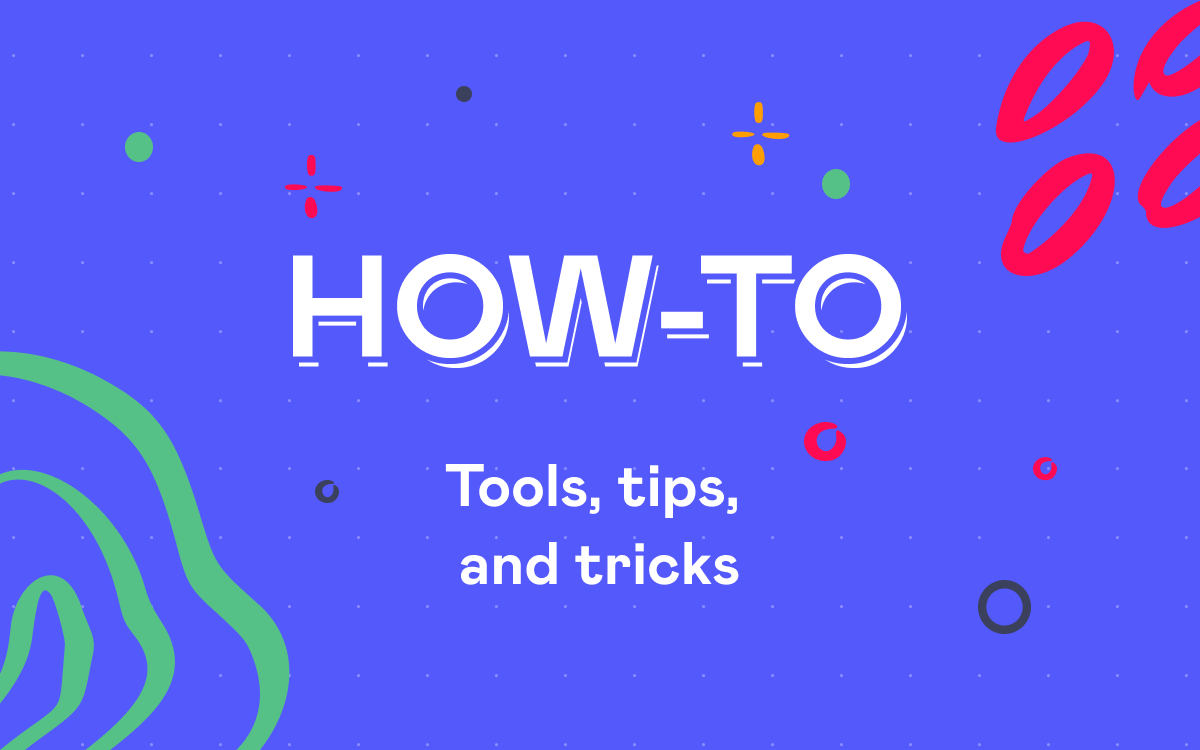 There are plenty of solutions for managing tasks and to-dos for teams to be more organized and efficient while sharing work and collaborating on the same projects. If you are looking to start using such a tool at your workplace or are already using one, but would like to try something new, this post will give you an overview of five options to consider.
A perfect task management tool has the right set of features, a nice and user-friendly interface, it is fast and easy to use. It should be flexible, but not overwhelming or confusing with loads of advanced functionality that your team doesn't need.
Let's take a look at a brief overview, major features, and pricing of:
Use the highlights below to compare these utilities and see if one of them matches your needs.
Trello
Trello is a free tool that helps teams stay on the same page synchronizing multiple tasks. You can create personal and team boards to track your tasks. If you are not sure what to start with, you can customize templates and use them to boost your productivity at home and at work.
You can easily organize and plan your activities, be it a new team project or your family vacation. Create a board and populate it with lists to visualize your work adding cards to each list. Trello cards are easy to use: you can add checklists, tags, comments, files, due dates. You can rapidly drag and drop items between lists to show progress to your teammates.
You can start your Trello experience with this to-do list template.
Pricing: Trello is free to use. If you are planning to use it for free with your team, you can create only 10 boards. The unlimited amount of boards and more capabilities are available in the Business Class version for $9.99 per user per month. You can be billed monthly or annually. Learn more.
Confluence Cloud
Confluence is a collaboration software that helps teams keep all their work in one place organizing it with the help of pages and spaces. Teams can swiftly share content and discuss their projects. The great thing is that either you need to manage product requirements or you want to collaborate on marketing plans, you can use different templates that can save you a lot of time.
In Confluence, you can create task lists mentioning your colleagues who can also edit the tasks adding statuses and due dates.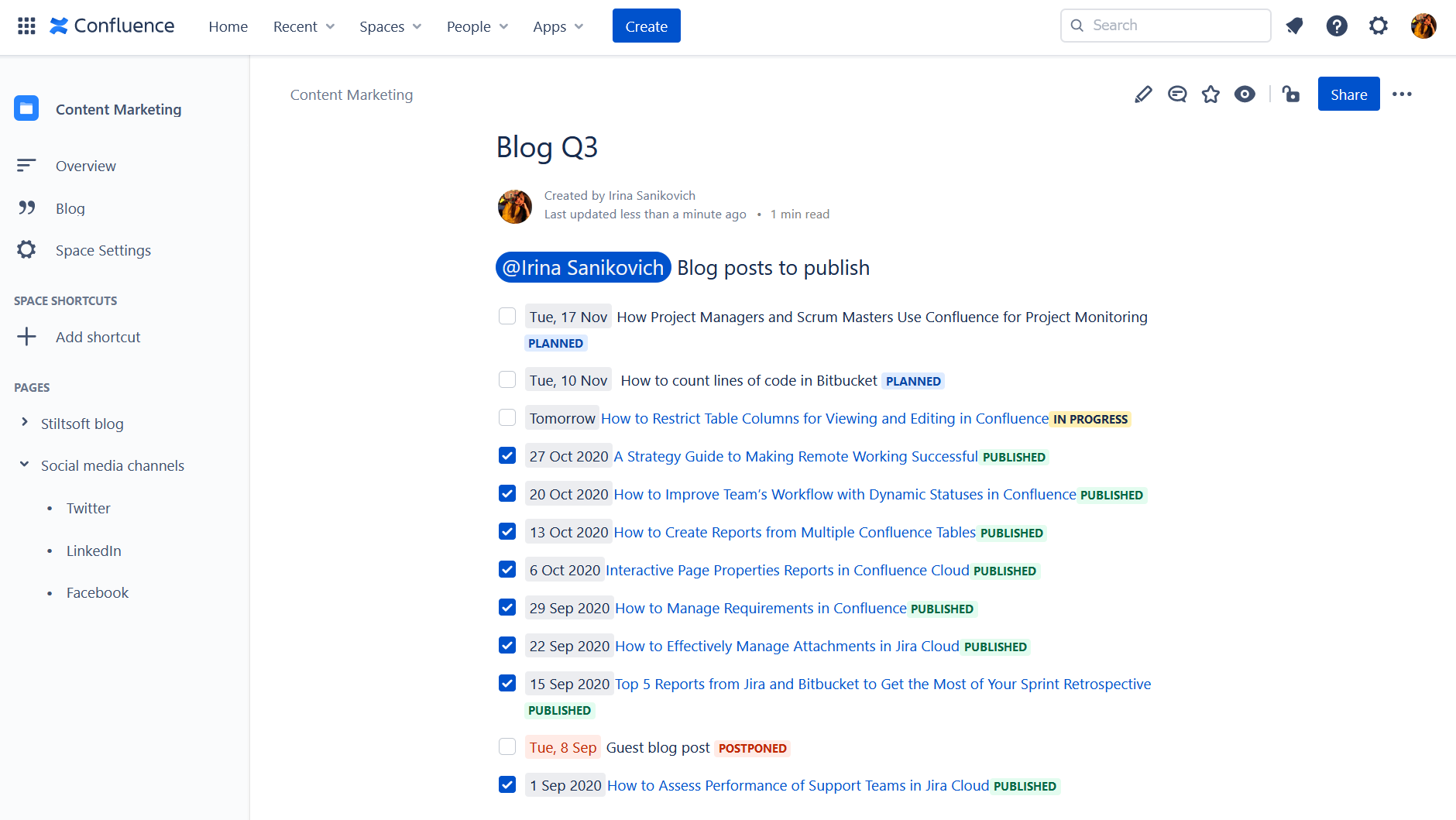 Moreover, you can edit tasks in real time together with your coworkers avoiding mess in your documentation.
Pricing: Confluence is always free for teams with less than 10 users. You can get the Standard plan for $5 per user per month choosing annual or monthly billing. Learn more
Asana
Asana is a web and mobile application that allows you to manage tasks online without using email. You can create an organization or a workspace that will include members (your company employees) and guests (customers, partners, etc.). Employees are grouped in teams and you can organize their work in projects with tasks displayed as a to-do list that can be sorted and filtered based on user's goals. A task list can have sections to arrange tasks based on their priority, different work stages, categories, etc. What's nice is that the list of tasks is not overloaded with details. But they are one click away – select a list item and view its details on the sidebar that can be collapsed to get a better view of a task list.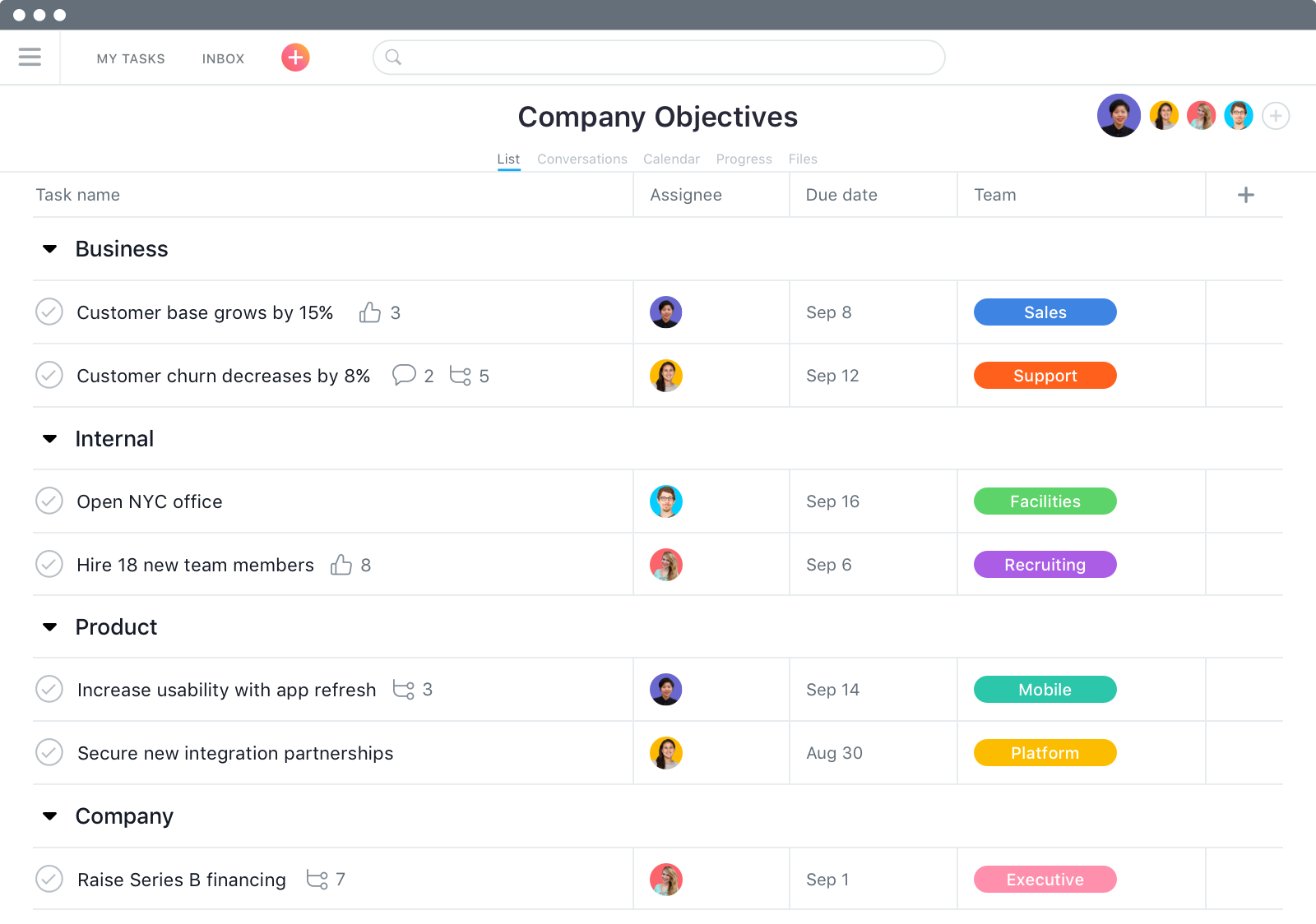 Working with tasks is easy and intuitive, while powerful. You can assign a task to delegate it to someone, set a due date and time, create sub-tasks, post a comment, attach files, follow the task, mark the task complete or incomplete, and more.
Besides seeing a list of tasks from the project perspective, you can view the list of all tasks assigned to you or some other person across all projects. Another cool feature is personal and team calendars, which show tasks assigned to you (personal calendar) and tasks of your team across all projects in a single view.
You also get:
Inbox page, where the updates on all projects you're a member of and tasks that you follow or are assigned to are shown
Dashboard with your projects' progress charts
Basic and advanced tasks search capabilities
Reminders about tasks
Private projects, tasks, and teams
Creating tasks and conversations by sending emails to Asana
Team conversations, where team members post announcements and discuss work
Email notification as an alternative to using Asana Inbox.
Pricing: Accounts in Asana are free and tied to individual users. For teams up to 15 people, there is a free plan with basic features. For larger teams or to use premium benefits, you need to upgrade either the entire organization or one team. The cost of the premium option depends on the size of your plan. You can get Asana Premium for $10.99 or less per user per month. You can be billed monthly or annually.  Learn more
Hubstaff Tasks
Hubstaff Tasks is a web-based project management tool that simplifies team collaboration. Its intuitive interface makes it easy to jump into for teams of different sizes.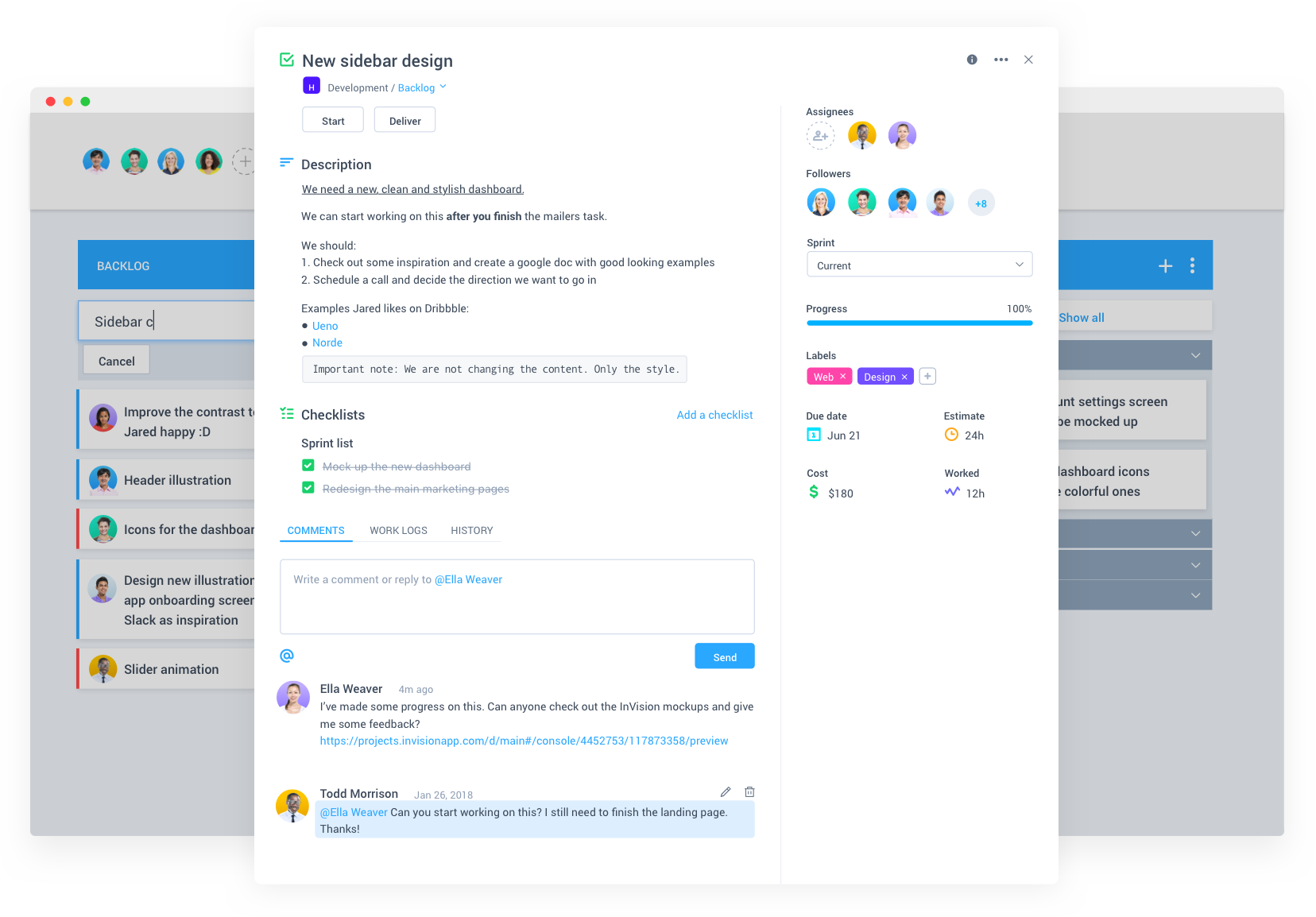 Hubstaff Tasks keeps all of your tasks organized in a Kanban board using cards and columns. The app will show you a quick overview of all the tasks that are currently being worked on, which project phases they are in, as well as who's working on them. You can create a card for each task or to-do and move it to different stages of the project by dragging and dropping. Here's what you can do with your task cards:
Assign team members and include followers
Add task descriptions, attach files, and create task labels
Set due dates and hourly estimates
Communicate with and notify teammates using comments
The app has an Agile Sprints feature that shows you all the tasks assigned to you. You can organize them by current or future sprint, allowing you to prioritize the right tasks and keep the workflow moving forward.
Hubstaff Tasks's custom workflows feature lets you advance tasks to the next stage and assign them to the right team members with just one click. It also has automated Stand-ups that team members can use to report accomplishments and roadblocks. With these features, you can ensure that everyone is on the same page and that things are getting done.
Pricing: Hubstaff Tasks has a free plan for up to 5 users. Its Premium plan offers unlimited projects and 5 GB of storage for $5/user/month. Learn more
Remember the Milk
Remember the Milk (RTM) is a cross-platform web-based application that you can use to manage tasks from a computer or smartphone online or offline. This tool is a popular task manager for personal use, but you can perfectly customize and use it for business purposes.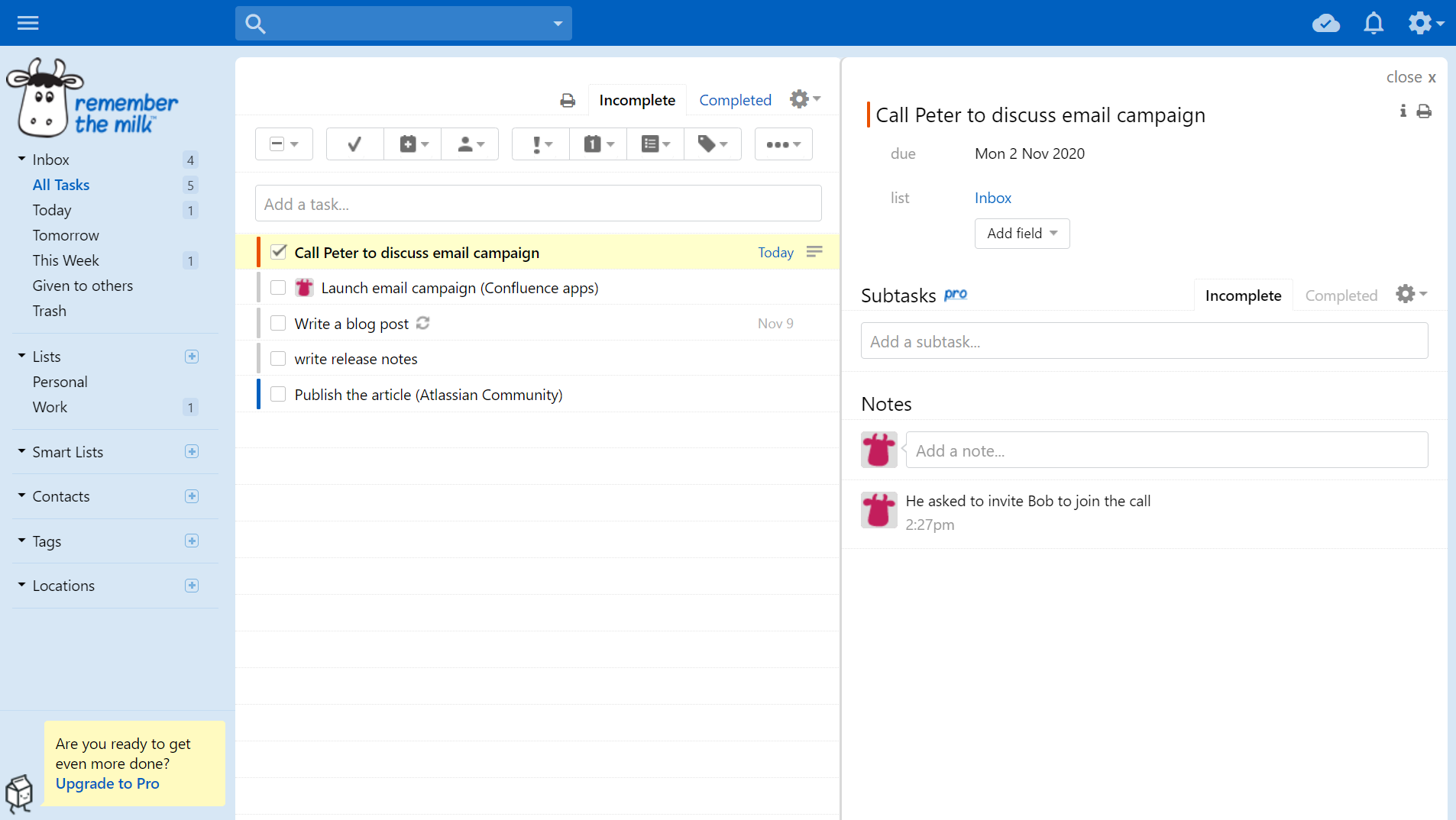 If your team's work is organized into projects, you can create separate lists for each project. You can create subtasks (this feature is available for Pro accounts).
You can assign tasks and share/send to-dos to other RTM users. Tasks can be prioritized, postponed, moved to another list. You can perform actions on several tasks at once and set reminders. It also supports recurrent tasks, comes with flexible search, several sorting options, and the ability to add tasks via email. It is even possible to add a location to a task.
You can track tasks that are due today and tomorrow or are overdue. It is easy to get a printable weekly planner.
Remember the Milk has the Pro Tester Program, which you can join to get access to pre-release versions of new cool features. So if you are missing something in the released version, check out this program and see if what you are looking for is available there.
Pricing:  Standard Remember the Milk accounts are free. Pro accounts are $39.99 per year and give you access to additional features. Learn more