Smart Project Planning in Confluence
January 21, 2020
#

Project management
#

Reporting
#

Analytics
#

Integration
#

How To
#

Confluence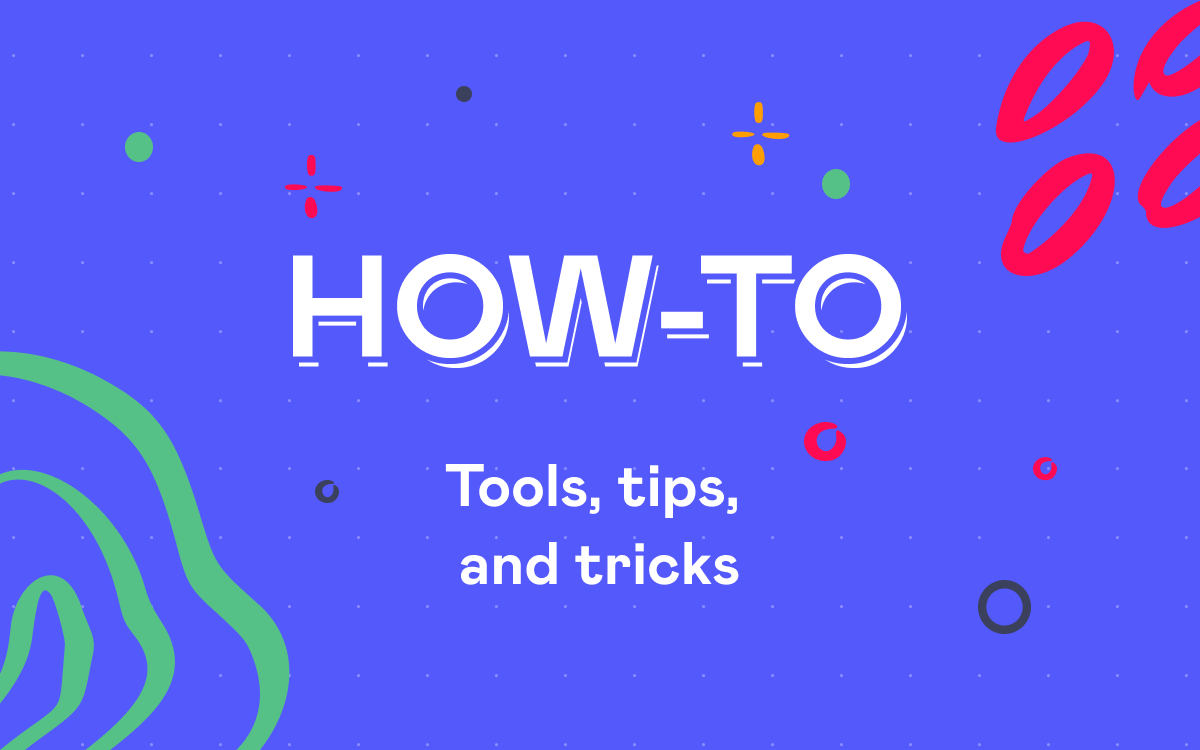 Aloha, Atlassian fans! 
Have you ever thought of vacation planning as a project that requires thorough study and preparation? My colleague and I decided to challenge ourselves and plan our dream vacation with the help of Confluence because we use this collaboration software every day at work to create content and share ideas on the fly.
In this blog post, we will show you that Confluence can be a great travel planning tool that helps you carefully plan every step of your trip. You will get answers to the following questions:
How to choose a place to stay that suits your preferences
How to plan your travel budget
How to discuss your travel plans with your colleague
How to get more ideas for great travel photos
How to choose the best hotel at a bargain
The Gold Coast city in the Australian state of Queensland is our dream destination. We start by gathering all the information about hotels, hostels, and apartments in the Gold Coast on Confluence pages. Next, we create a master page with the help of the Page Properties Report macro.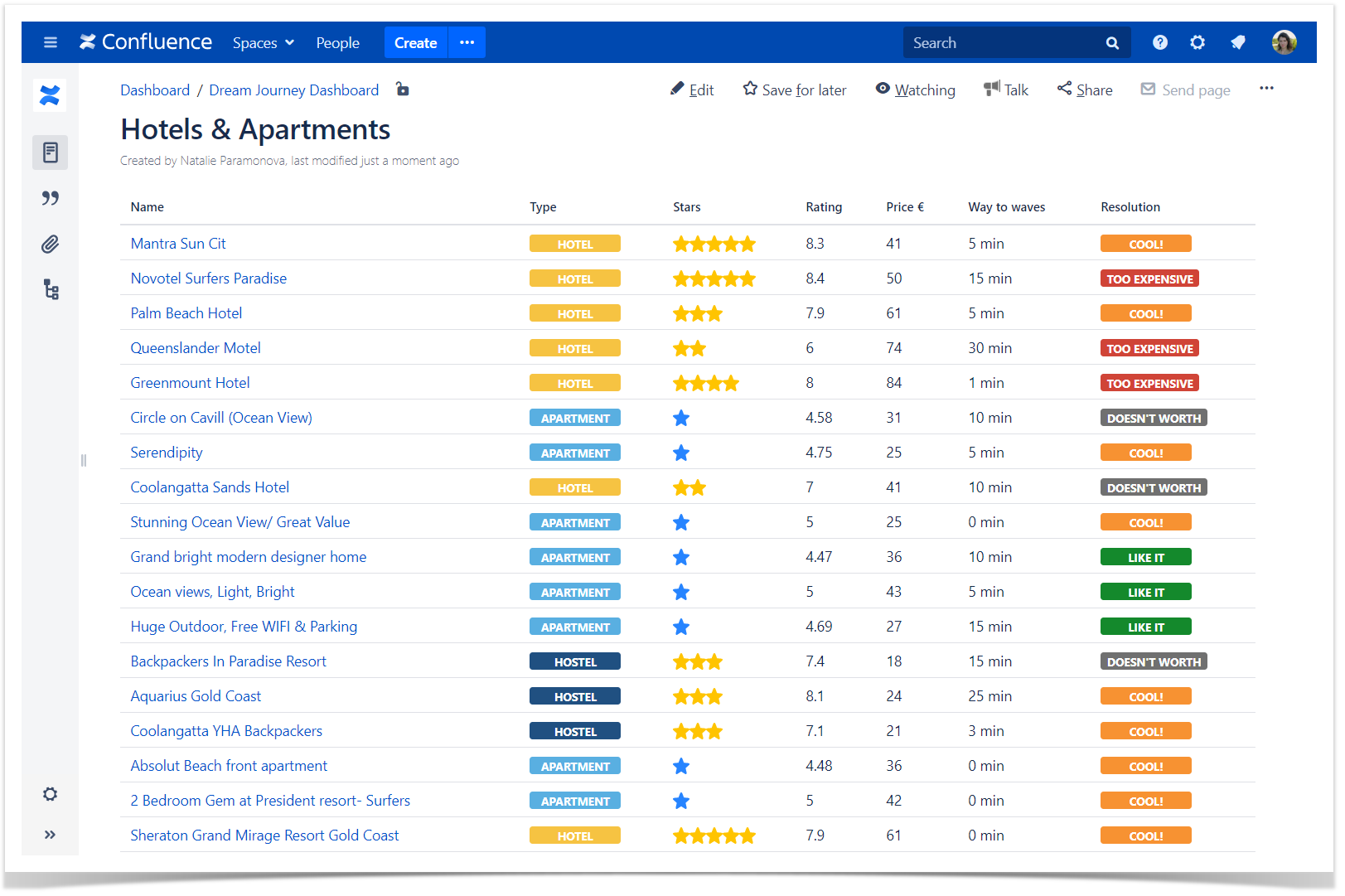 Now we have a detailed list of hotels. However, it can be a bit difficult when it comes to working with table data. We love to filter and sort tables and visualize them with the help of dynamic charts and graphs. This functionality helps us to get a bird's-eye view of all options from the table, range the accommodations, and, finally, select the best hotel for our needs.
How to stick to your budget
We need to accurately plan our budget because covering more than 15 000 kilometers to Australia would cost us a fortune. Moreover, we plan to spend a terrific time in Australia and some extra money for entertainment will come in handy.
So we create a table with our travel expenses distributed by multiple categories.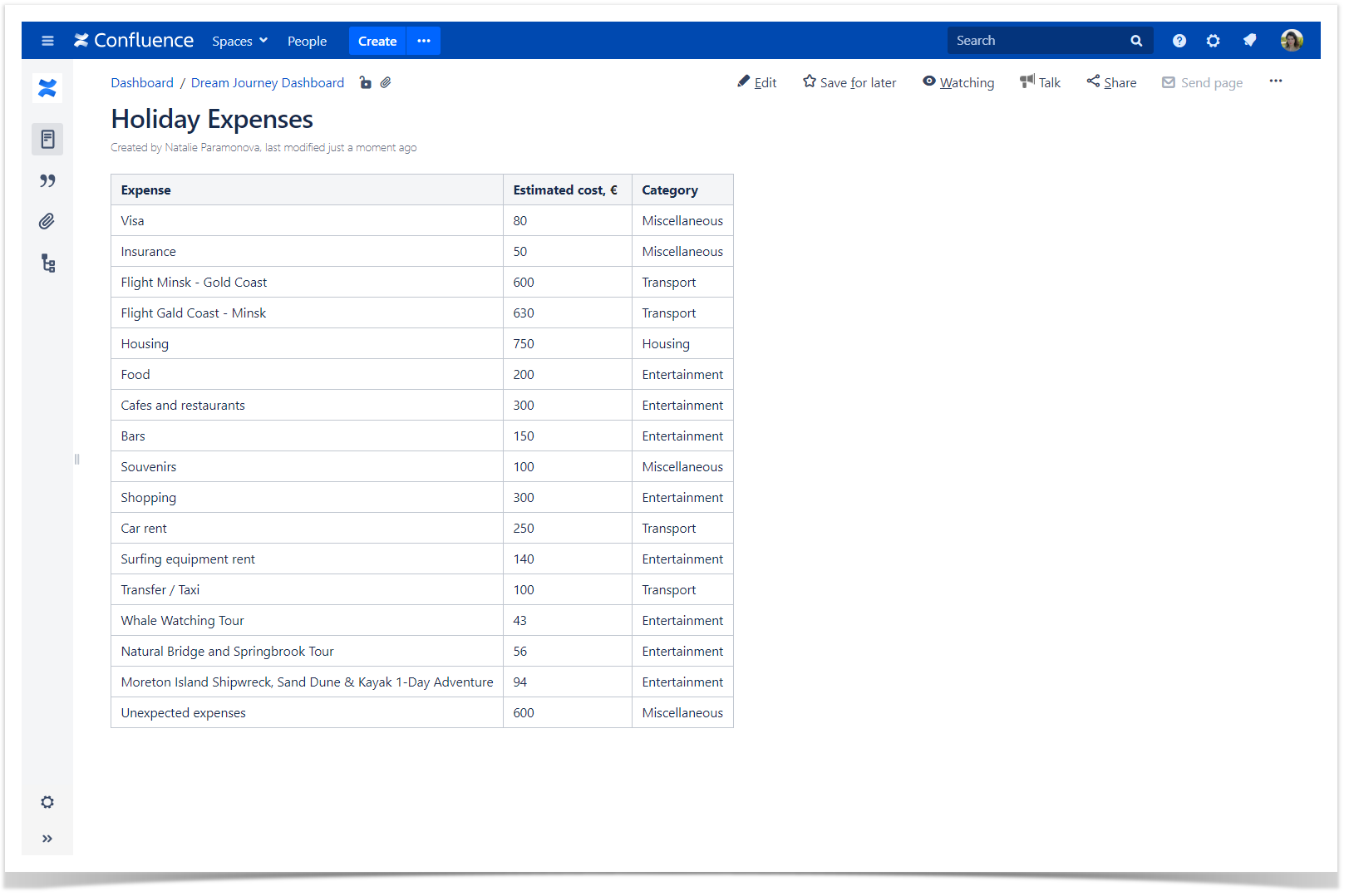 With the help of the pivot table, we can aggregate all the expenses in each category. After that, we can view the chart to analyze them.
No doubt, Confluence is a platform for team collaboration. Irina can rapidly review the table with expenses because it's better to plan more money for unexpected expenses. She can easily add suggestions to the content to let me know what she thinks about my plan.
Pro tip:
Learn more about using Spreadsheets in Confluence
How to find inspiration
One does not simply spend hours surfing on beautiful beaches, watching awesome sunsets, and making no photos. We've found a couple of pictures that inspire us to make our own during the vacation.
So we upload already structured files to Confluence and easily embed the required folder into our Confluence page to manage these files on the go.
How to get all the things done
And the last but not the least thing in planning a journey is to keep an eye on deadlines. We have so many tasks and don't want to forget about anything. Our dear old friend Gantt chart can help us in this situation. We can plan some periods to complete every task and define the milestones to draw attention to particular tasks. To keep our plans on track, we add flexible reminders that are easy to configure.
Confluence for project planning
Confluence is all about working together and is a perfect solution to get everyone on the same page. It helps you accomplish multiple tasks at the same time, from writing blog posts to building a knowledge base. So why not use this trusted software to plan your dream vacation?
We hope that this blog post helped you look at Confluence from a different perspective and discover more capabilities you can use with the help of:
Please, share your story of using Confluence in the comments below. What are your use cases?