Talk: Track Inline Comments and Prioritize Discussions in Confluence
May 11, 2018
#

How To
#

Confluence
#

Collaboration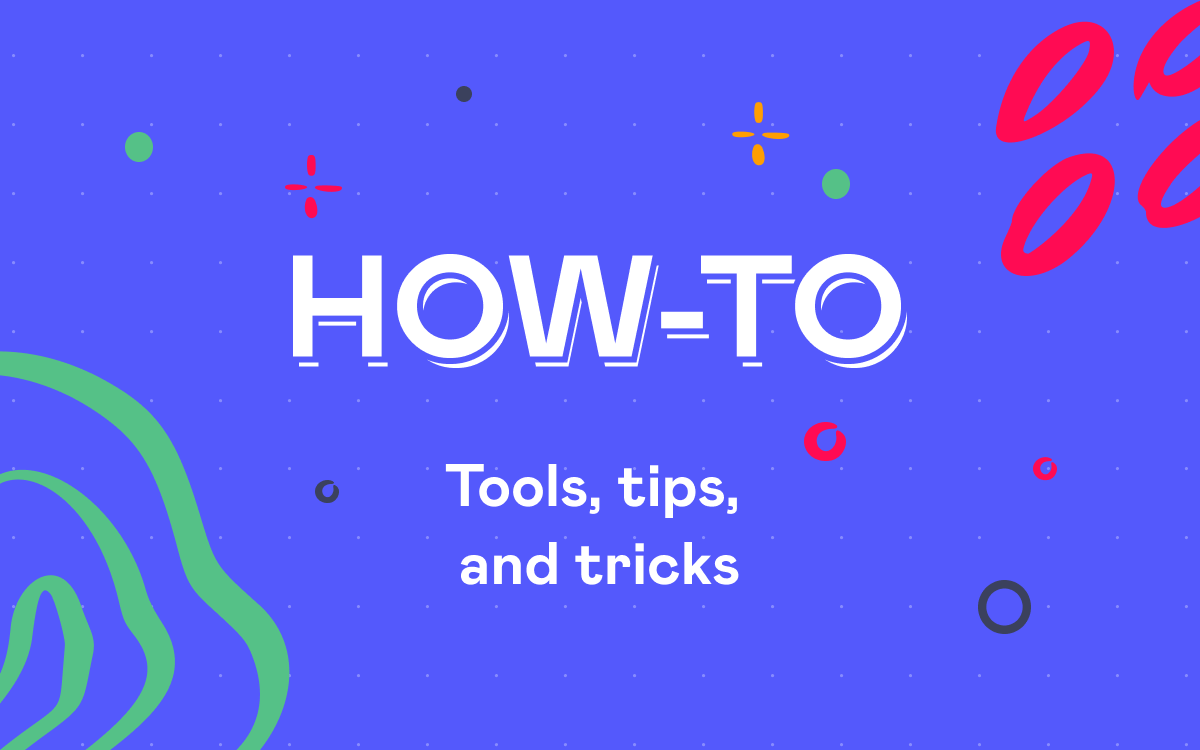 At StiltSoft, we aim to provide you with the most useful solutions that will take your experience with Atlassian products to a new level.
The Talk – Advanced Inline Comments app is not an exception. It allows you to add powerful inline comments to your Confluence pages. This useful tool helps you add comments anywhere on the page, both while editing (this feature is not available in native inline comments) and viewing the page content. Moreover, you can restrict access to specific talks for appropriate users or groups making your conversation private. But we all know that there is always room for improvement.
So in version 3.5.0 we introduce two long-awaited features: tracking discussions with Talk Report and prioritizing comments.
Now let's see how these new features facilitate your review process while working with Confluence documentation.
Focus on what really matters
Now you can prioritize your comments. This way you can let your colleagues know how fast to respond and take action.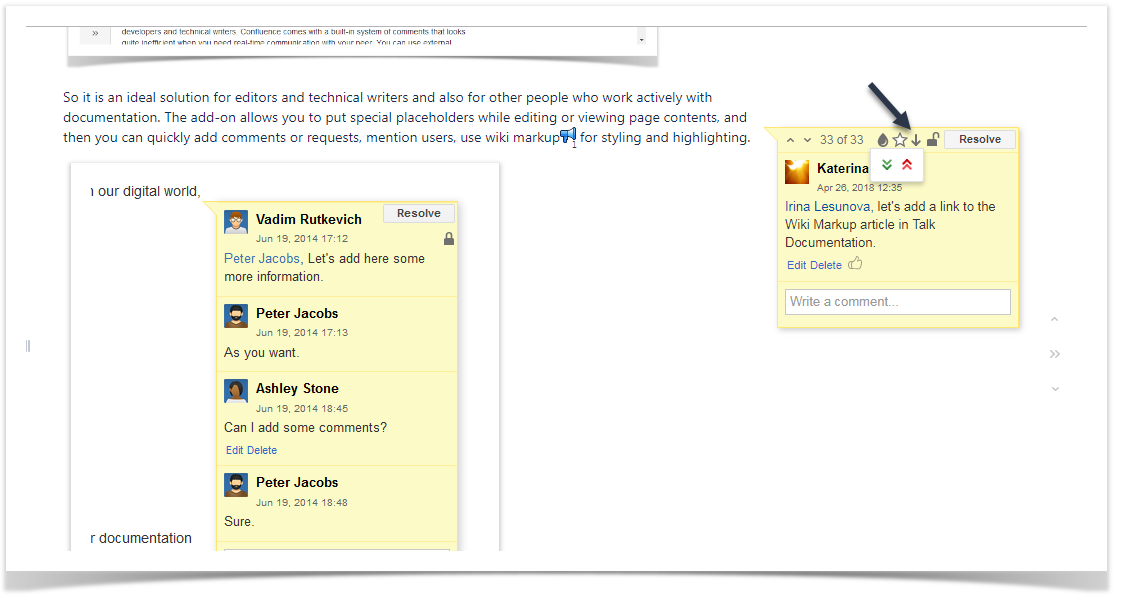 If your page has a lot of talk discussions, you can quickly find the comments with the high priority status and see what needs to be done straight away.
Capability to easily track unresolved comments
Many people use inline comments to leave their feedback to the content they read. If you have a lot of readers, you can rely on email notifications. However, some people do not pay attention to email notifications or just miss them because of the strict spam filters.
You may also have a lot of discussions that are open over a long period of time. So you will need to review every page of your space for these open unresolved comments not to forget about them.
But what if you have hundreds of readers and your space grows quickly?
You can use the Talk report that shows you all discussions spread over multiple pages in the space.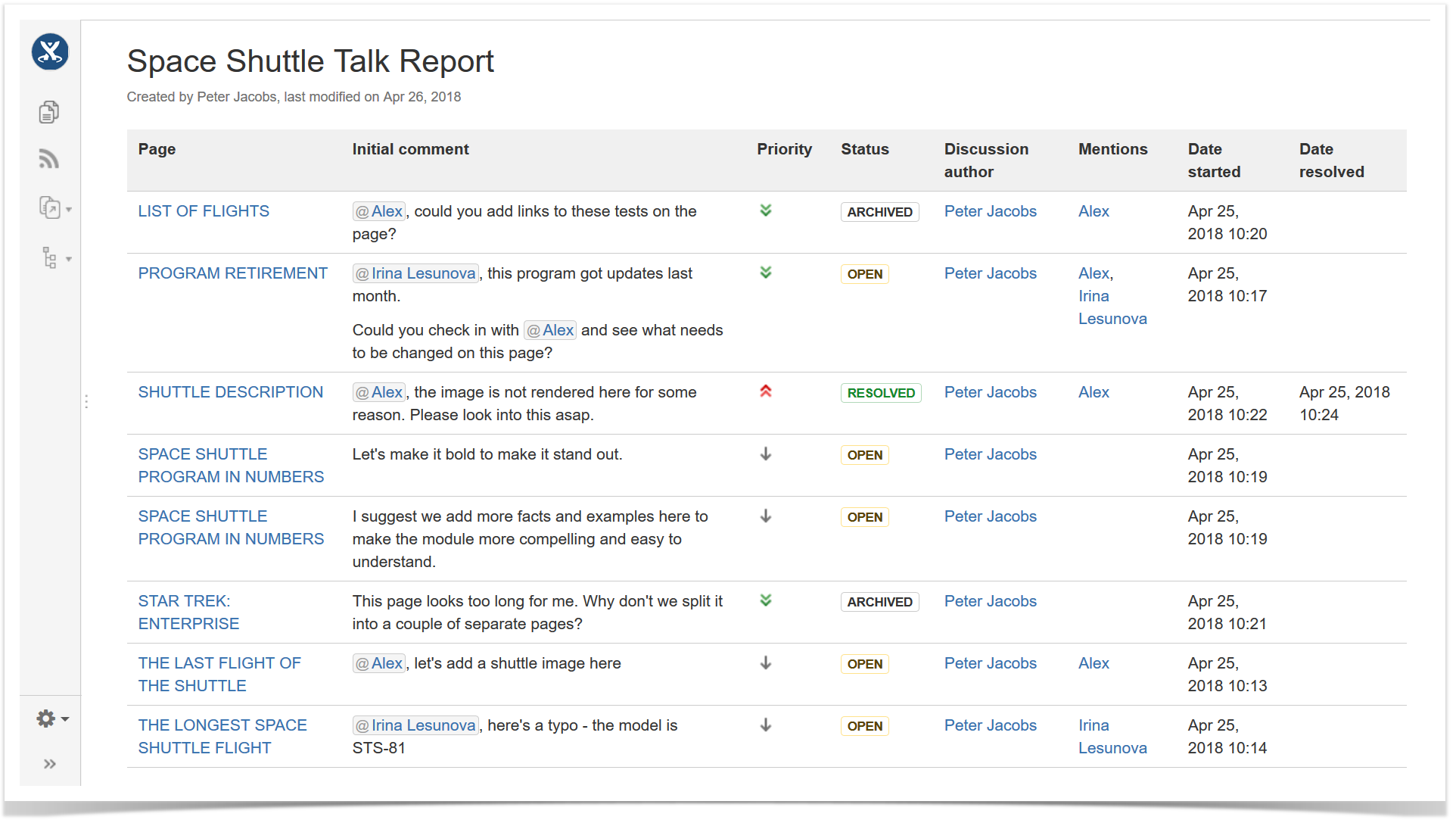 Now you have the overview of all comments in the space showing you the status, priority, mentions, and more of every talk.
Quick search for open discussions without @mentions
If your colleagues work on documentation, you may have a lot of open discussions. Sometimes users create comments without mentions. So if some content creators are no longer working for the company, there is no one to watch comments.
In this case you can also use the Talk report that shows you all comments including discussions without mentions.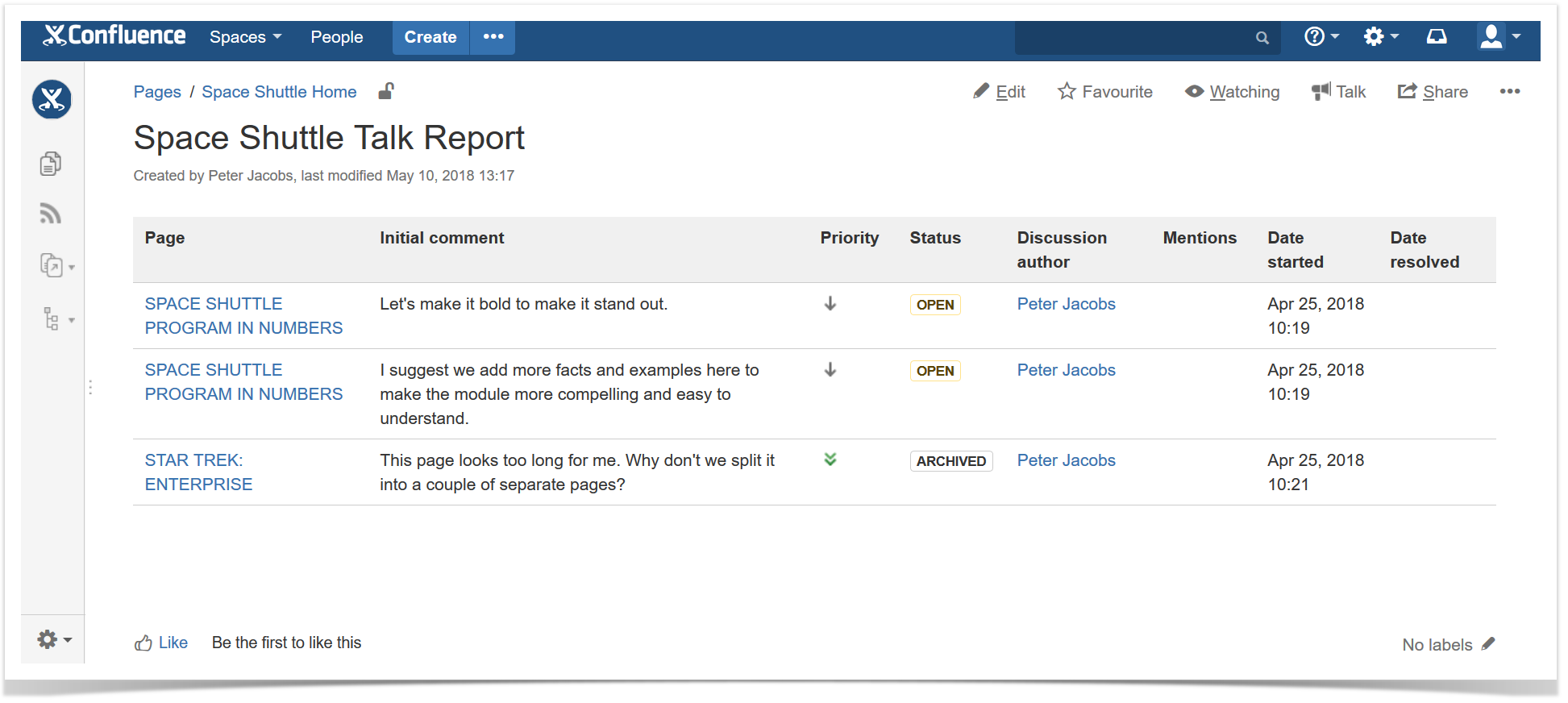 Capability to find comments assigned to you
With the help of the Talk report you can quickly find comments assigned to you. It saves your time and effort because now you do not need to go through all pages and look for the required talk.
How to find what's needed and analyze your Talk report data
The good news is that you can use a bundle of the Talk – Advanced Inline Comments and Table Filter and Charts apps to get the required information in a blink of an eye.
If you have a lot Confluence pages with various discussions, it can be difficult to quickly look through your Talk report. For this purpose you can use our Table Filter and Charts app that allows you to analyze and evaluate the required date, generate tables with summarized data and create dynamic charts and graphs.
So you can translate your data into actionable insights with the help of three useful macros of Table Filter and Charts.
Filter your report data on the fly
With the help of the Table Filter macro you can quickly find the required information in your Talk report regardless of its size. You can apply multiple filter types depending on your needs.
For example, you can choose the required Confluence page and find all open talks assigned to the certain user.

You can apply different filter types to all available columns of your Talk report.
Create pivot tables
If you want to count some repeated values, you can easily transform your Talk report into a pivot table using the Pivot Table macro.
For example, you can check the amount of talks with different status and priority level created by every team member. You can also check the amount of talks on the certain Confluence page.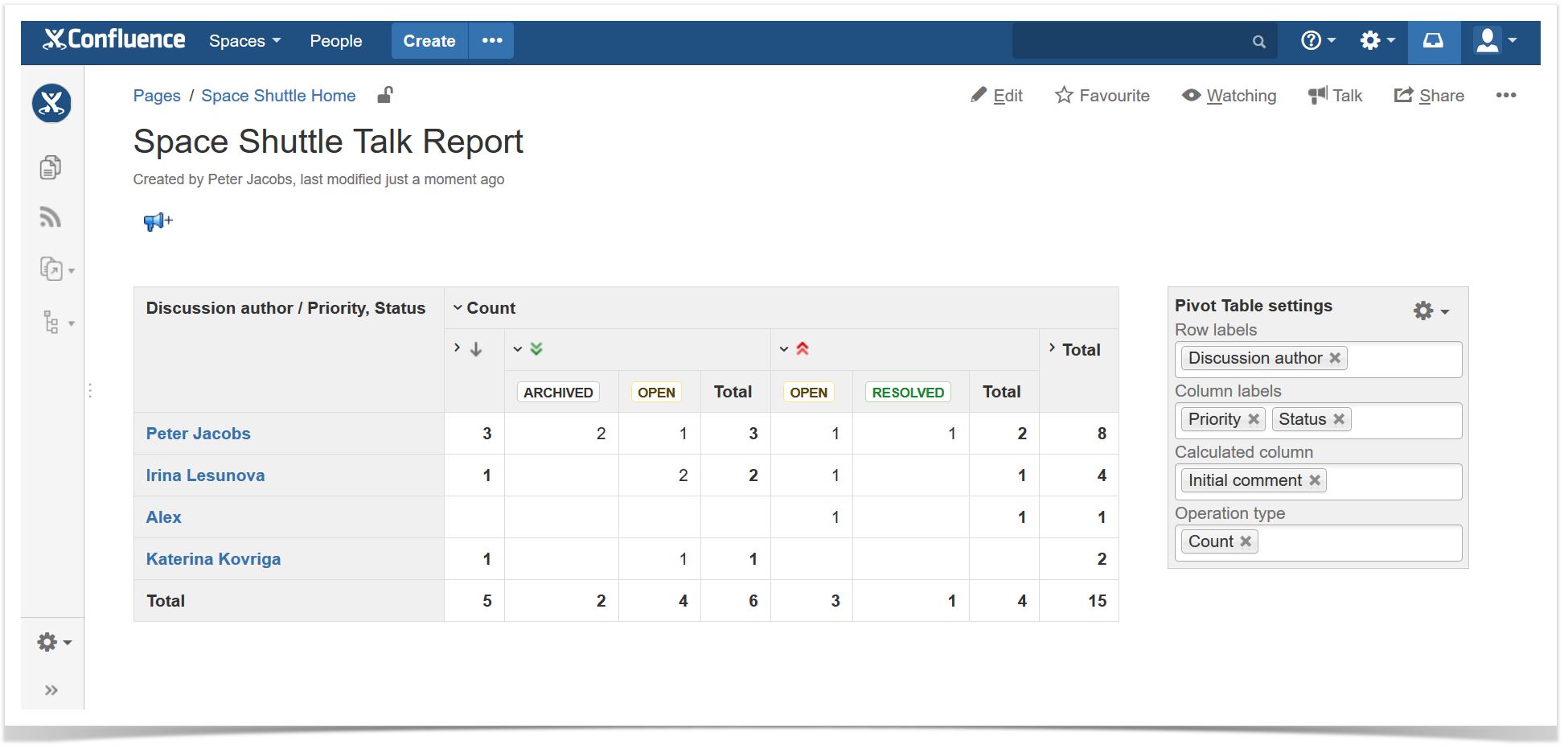 Visualize your data
You can also generate a dynamic chart with automatic update of its values with the help of the Table Chart macro.This macro allows you to quickly visualize your numbers into a pretty looking charts for easy data perception.
This way you can easily compare the amount of talks per discussion author, status or priority.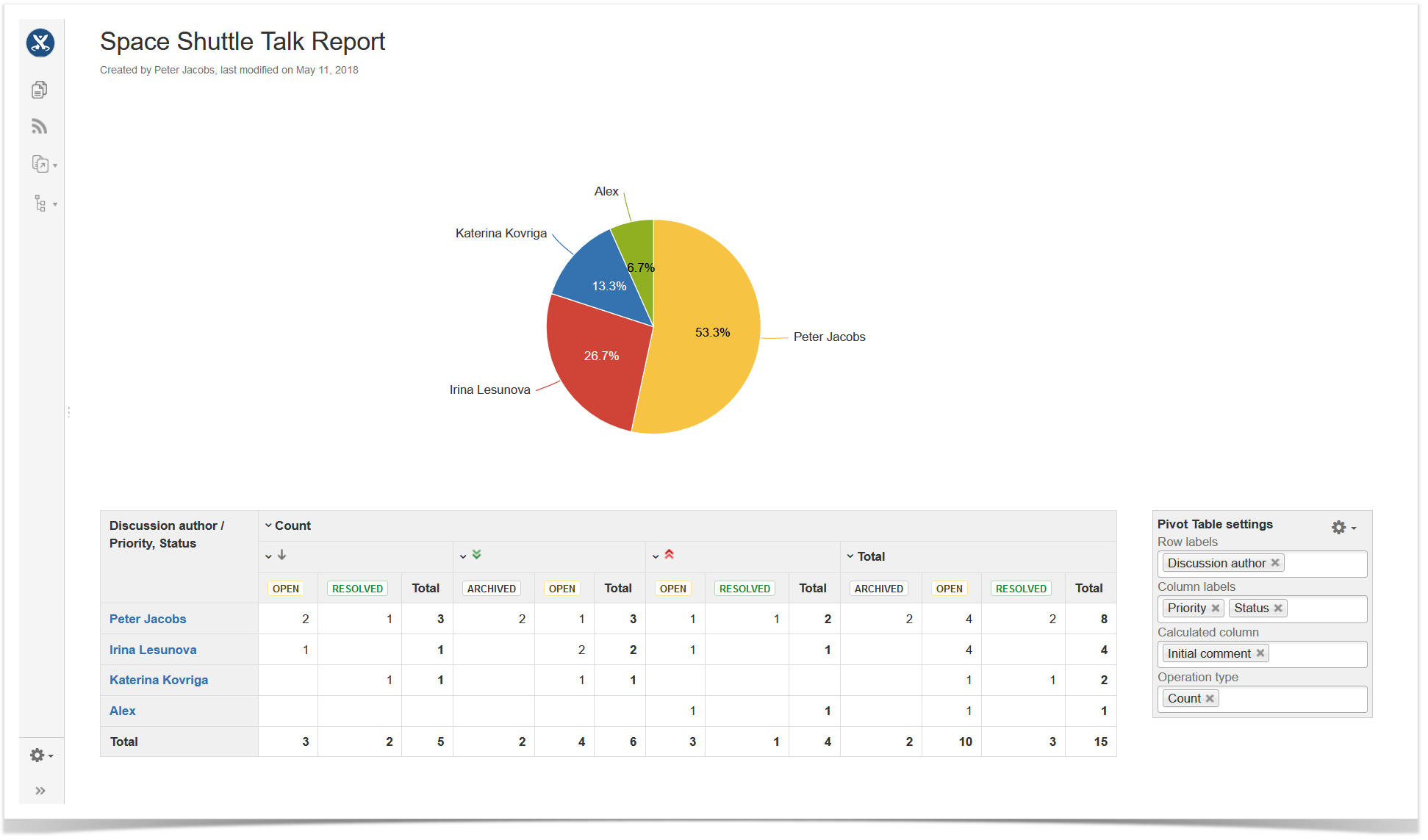 Share your feedback with us
Talk – Advanced Inline Comments can be a real alternative to the native inline comments. Especially now when it provides you with a capability to prioritize discussions and customize your Talk report that allows to see all Talk inline comments across all spaces, a selected space, a sub-tree of pages or a single page.
You are more than welcome to share your ideas about how to improve our Talk app.