10X Your Performance in Confluence With 10 StiltSoft Apps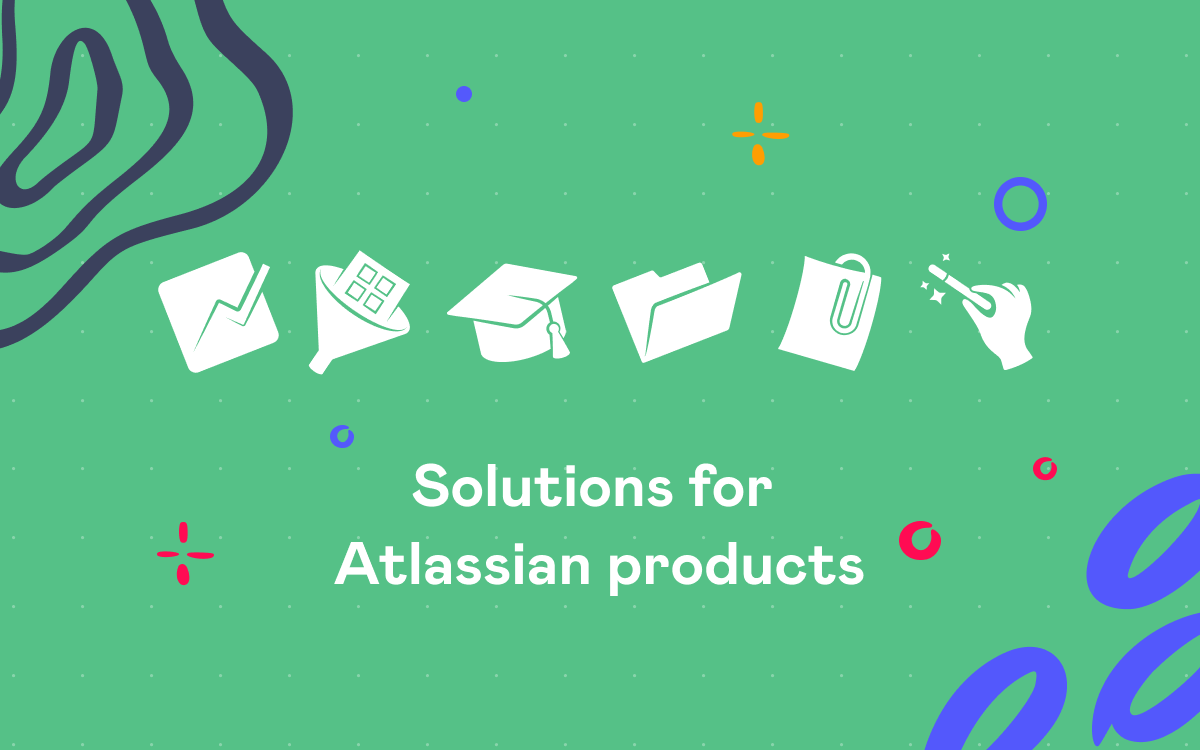 Atlassian Confluence is a content management software that lets you get more done keeping your work organized. This team collaboration platform helps you get an immediate access to the information you are looking for because everything you could possibly need to create great content is in one place. Confluence allows you to easily create, update, and share content with your colleagues making this solution ideal for teams of all sizes and specializations. But there's always room for improvement, right?
The Atlassian Marketplace offers almost 1,000 handy solutions to improve Confluence capabilities and take your team collaboration on project documents and files to the next level.
In this post, we will highlight 10 useful apps from StiltSoft you can use to enhance your productivity, stay focused, and do the best work you can.
For Confluence Server:
For Confluence Server, Cloud and Data Center:
Here's how these apps can help you get most out of your Confluence.
Effectively collaborate with your team
Talk – Advanced Inline Comments
You can easily add inline comments to your content in Confluence when you want to discuss a page or blog post with your team. However, native inline comments are available only in the view mode. Moreover, everyone who has access to the page will see the comments you add.
Talk – Advanced Inline Comments helps you add more powerful inline comments anywhere on the page, both while editing and viewing the page content. You can also restrict access to specific talks for appropriate users or groups making your conversation private, prioritize discussions, and use the Talk report to have a bird's eye view of all the discussions spread over multiple pages in the space.
Try Talk – Advanced Inline Comments free
Smart Attachments
Sharing files and project documents in Confluence might be a challenging task. Have you ever thought about how to categorize and group your files in Confluence? We already did.
The Smart Attachments app provides you with a new way to keep all you project files in the centralized space storage. Now you can create separate folders for the group of files, easily use the already uploaded documents, and quickly integrate them into your Confluence pages.
Handy Macros
If you want to make your content more appealing and interactive, you can try our Handy Macros app. It is a comprehensive set of ready-to-use tools for your Confluence site.
You can create your own statuses and switch from one status to another on the fly right in the page view mode. Handy Macros also allows you to keep the track of your tasks and events with the Handy Page Diff macro, the Handy Reminder macro, the Handy Tasks macro, and the Handy Timestamp macro. This app helps you add attractive image and video carousels for capturing attention of visitors using the Handy Carousel macro, and more.
No Email Storm
No Email Storm is an app that can be a life saver for those who forget to uncheck the Notify Watchers button when saving minor changes and bother your teammates with tons of notifications.
After installation of this add-on, you will see the Update & Notify button next to the Update button instead of the Notify Watchers checkbox. This way you can click Update if you just want to save changes without notifying the page watcher, or click Update & Notify to share the information about what has been changed.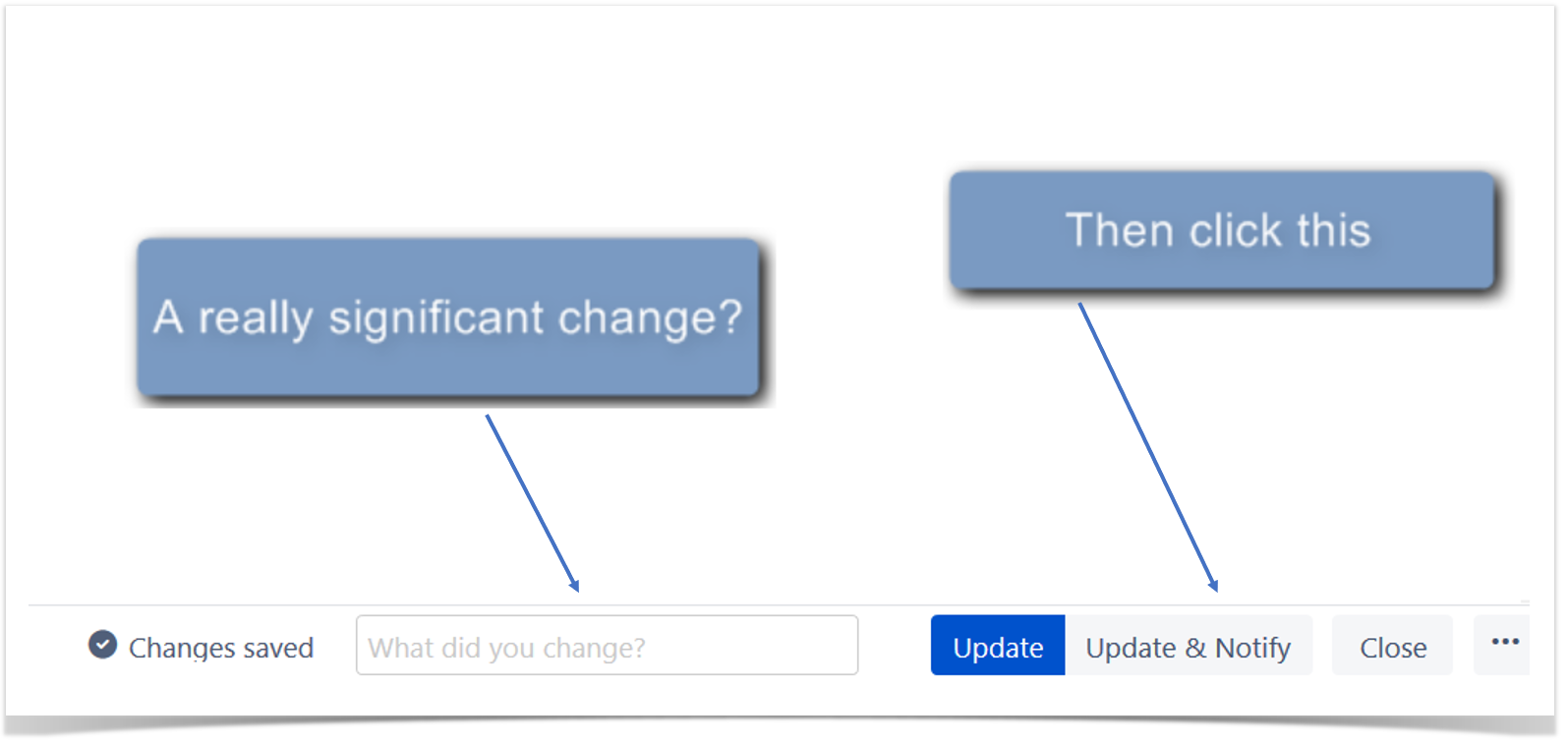 Turn your Confluence pages into something more
Table Filter and Charts
Table Filter and Charts is a must-have app that provides you with exceptional functionality of Confluence tables making them much more usable. Now you use flexible and powerful filters to easily find the required information relevant to your current goals. Moreover, you can get a comprehensive insight into your table data and transform it into a visually-readable format.
With the help of the Table Filter macro you can quickly filter dates and number ranges, icons and images, and more. The Pivot Table macro allows you to summarize large sets of data and easily manipulate data series in the realtime mode using your source tables. When you use the Chart from Table macro, you can generate visual-appealing charts and graphs built from tables.
Try Table Filter and Charts free
Courses and Quizzes – LMS for Confluence
Courses and Quizzes – LMS for Confluence helps you build quizzes, tests, and training courses on the fly right in Confluence. With the help of this app you can assess knowledge and skills of your job applicants, create tests for onboarding of new-hires, or set up training courses for employee training.
You get a learning management tool that helps you design educational courses, entertaining and fun quizzes. You can track participants' progress in quiz reports and get statistics on the easiest and the hardest questions. Moreover, you can share quizzes and training course with anyone by email.
Try Courses and Quizzes – LMS for Confluence free
Save time on content creation
Favorite Pages
With the Favorite Pages app the pages you need are just a click away. This app provides you with a quick access to your top visited pages in Confluence. You can assign hotkeys to the pages you want to open ever quicker.
This add-on allows you to open the inline list of your top visited and saved for later pages anytime you need it. By default the list of your top visited pages continuously updates. However, you can lock the pages you want to keep on the list.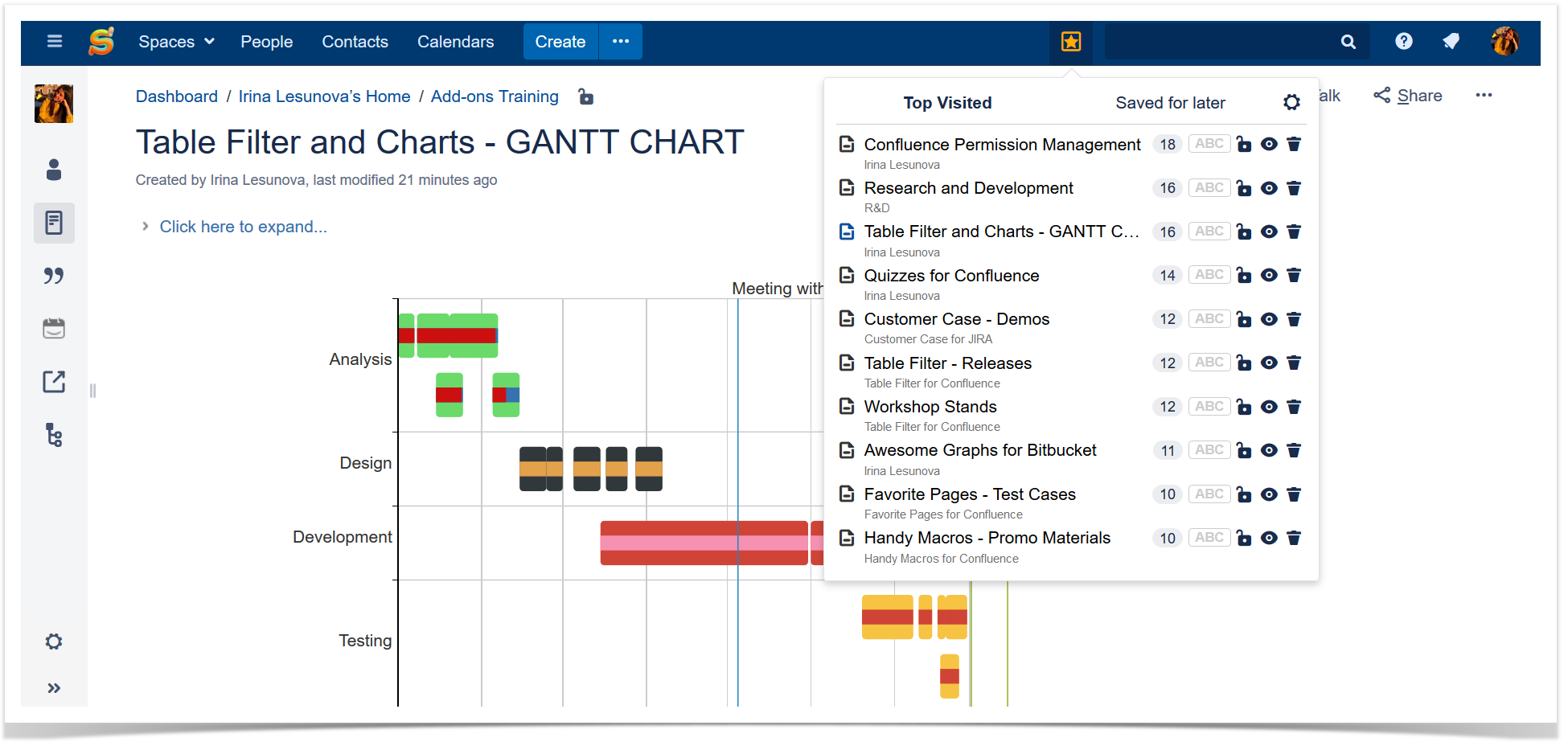 InPlace Editor
InPlace Editor is a simple tool that makes editing large and complex pages quick and easy. This app shows the Edit icon next to the heading titles so you can switch to section editing right in the page view mode.
You can set the global or space specific configuration of heading levels enabled for editing or allow inclusion of adjacent sections with headings of lower levels.
This app also allows you to copy the link to a specific paragraph/heading within a page.
Resume
You can try all these Confluence apps for free to choose the ones that suit your needs best. They are designed to help you communicate better with your team, get things done more efficiently, create appealing content, and boost your overall productivity in Confluence
To get more information about our solutions for Atlassian products you are more than welcome to check out all our apps on the Atlassian Marketplace.
If you have any questions, feel free to comment on this blog post below. Tell us more about your favorite Confluence apps.