Atlassian Certification: Steps to Get Certified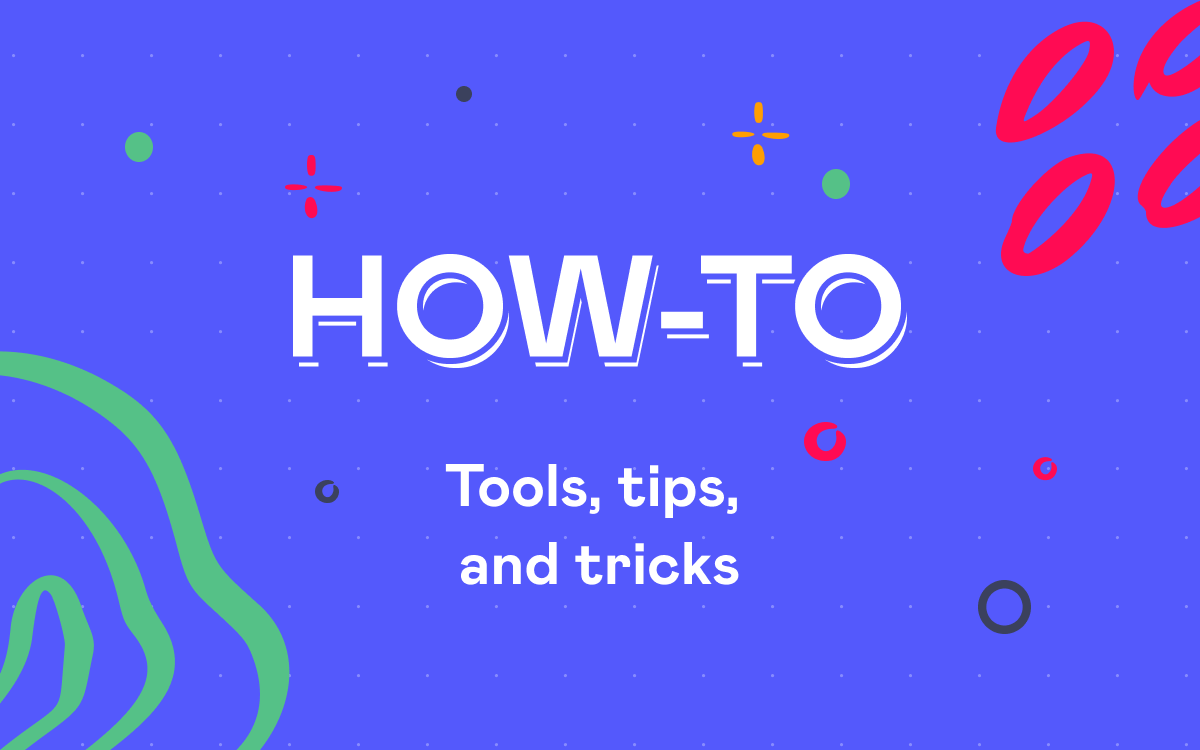 StiltSoft has successfully passed Atlassian certification this year. We have confirmed our Atlassian Solution Partner status (former Atlassian Experts status). It was an interesting and, of course, challenging experience we want to share.
If you are an experienced Atlassian administrator, it is high time to move to a new level and become an Atlassian Certified Administrator (ACP). This formal assessment from Atlassian confirms your skills and helps you join the elite group of Atlassian professionals.
We have already studied this topic down to the very last detail. We will tell you why every Atlassian administrator should get certified in 2017.
This blog post will highlight the key aspects of the Atlassian certification process.
ACP Certification: options to choose from
With almost 70,000 companies using Atlassian products today, qualified administrators are in increasingly high demand. If you are an Atlassian Certified Administrator, the probability to get a job in any of these companies is much higher.
Beginning this year, Atlassian offers Certifications and Badges available for:
Atlassian Solution Partners;
Atlassian administrators;
Freelancers working with Atlassian products;
Companies who want to improve the skills of their administrators.
Certification is not for newbies. Only if you have 2-3 years of experience of administering Atlassian products, you can confirm your status with the help of exams and get more prospects and advancements on your career path.
You can choose from the five ACP exams with related exam topics:

Steps to get certified
Choose an exam.
Read everything about the exam using the links above.
Download the topics for your exam and evaluate your level of preparation.
Repeat all the topics with the help of Atlassian Documentation for Server and Cloud versions.
Use Atlassian Community to find answers to the unknown questions.
Take the Certification Prep Course.
Set up your profile in the Certification Portal.
Locate the nearest Kryterion Testing Center.
Schedule your exam.
Pay for your exam by card.
Pass the exam.
Maintain your certificate
Your Certification is valid for 18 months. Once you're an Atlassian Certified Administrator, you have a chance to earn related Atlassian Badges. Each Badge is a test that confirms your profound knowledge of Atlassian products, expands your skills, and renews your ACP certification.
Atlassian offers two ways to keep your ACP Certification active:
pass the ACP exam again in 18 month;
earn a related Badge right after you passed the ACP exam or before its expiration date.
Currently only three badges are available:

The price for ACB exam is USD $150, the price for ASB exam is $75. Other Atlassian Skills and Certified Badges are under development at the moment.
ACP exams take place at the Kryterion Testing Centers. You can earn Atlassian Badges online without leaving your home or office.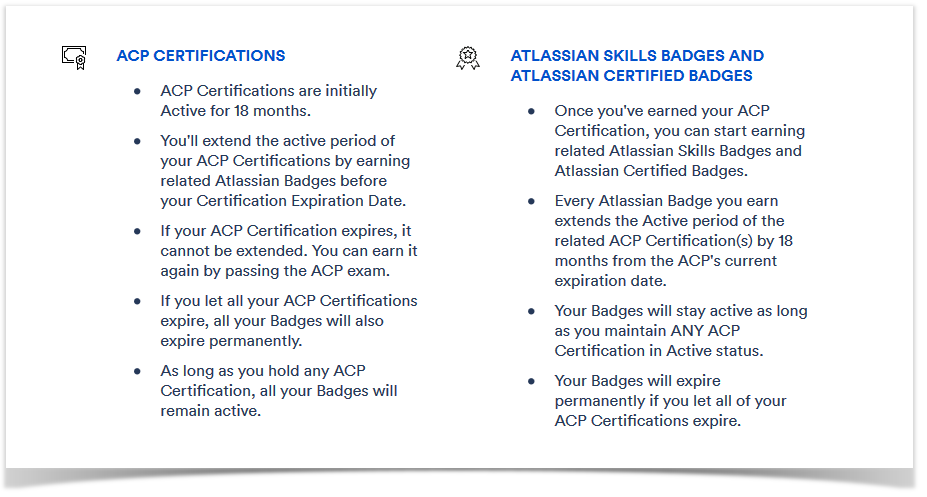 We recommend you to earn related Badges while your ACP status is active. This way you can easily improve your skills and propel your career. Each Badge renews your ACP for another 18 months.
If you forget to confirm your certification, you need to pass the ACP exam again.
Recommendations from Atlassian Certified Professionals
Preparation
Take one exam at a time. It is hard to take several exams at once because of a great amount of information you need to repeat and study.
Possibly, you have already read a blog post by Rachel Wright who participated in the certification beta testing program and became one of the first certified JIRA Administrators. According to her, she spent about 10 hours for preparation. You need to remember that Rachel is an experienced administrator who wrote JIRA Strategy Admin Workbook.
So we suggest to soberly evaluate your level of preparation even if you have many years of experience. ACP exams cover a wider range of aspects that you come across in real life. You need to have a good command of both Server and Cloud versions of Atlassian products. If you are not an expert with the highest level of experience, allocate at least a week for preparation.
Certified administrators underline how useful Certification Prep courses are.
These courses increase your chance to pass at the first attempt as they contain real-life examples of exam questions. When answering the test questions, choose the correct answer that covers the best practices. While you are practicing questions of these courses, you can see your mistakes with explanations.
Preparatory courses for ACP are free for the employees of Atlassian Partner companies. Otherwise, the cost of one preparatory course is USD $150.
Remember that you get access to the course for 120 days. So if you have no time to study all the topics in 4 months, you will have to pay USD $150 again.
You can choose other courses depending on your level of knowledge.
Registration
Enter your full name everywhere as written in your ID. It's important for countries where the documents are not only in English. The difference in spelling of your name may cause problems during your registration before your exam at the Kryterion test center and during the receipt of your certificate.
During registration at the certification portal and in the Kryterion test-system, indicate your personal e-mail address first and only then add your work e-mail. The ACP status is given to you, but not to your company. So if you quit your company, it will lose its Atlassian Solution Partner status. When you get a new job in another company, this company can apply for this status accordingly.
After registration at the certification portal, use the link to Kryterion to pay for the exam by card and schedule your exam. You will get a Test Taker Authorization Code (e.g. AT0000123). This code grants access to examination questions, so it is important to take it with you on the exam day.
Schedule your exam in advance, at least 5 days before the required date. You can reschedule the date for free. Meet the deadline. Otherwise, you will need to pay an additional fee.

Note that you should reschedule online using a computer. At this time, rescheduling using mobile devices is not supported.
If you want to cancel your exam, plan ahead and do it 72 hours before the appointment. If you cancel late, you will need to pay an additional USD $150.50 fee.
Exam
Take two documents of identification. One ID must be with a photo (e.g., passport, driver's license, military ID); both forms of ID must display your signature.
Come earlier to register and take your seat without rush.
Don't forget your Test Taker Authorization Code, because it opens access to the examination questions.
You won't be able to bring any belongings into the testing room including your wallet, phone, keys, and outwear. Not native speakers can take an English dictionary.
If you don't want to be distracted by some side tones (like noise from adjacent rooms, typing or mouse clicks), bring a pair of earplugs.
Every exam lasts 3 hours. A nutritious meal before exam will help you to concentrate better.
Questions
You can review your answers and change any of them. You just need to tag the questions you want to review. Later you can see a list of these tagged questions.
We have analyzed the experience of our team and different blog posts and comments from those who passed. Review two different points of view and choose your own.
According to the comments on the blog by Rachel it is better to answer short questions first.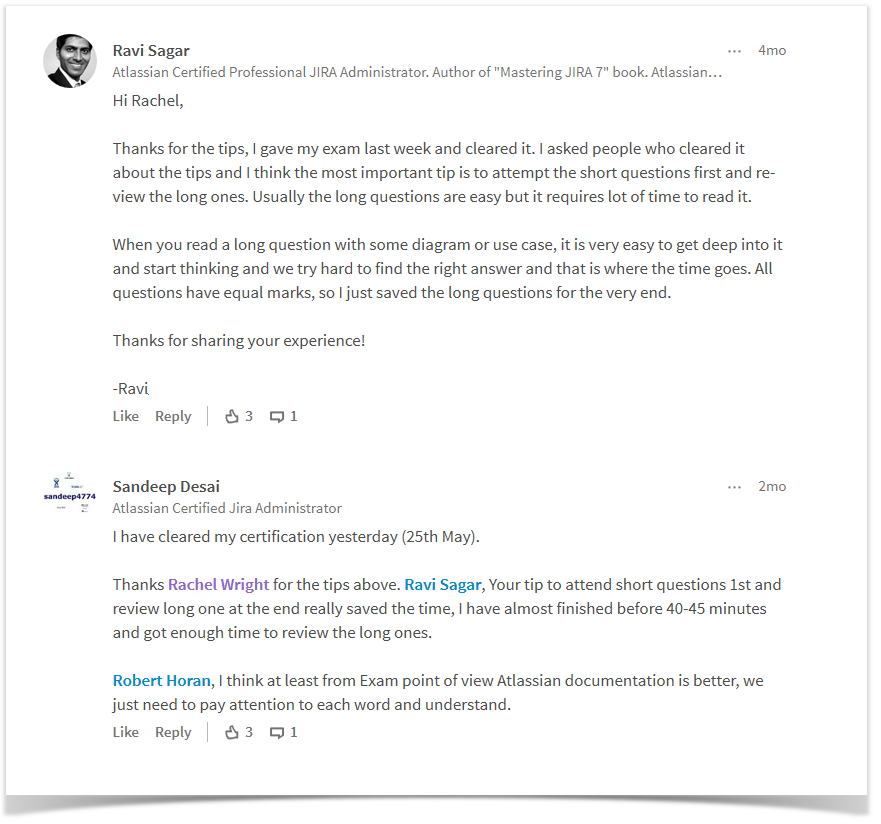 However, some of the ACPs have a contrary point of view. Answer the questions in the right order. If you doubt, tag the question and review it when you clear the test. The idea is that you may have some issues with concentration in one hour and lack energy to answer the long questions you skipped.
We recommend you to evaluate your speed and choose the option that suits you best depending on your level of preparation. Maybe you will find your own way.
You know the result right after pressing the Submit button. You can see only your Topic Level Scoring. You have no opportunity to look through your wrong and right answers.
Passed?
Congratulations, you're an Atlassian Certified Professional!

At first the status is shown in Kryterion. It will be synchronized with the certification portal within a day.

After 24 hours, log in to the candidate portal and verify your certified status. You will receive a letter with information on how you can receive your e-Certificate. You will also receive congratulations from Atlassian CEOs Mike Cannon-Brookes and Scott Farquhar.
How to showcase your Atlassian Certifications
Atlassian offers several options:
You can download your certificate from the certification portal. Select Certifications and download the PDF certificate.

Add your Certifications to your accomplishments in LinkedIn. Sign in to LinkedIn and follow this instruction.
You can add information about your digital badges to your email signature or get a URL for a credential for your website or online resume/CV. You can find more information here.

Your Certification will be valid for 18 months.
Didn't pass?
The main thing is not to give up!
You will receive the test completed email with a discount code for your retake. The final price is USD $150.50.
You'll need to wait 7 days before you can re-register. However, we recommend you to take your time and review the exam topics again.
You have 5 attempts. If you use all of them, contact Atlassian Support.
Things to keep in mind
Allocate enough time for preparation.
Study the exam topics in Atlassian sources: Documentation and Atlassian Community.
Take the Prep Courses.
Read everything about the exam. Note which product versions the test will cover.
Visit the testing vendor's website, as well as the website of the specific testing center, to learn all you can about the test experience.
Form a study group if your colleagues also need to prepare for ACP exams. You can exchange information and discuss it together.
Don't forget to confirm your status: receive badges and renew your ACP.
Enjoy you new career prospects.
Remember that all the information about the exam questions is confidential. You are not allowed to share any details about your passing score or your answers. Violation of any of these policies can result in your suspension from the Atlassian certification program, revocation of your Atlassian certifications, or other disciplinary actions.
We hope that this blog post helped you to clear all the details of Atlassian Certification. If you have any questions, please feel free to ask us in comments below. We will gladly answer all of them.
Good luck with your Atlassian Certification!