Manage Attachments Like a Pro in JIRA
February 28, 2017
#

Document management
#

How To
#

Jira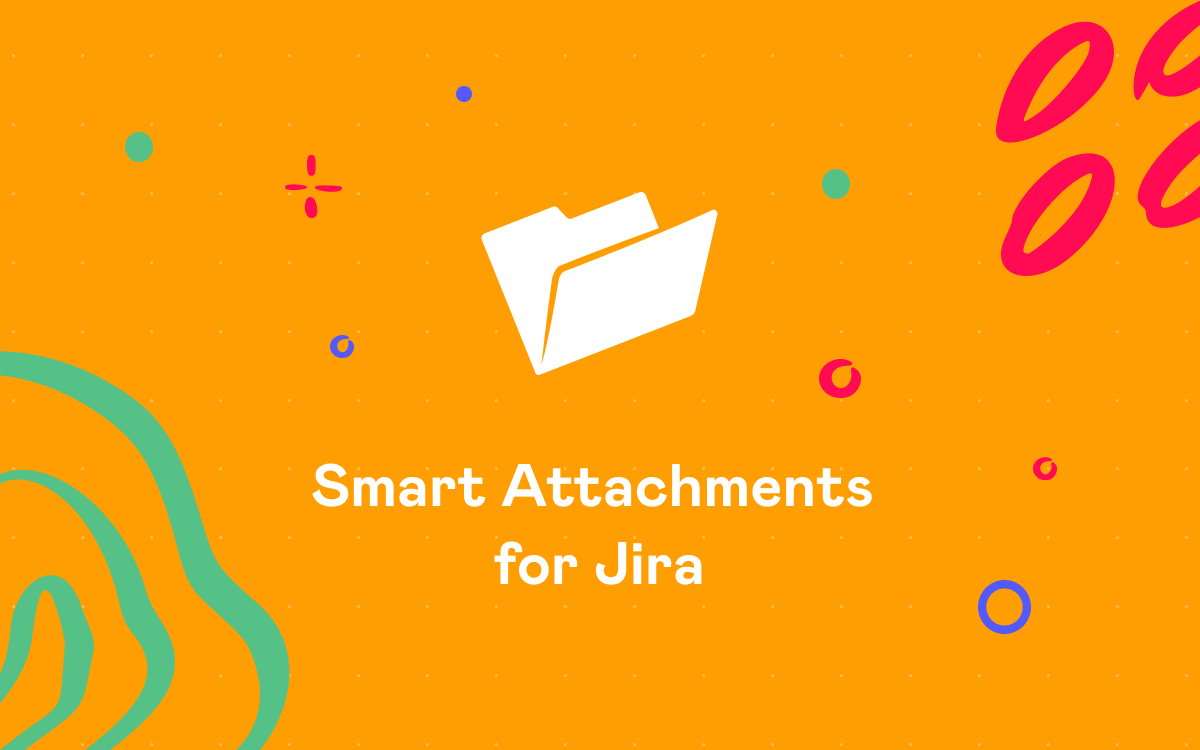 Atlassian develops one of the most popular project management platforms in the world – JIRA. Millions of users take advantage of its capabilities when managing software products, running all kinds of marketing, operations, legal processes, or handling support or service requests through a virtual desk.
Flexible configuration, adjustable platform scalability, customizable interface, multi-tier permission schemes, and other things make this platform tailored to the actual needs of the majority of users.
But like all enterprise systems it also has some flaws. One of the most noticeable problems is a trivial mechanism of managing attachments. This affects most business and development processes as all of them are accompanied by creation of additional artifacts that are usually stored within the issues. And a great number of these files creates additional problems with looking up for the necessary attachment and preserving the order among a bulk of files.
No panic! There is a solution that allows you to cope with this problem and get an efficient tool for managing attachments in JIRA. And Smart Attachments add-on is the right solution for this!
Categories for Keeping Attachments
Smart Attachments add-on introduces categories that you can use for storing attachments. These categories are displayed in the Attachments section, so you can quickly upload files to the appropriate category or move files between them.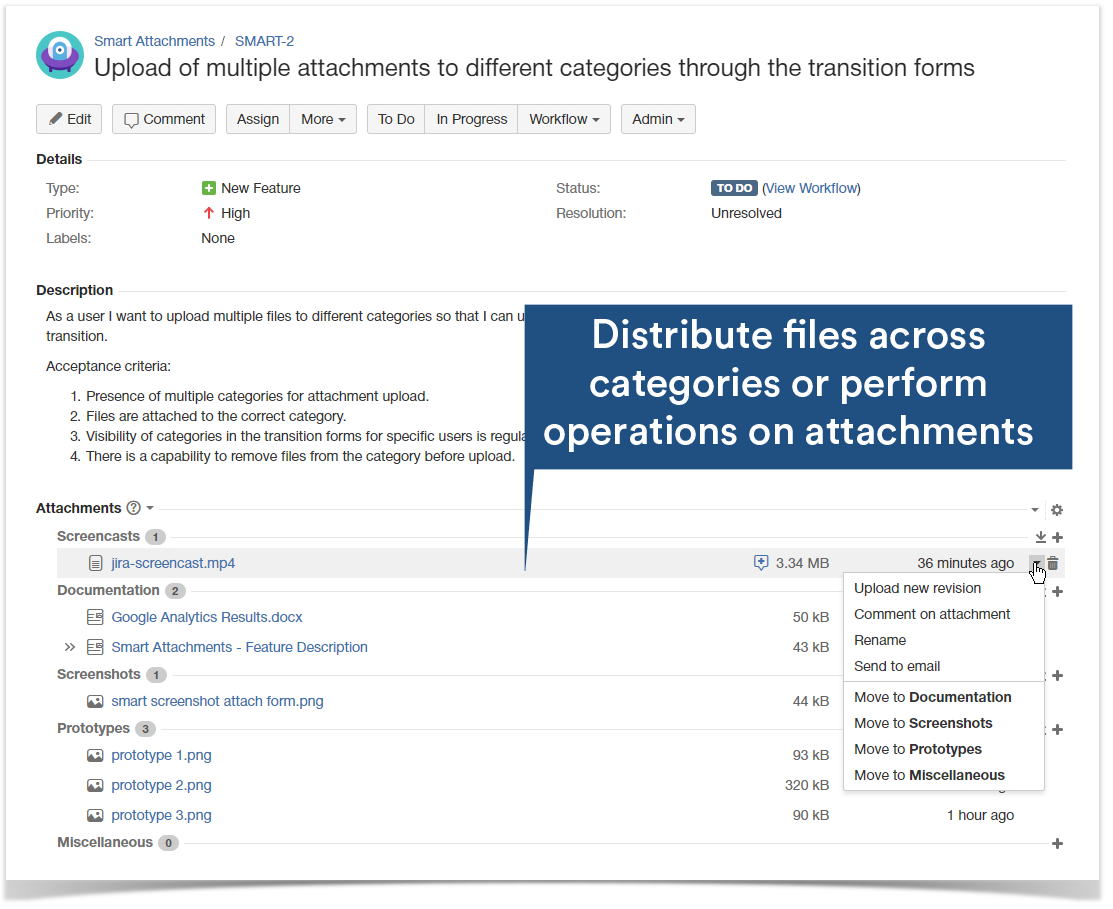 Every user can modify the default order of categories specified by the project administration and adjust their order to his or her actual needs. Every category can be also collapsed, so you can save a bit of your screen space if this or that category is not used at the moment.
Selection of the category is available during file upload when you create or edit issues, or transition it from one status to another.
Configuration of categories is defined per project, so either a JIRA or a project administrator can create the set of required categories. Additionally, it is possible to regulate the visibility of the category depending on the issue type and set up access restrictions for the specific users, user groups or project roles.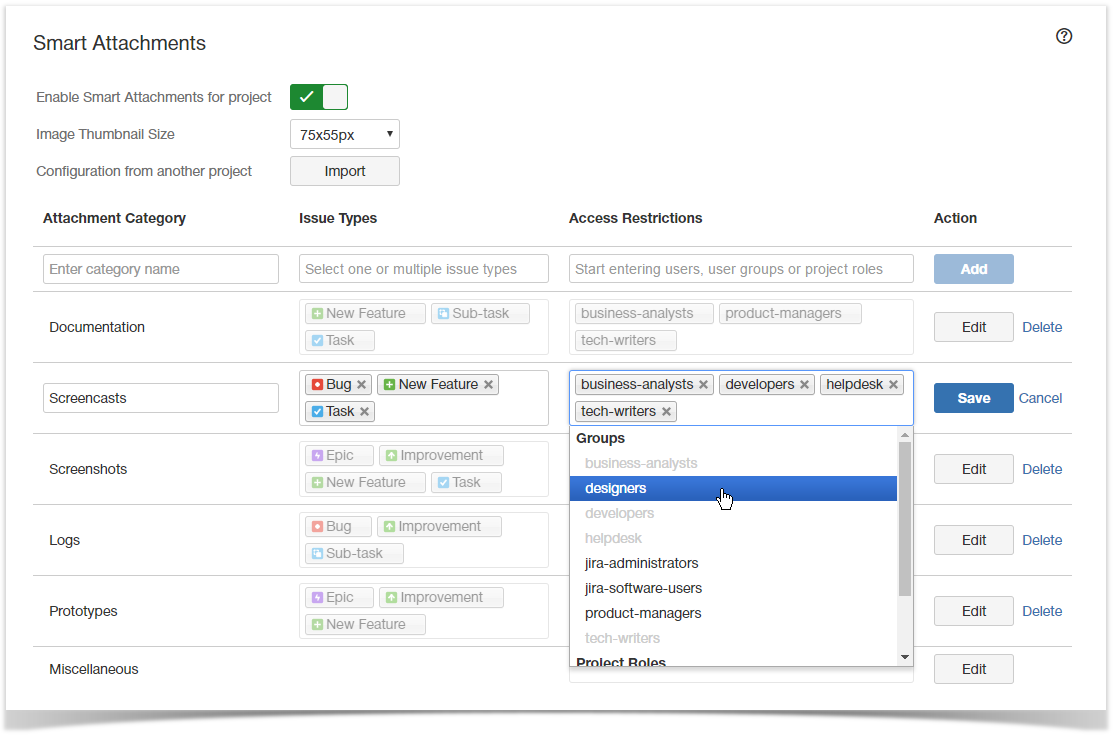 Document Revisions and Comments
Another augmentation supplied by the add-on is document revisions. This feature allows you to have a document under which you can store numerous revisions, so this way you can transform your JIRA into a full-fledged document retention platform.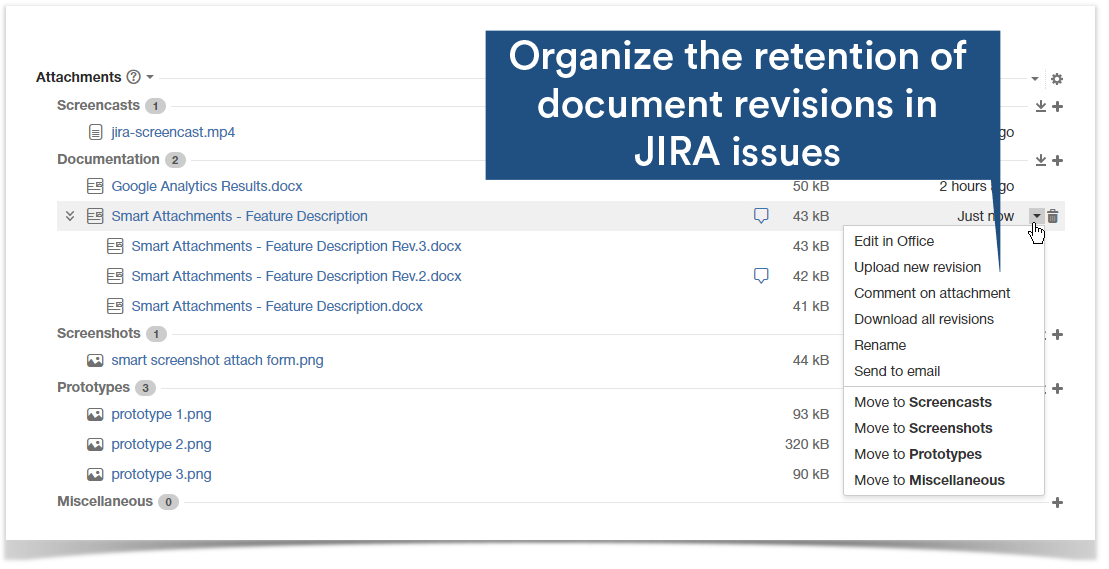 As an addition to the document versioning, you can use the comment threads for discussing attachments or specific document revisions. Now you can better elaborate on the changes for the specific contract, financial report, corporate presentation, or any other artifact that your team can work on.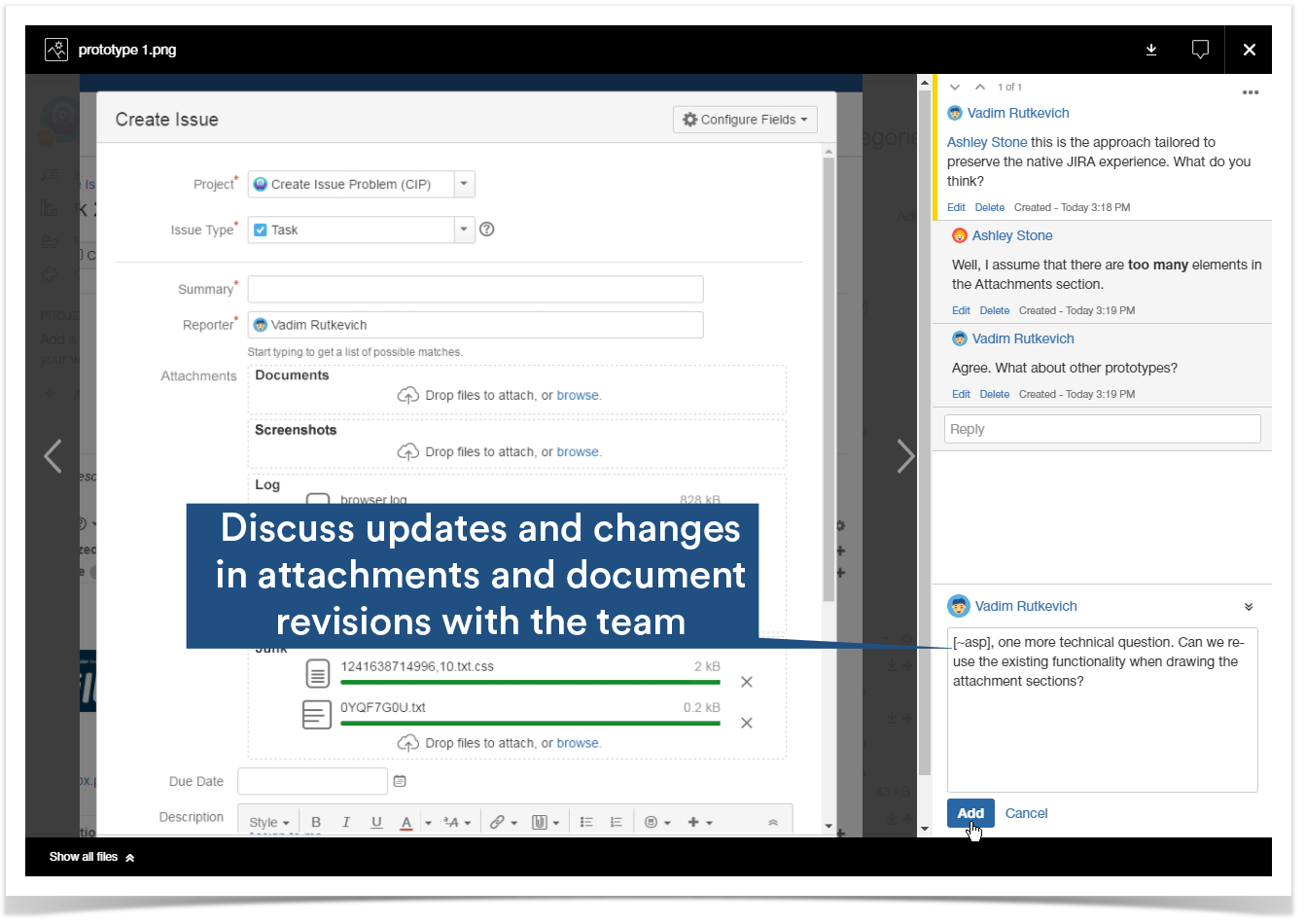 Bulk Operations and Workflow Automations
Smart Attachments add-on also provides you with bulk operations that allows you to accelerate execution of routine tasks on attachments. With this add-on installed, you can just select the bulk of attachments and delete them, move to another category, archive, download, or send to your colleagues or business partners from JIRA.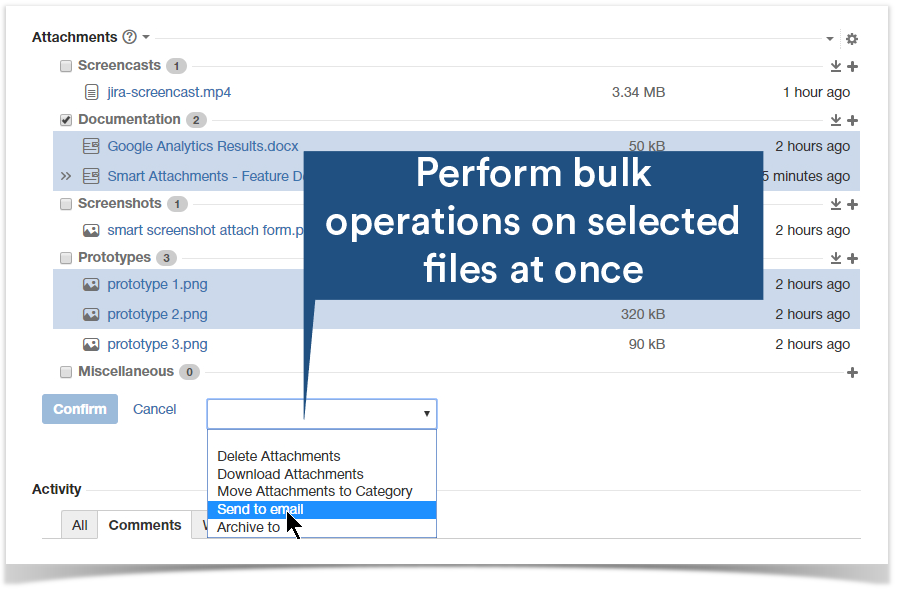 In addition, you can integrate conditions and validators into your project workflows. They can verify the presence of attachments in the specific category or files uploaded by the particular user, user group or project role before or during execution of a transition.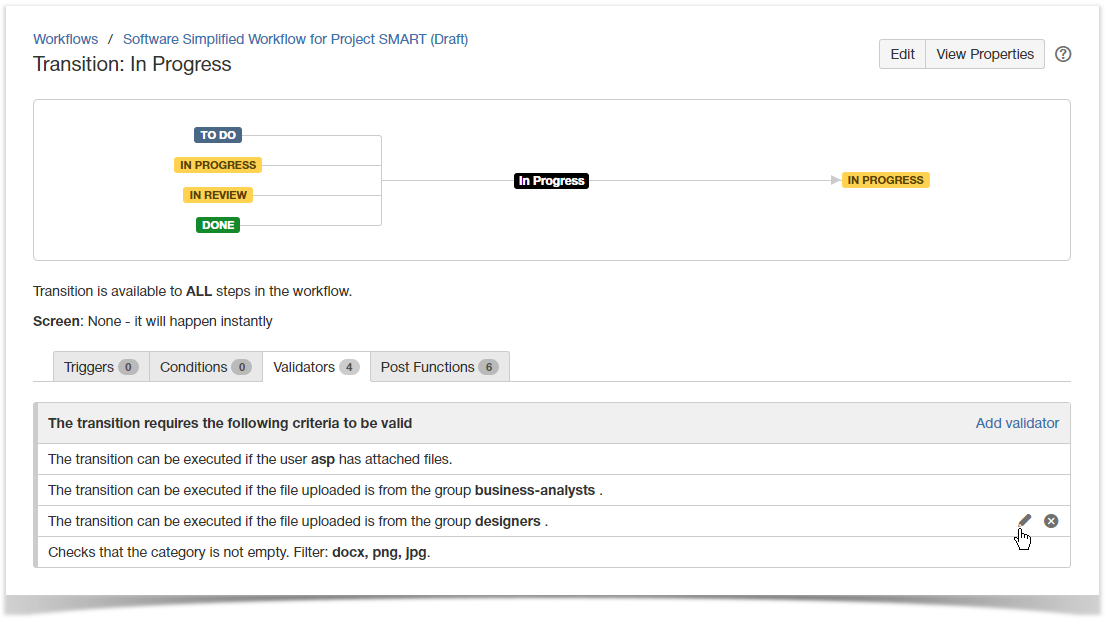 You can also set up the post functions that can automatically delete, email or move attachments between categories based on the name pattern or regular expression. This greatly automates the user experience and allows you to skip some trivial operations.
One Solution for Most Situations
If you deal with dozens of attachments in each issue, Smart Attachments add-on will be a great assistant in this case. Now you can keep all your attachments in order, have documents with full history of revisions, automatically execute routine operations on them, and use a lot of other augmentations provided by the add-on.
Start a free trial of Smart Attachments right now!